Column: Miami Beach may have Art Basel, but L.A. has 'Art Basil' -- and it's the pesto thing ever
This is the time of year when the art world's jet set descends on Miami Beach to check out the merch at Art Basel in between poolside parties and epic traffic jams on the causeways. If you've been watching the action on Instagram and are experiencing some serious art fair FOMO, Los Angeles artist John Kilduff has just the answer: "Art Basil," a four-day art fair in his Van Nuys backyard that features an array of booths with installations from artists as far away as Brooklyn and Canada, all amid numerous pots of basil.
The booths, incidentally, are each one-foot square, set in the dirt and mulch around a fig tree.
Kilduff, a veteran performance artist known for his Let's Paint videos in which he takes to a treadmill to talk about art while painting, says the idea started off rather informally.
"I did a doodle of a basil plant and called it 'Art Basil,'" he says. "People started liking it, so I felt like I had to follow through."
The artist is no fan of art fairs. "It's very hard to walk into one of those," he says of their relentlessly commercial aspect. "They feel toxic."
But, he adds, "an artist could just make a fair into a part of their own art — which is pretty much what I did here."
Art Basil's 50 miniature booths are made out of plastic foam board secured at the Home Depot. For his installation, "You2," the artist Ben Sisto had the floor of his booth dug out to a depth of 18 inches in tribute to an infamous work by artist Urs Fischer, in which he dug up the floor of the Gavin Brown's Enterprise gallery in New York. The fair also features work from a pair of Los Angeles galleries with a sense of humor: Daniel Rolnik and BG Gallery.
Like Art Basel Miami Beach, Art Basil also featured an opening night vernissage on Thursday evening. It even had a specially designed step-and-repeat logo backdrop (economically painted on cardboard) so that people could get glitzy pictures of themselves at the event.
"My booths are $50, which compared to Art Basel is pretty good, since I heard that its booths rent for $50,000," Kilduff says. So far, however, only a couple of the artists have paid the booth rental fees, funds that were essential for purchasing the opening night refreshments.
I visited Art Basil before its official opening on Thursday afternoon, while Los Angeles artist Heather Lowe was busy installing a piece called "Where's Jason?" — which riffed on the Greek mythological story of Jason and the Golden Fleece.
The piece was rendered entirely in gold, which Lowe says seemed right for an art fair: "It's all shiny baubles."
If you can't make it out to Van Nuys this weekend, the fair also features a live stream that is broadcast through Twitch. "I have a night camera," Kilduff says, "and I sometimes pick up a possum or my cat walking through."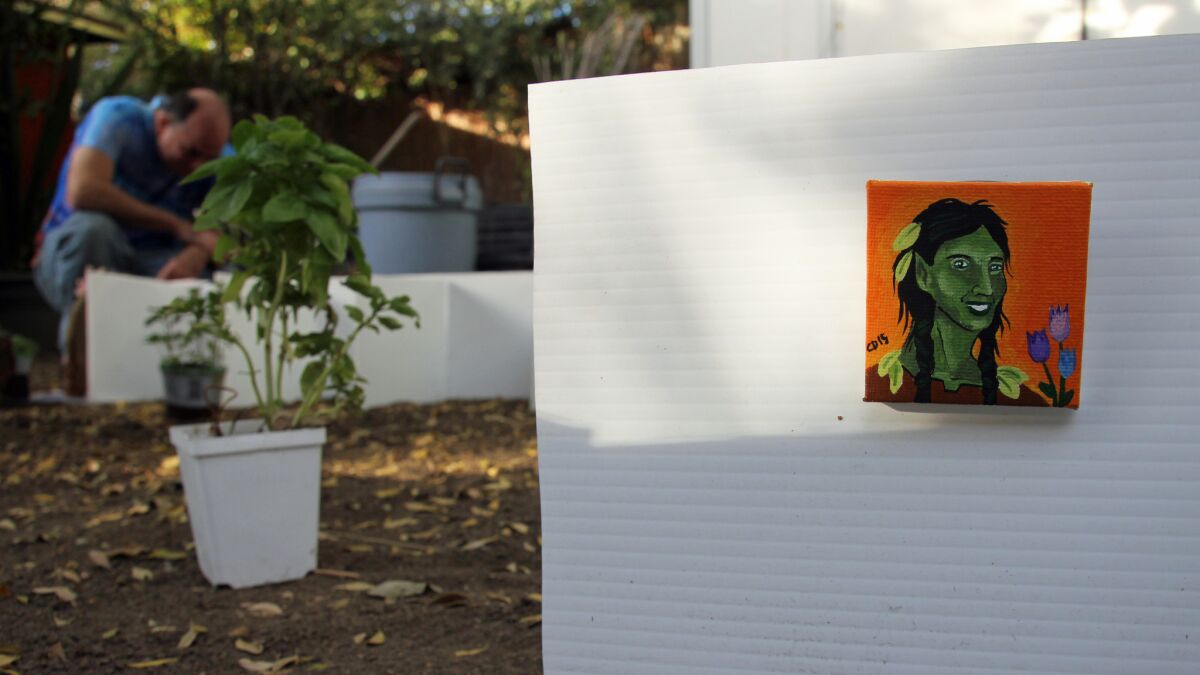 John Kilduff's "Art Basil" is on view in Van Nuys through Sunday by appointment. RSVP to see the piece and get the address via email at mrletspaint@gmail.com. If you can't travel, you can always watch the livestream on the fair's Tumblr page.
Find me on Twitter @cmonstah.
Get our L.A. Goes Out newsletter, with the week's best events, to help you explore and experience our city.
You may occasionally receive promotional content from the Los Angeles Times.