Cheech Marin teams up with city of Riverside and Riverside Art Museum to develop Chicano art center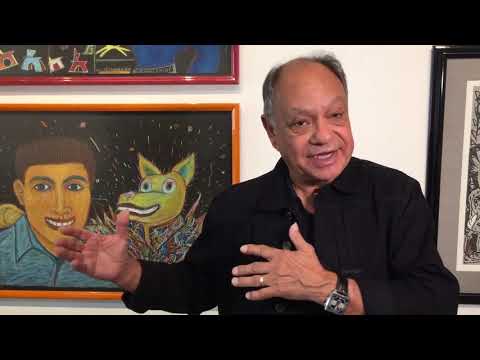 Actor, art patron Cheech Marin wants permanent home for more than 700 works from his collection. (Allen J. Schaben / Los Angeles Times)
Actor and comedian Cheech Marin, who for decades has been a noted collector of Chicano art, is teaming up with the city of Riverside and the Riverside Art Museum to create a Chicano art center.
The proposed museum, tentatively titled the Cheech Marin Center for Chicano Art, Culture and Industry, would be housed in a roughly 60,000-square-foot building now occupied by the main branch of the Riverside Public Library, which will be moving to a new structure a few blocks away.
The goal of Marin's center — still in the earliest planning stages — would be to provide a permanent home for more than 700 works from his collection, which includes painting, sculpture and photography by Chicano artists from throughout the United States.
"It'll be the one place worldwide that everybody can go to for all things Chicano art," says Marin. "And it will not just be display, but it will have an academic feature so Chicano art can be seen and can be studied. There are five universities in the area."
The museum would be a partnership between Marin (who would supply his art), the city of Riverside (which owns the building) and the art museum (which would manage the new center). The proposal is scheduled to be announced at a news conference on Tuesday morning at the Riverside Public Library. On May 16, the three parties will then present a memorandum of understanding to the Riverside City Council, which has to approve any formal negotiations for the use of the building.
Following approval of the memorandum, is approved, Marin, the Riverside Art Museum and the city would have from nine months to a year to work out the particulars: finalizing cost estimates for the renovation of the library building, determining the operating expenses and structure of the new institution and arranging an agreement with Marin for how his collection will be presented. That agreement could include the eventual donation of works.
It'll be the one place worldwide that everybody can go to for all things Chicano art.
— Cheech Marin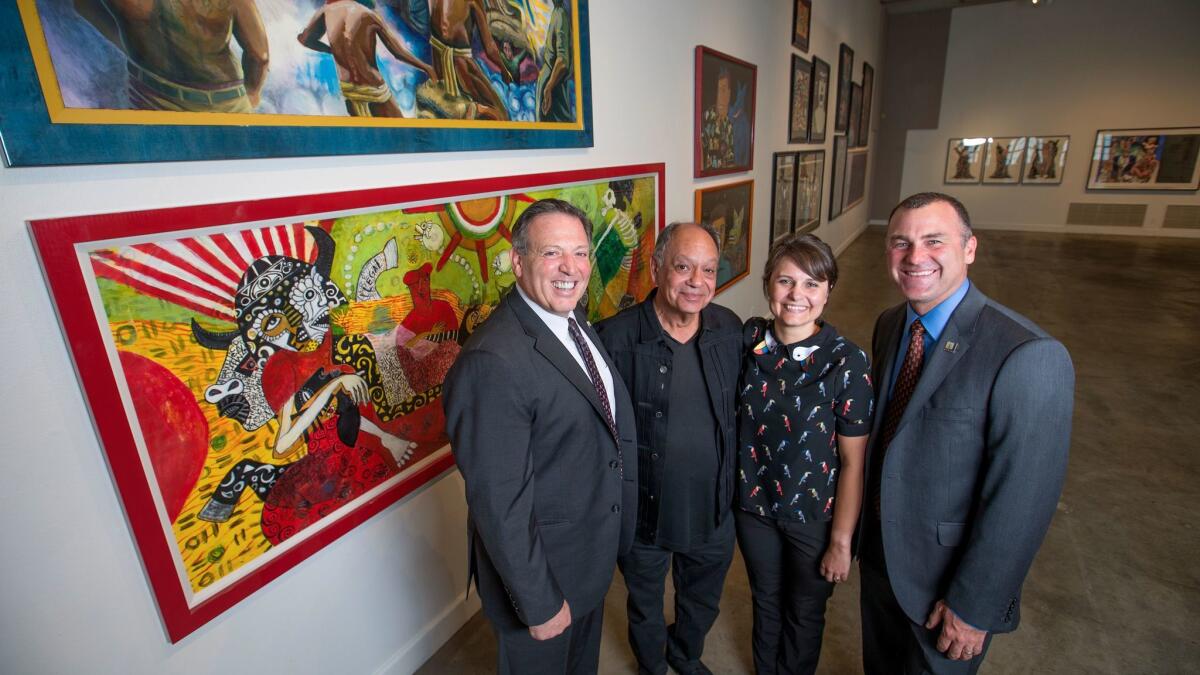 Once the agreements are ironed out, the City Council will vote again to finalize the deal.
"It's a great re-use for the building in the middle of a cultural center," says John Russo, city manager, who notes that the Chicano art center would bolster the city's downtown cultural district, which includes the RAM, the California Museum of Photography (operated by UC Riverside) and the Riverside Metropolitan Museum, which organizes historic and anthropological exhibitions.
"It will be a positive thing for the restaurants and hotels in the area," he adds. "And it will be very positive for the educational institutions as well. We have a burgeoning art community and this is really going to solidify and bring attention to that art community."
RAM Executive Director Drew Oberjuerge says the proposed center will also help engage the area's Latino population — a pivotal audience for RAM. (Riverside and the greater Inland Empire have populations that are more than 50% Latino, according to statistics compiled by the Riverside city manager's office.)
"It was this idea that the museums and the cultural institutions hadn't been effectively serving a vast majority of our community," Oberjuerge says. "Like most museums, our board and our staff don't reflect the diversity of the region. This was a realistic look at own own sustainability."
Russo says it will be a concept that appeals to a wider audience too. "I'm the child of parents who were immigrants," he says, noting his family's Italian heritage. "This experience of being bicultural, of how cultures intertwine, of what its means to be an American — that is something that rings true."
The concept began to take shape early this year when Marin loaned the museum more than five dozen works for the exhibition "Papel Chicano Dos: Works on Paper From the Collection of Cheech Marin" (on view through Sunday).
Attendance for the exhibition's opening night drew a record 1,476 attendees, and admission revenue at the museum tripled in the first month.
"For people to see this here, to not have to drive to L.A. or Palm Springs," says Oberjuerge, "it was really important."
Russo, who had attended some of the programming related to the exhibition, says he was impressed with the enthusiasm he saw — which got him thinking about the library's midcentury modern building. Plans for a children's science museum on the site were scrapped earlier this year when the Discovery Science Foundation, which operates spaces in Orange County and Los Angeles, withdrew. Once the library moved (in roughly three years), the building would likely sit empty.
"When you look at what our community is, and that the inland area is this growing area that is underserved, in particular, for this heritage population, it all came together in my head," Russo says. "I told [RAM curator Todd Wingate], Cheech is looking to place his collection somewhere it could be academically studied — and we have this library that would be a great place for a Chicano art museum."
Marin says he is excited about the possibility of having his collection in Riverside.
"Riverside is a cool place," he says. "That the city would want to back this, that's a big deal. They want to use this as a big draw for their city."
Moreover, he is also interested in the proximity to universities such as UC Riverside and Cal State San Bernardino, to the north, both of which have Chicano studies programs.
"There will be a strong educational component," says Oberjuerge, who adds that education is an important part of RAM's core mission. "We really want people, whether it's collectors or scholars, to really think of the center as this thriving space where there is research, where there are connections between emerging and established artists. We're looking at an artist residency program, a scholar-in-residence program — these are all things we are interested in."
If the City Council approves the memorandum of understanding, the museum and the city can move forward on developing a formal managerial and curatorial plan and begin raising $3 million toward renovations. (Construction will likely cost more, Russo says, but the team wants to get ahead on the fundraising for construction, which will be paid for with private funds.)
"Our board is really excited about this," says Oberjuerge. "They know that there is a lot of work that has to be done in the next nine months in terms of working with Cheech and working on developing a capital campaign to fund it, but they are ready to take it on."
And though the institution already has a tentative name, Marin says he's already come up with a nickname of his own.
"The intimates call it 'The Cheech,'" he jokes. "I'll meet you at 3 o'clock at the Cheech!"
---
'Papel Chicano Dos: Works on Paper'
From the collection of Cheech Marin
Where: Riverside Art Museum, 3425 Mission Inn Ave., Riverside.
When: Tuesdays through Saturdays 10 a.m. to 4 p.m., Sundays noon to 4 p.m. through May 7.
Admission: $5; students and seniors, $3, members, military and children under 12, free.
Info: riversideartmuseum.org
Sign up for our weekly Essential Arts & Culture newsletter »
Get our L.A. Goes Out newsletter, with the week's best events, to help you explore and experience our city.
You may occasionally receive promotional content from the Los Angeles Times.