Column: Datebook: Art that skewers the art world, an installation about dance, abstractions of L.A.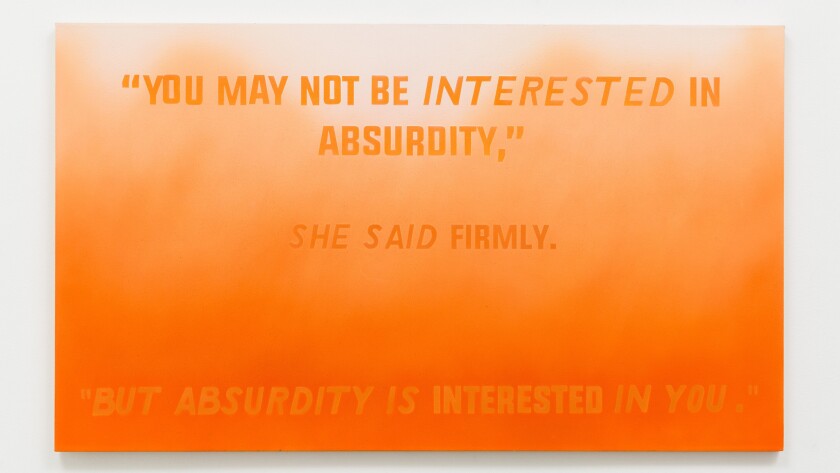 A two-part exhibition complete with driving tour. Examining the psychology of the art world through Twitter. And an exhibition that explores the nature of dance. Plus: abstractions of L.A., art from Cuba and a daylong art party on Grand Avenue. Here are seven shows not to miss — along with one highly intriguing makeup tutorial:
William Powhida, "Mediations," at Charlie James Gallery. The New York-based artist is once again tweaking the art world — as well as issues of class, wealth, persona and all of the other hot topics that can make the art world a swamp of insanity — in a series of new paintings inspired by bits of his Twitter archive, among other texts. Opens at 6 p.m. Saturday and runs through Dec. 5. 969 Chung King Road, Chinatown, Los Angeles, cjamesgallery.com.
Taisha Paggett: "WXPT: The School for the Movement of the Technicolor People," at Los Angeles Contemporary Exhibitions. An installation takes the shape of a temporary dance school that asks the question, "What is black dance curriculum today?" The piece will attempt to answer that through a series of workshops, weekly classes and "micro-performances." It is inspired by Paggett's own history: Her family founded "a school for colored youth" in East Texas in the early 20th century. Through Dec. 6. 6522 Hollywood Blvd., Hollywood, welcometolace.org.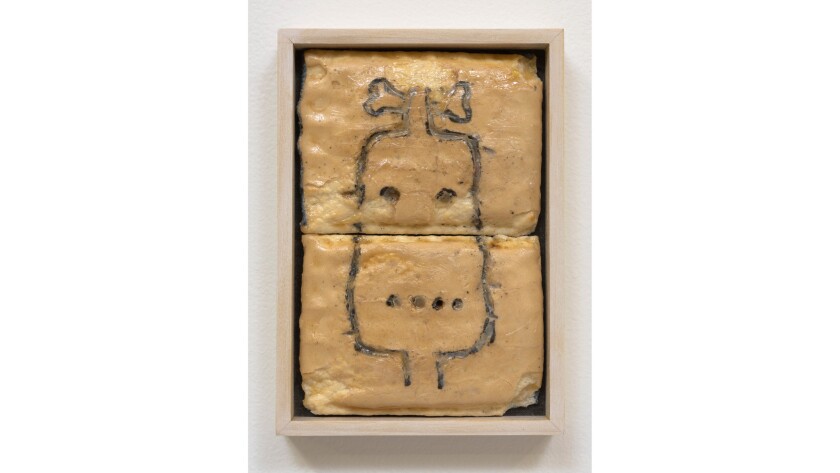 William Pope.L, "Forest," at Susanne Vielmetter Los Angeles Projects and "Desert," at Steve Turner. Pope.L, who just wowed L.A. with his massive flag installation, "Trinket," at the Museum of Contemporary Art's Geffen Contemporary space, is now back with a two-part solo exhibition staged at both Vielmetter's and Turner's galleries. The show at Vielmetter will feature works from the '90s through the present, while Turner will exhibit a new film, "Obi Sunt," about the ghost of boxer Joe Gans, the lightweight fighter from the turn of the 19th century. The two shows will be united by an audio GPS driving tour that you can listen to as you travel from one gallery to another. Through Dec. 5. Susanne Vielmetter Los Angeles Projects, 6006 Culver City Blvd., Culver City, vielmetter.com; Steve Turner, 6830 Santa Monica Blvd., Hollywood, steveturner.la.
Grand Avenue Arts: All Access. Downtown's cultural institutions are turning all that talk about transforming the Grand Avenue architectural bunker zone into a lively pedestrian-cultural paradise into action. This Saturday, all of the strip's cultural organizations will be open to the public simultaneously, turning the neighborhood into an impromptu arts festival. The Broad will offer tours of the architecture, as well as a sound installation in the museum's plaza; MOCA will stage art activities in its outdoor plaza; the Music Center will offer guided tours of former Oscars auditorium, the Dorothy Chandler Pavilion; and the Center Theatre Group will have puppets and masks from its performance of the Maya creation myth "Popol Vuh." Multiple locations; check the website for performance and event times, Grand Avenue, downtown Los Angeles, grandavearts.tumblr.com.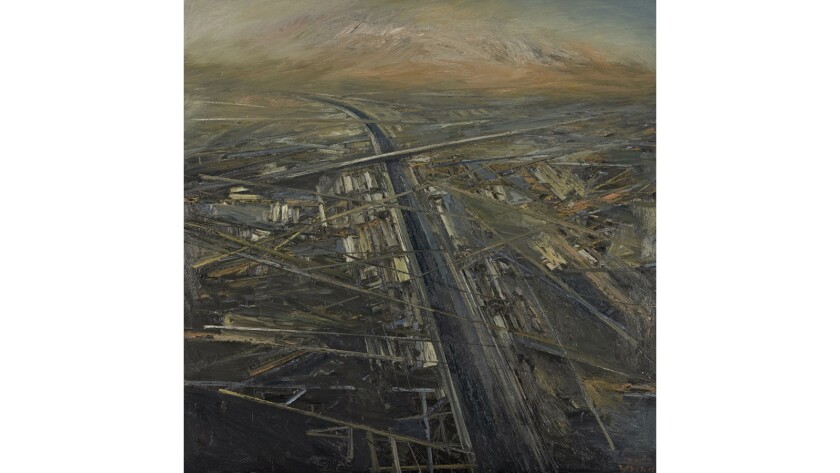 Victor Hugo Zayas, at the Museum of Latin American Art. Gritty abstractions the color of charcoal, acid and steel capture the industrial innards of Los Angeles. Zayas, a painter who maintains a studio on the banks of the L.A. River, will have a survey of more than 40 works on view at the museum, works that chart the evolution of the city's industrial landscape. Through Feb. 7. 628 Alamitos Ave., Long Beach, molaa.org.
"Made in Cuba! Hecho en Cuba! Recycling Memory and Culture," at Arena 1 Gallery. This pop-up exhibition features more than 70 mixed media works by a wide array of contemporary artists from Cuba — many of whom work with found objects as their medium (a way for contending with limited access to art supplies on the island). Expect assemblage, painting, sculpture, photography and collage, among other kinds of objects. The show is curated by longtime Cuba expert Sandra Levinson, who has been traveling to the country for more than 40 years and who serves as the director of the Cuban Art Space at the Center for Cuban Studies in New York. Through Nov. 21. 3026 Airport Ave., Santa Monica, arena1gallery.com.
"Sign Language: Juan Delgado, Armando Lerma, Thomas McGovern, Carlos Ramirez," at CSUN Art Galleries. A mixed media exhibition draws four artists from Southern California's Inland Empire to exhibit works that riff on murals, graffiti and sign paintings, among other traditions. You might know Lerma and Ramirez by their collective moniker: They are the Date Farmers. Opens at 4 p.m. Saturday and runs through Dec. 12. 18111 Nordhoff St., Northridge, csun.edu/artgalleries.
"Blisters, Boils and Open Wounds — FX Makeup Workshop," at Machine Project. Just in time for Halloween, the folks at Machine Project are offering a seminar on special effects makeup next week. Pustulent boils, here I come! 7 p.m. Oct. 27; $55 for the three-hour workshop. 1200-D N. Alvarado St., Echo Park, Los Angeles, machineproject.com.
FINAL WEEK:
Matthew Barney, "Water Castings: Fourteen Pieces," at Regen Projects Hollywood. He has a solo show at the Museum of Contemporary Art, but too much Barney is never enough. Catch his water castings — visceral bronze sculptures related to the artist's "River of Fundament" film — at Regen before they are gone. Through Saturday. 6750 Santa Monica Blvd., Hollywood, regenprojects.com.
Iñigo Manglano-Ovalle, "Well," at Christopher Grimes Gallery. In 2014, the Spanish artist installed a hand-pump well in a New Mexico community as part of SITE Santa Fe. With California in a drought, he brought 500 gallons of that water to a gallery in Santa Monica — a symbolic gift that gets at the nature of water as commodity. (And perhaps served as a harbinger of El Niño?) Through Saturday. 916 Colorado Ave., Santa Monica, cgrimes.com.
"Kazunori Hamana, Yuji Ueda, Otani Workshop" at Blum & Poe. Organized by Takashi Murakami, this exhibition gathers a range of works by contemporary Japanese ceramists. Through Saturday. 2727 S. La Cienega Blvd., Culver City, blumandpoe.com.
"Vitality and Verve: Transforming the Urban Landscape" at the Long Beach Museum of Art. The museum has commissioned a series of new murals by well-known urban artists such as Saber, Greg "Craola" Simkins, Jeff Soto, Tristan Eaton and Audrey Kawasaki. These are all part of the arts festival Pow! Wow! Long Beach!, which placed murals all over the city. Through Sunday. 2300 E. Ocean Blvd., Long Beach, lbma.org.
ONGOING EXHIBITIONS
Lisa Adams, "America the Beautiful," at CB1 Gallery. The L.A. painter is known for abstracting elements of the urban and the natural into surreal landscapes that seem to capture the city's forgotten corners. At CB1, she casts her eye on the natural, social and political issues facing our country. Through Oct. 31. 1923 S. Santa Fe Ave., downtown Los Angeles, cb1gallery.com.
Frank Bowling at Marc Selwyn Fine Art. The British pop artist became known in the late 1960s for producing brightly hued color field paintings layered with the subtle images of maps. This exhibition shows a pair of those early map works, as well as an array of more recent canvases, which focus on pure color abstraction. Through Oct. 31. 9953 S. Santa Monica Blvd., Beverly Hills, marcselwynfineart.com.
"3rd Sur: Biennial" in venues around Los Angeles. Originally launched in four venues around Los Angeles, three of these related exhibitions now continue their run at the Torrance Art Museum, the Rio Hondo College Art Gallery and the Cerritos College Art Gallery. The biennial looks at ideas of globalization and exchange between artists in the United States, Mexico, and Central and South America. The various exhibitions feature installations by established L.A. artists such as Lorenzo Hurtado Segovia, Carolyn Castaño and Patrick Martinez, among others. Through Oct. 31 at Torrance Art Museum (3320 Civic Center Drive, Torrance), through Nov. 19 at Rio Hondo College Art Gallery (3600 Workman Mill Road, Building B-14., Whittier) and through Nov. 20 at Cerritos College Art Gallery (11110 Alondra Blvd., Fine Arts Building, Room 50, Norwalk). For more information visit torranceartmuseum.com.
Giorgio Morandi and Robert Ryman, "Object/Space," at Kohn Gallery. In an age of shiny objects, this exhibition is quite the opposite, showing the restrained and quiet works of a pair of artists who explored the subtleties of light, shadow and muted tones. The show features Ryman's white paintings and Morandi's tight still-life arrangements. Through Oct. 31. 1227 N. Highland Ave., Hollywood, kohngallery.com.
Doug Rickard, "N.A.," at Little Big Man Gallery. Rickard became known for mining Google Street View as a source of found photography. Now he has turned his attention to YouTube, where over a three-year period, he has scoured the social media site for videos tagged with phrases such as "hood fight" and "passed out white girl," from which he has harvested an array of images that are both cinematic and bizarre. Through Oct. 31. 1427 E. 4th St., Boyle Heights, Los Angeles, Facebook.com/LittleBigManGallery.
Ricky Swallow, " /SKEWS/," at David Kordanksy Gallery. Swallow is known for cast-bronze sculptures that mimic other materials: wood, cardboard and tape. In his first show at Kordanksy, he plays with rope and the myriad shapes and meanings it can take on. Through Oct. 31. 5130 W. Edgewood Place, Mid-City, Los Angeles, davidkordanskygallery.com.
"Someday Is Now: The Art of Corita Kent," at the Pasadena Museum of California Art. Known for a groundbreaking body of work that combined faith, activism, snippets of found text and bold color, Kent was a Catholic nun who also had a prolific career as a fine art printer. Through Nov. 1. 490 E. Union St., Pasadena, pmcaonline.org.
Dan McCarthy, "Facepots," at Venus Over Los Angeles. Ceramic pots that appear hastily crafted feature the visages of cartoonish figures in an array of colors — pieces that play as much with pop culture as they do with classical form. Also on view will be some of the Hawaii-born artist's new paintings. Through Nov. 1. 601 S. Anderson St., Boyle Heights, Los Angeles, venusovermanhattan.com.
Elad Lassry at David Kordanksy Gallery. Lassry uses photography in myriad ways — as a form of representation (be they engines or snakes), but also as a material — embedded into wood sculpture and acrylic glass slabs that hang on a wall, in ways that often strip the images of their original meanings. Through Nov. 5. 5130 W. Edgewood Place, Mid-Wilshire, Los Angeles, davidkordanksy.com.
"Shelter: Rethinking How We Live in Los Angeles" at the Architecture and Design Museum. As L.A. reaches the limits of sprawl, city planners, developers and designers are thinking about how to do more with less: less space, less material and a greater attention to questions of environment and density. This exhibition asked six architectural teams to consider housing options for the L.A. of the future. The examples vary from the radical (a series of buildings occupying strips of Wilshire, developed by Kulapat Yantrasast and the team at wHY Architecture) to the more restrained (a proposal by LA-Más that would pump up the density on granny apartments). Through Nov. 6. 900 E. 4th St., downtown Los Angeles, aplusd.org.
Charles Garabedian, "Sacrifice for the Fleet," at LA Louver. The L.A.-based artist remains as productive as ever at the age of 91. In a new exhibition at LA Louver, the painter is showing 18 new, large-scale works inspired by Armenian manuscripts, biblical stories and a variety of literary characters, including Homer and Euripides. Through Nov. 7. 45 N. Venice Blvd., Venice, lalouver.com.
"To Live and Dine in L.A." at the Central Library. The history of a place can be told through its texts: its books, its accumulated government documents and its menus too. Critic and writer Josh Kun has pored over the Los Angeles Public Library's extensive historic menu archive and put together a show that tells a layered story about L.A.'s food and design — but also stories of politics, culture, society, race and gender. See an image gallery. Through Nov. 13. 630 W. 5th St., downtown Los Angeles, lapl.org.
"Gary Indiana: An exhibition of photographs," at 356 Mission. The noted author, filmmaker and video artist is having a show of photographs at this buzzy Boyle Heights space. Through Nov. 15. 356 S. Mission Road, Boyle Heights, Los Angeles, 356mission.com.
Jacques Flechemuller, "Je Vous Aime Beaucoup," at the Good Luck Gallery. The painter, who divides his time between New York and Paris, is known for his crudely hilarious re-imaginings of romantic and domestic scenes — such as a nude couple casually walking along a roadway, as if setting off on some idyllic 1950s holiday. Through Nov. 14. 945 Chung King Road, Chinatown, Los Angeles, thegoodluckgallery.com.
"Somewhere Over El Arco Iris: Chicano Landscapes, 1971-2015" at the Museum of Latin American Art. Guest curator Julian Bermudez has gathered 25 works that tell a story of landscape through the works of Chicano artists over more than four decades. This includes classic pieces by noted California figures such as Gronk, Frank Romero, Patssi Valdez and Carlos Almaraz. But it also includes up-and-comers such as Shizu Saldamando and Jaime "Germs" Zacarías. Through Nov. 15. 628 Alamitos Ave., Long Beach, molaa.org.
"Gyre: The Plastic Ocean," and Cynthia Minet, "The Beast of Burden," at USC's Fisher Museum. A pair of exhibitions provide different perspectives on detritus. "Gyre" explores the gyre of trash in the Pacific through art — namely, the ways sculptors, photographers and others have employed discarded plastic as material for assemblages, photographs and installation. Minet, in the meantime, employs piles of plastic scraps to create illuminated life-size sculptures of animals. Through Nov. 21. 823 Exposition Blvd., Exposition Park, Los Angeles, fisher.usc.edu.
"Njideka Akunyili Crosby: The Beautyful Ones" at Art + Practice. Bright collages crafted from old family snapshots and the pages of Nigerian lifestyle magazines depict intimate domestic scenes — often the artist and her husband. It's the first show in L.A. for the Nigerian-born artist, whose exhibition is being done in partnership with the Hammer Museum. Also on view will be two films by Akosua Adoma Owusu. Through Nov. 21. 4339 Leimert Blvd., Leimert Park, Los Angeles, artandpractice.org.
"Cao Fei: Shadow Plays" at the Mistake Room. An imaginary China in Second Life and a video that riffs on the zombie-like nature of middle class ennui — this is the first Los Angeles exhibition for the Beijing-based artist, whose work has been shown at the Museum of Modern Art in New York and the Palais de Tokyo in Paris. Expect a series of wry pieces that examine the real and invented side effects of Chinese-style capitalism. Through Nov. 21. 1811 E. 20th St., downtown Los Angeles, tmr.la.
"Adams, Curtis and Weston: Photographers of the American West" at the Bowers Museum. More than three dozen images produced by three of the most iconic American photographers tell the story of the American West — through dreamy images of landscape as well as the people who once inhabited it. Through Nov. 29. 2002 N. Main St., Santa Ana, bowers.org.
"Oasis" at the Sturt Haaga Gallery at Descanso Gardens. In this new exhibition, 22 artists reflect on the idea of oasis. This takes the form of painting and sculpture, but also site-specific works set around the gardens. Through Dec. 6. 1418 Descanso Drive, La Cañada Flintridge, descansogardens.org.
"A Performative Trigger: Radicals of Irvine" at UC Irvine's Claire Trevor School of the Arts. Some of Southern California's most notable artists emerged from the first MFA class at UC Irvine, which graduated in 1971. This includes figures such as Barbara T. Smith, Nancy Buchanan and Chris Burden — the last of whom famously had himself shot in the arm as a work of performance. The exhibition gathers ephemera and documentation from the era, as well as a number of original works. Through Dec. 12. UC Irvine, 4000 Mesa Road, Irvine, arts.uci.edu.
"Everyone's Heart is Full of Fire," at Fahrenheit. A group exhibition featuring the work of three very different artists — painter Dorothy Iannone, conceptualist and body modifier Genesis Breyer P-Orridge and documentarian Marie Losier — looks at works based on the intimate psychological and physical unions between two people. Through Dec. 12. 2245 E. Washington Blvd., downtown Los Angeles, fahrenheit.flaxfoundation.org.
"Far-Sited: California International Sculpture Symposium 1965/2015" at University Art Museum at Cal State Long Beach. In 1965, an international conference brought sculptors from around the globe to Southern California to make works in collaboration with local industry. (I wrote about it in the spring.) Many of these pieces now dot the Cal State Long Beach campus. The museum exhibition explores this history, presenting an array of vintage photographs, sketches and maquettes. Through Dec. 13. 1250 Bellflower Blvd., Long Beach, web.csulb.edu.
"Fred Tomaselli: The Early Works — Or How I Became A Painter" at Begovich Gallery at Cal State Fullerton. Tomaselli, a painter and collagist, is known for hallucinatory arrangements of objects and patterns that explore inner journeys. But he got his start as a light and space artist, playing with ideas of perception. The Begovich Gallery is showing his earliest works, which have not been exhibited since they were first made, primarily in the '80s. Through Dec. 17. 800 N. State College Blvd., Fullerton, fullerton.edu.
Marc Horowitz, "Interior, Day (A Door Opens)," at the Depart Foundation. An exhibition of painting and sculpture spans the range of the high-low, including forms of classical statuary studded with pieces of banal kitsch, and canvases that play with color field, still life and cartoons. Through Dec. 19. 9105 W. Sunset Blvd., West Hollywood, departfoundation.com.
"KLAM Radio" at 323 Projects. Performance artist Lenae Day and writer Anna Kryczka have teamed up to put together a paean and parody to the bizarre art of small-town radio — in this case, in the fictional desert settlement of San Ranchito. This includes spoofs of public radio and right-wing talk. And, of course, there's the station's hilarious promotional slogan: "Jam out with your KLAM out." The podcasts are all available on the 323 Projects website. Listeners are welcome to call the gallery's line — (323) 843-4652 — to leave dedications for the KLAM DJs. Through December, at 323projects.com.
"Paperworks" at the Craft and Folk Art Museum. A variety of works by 15 artists — including sculpture and collage — are made entirely out of cut paper. This includes Lecia Dole-Recio's painted mosaics, Lorenzo Hurtado Segovia's woven paper abstractions, Soo Kim's reconfigured photographic landscapes and Susan Sironi's carved-up books. Expect to see paper in ways you might not have expected. Through Jan. 3. 5814 Wilshire Blvd., Mid-Wilshire, Los Angeles, cafam.org.
"Hammer Projects: Njideka Akunyili Crosby" at the Hammer Museum. The Nigerian-born artist opened an exhibition of her recent collages at the Art + Practice space in Leimert Park in September. Now there's more, a second exhibition at the Hammer that features a selection of her early works: wild collages of intimate domestic scenes fabricated from scraps of magazine pages. Through Jan. 10. 10899 Wilshire Blvd., Westwood, hammer.ucla.edu.
"New Objectivity: Modern German Art in the Weimar Republic" at the L.A. County Museum of Art. A dark and gripping show explores the art of Germany following World War I, before the rise of the Third Reich. Featuring a mix of photography, painting, drawings and ephemera from the era, the exhibition captures the social, political and economic tumult of the Weimar period. Not to be missed. Through Jan. 18. 5905 Wilshire Blvd., Mid-Wilshire, Los Angeles, lacma.org.
Matthew Barney, "River of Fundament" at the Museum of Contemporary Art. Barney is a video and performance artist known for producing lush works inspired by fantastical mythologies. His latest (which includes an epic six-hour film) reimagines the birth and death cycles of the Egyptian Book of the Dead (or at least Norman Mailer's take on the Egyptian Book of the Dead). Should be decadent. Through Jan. 18. The Geffen Contemporary, 152 N. Central Ave., downtown Los Angeles, moca.org.
"The Idea of North: The Paintings of Lawren Harris," at the Hammer Museum. Known for his elegant depictions of frigid Canadian landscapes, Harris was part of the Group of Seven, a group of painters who were proponents for establishing a distinctly Canadian school of painting — in Harris's case, one with distinctly Modernist overtones. His sparse landscapes, depicted in stained-glass hues of blue, white and green, often with exalted rays of light descending from the heavens, have practically religious overtones. Through Jan. 24. 10899 Wilshire Blvd., Westwood, Los Angeles, hammer.ucla.edu.
"Uh-Oh: Frances Stark, 1991-2015," at the Hammer Museum. This is a survey of work by L.A.-based artist Frances Stark, whose wide-ranging practice — she's done everything from carbon drawings to elaborate digital animations — covers a similarly broad terrain of subjects, including critiques of institutions and intimate views of the artist's personal life, such as animated productions of private online chats. Through Jan. 24. 10899 Wilshire Blvd., Westwood, Los Angeles, hammer.ucla.edu.
"Giant Robot Biennale 4," at the Japanese American National Museum. Giant Robot — the shop and gallery — has long focused on Asian and Asian American popular culture, showcasing works and decorative merchandise by figures such as Yoshitomo Nara and Takashi Murakami. Since 2007, founder Eric Nakamura has partnered with the Japanese American National Museum for this biennial, which showcases pop-infused works by an array of young artists. Through Jan. 24. 100 N. Central Ave., downtown Los Angeles, janm.org.
Stas Orlovski, "Skazka," at Young Projects Gallery. The L.A.-based Orlovski is known for his haunting stop-motion animations that employ bits of vintage children's books and Victorian drawings. This new work, which features a soundtrack by experimental audio artist Steve Roden, is inspired by 19th century magic lantern performances and will include a stage-set and larger-than-life projections onto silhouettes. Through Feb. 5. Pacific Design Center, 8687 Melrose Ave., Space B230, West Hollywood, youngprojectsgallery.com.
"Various Small Fires (Working Documents)" at the Los Angeles County Museum of Art. A show that illuminates unusual bits of LACMA history, such as the plan to have a robot patrol the galleries or the time a dog worked as a security guard. Included in the mix is Ed Ruscha's working sketch for his infamous mid-'60s canvas, "The Los Angeles County Museum on Fire." Through Feb. 7. 5905 Wilshire Blvd., Mid-Wilshire, Los Angeles, lacma.org.
"Ishiuchi Miyako: Postwar Shadows" at the Getty Center. Showcasing several bodies of work by the Japanese photographer, this exhibition includes her moving images of objects and clothing that survived the atomic bombing of Hiroshima. Each image captures deeply personal details such as patches, mends and stains, all evidence of the full lives once inhabited by these garments. Also on view will be a small exhibition of contemporary Japanese photographers. Through Feb. 21. 1200 Getty Center Drive, Brentwood, Los Angeles, getty.edu.
"The Wartime Photographs of Ansel Adams," at the Skirball Cultural Center. Adams' powerful black-and-white images from Manzanar during World War II protested what he described as the "enforced exodus" of American citizens: Japanese Americans who were forcefully detained for the course of the war. It's a stirring view of life for Japanese Americans during a dark period in American history. Through Feb. 21. 2701 N. Sepulveda Blvd., Brentwood, Los Angeles, skirball.org.
"Noah Davis: Imitation of Wealth" at the Museum of Contemporary Art Grand Avenue. In 2013, Davis re-created a series of works by famous artists and put them on display at the Underground Museum, his alternative art space in Arlington Heights. The idea was to display works of high cultural value in an unlikely setting. Now, the Museum of Contemporary Art has re-created the installation — a work made more poignant by the artist's passing last week. (The piece is viewable through the windows of a storefront space adjacent to the museum free of charge.) Through Feb. 22. 250 S. Grand Ave., downtown Los Angeles, moca.org.
"Hard Edged: Geometrical Abstraction and Beyond" at the California African American Museum. A new exhibition features the work of 46 artists — from emerging figures to well-established names — working in the arena of geometric abstraction. This includes works by fresh voices and standard bearers, including well-known figures such as Rashid Johnson, Senga Nengudi, David Hammons and Tim Washington. Through April 24. 600 State Drive, Exposition Park, Los Angeles, caamuseum.org.
"Frank Gehry" at the Los Angeles County Museum of Art. Featuring more than 200 drawings, 65 models, as well as countless photographs and video, this retrospective looks at the life and career of one of L.A.'s most celebrated architects. Totally worth it just to see the original design for downtown's Disney Hall. (Glad they went for the option that was built.) Through March 20. 5905 Wilshire Blvd., Mid-Wilshire, Los Angeles, lacma.org.
Alice Könitz, "Los Angeles Museum of Art (LAMOA)," at Occidental College. This is a work of sculpture that also serves as a micro exhibition hall. The space was established in Könitz's backyard in 2012 but will be on view at Occidental College for the course of the academic year. The inaugural exhibition features work by L.A. artist Alice Clements. Through spring 2016. In front of Weingart Hall at Occidental College, 1600 Campus Road, northeast Los Angeles, oxy.edu.
"Islamic Art Now" at the Los Angeles County Museum of Art. Contemporary works from LACMA's permanent collection by 20 artists who live in or have roots in the Middle East look at questions of society, gender and identity. Runs indefinitely. 5905 Wilshire Blvd., Los Angeles, lacma.org.
Twitter: @cmonstah
---
The complete guide to home viewing
Get Screen Gab for weekly recommendations, analysis, interviews and irreverent discussion of the TV and streaming movies everyone's talking about.
You may occasionally receive promotional content from the Los Angeles Times.