The Los Angeles art world comes roaring back to life this weekend with openings and events all over town. This includes a show that examines the psychology of horse racing in Chinatown, L.A. photography in Sawtelle, meticulously rendered drawings in Hollywood and paintings/installations that evoke the idea of the seaside carnival in downtown. Plus: A dance performance inhabits the Schindler house, and Ed Ruscha screens a little-seen film.
Here are 11 shows and events to check out this week:
Sadie Barnette, "Superfecta," at Charlie James Gallery. In a series of multimedia works — from photography to meticulously rendered drawings — the artist looks at the culture of horse racing, touching on issues of fantasy, escapism and chance. Opens Saturday at 6 p.m. and runs through Feb. 20. 969 Chung King Road, Chinatown, Los Angeles, cjamesgallery.com.
Gerard & Kelly with L.A. Dance Project, "Modern Living," at the MAK Center. Brennan Gerard and Ryan Kelly, the dance duo known as Gerard & Kelly, are known for creating pieces that employ gesture, video and dance in ways that explore issues of sexuality. Now the pair are taking on the architecture of the Schindler house, and its ideals of communal living, in a series of performances that will be staged over the weekend. This Saturday and Sunday from noon to 3 p.m.; RSVP required. 835 N. Kings Road, West Hollywood, makcenter.org.
Toba Khedoori, at Regen Projects. In her fourth show at the gallery, the L.A.-based artist, known for her detailed renderings of plants, architecture and other objects, takes to canvas as well. Her pieces reveal aching detail that, at moments, teeters into abstraction — creating images that are more than mere representation. Opens Saturday and runs through Feb. 13. 6750 Santa Monica Blvd., Hollywood, regenprojects.com.
Steven Hull, "Never Again Sharpen Your Teeth On the Rope That Holds You Safely to Shore," at Rosamund Felsen Gallery. The Los Angeles artist, known for the dexterous ways in which he combines painting and sculpture to create theatrical installations, is putting together a show that is inspired partly by seaside carnival, partly by an ocean voyage. The exhibition — his 11th at Rosamund Felsen — will include paintings, large-scale wood sculptures and oil paint transfers. Opens Saturday at 3 p.m. and runs through Feb. 6. 1923 S. Santa Fe Ave., downtown Los Angeles, rosamundfelsen.com.
George Porcari, "Greetings From LA: 24 Frames and 50 Years," at Haphazard. Since the '60s, artist George Porcari has been photographing Los Angeles — from the street to the beach. In this exhibition, he uses those images to make large-scale photo collages set around a blank space — or void — that shapes the tone of the images above and below. Opens Saturday at 7 p.m. and runs through Feb. 20. 1542 Sawtelle Blvd., Sawtelle, Los Angeles, haphazard.co.
Kori Newkirk, at Roberts & Tilton. Known for creating sculptural pieces out of synthetic hair and pony beads, the Los Angeles-based artist is now taking on the idea of the circle in myriad ways, including a series of sculptures crafted from found bicycle wheels. Opens Saturday at 6 p.m. and runs through Feb. 6. 5801 Washington Blvd., Culver City, robertsandtilton.com.
Ed Ruscha's "Premium," at the Getty Center. One of only two films that Ruscha has made over his long career, "Premium" was inspired by the artist's 1969 photography book "Crackers," which was based on a short story by "Smothers Brothers" comedic writer Mason Williams. The 24-minute film, which features artist Larry Bell on a late-night quest, is screening as part of the programming related to the Getty's "Salad Garden" project (which I wrote about in October). Both Ruscha and Bell will be in attendance. This Saturday at 6 p.m.; free with reservation. 1200 Getty Center Drive, Brentwood, Los Angeles, getty.edu.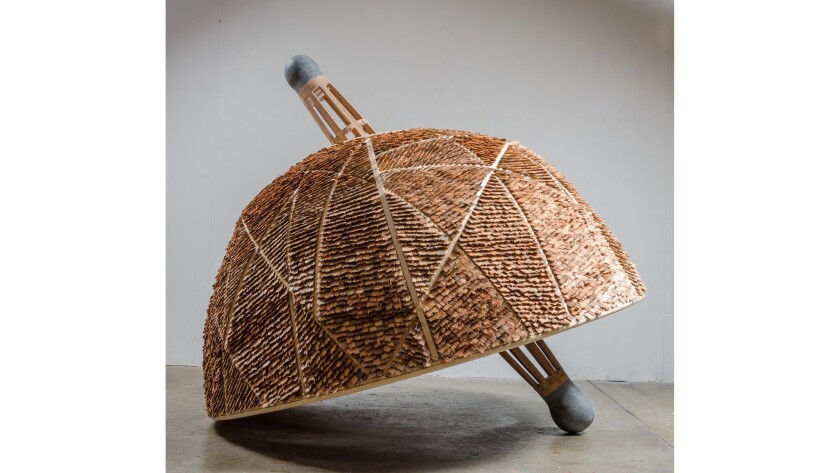 "Minoru Ohira: Iki and Yabo," at Offramp Gallery. "Iki" in Japanese means chic; "yabo," unrefined. In this exhibition, the Japanese sculptor examines the fine line between the two concepts in a series of largely wooden sculptures that evoke and deconstruct elements of architecture. Opens Sunday at 2 p.m. and runs through Feb. 7. 1702 Lincoln Ave., Pasadena, offrampgallery.com.
"The Contenders" screening series at the Hammer Museum. The Hammer is once again partnering with New York's Museum of Modern Art for a film series that looks at the most innovative and influential films made in the last 12 months. The screenings often include conversations with the director and actors and are very worthwhile if you are an aficionado of cinema or simply film-curious. "Room" screens at 7:30 tonight and will include a conversation with director Lenny Abrahamson and actors Brie Larson and Jacob Tremblay. This will be followed early next week by screenings of "99 Homes," "Carol" and "Tangerine." For the full list, visit hammer.ucla.edu/contenders2015. 10899 Wilshire Blvd., Westwood, hammer.ucla.edu.
Rafaël Rozendaal, "Abstract Browsing," at Steve Turner. A series of Jacquard woven tapestries explores the architecture of the Internet, a subject that has long-fascinated this Dutch-born artist. He is also presenting a series of wall works inspired by haiku. Opens Saturday and runs through Feb. 6. 6830 Santa Monica Blvd., Hollywood, steveturner.la.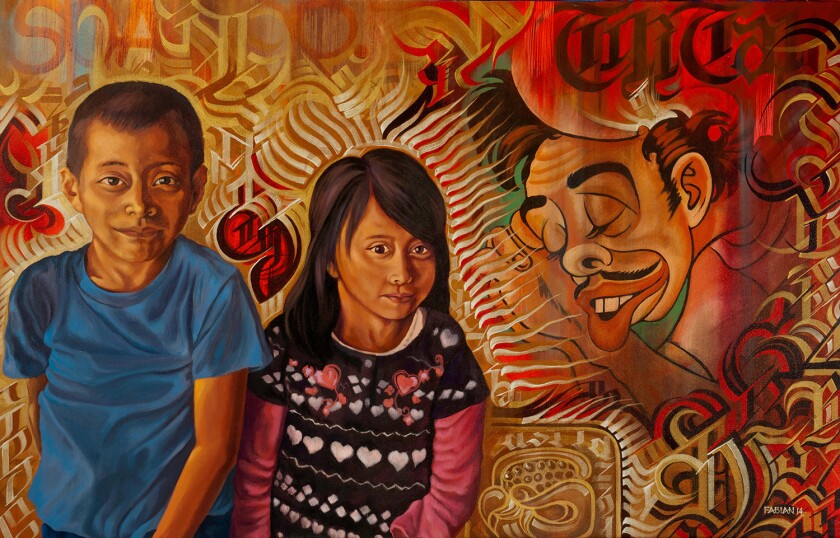 "Spiritual Language," at TAG Gallery. Roughly 40 artists, including Fabian Debora, Alex Kizu and Juan Carlos Munoz Hernandez, have contributed works to this group show, which will serve as a benefit for Homeboy Industries. Proceeds from the sales of the works will go to the organization; the gallery also is accepting donation of art supplies to help support Homeboy's art-related programs. Opens Saturday at 5 p.m. and runs through Jan. 23. 2525 Michigan Ave., D3, Santa Monica, taggallery.net.
FINAL WEEK:
"J.B. Blunk: Painting, Drawing, Sculpture," at the Landing. This Northern California artist is renowned for his woodworking. (Blum & Poe in Culver City had a show of his abstract sculptures — some defined by the roiling organic forms of the wood that he worked with — in 2010.) The Landing brought together a selection of the artist's paintings and drawings, which also gracefully manipulate form and texture. Through Saturday. 5118 W. Jefferson Blvd., West Adams, thelandinggallery.com.
Ron English, "Neo-Nature: We Are the New They," at Corey Helford Gallery. The migration east continues. Culver City gallery Corey Helford has a new spot in Boyle Heights, and in was inaugurated with a big show by pop surrealist Ron English, who is showing a series of largely animal-inspired works. Through Saturday. 571 S. Anderson St., Boyle Heights, coreyhelfordgallery.com.
Mariangeles Soto-Díaz, "The Subject Must Rotate Like the Sun," at Ruth Bachofner Gallery. A series of abstracted paintings nod to the artist's own process as well as the work of Venezuelan poet Eugenio Montejo. Through Saturday. Bergamot Station, 2525 Michigan Ave., No. 2, Santa Monica, ruthbachofnergallery.com.
"Hammer Projects: Njideka Akunyili Crosby" at the Hammer Museum. The Nigerian-born artist had an exhibition of her recent collages at the Art + Practice space in Leimert Park in September. But the Hammer has gathered her early works: wild collages of intimate domestic scenes fabricated from scraps of magazine pages. Through Sunday. 10899 Wilshire Blvd., Westwood, hammer.ucla.edu.
ONGOING EXHIBITIONS
James Turrell, at Kayne Griffin Corcoran. In his latest solo exhibition at Kayne Griffin Corcoran, Turrell is debuting a series of large-scale works made from elliptical glass that, over 2 1/2 hours, go through thousands of different parts of the color spectrum. (Just the show for Pantone-heads.) Through Jan. 16. 1201 S. La Brea Ave., Mid-City, kaynegriffincorcoran.com.
"New Objectivity: Modern German Art in the Weimar Republic" at the L.A. County Museum of Art. A dark and gripping show explores the art of Germany following World War I, before the rise of the Third Reich. Featuring a mix of photography, painting, drawings and ephemera from the era, the exhibition captures the social, political and economic tumult of the Weimar period. Not to be missed. Through Jan. 18. 5905 Wilshire Blvd., Mid-Wilshire, lacma.org.
Matthew Barney, "River of Fundament" at the Museum of Contemporary Art. Barney is a video and performance artist known for producing lush works inspired by fantastical mythologies. His latest (which includes an epic six-hour film) reimagines the birth and death cycles of the Egyptian Book of the Dead (or at least Norman Mailer's take on the Egyptian Book of the Dead). Should be decadent. Through Jan. 18. The Geffen Contemporary, 152 N. Central Ave., downtown, moca.org.
"Mapping the Information Age," at Christopher Mount Gallery. During the infancy of microprocessing, companies such as Intel, IBM and Hewlett-Packard would create colorful prints that were used as maps for constructing early microchip technology. Not intended to be art, these curious technological artifacts (dating to 1990) offer a range of intriguing abstract geometric patterns — of the sort that would no doubt impress the likes of Piet Mondrian. Through Jan. 20. Pacific Design Center, 8687 Melrose Ave., West Hollywood, christopherwmountgallery.com.
"The Idea of North: The Paintings of Lawren Harris," at the Hammer Museum. Known for his elegant depictions of frigid Canadian landscapes, Harris was part of the Group of Seven, a group of painters who were proponents for establishing a distinctly Canadian school of painting — in Harris' case, one with distinctly Modernist overtones. His sparse landscapes, depicted in stained-glass hues of blue, white and green, often with exalted rays of light descending from the heavens, have practically religious overtones. Through Jan. 24. 10899 Wilshire Blvd., Westwood, hammer.ucla.edu.
"Uh-Oh: Frances Stark, 1991-2015," at the Hammer Museum. This is a survey of work by L.A.-based artist Frances Stark, whose wide-ranging practice — she's done everything from carbon drawings to elaborate digital animations — covers a similarly broad terrain of subjects, including critiques of institutions and intimate views of the artist's personal life including animated productions of private online chats. Through Jan. 24. 10899 Wilshire Blvd., Westwood, hammer.ucla.edu.
"Giant Robot Biennale 4," at the Japanese American National Museum. Giant Robot — the shop and gallery — has long focused on Asian and Asian American popular culture, showcasing works and decorative merchandise by figures such as Yoshitomo Nara and Takashi Murakami. Since 2007, founder Eric Nakamura has partnered with the Japanese American National Museum for this biennial, which showcases pop-infused works by an array of young artists. Through Jan. 24. 100 N. Central Ave., downtown, janm.org.
David Korty, at Night Gallery. The Los Angeles-based painter's latest series, titled "Figure Construction" all begins with the color blue. He uses the same inky backdrop on works that contain layered blocks of painted text, drawings and pattern fragments, which cohere into abstracted human figures. The show also includes a number of the artist's geometrically-inspired ceramic works. Through Jan. 30. 2276 E. 16th St., downtown, nightgallery.ca.
"Somewhere Over El Arco Iris: Chicano Landscapes, 1971-2015" at the Museum of Latin American Art. Guest curator Julian Bermudez has gathered 25 works that tell a story of landscape through the works of Chicano artists over more than four decades. This includes classic pieces by noted California figures such as Gronk, Frank Romero, Patssi Valdez and Carlos Almaraz. But it also includes up-and-comers such as Shizu Saldamando and Jaime "Germs" Zacarías. Extended through Jan. 31. 628 Alamitos Ave., Long Beach, molaa.org.
"Hannelore Baron: Collage & Assemblage," at Jack Rutberg Fine Art. Taut works of assemblage and collage take their power from the found materials the artist used: bits of fabric and other gewgaws found in thrift stores and junkyards, charged objects that retain the sense of having once served other purposes. Born in Germany (her family fled the country in the wake of Kristallnacht), Baron was part of New York's artistic milieu at mid-century, but her pieces, which feel faded and worn, suggest the claustrophobia of isolation and confinement. Extended through Jan. 30. 357 N. La Brea Ave., Fairfax, jackrutbergfinearts.com.
Stas Orlovski, "Skazka," at Young Projects Gallery. The L.A.-based Orlovski is known for his haunting stop-motion animations that employ bits of vintage children's books and Victorian drawings. This new work, which features a soundtrack by experimental audio artist Steve Roden, is inspired by 19th century magic-lantern performances and will include a stage-set and larger-than-life projections onto silhouettes. Through Feb. 5. Pacific Design Center, 8687 Melrose Ave., Space B230, West Hollywood, youngprojectsgallery.com.
"Various Small Fires (Working Documents)" at the Los Angeles County Museum of Art. A show that illuminates unusual bits of LACMA history, such as the plan to have a robot patrol the galleries or the time a dog worked as a security guard. Included in the mix is Ed Ruscha's working sketch for his infamous mid-'60s canvas, "The Los Angeles County Museum on Fire." Through Feb. 7. 5905 Wilshire Blvd., Mid-Wilshire, lacma.org.
Victor Hugo Zayas, at the Museum of Latin American Art. Gritty abstractions the color of charcoal, acid and steel capture the industrial innards of Los Angeles. Zayas, a painter who maintains a studio on the banks of the L.A. River, will have a survey of more than 40 works on view at the museum — works that chart the evolution of the city's industrial landscape. Through Feb. 7. 628 Alamitos Ave., Long Beach, molaa.org.
"Customizing Language," at Los Angeles Contemporary Exhibitions. Organized by guest curators Idurre Alonso and Selene Preciado, this group show gathers artists from the U.S. and the Americas to look at the ways in which language often reflects political reality. Featuring the work of figures such as Marco Ramírez ERRE, Regina José Galindo and Mely Barragán (whom I wrote about as part of the Tijuana art series in October). Through Feb. 14. 6522 Hollywood Blvd., Hollywood, welcometolace.org.
"Ishiuchi Miyako: Postwar Shadows" at the Getty Center. Showcasing several bodies of work by the Japanese photographer, this exhibition includes her moving images of objects and clothing that survived the atomic bombing of Hiroshima. Each image captures deeply personal details such as patches, mends and stains, all evidence of the full lives once inhabited by these garments. Also on view will be a small exhibition of contemporary Japanese photographers. Through Feb. 21. 1200 Getty Center Drive, Brentwood, getty.edu.
"The Wartime Photographs of Ansel Adams," at the Skirball Cultural Center. Adams' powerful black-and-white images from Manzanar during World War II protested what he described as the "enforced exodus" of American citizens: Japanese Americans who were forcefully detained for the course of the war. It's a stirring view of life for Japanese Americans during a dark period in American history. Through Feb. 21. 2701 N. Sepulveda Blvd., Brentwood, skirball.org.
Diana Thater, "The Sympathetic Imagination," at the L.A. County Museum of Art. The Los Angeles-based video artist is widely known for groundbreaking video installations that incorporate the architecture of a space while exploring a range of natural phenomena: from the underwater lives of dolphins to the ways in which bees communicate. For the show at LACMA, she is showing works shot in Claude Monet's garden in Giverny, France, and at the Galtaji Temple in Jaipur, India. Through Feb. 21. 5905 Wilshire Blvd. Mid-Wilshire, lacma.org.
"Noah Davis: Imitation of Wealth" at the Museum of Contemporary Art Grand Avenue. In 2013, Davis re-created a series of works by famous artists and put them on display at the Underground Museum, his alternative art space in Arlington Heights. The idea was to display works of high cultural value in an unlikely setting. Now, the Museum of Contemporary Art has re-created the installation — a work made more poignant by the artist's recent death. (The piece is viewable free of charge through the windows of a storefront space adjacent to the museum.) Through Feb. 22. 250 S. Grand Ave., downtown, moca.org.
John Outterbridge, "Rag Man," at Art + Practice. The renowned Los Angeles assemblage artist is showing works produced mainly over the last decade and a half from scavenged materials such as twigs, bones and hair. Works from the recent series, "Rag and Bone Idiom" evoke talismans and healing rituals. Through Feb. 27. 4339 Leimert Blvd., Leimert Park, artandpractice.org.
"R. Luke DuBois: Now" and "Sandow Birk: American Qur'an," at the Orange County Museum of Art. OCMA opens a pair of new shows: one by the New York-based DuBois, an artist who often employs data to create unique visualizations, and the L.A.-based Birk, who has spent nine years transcribing and illustrating every verse of the Koran in a uniquely American way. Through Feb. 28. 850 San Clemente Drive, Newport Beach, ocma.net.
"Rain Room," at the L.A. County Museum of Art. It was universally panned by the critics when it appeared at the Museum of Modern Art in New York. (New York Magazine critic Jerry Saltz described it as "the worst single work of art that I saw all this year ... a high-tech amusement-park ride.") And my colleague Christopher Knight labeled it "brainless amusement" in his review of the experience. But who cares when you can take the world's most awesome selfie inside it and share it with the world on Instagram? Through March 6. 5905 Wilshire Blvd., Mid-Wilshire, lacma.org.
"Disguise: Masks and Global African Art," at the Fowler Museum. This exhibition looks at the art of disguise through the work of a dozen contemporary African and African American artists — touching on everything from elaborate masks to the illusionist camouflage of the digital sphere. Expect to see work by artists such as Zina Saro-Wiwa, Jacolby Satterwhite and Brendan Fernandes. Through March 13. UCLA, north campus, Westwood, fowler.ucla.edu.
"Frank Gehry" at the Los Angeles County Museum of Art. Featuring more than 200 drawings and 65 models, as well as countless photographs and video, this retrospective looks at the life and career of one of L.A.'s most celebrated architects. Totally worth it just to see the original design for downtown's Disney Hall. (Glad they went for the option that was built.) Through March 20. 5905 Wilshire Blvd., Mid-Wilshire, lacma.org.
"In Focus: Daguerreotypes," at the Getty Museum. A selection of some of the museum's 2,000 daguerreotypes go on view alongside daguerreotypes from the collection of singer-songwriter Graham Nash, a prominent collector of this early type of photography. Through March 30. 1200 Getty Center Drive, Brentwood, getty.edu.
"Robert Cremean: The Beds of Procrustes" and "The Seven Deadly Sins," at the Pasadena Museum of California Art. The California artist is known for cool, diagrammatic pieces that employ the human figure in ways that riff on bigger questions of art, myth, faith and sacrifice. For his show in Pasadena, one installation examines the legend of Procrustes, the Greek mythological bandit who would torture people in various ways in order to force them to fit onto an iron bed, while another uses human figures to interpret each of the deadly sins. Through April 3. 490 E. Union St., Pasadena, pmcaonline.org.
"Hard Edged: Geometrical Abstraction and Beyond" at the California African American Museum. A new exhibition features the work of 46 artists — from emerging figures to well-established names — working in the arena of geometric abstraction. This includes works by fresh voices and standard-bearers, including well-known figures such as Rashid Johnson, Senga Nengudi, David Hammons and Tim Washington. Through April 24. 600 State Drive, Exposition Park, caamuseum.org.
Alice Könitz, "Los Angeles Museum of Art (LAMOA)," at Occidental College. This is a work of sculpture that also serves as a micro exhibition hall. The space was established in Könitz's backyard in 2012 but will be on view at Occidental College for the course of the academic year. The inaugural exhibition features work by L.A. artist Alice Clements. Through spring 2016. In front of Weingart Hall at Occidental College, 1600 Campus Road, Eagle Rock, oxy.edu.
"Popol Vuh: Watercolors of Diego Rivera," at the Bowers Museum. The "Popol Vuh" is a nearly 500-year-old Mayan text, written in Quiché, that recounts that culture's creation myths. This sacred text inspired a series of watercolors by Mexican muralist Diego Rivera, an artist who was preoccupied with indigenous themes. Now, 17 of these paintings, on loan from a museum in Mexico, are on view at the Bowers. Through May 29. 2002 N. Main St., Santa Ana, bowers.org.
Alex Israel, at the Huntington. In 2012, the San Marino library and museum unveiled the first of its contemporary interventions with low-key works by Ricky Swallow and Lesley Vance. Now the museum is getting bolder, with a series of installations by painter Alex Israel, whose pop-inspired canvases and objects touch on topics such as celebrity, glamour and power. Through July 11. 1151 Oxford Road, San Marino, huntington.org.
"Senses of Time: Video and Film-Based Works of Africa," at the Los Angeles County Museum of Art. For one of its long-term installations, the museum has gathered works of video or film by contemporary African artists that explore the body and the looping nature of time. This includes pieces by figures such as Yinka Shonibare, Sammy Baloji, Berni Searle, Moatax Nasr and Theo Eshetu. Through Jan. 2, 2017. 5905 Wilshire Blvd., Mid-Wilshire, lacma.org.
"Islamic Art Now" at the Los Angeles County Museum of Art. Contemporary works from LACMA's permanent collection by 20 artists who live in or have roots in the Middle East look at questions of society, gender and identity. Runs indefinitely. 5905 Wilshire Blvd., Mid-Wilshire, lacma.org.
Find me on Twitter @cmonstah
---