Olvera Street's once-whitewashed mural by Mexican master David Alfaro Siqueiros gets a needed cleaning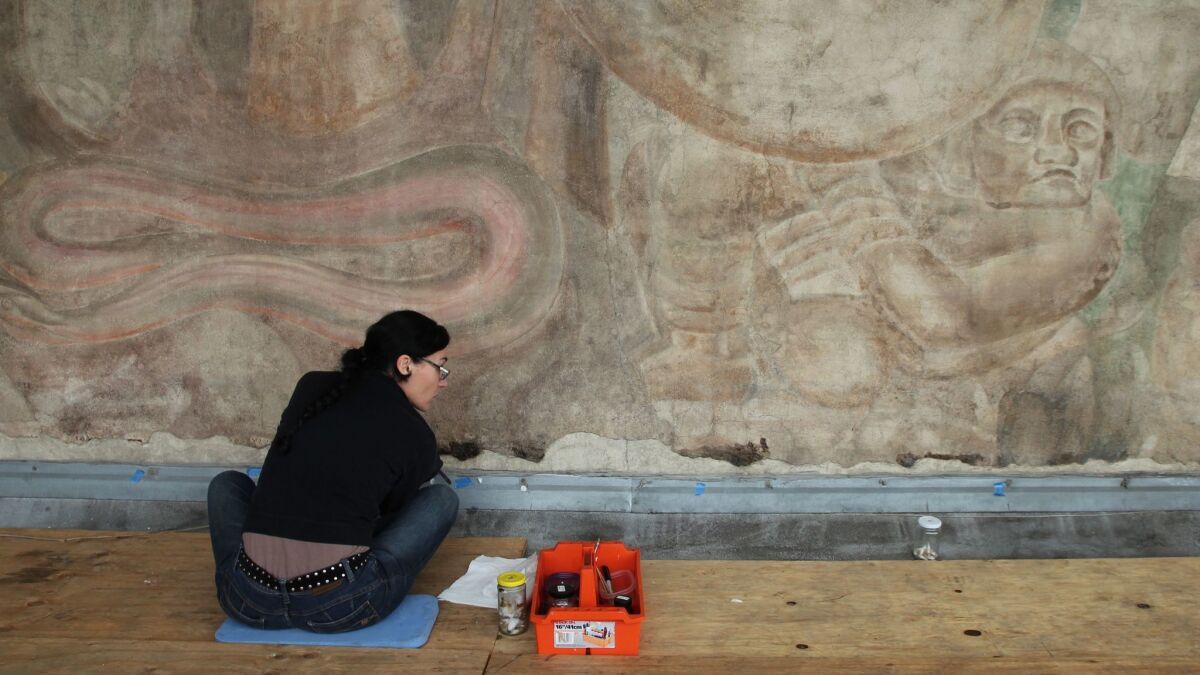 One of L.A.'s most storied murals is getting a bath.
"América Tropical," painted by Mexican muralist David Alfaro Siqueiros on the side of the old Italian Hall on Olvera Street in 1932 and later whitewashed for stirring controversy, is getting tender loving care from conservators at the Getty Conservation Institute.

For the record:
6:20 p.m. Feb. 7, 2023An earlier version of this article reported that a mural by David Alfaro Siqueiros resided at a private home in Pacific Palisades. The mural is now at the Santa Barbara Museum of Art.
"We photograph the paint regularly to monitor it," says Leslie Rainer, a mural conservator and senior project specialist with the Getty Conservation Institute. "We have representative spots that we look to to monitor for changes. And what we see is that the mural is filthy — just from all of the particulates in downtown Los Angeles."
Rainer says that the mural's location — at a busy intersection in downtown and above the exhaust fans of Olvera Street restaurants — means that it accumulates grime at a rapid rate.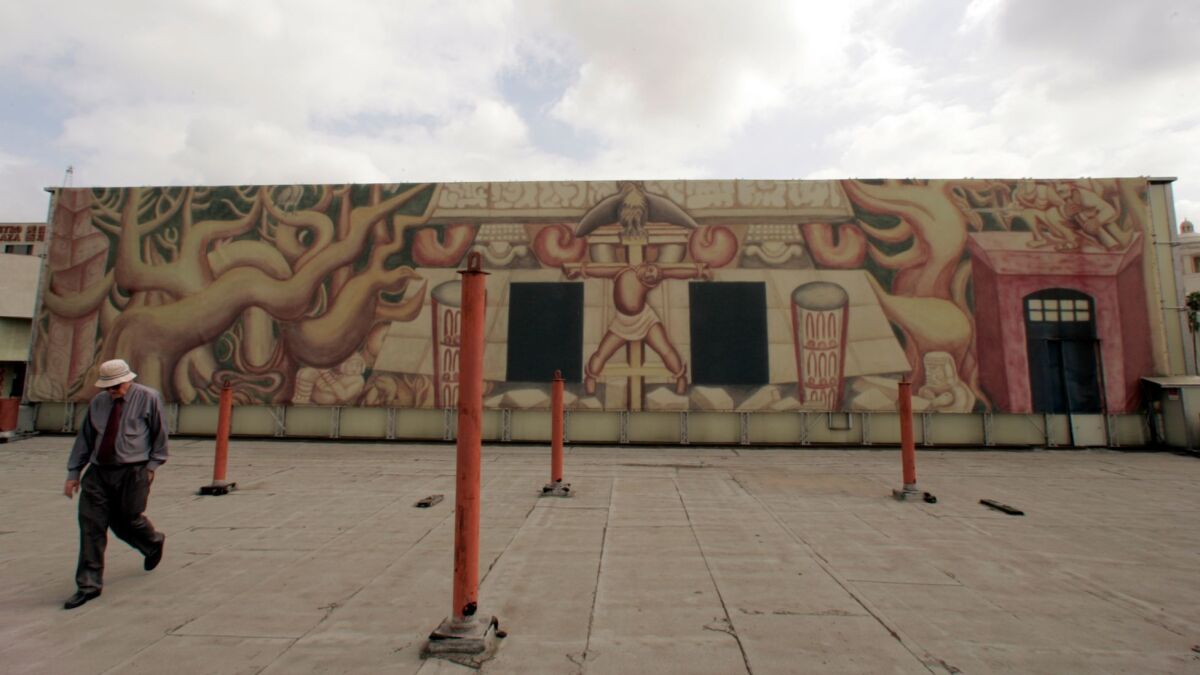 Conservators are vacuuming up some of the soot and giving the mural a gentle cleaning with water and sponges. They are also giving it a thorough examination, through the use of digital microscopes among other techniques, to make sure that the surface of the piece is stable and to further study Siqueiros' use of materials. (The mural was made using an unusual technique that included painting directly into wet cement, like a fresco.)
"It's a cement plaster and it's really thin," says Rainer. "It would have dried really quickly.
"Everything so far has remained in pretty good shape. But it needed a good cleaning and it will need that from time to time. The public won't necessarily see a difference, but it's important."
Conservators are also removing bits of tar that remain along the bottom edge of the mural, evidence of an old roofing job on the building next-door.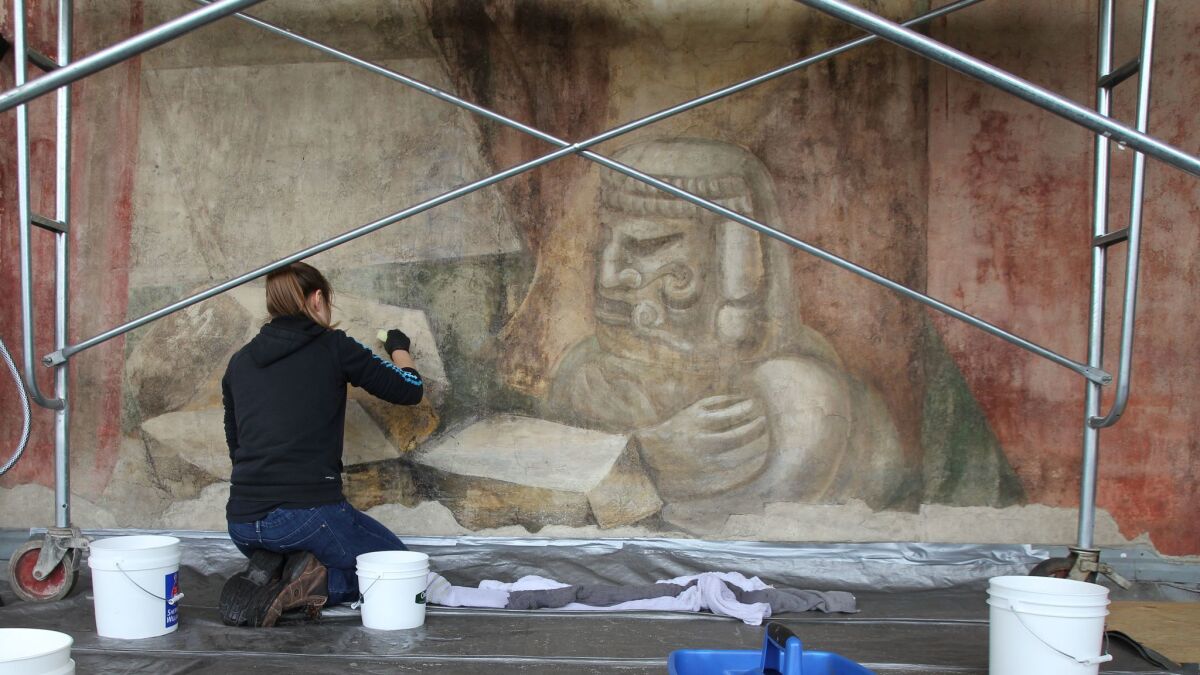 "América Tropical" is a singular piece, an extant outdoor mural in the United States by one of Mexican muralism's undisputed masters. It is also one of only two surviving murals Siqueiros made in Los Angeles (the other resided in a private home in Pacific Palisades and can now be found at the Santa Barbara Museum of Art).
Its strong imagery immediately led to outcry when it was first painted. The mural features a resplendent temple scene that at its heart, contains the image of a dead indigenous peasant tied to a cross. (Not exactly the sort of picturesque imagery that Olvera Street leaders had imagined when they commissioned the artist in the 1930s.)
Soon after it was created, the portion that was visible from the Olvera Street pedestrian path was whitewashed. Later, the entire thing was covered. But, over the years, the white paint began to peel off, revealing the imagery. The work and its story was influential among Chicano muralists in the 1960s and '70s.
After a decades-long effort by various arts patrons, historians and civic leaders, the mural was rededicated in 2012 after receiving vital conservation work. The city also added a canopy that helps protect it from the elements and a viewing platform for guests, as well as an interpretive center.
Chris Espinosa, the general manager for the El Pueblo de Los Angeles Historical Monument, says the mural has been a popular draw since it was reopened, averaging about 96,000 visitors a year over the last four years.
"It tells an important story of early Los Angeles," he says, "and an important story about a renowned painter."
Conservation work is expected to be completed in April.
Sign up for our weekly Essential Arts & Culture newsletter »
ALSO
'America Tropical': A forgotten Siqueiros mural resurfaces in Los Angeles
Art review: 'America Tropical' transformed once more
On the trail of Yma Sumac: The exotica legend came from Peru, but her career was all Hollywood
Lourdes Ramos named president of the Museum of Latin American Art — first Latina to hold the post
---
Get our L.A. Goes Out newsletter, with the week's best events, to help you explore and experience our city.
You may occasionally receive promotional content from the Los Angeles Times.