Datebook: Taking on the legacy of colonialism, wry postmodern designs, two L.A. artists face off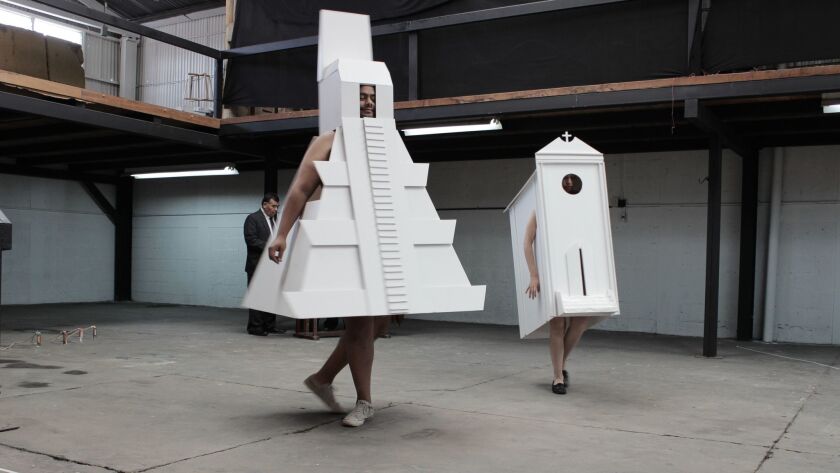 Rethinking the history of the Americas from an indigenous point of view. Colorful postmodern design. Two L.A. artists in dialogue. Plus: Collages, art inspired by the implements of the American West and sculpture by African American women. Get busy, El Lay! Here are 10 exhibitions and events to check out in the coming week:
"A Decolonial Atlas: Strategies in Contemporary Art of the Americas," at the Vincent Price Art Museum. A group exhibition looks at the legacy of colonialism in everything from historical narratives to the struggle over human resources. The show is broken up into four sections that provide a distinctly indigenous view of identity, notions of time, relationship to the landscape (and the resources they hold) and how history is told and archived. Sounds like a show for our time. Opens Saturday at 5 p.m. and runs through July 22. East Los Angeles College, 1301 Cesar Chavez Ave., Monterey Park, vincentpricemuseum.org.
"Peter Shire: Naked Is the Best Disguise," at the Museum of Contemporary Art. This survey looks at the work of the L.A.-based Shire, a key figure in Southern California's "post-pottery" ceramics movement. The exhibition will display key work he did in the postmodern vein as part of Memphis, the Milan-based design collective — a group whose work was all about elaborate juxtapositions of bright colors and wild shapes. Also on view will be the artist's handmade ceramic earthenware, crafted under the label Echo Park Pottery, and the work for which he is best known. Opens Saturday and runs through July 2. MOCA Pacific Design Center, 8687 Melrose Ave., West Hollywood, moca.org.
Lari Pittman / Silke Otto-Knapp, "Subject, Predicate, Object," at Regen Projects. This show features new work by two L.A.-based artists. This will include 10 large-scale artist books produced by Pittman, which will be displayed in an array of tables designed by L.A. architect Michael Maltzan. Also on view will be a group of new paintings by Otto-Knapp, which take on elements of form and landscape in muted layers of paint. Sounds like two great tastes that taste great together. Opens Saturday and runs through May 27. 6750 Santa Monica Blvd., Hollywood, regenprojects.com.
"Spiral Play: Loving in the '80s," at Art + Practice. Al Loving was an artist who drew on sources as varied as free jazz, his family's quilting traditions and the history of Modern painting when creating abstracted works that riffed on color, form and flatness. But later in life, he turned his attention to depth, using heavy rag paper and other elements to create multidimensional collages infused with bold lines and bright color. This show, organized by Christopher Bedford, the new director of the Baltimore Museum of Art (formerly a curator at LACMA), will feature 12 of these late monumental collages. Opens Saturday at 3 p.m. and runs through July 29. 3401 W. 43rd Place, Leimert Park, Los Angeles, artandpractice.org.
Richard Hamilton, Carlo Mollino and John Stezaker, "Blackout," at Ibid Los Angeles. A new exhibition at Ibid brings together the works of three artists known for creating collages out of appropriated materials, be it a poster or pieces of photography. The show focuses on works that employ the human figure as a model in advertising, exploring questions of iconography, idealized beauty and consumerism. Also on view will be paintings by Christopher Orr and assemblages from the studio of James Herman. Opens Saturday and runs through July 8. 670 S. Anderson St., Boyle Heights, Los Angeles, ibidgallery.com.
Liz Young, "Of Blood and Dirt," at Pøst. Young often plays, in wry and mordant ways, with elements of the human and the animal, presented in installations that evoke a cabinet of curiosities — albeit in surreal configurations. Of particular interest for this exhibition are objects that hearken to the ideals of the American West: Hunting targets, taxidermy, wood-burning brands and other second-hand objects that in death are filled with a strange afterlife. Other elements engage the artist's interest in text, which has historically drawn from works by the likes of Sam Sheppard and Annie Proulx. Opens Saturday at 7 p.m. and runs through May 20. 1206 Maple Ave., No. 515, downtown Los Angeles, facebook.com/NotPOST.
"Signifying Form," at the Landing Gallery. A beguiling exhibition organized by independent curator Jill Moniz (formerly of the California African American Museum) brings together sculpture by African American women from 1935 to the present. This puts works by esteemed figures such as Elizabeth Catlett, Betye Saar, Maren Hassinger and Senga Nengudi into an intergenerational dialogue with younger artists such as Brenna Youngblood. The show is united by a profound interest in material and its possibilities, be it wire, wood or buoyant plastic bags. Of particular interest is Alison Saar's "Cakewalk," a 1997 sculpture that consists of a life-size wood puppet of a black female figure — on view for the first time in Los Angeles. Viewers are allowed to move her limbs, becoming complicit in a long history of controlling black female bodies. Do not miss. Through June 3. 5118 W. Jefferson Blvd., West Adams, Los Angeles, thelandinggallery.com.
McDermott & McGough, "Hollywood (Homosexual) Hopeful," at Team Gallery. Artists David McDermott and Peter McGough have been making art as a pair since the 1980s when they emerged out of New York's East Village art scene. Since then, they have regularly produced work that employs found images from American mass media to explore issues of sexuality, bigotry and the fallout from the AIDS crisis. For this show, McDermott and McGough will be turning their attention to the closeted man in Hollywood — perfect subject matter for Los Angeles. Opens Sunday and runs through May 28. 306 Windward Ave., Venice, teamgal.com.
"Transcultural Dialogues: The Books of Mesoamerica and Colonial Mexico," at JFK Library at Cal State Los Angeles. Tied to a special symposium honoring the work of influential Mexican archaeologist Eduardo Matos Moctezuma, the university has put together an exhibition of important books dating to the 17th century, including historical chronicles and reproductions of Mesoamerican codices. Opens Saturday at 5 p.m. and runs through May 22. 5151 State University Drive, East Los Angeles, calstatela.edu.
"L.A. 92: Decompressing History," at Jean Deleage Gallery at Casa 0101. The 1992 L.A. uprising was recorded by countless professional photographers. It was also captured by everyday people wielding a camera. This exhibition gathers the images of L.A. resident Armando Cabrera, who was 24 when the riots unfolded in Los Angeles and captures the manifold moments of drama between the city's residents and law enforcement. Opens Friday at 7 p.m. 2102 E. 1st St., Boyle Heights, Los Angeles, casa0101.org.
Ongoing Exhibitions
EJ Hill, "The Necessary Reconditioning of the Highly Deserving," at Commonwealth & Council. A new series of sculptures and paintings represent the black body in places of elevation — an attempt to tell a story of blackness "with light and affirmation." Also on view will be exhibitions by Neha Choksi and Kang Seung Lee. Through April 29. 306 W. 7th St., downtown Los Angeles, commonwealthandcouncil.com.
Joan-Ole Schiemann, "Can You Show Me the Way to Paradise Road?" at Mier. The Germany-based artist uses the aesthetics of cartoon animations to explore his movements around Los Angeles — albeit in abstraction. The works aren't about creating a neatly structured grid or some other sort of literal visual map but, rather, laying out elements of the environment as they shift over the course of the city's landscape: noises, odors, structures, and other elements, all rendered as surreal forms. Through April 29. 1107 Greenacre Ave., West Hollywood, miergallery.com.
Jake Kean Mayman, "The Earth Dies Screaming," at Night Gallery. The Los Angeles painter, whose slightly dystopic color palette of acid-sherbet shades is often employed in pieces that take on aspects of landscape and the figure, as well as the nature of painting itself, has a show of new works that take on issues of fear in the American psyche and the ways in which information is manipulated and distorted. The title of the show? That was inspired by a 1964 sci-fi horror film about apocalypse. Timely. Through April 29. 227 E. 16th St., Boyle Heights, Los Angeles, nightgallery.ca.
"Desert X," in locations around the Coachella Valley. This biennial crash features a variety of installations and land art pieces installed along the length of the Coachella Valley. (Expect some driving … or Lyfting or cycling.) On the rundown is a high-profile assortment of SoCal and international figures, including Doug Aitken, Tavares Strachan, Gabriel Kuri, Richard Prince, Lita Albuquerque and Claudia Comte — creating site-specific pieces that take advantage of their scenic desert environs. Through April 30. The exhibition is free and takes place in locations around the Coachella Valley, desertx.org.
Gronk and Luis Roberto Vasquez Borja, "Home/Escape," at FM Fine Art Gallery. This show explores the artistic relationship between artist and mentor. Borja once served as an assistant to the L.A. painter and muralist Gronk (born Glugio Nicandro), and he is now establishing himself in his own right. This collaborative exhibition pairs their works together. Through April 30. 834 N. La Brea Ave., Hollywood, fmfineartgallery.com.
"Breaking News: Turning the Lens on Mass Media," at the Getty Center. An exhibition that couldn't be timelier: Curator Arpad Kovcs has put together a show that looks at the ways in which artists have turned bucolic magazine images and fragments of news programming into sharp political statements against events such as the Vietnam War and the so-called war on terror. The show features work by Martha Rosler, Alfredo Jaar, Catherine Opie and Robert Heinecken. Through April 30. 1200 Getty Center Drive, Brentwood, Los Angeles, getty.edu.
Corey Arnold, "Aleutian Dreams," at Richard Heller Gallery. For many years, Arnold worked on a commercial fishing boat out of the remote community of Dutch Harbor, Alaska, catching codfish and crab. He took his camera and captured cinematic images of his exhausted co-workers, tempestuous seas and animal life at its wildest. Through May 5. Bergamot Station, 2525 Michigan Ave., No. B-5A, Santa Monica, richardhellergallery.com.
Moi Medina, "Right Left: Fair Is Fair," at Mandujano Cell. This small Inglewood artist-run space has a very intriguing exhibition on view by historian Moi Medina. A wry two-screen video installation takes as its point of inspiration two stories of lost legs: The first focuses on a late 16th century episode in New Mexico, in which Spanish conquistador Juan de Oñate ordered the surviving adult males of Acoma pueblo to have their right legs removed in wake of a battle; the second explores the life and travels of the wooden leg that once belonged to Mexican Gen. Antonio Lopez de Santa Anna — which, intriguingly enough, now resides at the Illinois State Military Museum. Through May 5. 171 N. La Brea Ave., Inglewood, mandujano-cell.com.
Zeal Harris, Lili Bernard and Loren Holland, "Sweet Sticky Things," at Launch LA. The group show, whose title is inspired by a song from the 1970s funk band the Ohio Players, looks at issues of society, sexuality and black womanhood — in works that are variously inspired by folk art traditions, Afro-Caribbean folklore and myriad other artistic practices. Through May 6. 170 S. La Brea Ave., Hancock Park, Los Angeles, launchla.org.
Mary Weatherford, "like the land loves the sea," at David Kordanksy Gallery. The Los Angeles painter creates hypnotic abstract canvases that she often punctuates with slashes of curved and crooked neon that operate as a brilliant surface brush stroke. A stop-you-in-your-tracks exhibition that is also deeply atmospheric. Through May 6. 5130 Edgewood Place, Los Angeles, davidkordanskygallery.com.
Jimmie Durham, "At the Center of the World," at the Hammer Museum. For the last 20 years, Durham, who was born in Arkansas and who came of age as an artist in New York's downtown scene in the 1980s, has chosen to show primarily outside the United States. (He is of Cherokee descent.) This makes his first North American retrospective all the more special. Gathering his works from the 1970s to the present, the show features wry assemblages and wall sculptures that combine natural and discarded elements, riffing on classical architecture, the nature of portraiture and colonization. While you're there, don't miss the exhibition featuring drawings by French artist Jean Dubuffet, a figure who turned the graffiti-like gesture into high art. Through May 7. 10899 Wilshire Blvd., Westwood, Los Angeles, hammer.ucla.edu.
"Picasso and Rivera: Conversations Across Time," at the L.A. County Museum of Art. This exhibition compares the artistic trajectories of two of the 20th century's most towering Modernists: Pablo Picasso and Diego Rivera. This covers the period from the 1920s to the '50s as they explored Cubism, classical forms and ancient cultures in innovative ways. The shows features 150 paintings, etchings and watercolors. Through May 7. 5905 Wilshire Blvd., Mid-Wilshire, Los Angeles, lacma.org.
"Birds of America: Explorations of Audubon — the Paintings of Larry Rivers and Others," at 101/Exhibit. The gallery, which represents the Larry Rivers Foundation, has organized a show around the paintings of birds executed by the artist — paintings inspired by illustrator John James Audubon's seminal 19th century book, "Birds of America." In conjunction with a number of these works, the gallery is also showing pieces by numerous other contemporary artists that dialogue with art in this way. Through May 13. 668 N. La Peer Drive, West Hollywood, 101exhibit.com.
Joe Goode, "Old Ideas With New Solutions," at Kohn Gallery. The California painter, whose work explores nature, urban landscape and the nature of color in often abstract ways, has new pieces now on view at Kohn, including work from various ongoing series. This includes new "Milk Bottle" paintings, which explore representation and abstraction using the humble milk bottle as starting point, "Ocean Blue," with their plays on color and the boundlessness of nature, "California Summer," employing a sunburned California palette, and "TV Blues," which takes abstractions inspired by nature and displays them in the rectangular shape of a television screen. Through May 13. 1227 N. Highland Ave., Hollywood, kohngallery.com.
Ron Jude and Milton Rogovin, "Commodities, Traders," at Gallery Luisotti. This two-person show pairs two photographic series that look at the economic conditions of workers of very different stripes. Jude's color photographs capture the short haircuts and formal business attire of anonymous financial district workers, while Rogovin's images, shot in black and white, record the lives and faces of miners around the world. The series may appear wildly different on the surface, but the people and their circumstances are linked through our inequitable economic system. Through May 13. Bergamot Station, 2525 Michigan Ave., Building A2, Santa Monica, galleryluisotti.com.
Mark Feldstein, "NYC, circa 1970," at Louis Stern Fine Arts. Feldstein was an artist and professor who was key to establishing the photography program at Hunter College in New York City in the '70s. As an artist, he was known for hitting the streets of the Bowery, camera in tow, capturing people and the myriad details of architecture in artful ways. Through May 13. 9002 Melrose Ave., West Hollywood, louissternfinearts.com.
"Masculine — Feminine," at the Beall Center for Art + Technology. A group show that gathers the works of 12 artists, including Cassils, Micol Hebron, Julie Heffernan and Danial Nord, explores issues of gender and sexuality — sometimes playing with the malleability of these identifiers, at other times eliminating them completely. Through May 13. UC Irvine, 712 Arts Plaza, Irvine, beallcenter.uci.edu.
"Iconic Black Panther," at Gregorio Escalante Gallery. This show brings together works by 50 artists, including Mark Steven Greenfield, Keith Walsh, Samella Lewis, Shepard Fairey and April Banks, inspired by the history and iconography of the Black Panther movement (an iconography inspired in part by the work of artist Emory Douglas). The exhibition is organized by the arts organization Sepia Collective, Zack de la Rocha / Razor Step in association with the arts nonprofit Road to Artdom, and Gregorio Escalante Gallery. Through May 14. 978 Chung King Road, Chinatown, Los Angeles, gregorioescalante.com.
Elizabeth Neel, "Claw Hammer," and Stanya Kahn, "Stand in the Stream," at Susanne Vielmetter Los Angeles Projects. Neel, a New York-based painter, is known for layering brushed and rolled paint with expressionistic spills onto large raw canvases for lushly tinted abstractions that often evoke both earthy phenomena and architectural forms. Separately, Vielmetter is also showing L.A.-based video artist Kahn, who is known for dizzying works that build tension while upending narrative. Her latest film, filmed over six years, mixes a bevy of footage shot on a variety of devices that observe strangers in public spaces. Through May 20. 6006 Washington Blvd., Culver City, vielmetter.com.
Jason Rhoades, "Installations, 1994-2006," at Hauser Wirth & Schimmel. The Los Angeles artist — known for sprawling, ribald installations made with everything from neon to cardboard to peas — often touched on issues of religion, sex and commerce in his work. This show, his first comprehensive survey in Los Angeles, brings together six of his most significant installations, including a tribute to sculptor Constantin Brancusi and a massive, sexually charged piece that features 240 neon words that describe female genitalia — a temple-like set-up where the viewer is invited to be wildly seduced. Through May 21. 901 E. 3rd St., downtown Los Angeles, hauserwirthschimmel.com.
Manuel Ocampo & Irene Iré, "Monument to the Pathetic Sublime," at Coagula Curatorial. Ocampo, a Filipino artist who will be representing his native country at the 2017 Venice Biennale, and Iré, a painter who hails from Spain, take on Goya's 18th century print series "Los Caprichos," about the vanities and absurdities of Spanish society. The pair have created a series of works inspired by Goya that take the acid eye and black humor of the Spanish master and apply it to today's society. Through May 21. 974 Chung King Road, Chinatown, Los Angeles, coagulacuratorial.com.
Dreamland: A Frank Romero Retrospective, at the Museum of Latin American Art. The first museum retrospective of the storied Los Angeles painter brings together more than 200 works from throughout his career — pieces that frequently contend with various aspects of the urban experience, in particular that of L.A. The show covers all periods of his more than five-decade-long career, including his early works, pieces from his time with the collective Los Four in the 1970s and '80s, his large-scale paintings and murals, as well as his more recent work in neon and ceramics. Through May 21. 628 Alamitos Ave., Long Beach, molaa.org.
"Figure/ Landscape," at Zevitas Marcus. A group show explores two very old themes in art: the figure and landscape, and the ways in which the two are related to each other. This includes more traditional viewpoints, as well as more abstracted, exaggerated and conceptual portrayals. Through May 27. There will be an opening reception for the artists at 5 p.m. April 28. 2754 S. La Cienega Blvd., Culver City, zevitasmarcus.com.
"The Basilisk," at Nicodim Gallery. A bewitching group show features work by the likes of Lita Albuquerque, Diana Thater, Mungo Thomson and Ciprian Muresan, with a few oddities stuffed in between. Through May 27. 571 S. Anderson St., Suite 2, Boyle Heights, Los Angeles, nicodimgallery.com.
Phung Huynh, "Pretty Hurts," at CB1 Gallery. The artist employs kitsch painting techniques — of the sort found in Chinatown gift shops — to explores issues of body and modification (specifically through plastic surgery) among Asian women. The images are a searing yet comic hybrid of the strange things women do to their bodies in the name of beauty. In a separate exhibition, the gallery is showing the painted, laser-cut acrylic works of Osvaldo Trujillo, who buries all manner of images in his delicate lace-like patterns. Through May 27. 1923 S. Santa Fe, downtown Los Angeles, cb1gallery.com.
"Aaron G. Green and California Organic Architecture," at the Palos Verdes Art Center. Green was an architect inspired by the complex patterns and rugged textures found in nature, and this exhibition, curated by architectural historian Alan Hess, gathers rare photographs, along with original architectural renderings and other materials, to show a school of modernism that turned away from the glass box in favor of more organic forms. Through May 28. 5504 West Crestridge Road, Palos Verdes, aarongreen.org and pvartcenter.org.
"Women of Abstract Expressionism" at the Palm Springs Museum of Art. The Abstract Expressionist movement has been widely regarded as a boys club, one bursting with the macho antics of painters such as Jackson Pollock and Willem de Kooning. But the movement included a healthy number of women, and this groundbreaking exhibition gathers works by some of the key female artists of the era, including Helen Frankenthaler, Jay DeFeo, Elaine de Kooning, Grace Hartigan, Lee Krasner and Joan Mitchell. In other words, it's a fresh look at a history we think we know so well. Through May 28. 72-567 Highway 111, Palm Desert, psmuseum.org.
Graeme Mitchell, "Detached Pictures," at Wilding Cran Gallery. The noted portrait photographer employs photography as a point of departure for a series of new paintings that show the ways in which photography (and its translation into other media) can leave a lot of questions hovering about what represents reality. Through May 28. 939 S. Santa Fe Ave., downtown Los Angeles, wildingcran.com.
"Non Fiction," at the Underground Museum. An emotionally charged exhibition curated by the late Noah Davis in collaboration with the Museum of Contemporary Art in Los Angeles brings together works that explore issues of race and violence. This includes important works from MOCA's permanent collection by artists such as Robert Gober, Kara Walker, Henry Taylor and David Hammons. Through May. 3508 W. Washington Blvd., Arlington Heights, Los Angeles, theunderground-museum.org.
"1992: An Examination of the Iconography from the '92 Los Angeles Rebellion," at Residency. A group show features work by L.A. artists such as Charles Dickson, Patrick Martinez and Tanya Bernard that explores the iconography of the 1992 Los Angeles riots by artists who lived through and saw the effects of those events. Through June 3. 310 E. Queen St., Inglewood, residencyart.com.
Shagha Ariannia, "Who Sings the Nation-State?" at the Vincent Price Art Museum. The artist, who was born in Tehran, looks at issues of citizenship, national identity and immigration through the lens of her own childhood in a video piece that also features related drawings and paintings. Through June 10. 1301 Cesar Chavez Ave., East Los Angeles, vincentpriceartmuseum.org.
"Paperworks: Selections From the Permanent Collection, at the California African American Museum. Drawing from the museum's collection of works on paper, which covers a period that dates two centuries — from 1800 to 2000, this group exhibition gathers collages, drawings, paintings and other works by important figures such as Romare Bearden, Betye Saar, John Biggers, Marion Sampler and Sam Francis. Through June 11. 600 State Drive, Exposition Park, Los Angeles, caamuseum.org.
"Power: Work by African American Women From the 19th Century to Now," at Sprüth Magers. A survey exhibition organized by independent curator Todd Levin provides an overview of work by 37 African American female artists from over the last two centuries. The show, which is named for the 1970 gospel song by Sister Gertrude Morgan, runs the gamut of art-making traditions — including folk, painting, collage and assemblage — and touches on race, gender, class and the cultural and physical landscape. Through June 10. 5900 Wilshire Blvd., Mid-Wilshire, spruethmagers.com.
"Moholy-Nagy: Future Present," at the L.A. County Museum of Art. This sprawling exhibition examines the career of the influential Bauhaus artist and teacher, known for stripping art down to fundamentals of color and shape. Moholy-Nagy was a polymath who worked in painting, printmaking, photography and industrial design, and the show gathers more than 250 works of his in all formats. Moreover, it will also feature his installation "Room of the Present," a concept for an exhibition space that was never realized in his lifetime. Through June 18. 5905 Wilshire Blvd., Mid-Wilshire, Los Angeles, lacma.org.
"In Focus: Jane and Louise Wilson's Sealander," at the Getty Museum. For roughly three decades, twin sisters Jane and Louise Wilson have created large-scale photographs inspired by important events in European history — in the process, capturing the nuclear site at Chernobyl and the former headquarters of the East German secret police. In this series, they turn their attention to the brutal concrete bunkers deposited by Adolf Hitler along the French coast during World War II. Through July 2. 1200 Getty Center Drive, Brentwood, Los Angeles, getty.edu.
"Abdulnasser Gharem: Pause," at the Los Angeles County Museum of Art. Gharem isn't just an artist, he is also a lieutenant colonel in the Saudi Arabian army, the country where he was born and lives. His new show at LACMA, his first solo museum presentation in the U.S., brings together 11 works by the artist all made in the aftermath of Sept. 11. The work, which fuses contemporary art making styles with traditionally Islamic motifs, quietly ruminates on the nature of war and terror (two of the artist's former classmates were hijackers). Through July 2. 5905 Wilshire Blvd., Mid-Wilshire, Los Angeles, lacma.org.
Kerry James Marshall, "Mastry," at the Museum of Contemporary Art. A 35-year retrospective, featuring nearly 80 works, examines the career of a painter who is known for depicting the black figure in ways that are mordant, lordly and defiant — as well as painterly in the most sublime ways. Born in Birmingham, Ala., but raised in L.A. during the civil rights and black power movements, Marshall paints historical events, the city (including bits of Los Angeles), domestic scenes and portraits in ways that counter the invisibility of the black figure in Western art. His people — rendered in the inkiest shades of black — command notice and authority. Consider this show a must-see. Through July 3. MOCA Grand Avenue, 250 S. Grand Ave., downtown Los Angeles, moca.org.
"The Inner Eye: Vision and Transcendence in African Arts," at LACMA. A display of African art gathers objects that touch on important life transitions: initiation pieces, iconic masks and the reliquary guardians that guide people into the afterlife. The works on view, which include metalwork, sculpture and textiles, date from the 13th to 19th centuries and cover various African regions, including Mali, Nigeria, Liberia and Congo. Through July 9. 5905 Wilshire Blvd., Mid-Wilshire, Los Angeles, lacma.org.
Hammer Projects: Andrea Bowers, at the Hammer Museum. Bowers, an artist known for her activism, regularly broaches the subject in her work. This new installation was inspired by the artist's involvement in the protests at Standing Rock — charting the connections between the international banking system and the construction of oil pipelines. She ties these to food and water issues at the Los Angeles level. Through July 16. 10899 Wilshire Blvd., Westwood, Los Angeles, hammer.ucla.edu.
"Chinese Ceramics From the Los Angeles County Museum of Art," at the Vincent Price Art Museum." Part of a new series of partnerships that will take LACMA works to other organizations around L.A., this show represents an overview of Chinese ceramics from the museum's permanent collection that take the viewer from circa 2500 BC to the 19th century — as well as the museum's own long history as a collector of Chinese ceramics. Through July 22. East Los Angeles College, 1301 Cesar Chavez Ave., Monterey Park, vincentpriceartmuseum.org and lacma.org.
Carl Andre, "Sculpture as Place: 1958-2010," at the Museum of Contemporary Art. This retrospective, which was first shown at Dia:Beacon in 2014, surveys the work of a sculptor known for creating minimalist installations out of raw building materials such as bricks, metal squares and wood blocks. The retrospective brings together pieces from throughout the artist's five-decade career, including sculpture, photography, ephemera and his rare "Dada Forgeries," a series of ready-made pieces that he has produced sporadically over the course of his life. Also opening at MOCA Geffen is a new film installation by award-winning filmmaker and artist Arthur Jafa, which traces questions of black identity employing found footage. Through July 24. 152 N. Central Ave., downtown Los Angeles, moca.org.
"Concrete Poetry: Words and Sounds in Graphic Space," at the Getty Research Institute. This is an exhibition where words are about words, but also form. Starting in the mid 1950s, the movement known as concrete poetry sought to explore the space between poetry and visual art, creating works that were visual (words in shapes and 3-D form) but also played with the sound and cadence of language. This show features more than 100 works from the lead poets of the era, including Scotsman Ian Hamilton Finlay, the Brazilian Augusto de Campos and U.S. poets Mary Ellen Solt and Emmett Williams. Through July 30. 1200 Getty Center Drive, Brentwood, Los Angeles, getty.edu.
"Octavia E. Butler: Telling My Stories," at the Huntington. Butler, the pioneering Los Angeles science fiction writer (the first to receive a MacArthur Fellowship, the so-called genius grant) and a writer whose narratives seamlessly blended issues of race and gender with elements of the magical, is the subject of a new exhibition on her life and work. This show at the Huntington (where her archive is kept) gathers roughly 100 items, including notebooks, photographs, journals and first editions of some of her novels, including "Kindred," one of her best, most riveting works. Through Aug. 7. 1151 Oxford Road, San Marino, huntington.org.
"Instructions to All Persons: Reflections on Executive Order 9066," at the Japanese American National Museum. At a time when executive orders are transforming U.S. society, it's a good moment in which to study one of the most notorious ones: President Franklin D. Roosevelt's Order 9066, which allowed for the incarceration of more than 120,000 Japanese Americans living along the West Coast during World War II. This exhibition brings together historical ephemera from this dark period in U.S. history, as well as works of art and performance that reflect on the issue of internment. Along with this, the museum presents "Moving Day," a nightly public art piece in which exclusion orders are projected on the side of the building. Through Aug. 13. 100 N. Central Ave., downtown Los Angeles, janm.org.
Lauren Greenfield, "Generation Wealth," at the Annenberg Space for Photography. Greenfield, a filmmaker and photographer, has long explored the issues of affluence and consumerism at the intersection of social status and celebrity culture. The exhibition features 195 color prints that depict the continual aspiration for more. Through Aug. 13. 2000 Avenue of the Stars, Century City, Los Angeles, annenbergphotospace.org.
"No Justice, No Peace: LA 1992," at the California African American Museum. A historical exhibition looks at the myriad social and political forces that led to the 1992 riots in the wake of the Rodney King verdict — including a troubled history of police relations in minority communities, a history of housing segregation and the drug war, among other factors. Included in the show are hundreds of images and historic documents, as well as a zoot suit and a '90s era police cruiser. Through Aug. 27. 600 State Drive, Exposition Park, Los Angeles, caamuseum.org.
"Los Angeles to New York: Dwan Gallery, 1959-1971," at the L.A. County Museum of Art. Previously on view at the National Gallery of Art in Washington, D.C., this exhibition tracks the legacy of one of the most important postwar galleries in the United States — a space that, for a time, operated in Los Angeles. Its proprietor, Virginia Dwan, wasn't simply a run-of-the-mill gallerist, she was a patron, supporting artists with stipends and studios. She staged one of the earliest pop art exhibitions and she was an important supporter of minimalism. Plus, she was key in helping artists execute the most outrageous works — including important land art pieces such as Robert Smithson's "Spiral Jetty." Talk about thinking big. Through Sept. 10. 5905 Wilshire Blvd., Mid-Wilshire, www.lacma.org.
"Maven of Modernism: Galka Scheyer in California," at the Norton Simon Museum. This exhibition examines the life of a key art dealer: Galka Scheyer, who embraced Modern work early in the 20th century and was partly responsible for bringing the artists known as the "Blue Four" to prominence in the United States. (They were Lyonel Feininger, Alexei Jawlensky, Paul Klee and Vasily Kandinsky.) Born in Germany in the late 19th century, she ultimately settled in California, where she lived in San Francisco and later in Hollywood, where she found an audience that was open to the work and its ideas. The exhibition contains work by the Blue Four, but also objects and other artworks that connect to Scheyer's personal and professional life. Through Sept. 25. 411 W. Colorado Blvd., Pasadena, nortonsimon.org.
"Islamic Art Now: Part 2" at the Los Angeles County Museum of Art. Contemporary works from LACMA's permanent collection by 20 artists who live in or have roots in the Middle East look at questions of society, gender and identity. Runs indefinitely. 5905 Wilshire Blvd., Mid-Wilshire, lacma.org.
"Becoming America: Highlights From the Jonathan and Karin Fielding Collection," at the Huntington Library. The Huntington has just redone its American art galleries and now features a new expansion by architects at Frederick Fisher and Partners that adds eight rooms for display. Up first is an exhibition devoted to the Fielding Collection, featuring more than 200 works of 18th and early 19th century American art, including paintings, furnishings and decorative art. Runs indefinitely. 151 Oxford Road, San Marino, huntington.org.
Sign up for our weekly Essential Arts & Culture newsletter »
Twitter: @cmonstah
---
Your essential guide to the arts in L.A.
Get Carolina A. Miranda's weekly newsletter for what's happening, plus openings, critics' picks and more.
You may occasionally receive promotional content from the Los Angeles Times.