What you say can be used in an Edgar Heap of Birds painting: The artist on his way with words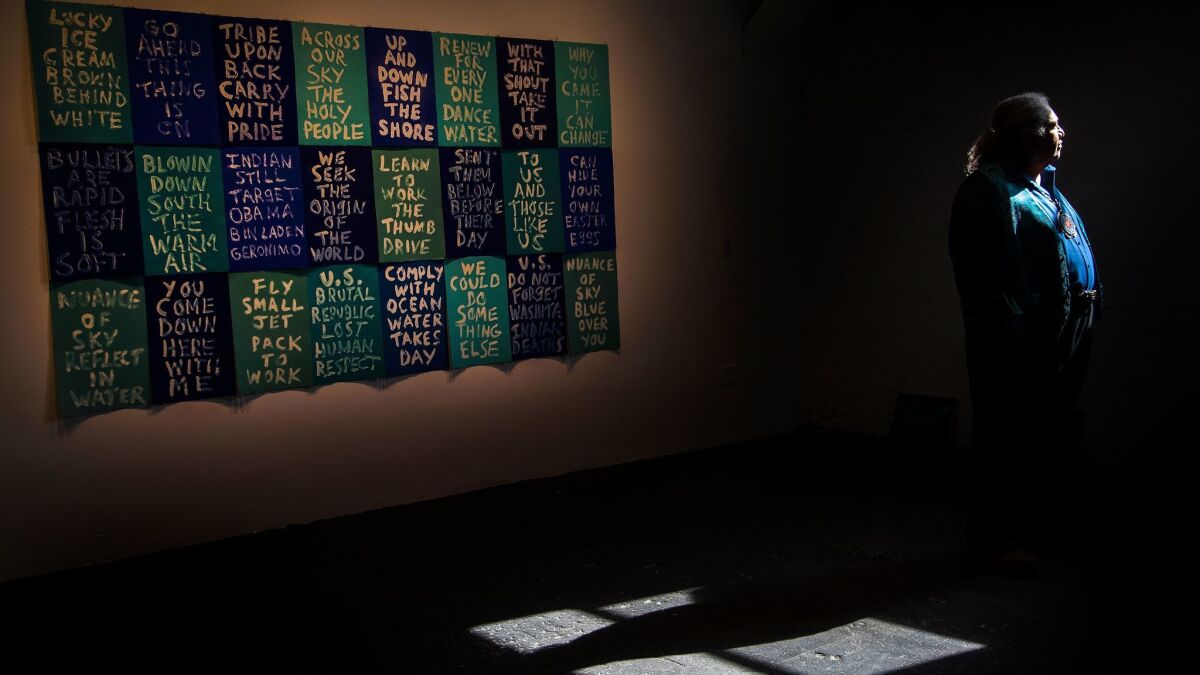 Careful what you say in front of Edgar Heap of Birds. It could end up in a painting.
Since the 1970s, the artist has used words in ways both pointed and wry to create installations that riff on funny song lyrics, urgent environmental issues and indigenous history.
"I hear things, I go to movies, I'm listening to people talk, I read history and think of phrases," says Heap of Birds, who is of Cheyenne and Arapaho descent. "I used to have a little notebook — those spiral notebooks with cards. Now I have a Samsung Note 8 and I just write them down into my phone. I've been doing it for years."
These utterances are source material for prints that he assembles into large, collaged installations — words rendered by hand in all caps, in shades of bright red or cool blue. Hung together, they feel like a combination protest placard, note to self, cut-up poem and urgent reminder:
"WHAT PART OF SACRED DON'T THEY GET"
"CLEAN YOUR CHURCH WITH SEWER WATER"
"DEFEND DEVINE MTNS FOR SPRING-BREAK FUN"
Based in Oklahoma, Heap of Birds is 63 years old, broad-shouldered and barrel-chested, with a mane of curly gray hair he suspends in a buoyant ponytail. He is low-key, with an easy laugh, but he also conveys a simmering sense of purpose — intent on making art that addresses Native issues without delivering symbols that make for trite decoration.
"You have to have integrity, you have to have spirit," he says, seated amid text pieces and abstract paintings that await installation at Garis & Hahn gallery in downtown Los Angeles. "Being Native, it becomes a subject matter. You're not living with grandma and taking her to the diabetic clinic. But you're making this thing, this topical thing. And you're dealing with the gaze. You can't let them do that to you. You can't become a buzzword artist."
If anything, Heap of Birds is more interested in prying those buzzwords apart.
Some of them are jokes on the viewer. Some of them are playful surrealist wordplay … He has fun with it, even if he is challenging you.
— Bill Anthes, curator
Currently, the artist is the subject of two exhibitions in Southern California. This includes the solo exhibition at Garis & Hahn, his first L.A. gallery show in years — he can't recall exactly how many. "It's been a long time," he says.
Another solo exhibition of his work, "Defend Sacred Mountains," is at Pitzer College Art Galleries in Claremont. That show is inspired by four mountains held sacred by indigenous people in the United States: Mauna Kea in Hawaii, Bear Butte in South Dakota, San Francisco Peaks in Arizona and Devil's Tower in Wyoming (known to the Cheyenne as "Bear's House").
That allusion to sewer water in church? It references the San Francisco Peaks near Flagstaff. These have been important to various Southwestern ethnicities, including the Havasupai, Hopi and Navajo. Since 2012, a ski resort on one of the mountains has employed reclaimed and treated wastewater to manufacture snow for the slopes — essentially blanketing a holy site in water that once contained human waste.
Heap of Birds shakes his head as he considers this fate.
"Vernon Bull Coming, he's Cheyenne — a Cheyenne priest and one of my instructors," he says. "He talked about magma and he said, 'That's the most sacred part of the earth.' It comes out of the earth as lava. All of these mountains have been pushed out from the center. It comes from the interior and it comes up to us and that's very special."
Sites such as Bear's House — composed of igneous rock, the solid core of what was likely once a volcano — are therefore charged places. Yet they are not treated as such.
"It's a federal offense to climb Mt. Rushmore," says Heap of Birds. "You can climb Bear's House all day long."
It's a history he takes jabs at in the show at Pitzer:
"DEVIL'S TOWER WRONG NAME CONFUSED WHITE MAN"
"YES WORSHIP AFTER PAYING ENTER FEE"
"MOUNT RUSHMORE POUND SPIKES IN"
Bill Anthes, who co-curated the exhibition, and who authored a 2015 book on the artist, says Heap of Birds' work can be terse, but without being "lecture-y."
"His plays on words is always fascinating, the way the text can read in different ways," he explains. "Some of them are jokes on the viewer. Some of them are playful surrealist wordplay … He has fun with it, even if he is challenging you. There is one work that takes on stereotypical descriptions of Indians — which also happens to be the names of Indian casinos."
Heap of Birds is intrigued by the power of language and the stories it can tell, but also by its innate practicality.
"Living in Oklahoma, I have to be mobile with my practice," he says. "I can't make a big concrete block and take it to New York and Toronto and Stockholm. But paper ships easily. Language is very mobile."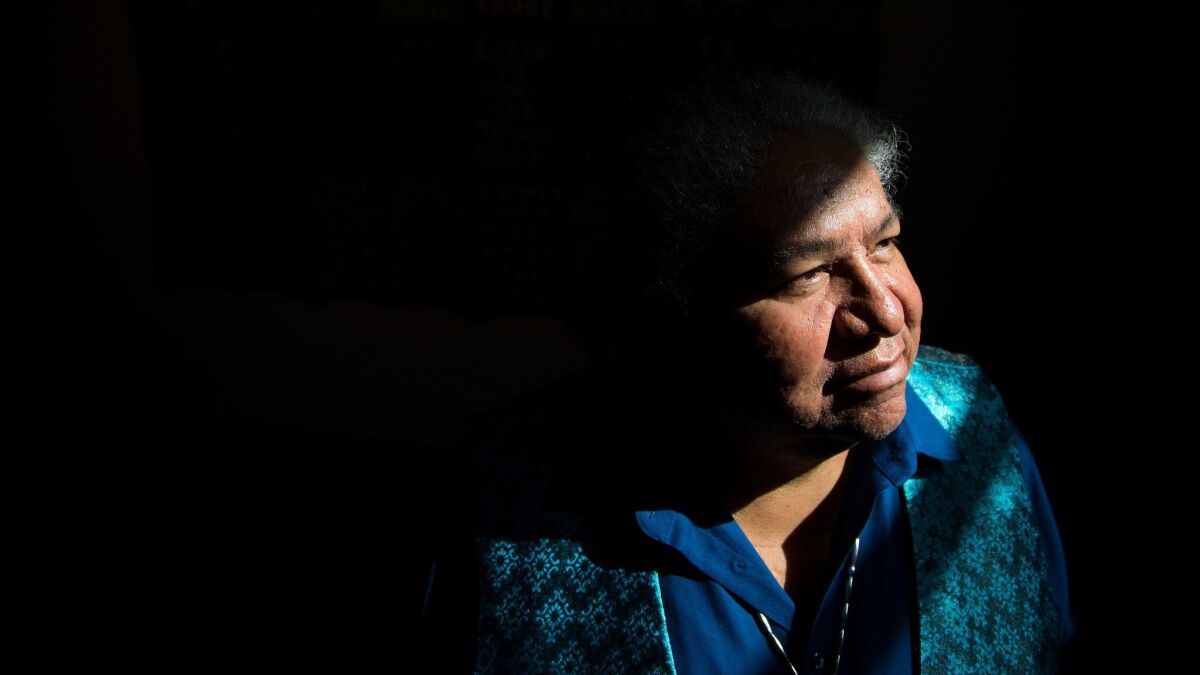 I hear things, I go to movies, I'm listening to people to talk, I read history and think of phrases.
— Edgar Heap of Birds, artist
Edgar Heap of Birds was born Hock E Aye Vi ("Little Chief") in Wichita, Kan., in 1954. His father, the descendant of Cheyenne who fought at Little Big Horn, worked in an aircraft factory. Heap of Birds says he grew up "citified," away from the rural Oklahoma reservation where his family was from.
An early inspiration was Wichita artist Blackbear Bosin, a Kiowa-Comanche artist who made sculpture and painting.
"Indian people, they didn't have cachet," Heap of Birds says. "Indians were laborers. But he extended beyond the laboring part. He showed us that you could be an artist … He was well respected. He had a presence in the city."
In 1977, following his undergraduate studies at the University of Kansas, Heap of Birds studied at the Royal College of Art in London.
"That was the era the Sex Pistols were happening," he says. "I lived on Fulham Road, right near King's Road," in the heart of the punk counterculture. "It was on the street, it was in the water, it was like, 'What the hell is going on here?'"
Europe was a formative experience. But later, at the Tyler School of Art in Philadelphia, Heap of Birds found his voice as an artist.
"I had a wall on my studio and I would write things and the wall became a piece," he explains. "The text became the piece."
At the time, he was studying George Custer's 1868 massacre at Washita, Okla., in which the lieutenant colonel attacked a band of sleeping Cheyenne, killing more than 100, including many women and children, and taking many prisoners — among them the artist's great-great grandfather, who was named Heap of Birds.
Abstraction, he says, didn't quite provide him with the tools he needed to express his feelings about that historic attack. "And I didn't want to make a bad narrative painting," he says. "So I started notating a lot of the issues."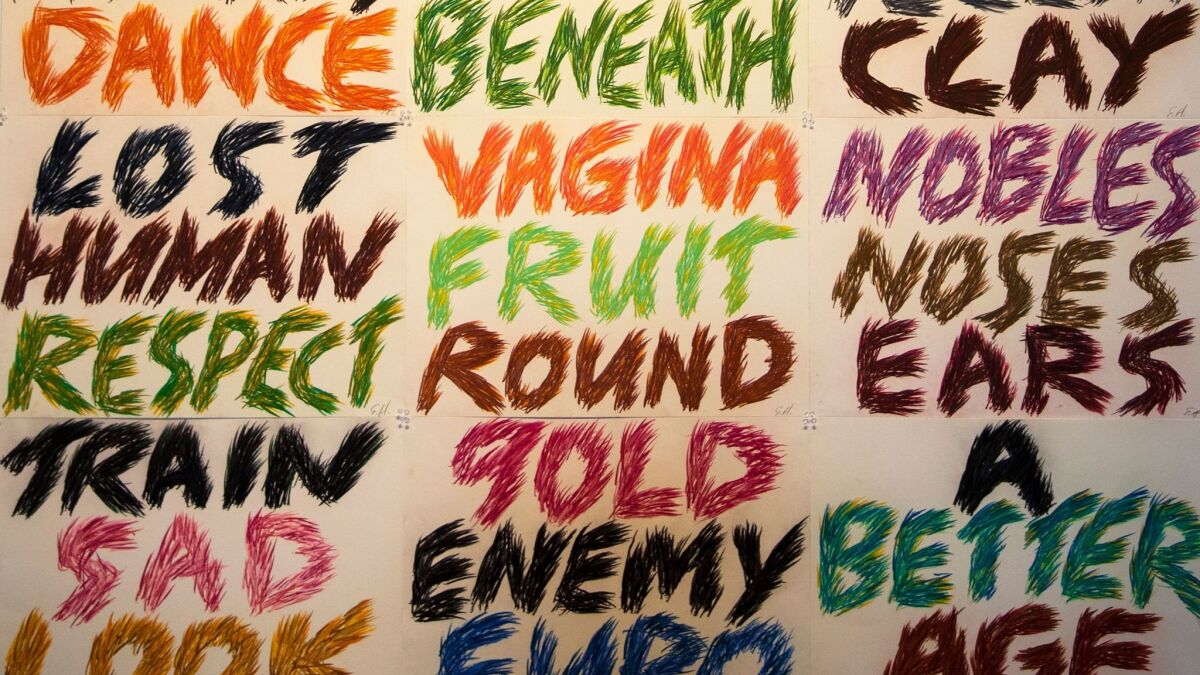 Heap of Birds still paints — pattern-filled abstractions that evoke the color and sensation of environments he has visited — but text remains a central part of his work.
In fact, one of his earliest public projects was a text piece that ran on a digital billboard in New York's Times Square in 1983 — an installation that featured work by a number of now well-known figures. "It was with artists like Jenny Holzer and Hans Haacke," he recalls. "I did mine in Cheyenne."
"IN OUR LANGUAGE; TSISTSISTAS 'CHEYENNE,'" went part of the missive — noting a name that Cheyenne people call themselves.
Since then, his work has continued to explore this conceptual track.
"I put him alongside artists like Jenny Holzer and Barbara Kruger, and older artists of the conceptual movement who were working with language," Anthes says. "And he's an artist who took this conceptual mode, which was already open to political perspective and used it to introduce the mainstream art world audiences to issues of native sovereignty and representation."
He did this from Oklahoma, on a patch of canyon land on the Cheyenne reservation that belonged to his family, where he relocated after receiving his MFA at Tyler.
"It wasn't easy at all," he says. "It wasn't like people were all welcoming. They were like, 'Show me.' And I was all coming out of the East Coast, in North Philadelphia, and I have these urban fears. You gotta think about where you park your car. But out there, there's no people — just coyotes and wild turkeys."
The experience was profoundly enriching. And while many other artists of his generation remained on the East Coast to get the attention of gallerists and museum curators, Heap of Birds has been able to balance life in rural Oklahoma with an art world career. He's exhibited work at the Whitney Museum in New York and the Contemporary Arts Museum in Houston; he has a major sculptural installation on permanent view at the Denver Art Museum and his work is in the permanent collection of New York's Metropolitan Museum of Art.
The show at Garis & Hahn gathers a range of works, including abstract painting, an early text work inspired by a trip to Peru and selections from his longtime "Native Hosts" series, begun in the 1980s, in which he creates signage evocative of government placards as a way of marking the indigenous history of an area.
"CALIFORNIA TODAY YOUR HOST IS TOP'ANGA," reads one such sign outside of Garis & Hahn, referring to the name given to parts of the Los Angeles area by the Tongva people. Heap of Birds first created the California signs, with the help of Tongva elders, as a 2013 public art installation at Pitzer when he was an artist in residence at the campus.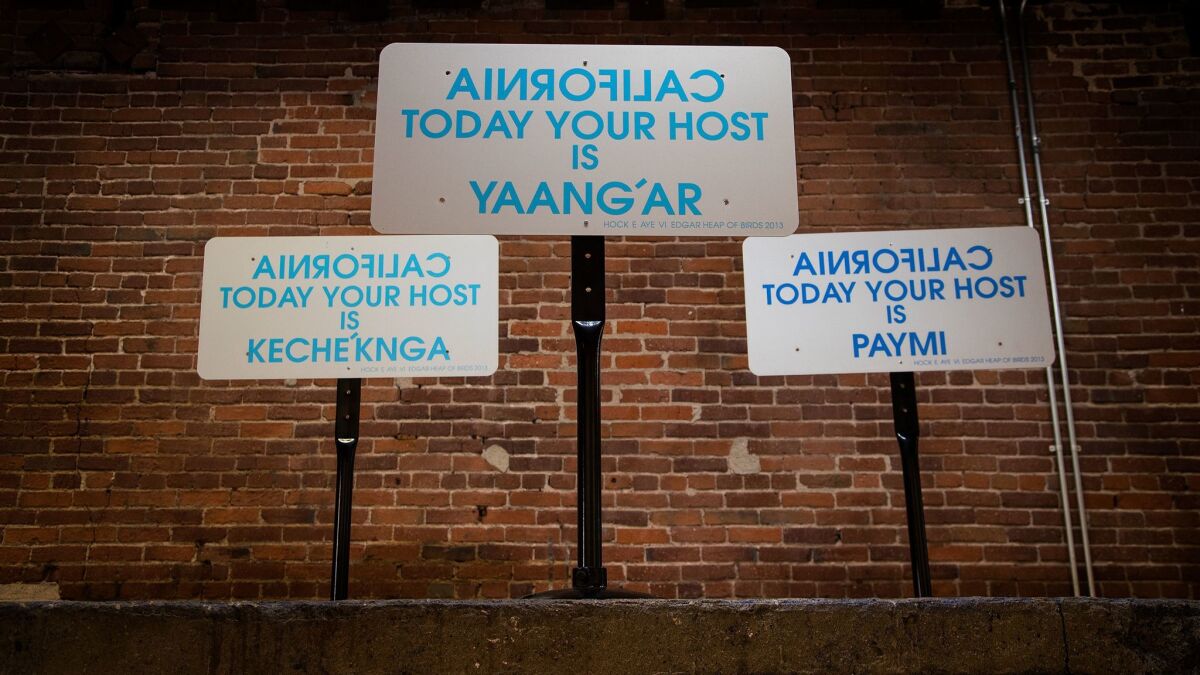 Also included in the Garis & Hahn show is a text piece inspired by the lyrics of songs played at the raucous after-parties that follow powwow celebrations:
"TAKE YOU HOME IN MY ONE EYED FORD"
"SHE DON'T LOVE ME CAUSE I DRINK WHISKEY"
"COME OVER TO MY TIPI WATCH SUN RISE"
"My favorite lyric is, 'Lonely for sweet heart, she's in jail,'" says Heap of Birds with a grin. "They can be really funny. And it shows you the real humanness of it."
And that ultimately is what the artist's work is about: Indian experience fully rendered, with nuance, depth and a profound sense of history. Not to mention tenderness and humor — capturing those moments that aren't just about epic history but those late-night hours in which all a person wants is the comfort and warmth of another.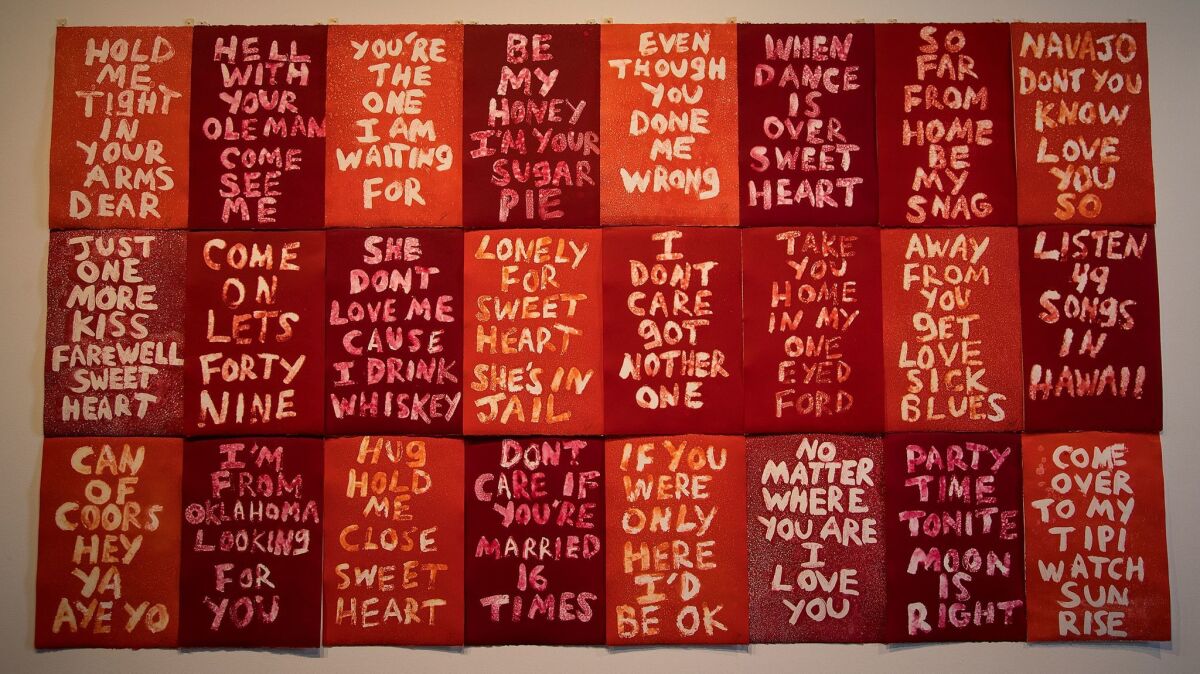 +++++++++
"Edgar Heap of Birds: Defend Sacred Mountains"
Where: Pitzer College Art Galleries, Broad Center, Platt Boulevard and Mills Ave., Pitzer College, Claremont
When: Through March 29
Info: pitzer.edu/galleries
"Hock E Aye Vi Edgar Heap of Birds: Do Not Dance For Pay"
Where: Garis & Hahn, 1820 Industrial St., downtown Los Angeles
When: Through March 10
Info: garisandhahn.com
ALSO
It's not just Chief Wahoo. Why American Indian images became potent, cartoonish advertising symbols
Is it inspired or irresponsible to call Donald Trump's border wall prototypes 'art'?
Ceramic artist Dora De Larios on shaping her own path by melding the Mexican, Japanese and Modern
Sign up for our weekly Essential Arts & Culture newsletter »
Get our L.A. Goes Out newsletter, with the week's best events, to help you explore and experience our city.
You may occasionally receive promotional content from the Los Angeles Times.