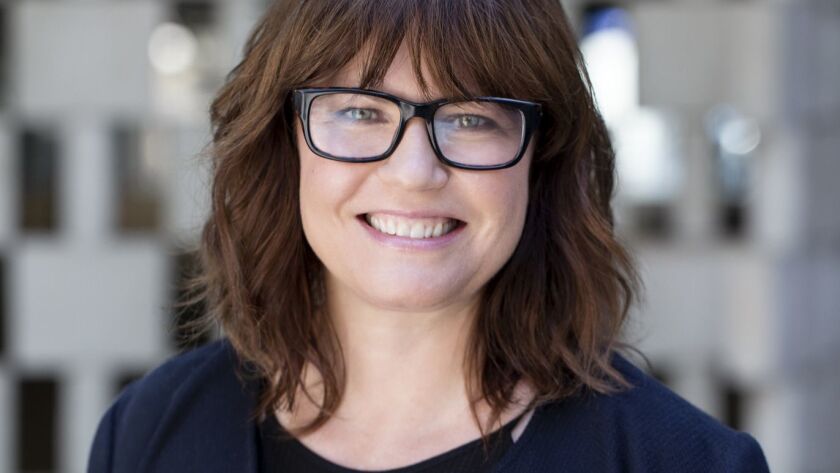 Anne Ellegood, a senior curator at the Hammer Museum, where she helped organized exhibitions such as the popular "Made in L.A." biennial, has been named the new executive director at the Institute of Contemporary Art Los Angeles. Her appointment follows the departure of longtime ICA LA director Elsa Longhauser, who announced her retirement in December.
Ellegood assumes the mantle of an institution she frequented as a young curator, when the museum, then located at Bergamot Station, was still known as the Santa Monica Museum of Art. (The institution changed its name to ICA LA in the spring of 2017, when it announced that it would relocate to a refurbished warehouse space in downtown Los Angeles.)
"The museum has done really important shows with figures that are absolutely essential to the history of California and Los Angeles artists like Michael Asher and Wallace Berman and Daniel Joseph Martinez," Ellegood says, "artists who have all been incredibly important but who were not necessarily recognized in that moment."
The ICA LA's social justice bent — its mission statement says the museum is "committed to upending the hierarchies of race, class, gender and culture" — also appealed to her.
Downtown, Ellegood says, "is a space where some of our worst problems are very visible: Homelessness is right on the doorstep, gentrification is all around. The ICA is committed to not ignoring this, but talking about it."
That was something that appealed to the museum's board of directors.
ALSO: ICA LA rising — the city's newest art institution has a social agenda »
"Anne is a remarkable curator with an ongoing commitment to social practice programming and scholarship," board members Laura Donnelly and Randi Malkin Steinberger said in a statement. "These accomplishments, along with her longstanding connections to the Los Angeles community, make her the ideal leader to usher in a new chapter in the museum's 35-year history."
For Ellegood, that chapter will consist of further refining the museum's program in a location that places it squarely among a bevy of other arts institutions, including the Broad museum, the Museum of Contemporary Art Los Angeles, REDCAT and high-profile galleries like Hauser & Wirth.
"It's an exciting moment," she says. "But the question is, how does the ICA distinguish itself in downtown?"
Ellegood has served as curator at the Hammer Museum since 2009. She not only helped organize the Hammer's most recent "Made in L.A." biennial, but a retrospective of the work of Jimmie Durham (which generated controversy over the veracity of his indigenous roots). She has also served in curatorial roles at the New Museum of Contemporary Art in New York and the Hirshhorn Museum & Sculpture Garden in Washington.
She begins her new post in September.
ALSO: An open letter to LACMA architect Peter Zumthor: Stop dissing L.A.'s art »
carolina.miranda@latimes.com | Twitter: @cmonstah
---