Author Jean Stein, who wrote about New York and Hollywood elite, dies at 83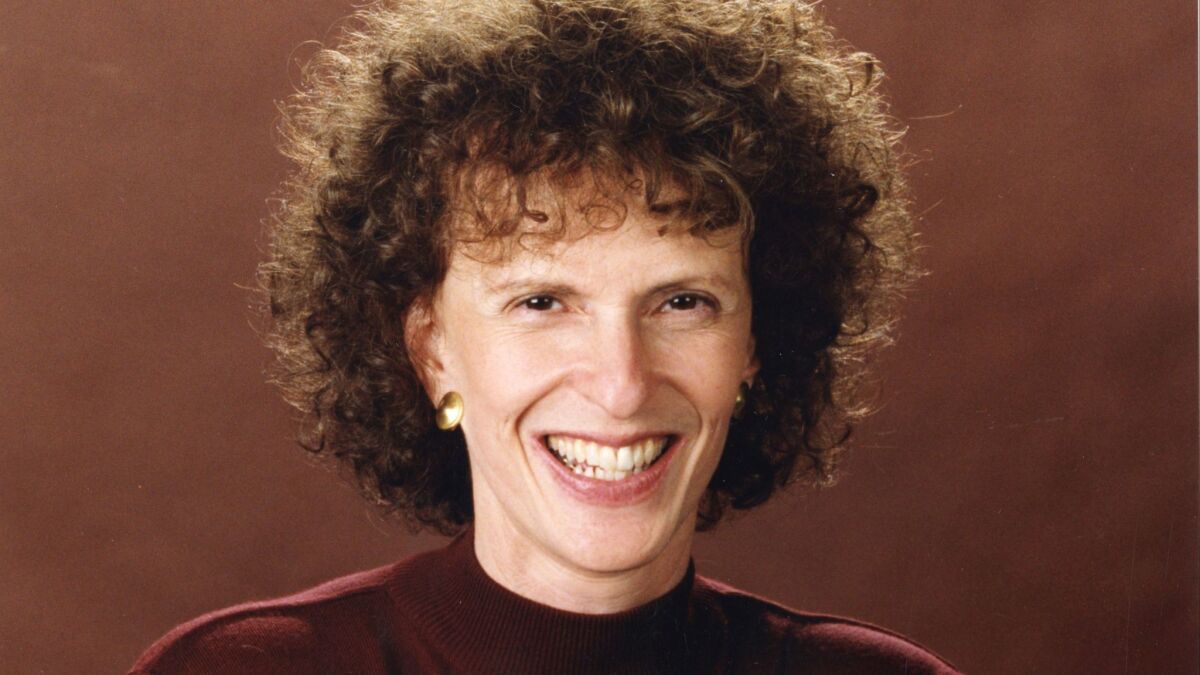 Jean Stein, the literary editor and author known for producing engrossing oral histories on topics as disparate as the tumultuous life of an Andy Warhol acolyte and the dastardly intrigues of early Hollywood, has died at 83.
Her death Sunday was confirmed by a spokesperson for the Nation magazine in New York City, where Stein's daughter, Katrina vanden Heuvel, serves as editor and publisher.

For the record:
7:00 a.m. May 2, 2017
An earlier version of this article reported that Jean Stein was raised with a sister and two stepbrothers. They were her half-brothers.
The spokesperson did not reveal the cause of death, but a New York City Police Department official said that Stein had jumped to her death Sunday morning from the 15th floor of a Manhattan tower.
A spokesperson at Random House, which published her most recent book, the well-received "West of Eden: An American Place," issued the shortest of statements in response: "Random House is deeply saddened by the death of Jean Stein."
Friends who knew her said she had been unhappy in recent years.
"We were very close friends," said Robert Scheer, a Los Angeles journalist and editor of the political website Truthdig, who had known Stein since the '60s. "I saw her last month or so. Every time I went to New York, I saw her. And she would come here."
"She was pretty depressed," he said. "We were all worried."
But even in shock, he recalled a small, soft-spoken woman who harbored an incredibly sharp mind.
"She had the respect of the heavy hitters," he said, "people who weren't interested in the small talk — people like Joan Didion, Jules Feiffer. It was a circle of people who were very tough and demanding."
Her 2016 book "West of Eden," her most recent oral history, tracked the development of Hollywood and Southern California through the lives of five powerful Los Angeles families, such as the Warners and the Dohenys — individuals for whom roadways and movie studios have been named.
Sign up for our weekly Essential Arts & Culture newsletter »
It also included a section on her own family: the Steins. Her father, Jules Stein, was the co-founder of Music Corp. of America. She too was a member of Hollywood royalty.
"West of Eden" had been well-received by critics.
Reviewer Judith Freeman, in the Los Angeles Times, described it as "compulsively readable, capturing not just a vibrant part of the history of Los Angeles ... but also the real drama of this town, as reflected in the lives of some of its most powerful players."
In the New York Times, critic Maria Russo wrote that Stein's expertly collaged narratives offered "a glimpse of what seems like deep truth" — "as close as we're going to come to the real story of anything."
Over her lifetime, Stein also produced two other essential oral histories in collaboration with journalist and editor George Plimpton, who served as editor on some of her projects.
This included her debut oral history "American Journey: The Times of Robert Kennedy," published in 1971 after she rode Kennedy's funeral train from New York to Washington. Eleven years later she published the international bestseller "Edie: An American Biography," about the life of socialite bohemian actress Edie Sedgwick, who often hung out at Andy Warhol's studio in New York and whose life ended in a drug overdose.
Stein's interviews were thorough and relentless. For "Edie," which didn't just capture Sedgwick's life, but the entire New York artistic milieu of the 1960s, Stein spent a decade interviewing subjects — returning to some individuals as many as 15 times.
Independent book critic David Ulin said the oral histories are "eye-opening" for the ways the ways in which they played with the conventions of story-telling.
"The thing about that form is that it brings together all of those voices," he said. "The form allows for a breadth you wouldn't otherwise get. It can't help but become a multi-personality collage."
"When the 'Edie' book came out, I read the book even though I wasn't overly interested in Edie Sedgwick," he added. "I'd written Sedgwick off as this superficial person, but the human portrait is so incredible."
Stein was born in Los Angeles, the eldest daughter of Jules Stein and Doris Babette Oppenheimer. She was raised in a majestic Beverly Hills mansion on Angelo Drive that overlooked the home of Rudolph Valentino.
"It was beautiful," Stein told The Times in 1990. "You really had a sense of privacy, being alone. It was kind of lonely, too."
She and her siblings (a sister and two half-brothers) were raised by her strong-willed parents and a strict German governess. She later attended the Katherine Branson School in the Bay Area — now known as the Branson School — a place that Stein later described as being "located between San Quentin and Alcatraz."
She also attended a private school in Switzerland, followed by a stint at Wellesley College in Massachusetts. But she dropped out to move to Paris and study at the Sorbonne, a move that would lead her to a life in letters.
It was in Paris that she met Plimpton and by the mid-1950s was working at the Paris Review, where she interviewed figures such as novelist William Faulkner (with whom she also had a romantic dalliance).
By the end of that decade she had landed back in New York City, where she worked as an assistant to Clay Felker, the legendary magazine editor who was then the features editor at Esquire and who would ultimately go on to found New York magazine.
By the early '60s, Stein had married attorney William vanden Heuvel, who became an assistant to then-Atty. Gen. Robert F. Kennedy. After Kennedy's assassination, the mournful ride on his funeral train to Washington inspired Stein's first oral history — which she structured in parallel with the journey by train. The New Yorker called the book "serious, credible, and even beautiful."
She and vanden Heuvel had two daughters: Katrina vanden Heuvel and Wendy vanden Heuvel, a film and stage actress. The couple later divorced. Stein got remarried in the mid-1990s to Torsten Wiesel, a Nobel Prize-winning neurophysiologist. That marriage also ended in divorce.
During her decades in New York, Stein was known for hosting regular salons in her Manhattan apartment.
"She had that gift for putting people together," Didion said of Stein in 1990, "for making things happen, for creating an environment or a climate in which people helped each other."
Scheer described events that featured a wild cross pollination of cultural figures.
"I was in her house with Black Panthers and Leonard Bernstein," he said, "people who escaped from the Soviet Union and people critical of the American government."
From 1990 until 2004, Stein edited the literary journal Grand Street, known for combining the literary high-brow (work by, say, Pulitzer Prize-winning poet John Ashbery) with the more popular (an interview with actor Dennis Hopper, whom Stein counted as a friend).
It would be a mistake to dismiss Stein as a rich girl with a bohemian streak, Scheer said.
"They were the best part of the Hollywood world," he said. "They weren't the brat pack. They wanted to give back to the world. They really studied at those great schools they were sent to. She really took things seriously."
"She didn't suffer fools," he adds. "And when I was a fool, she didn't suffer me."
She was also the rare cultural figure who didn't serve as a guardian at the gate, but instead sought to tear some of those gates down.
"I am very interested in these different worlds coming together," she told The Times in 1990, "so you're not only writing, you're not only art, you're not only science, you're bringing them together."
Stein is survived by her two daughters.
Times staff writer Barbara Demick in New York contributed to this report.
ALSO
Jam-band musician Col. Bruce Hampton dies after collapsing onstage during 70th birthday concert
Tearful Jimmy Kimmel shares story of newborn son's heart defect and surgery
Xscape calls TV One biopic 'disrespectful,' producing its own project
---
UPDATES:
7:05 p.m.: This article was updated with comments from Stein's friends and acquaintances.
This article was originally published at 2:55 p.m.
Get our L.A. Goes Out newsletter, with the week's best events, to help you explore and experience our city.
You may occasionally receive promotional content from the Los Angeles Times.