With vigils, a film, a comic and plenty of marching: How the L.A. art world faced Trump's inauguration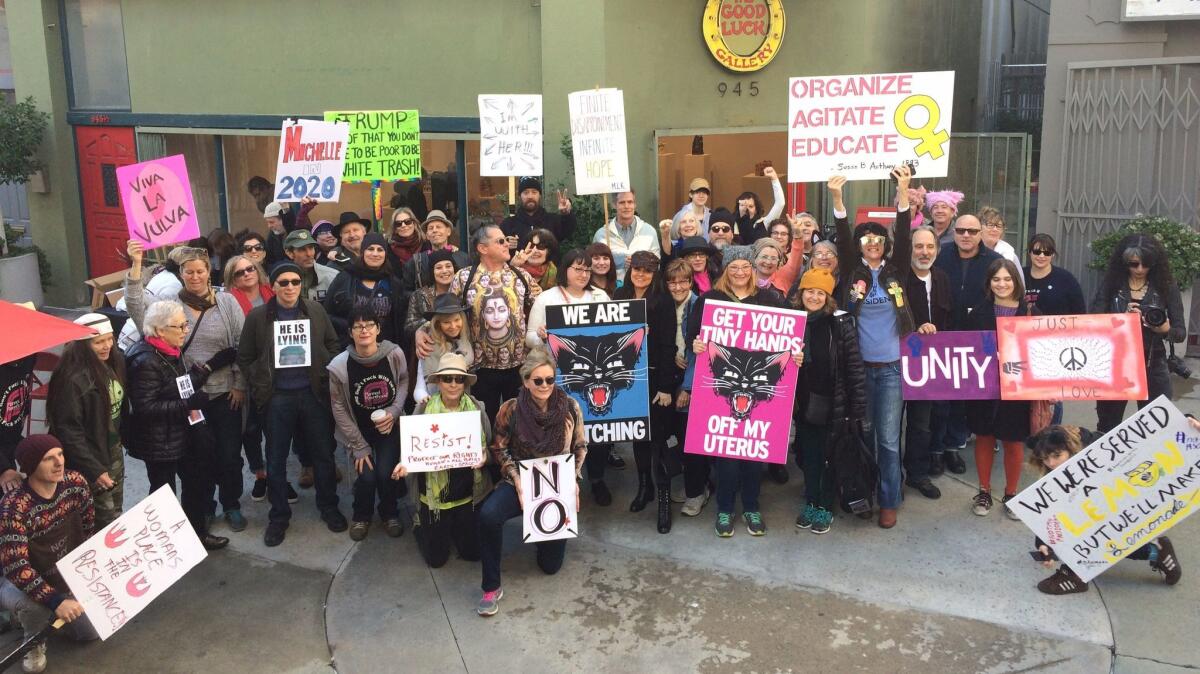 The election of Donald Trump to the presidency has drawn all kinds of reactions from the cultural establishment — from a plea for inclusiveness from the cast of "Hamilton" on Broadway (as then-Vice President-elect Mike Pence sat in the audience) to a general call for a national culture strike on Inauguration Day, a proposal that received the support of prominent visual artists such as Cindy Sherman and Richard Serra.
Inauguration weekend marked an important transition point not only for the country, but for artists who have been critical of many of Trump's policies, including the report last week that the administration may be targeting the National Endowment for the Arts and the National Endowment for the Humanities for elimination.
In this climate, it seemed fitting to find out how Los Angeles artists and arts institutions were responding to the dawn of the Trump era — from a small vigil at a Culver City theater to a clown performance in Hollywood to the jammed women's march in downtown Los Angeles, where dozens of arts workers joined the masses who took to the street in protest.
Many gestures were modest, but in sum they revealed that the advent of the Trump presidency is no ordinary moment in American cultural life.
The Actors' Gang — Thursday, Jan. 19, 5:30 p.m.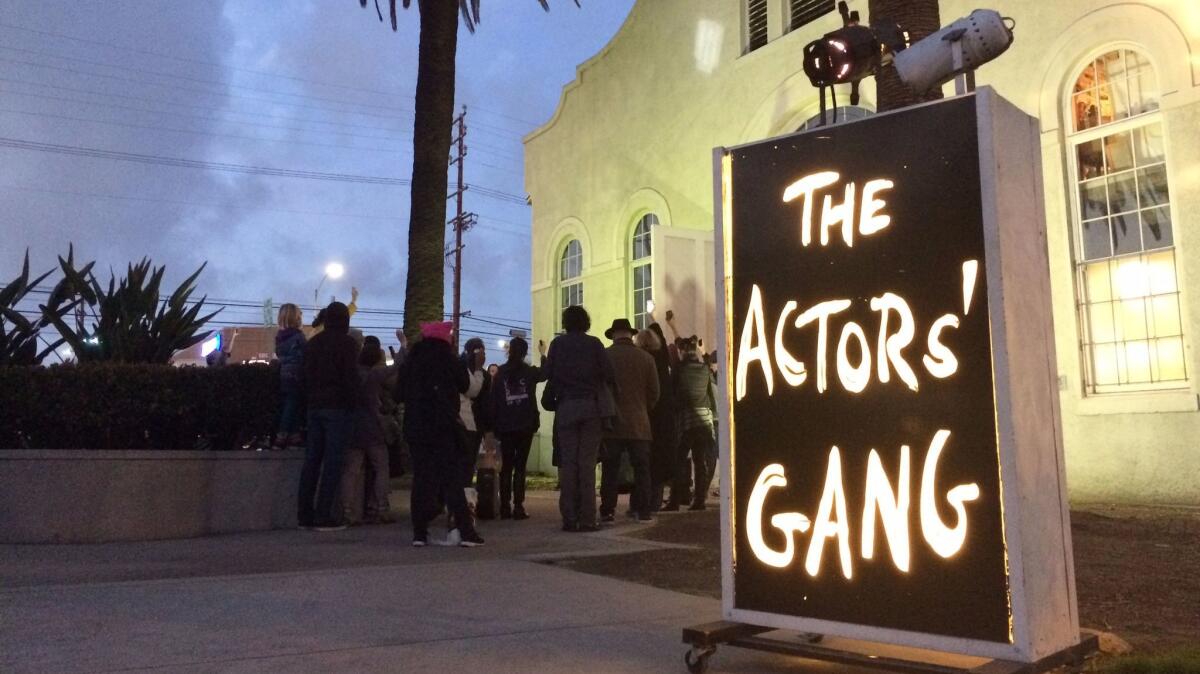 Twelve hours before Trump was scheduled to be sworn into office, some three-dozen members of the Actors' Gang theater in Culver City gathered in a plaza before their building to turn on a light. The vigil was part of the nationwide Ghostlight Project, a way for members of the theater community to "create 'light' for dark times ahead" by proclaiming a commitment to tolerance.
The sky was turning cobalt and the wind had picked up a chilly edge as actor Brian Finney read from a short statement: "When our theaters go dark at the end of the night, we turn on a 'ghostlight' — offering visibility and safety for all who might enter."
On cue, the light came on, to which the crowd added the lights of their cellphones.
After members of the group issued short declarations about the ideals they would commit to in the coming years, actor Cameron Dye led the group in a rendition of Woody Guthrie's "This Land Is Your Land."
The group reached the final stanza, which ends with the line: "Is this land made for you and me?"
Dye held up his guitar and answered the question: "Hell, yeah!
LACE — Friday, Jan 20., 7:45 a.m.
Los Angeles woke up on inauguration morning to steely skies releasing near-biblical amounts of rain. That didn't stop the crew at Los Angeles Contemporary Exhibitions in Hollywood from arriving early to stage a work by Rachel Mason.
The artist, known for performing as a character called FutureClown, lip-synced the new president's speech as it happened via a live stream on Facebook … while dressed up as a clown.
As Trump talked about putting "America first," Mason — decked out in a green-and-brown polka-dot number, complete with a Cubist-looking headdress and dramatic face paint — mouthed along and employed Trumpian finger gestures.
It was the only event held at the nonprofit arts space on Friday, since the space closed in observance of the nationwide #J20 Art Strike.
But LACE executive director Sarah Russin said it was important to provide Mason with the space and support.
"I feel that presenting this with Rachel is our way of commenting," she said, "of giving an artist an artist-driven project to respond to the election."
Missed the show? An archival version can be found on Mason's YouTube channel.
MOCA — Friday, Jan. 20., 11:45 a.m.
The Museum of Contemporary Art on Grand Avenue was open for business on Inauguration Day — except for the single gallery that contained "Morning: Chapter 30," an expansive, multi-panel work by New York painter R.H. Quaytman. The artist had requested that the museum close this particular room as an Inauguration Day protest.
A printed sign bearing text by Quaytman explained her decision:
"I intended the large panoramic painting to be an American landscape," she wrote. "I painted it in the months leading up to the election but finished it before knowing the outcome. Today the outcome is tragically clear. I named the painting and exhibition 'Morning' for the sounds of that word, and today I would like my American landscape to do exactly that: mourn."
MOCA Director Philippe Vergne agreed to close the gallery with the Quaytman work.
"For her, Friday is a day of mourning," Vergne said. "We wanted to respect that — and that word, 'respect,' is very important."
Hammer Museum — Friday, Jan. 20, 5 p.m.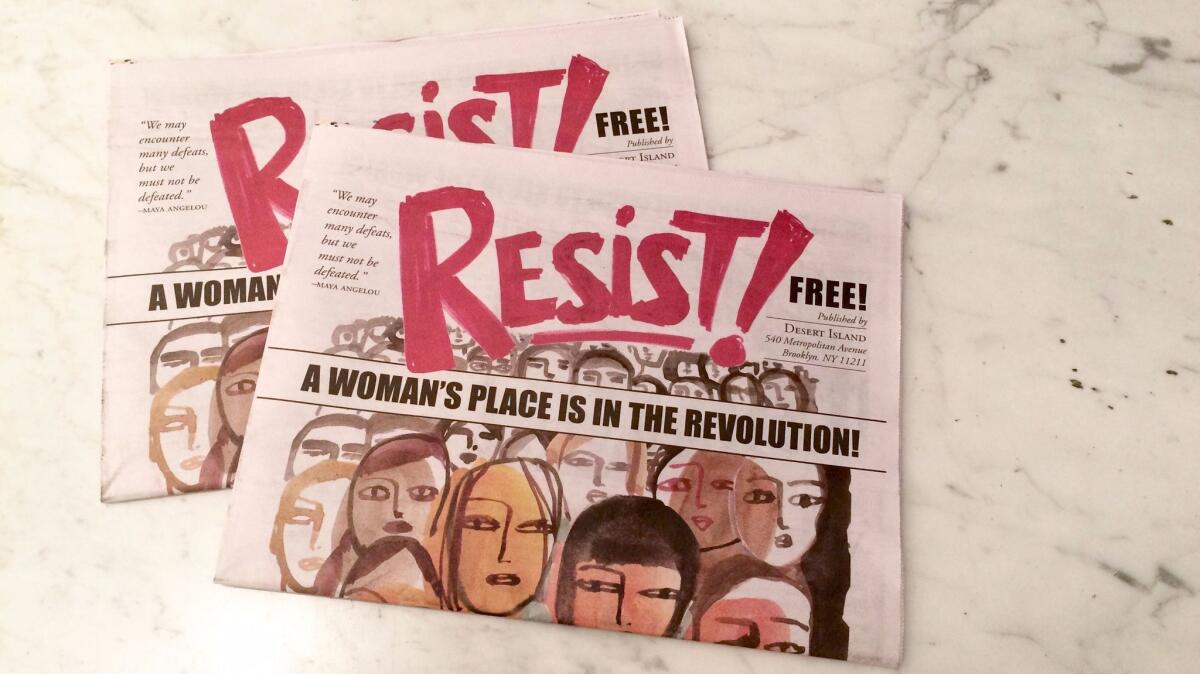 The Hammer Museum, like MOCA, remained open on Inauguration Day. But it too provided artists with a space in which to speak out about the election. The Hammer served as an informal distribution center for a 40-page tabloid comic drawn by women reacting to Trump's presidential election.
The publication titled "Resist!" was edited by New Yorker art director Françoise Mouly — co-founder of the famed '80s-era comics magazine "Raw" — and her daughter Nadja Spiegelman. Published by Desert Island Comics in New York City, 58,000 copies were printed and distributed free over inauguration weekend at comic book shops, arts centers and at the Women's March on Washington.
It is stocked with memorable images, including an inky black illustration by artist Sue Coe, showing Trump in the shape of a tornado; and a full-page piece by Alison Bechdel, the comic artist behind award-winning graphic memoir and Tony-winning Broadway musical "Fun Home," showing a group of friends grappling with the results of the election.
"The quantity, quality, and the diversity of the work we collected are staggering," reads the editor's letter. "Artists of all genders, ethnicities, religions and sexual orientations, Midwestern artists and immigrants, celebrated cartoonists and 13-year-old girls heeded the call and grabbed their pens. The result is an outpouring so genuine it can't help but endure."
LACMA — Friday, Jan 20, 7:30 p.m.
By Friday evening the rain had broken, and several dozen people poured into the L.A. County Museum of Art's Bing Theater to watch a film by Los Angeles artist Edgar Arceneaux.
In his introduction, curator Jose Luis Blondet described the free screening as "our counter-inauguration event." It served as a way of considering a presidential transition of power — but one that had nothing to do with Trump.
"Until, Until, Until…," as Arceneaux's film is called, explored Ronald Reagan's 1981 inaugural gala, which featured a controversial song-and-dance routine created by Broadway star Ben Vereen. In tribute to vaudevillian Bert Williams, Vereen had donned blackface. But when ABC cut a key portion of his performance from the televised broadcast, Vereen's intentions were misinterpreted and there was backlash.
The work's examination of the volatile intersection of race and politics was certainly magnified on the day in which Trump — who had made controversial statements about Muslims, African Americans and Mexicans during the campaign — was sworn into office. In introducing the film, Arceneaux was visibly rattled.
"Watching Obama get on a helicopter and leave D.C. and hand the key to the White House to …" he said, unable to complete the thought.
But the evening ended on a high note. The artist arranged for a surprise visit from organizational psychologist Roberto Vargas, who took to the stage with a drum to give the audience a morale boost.
Said Vargas: "We do our art, we do our work, we do our life to make a better world."
Good Luck Gallery — Saturday, Jan. 21, 7:30 a.m.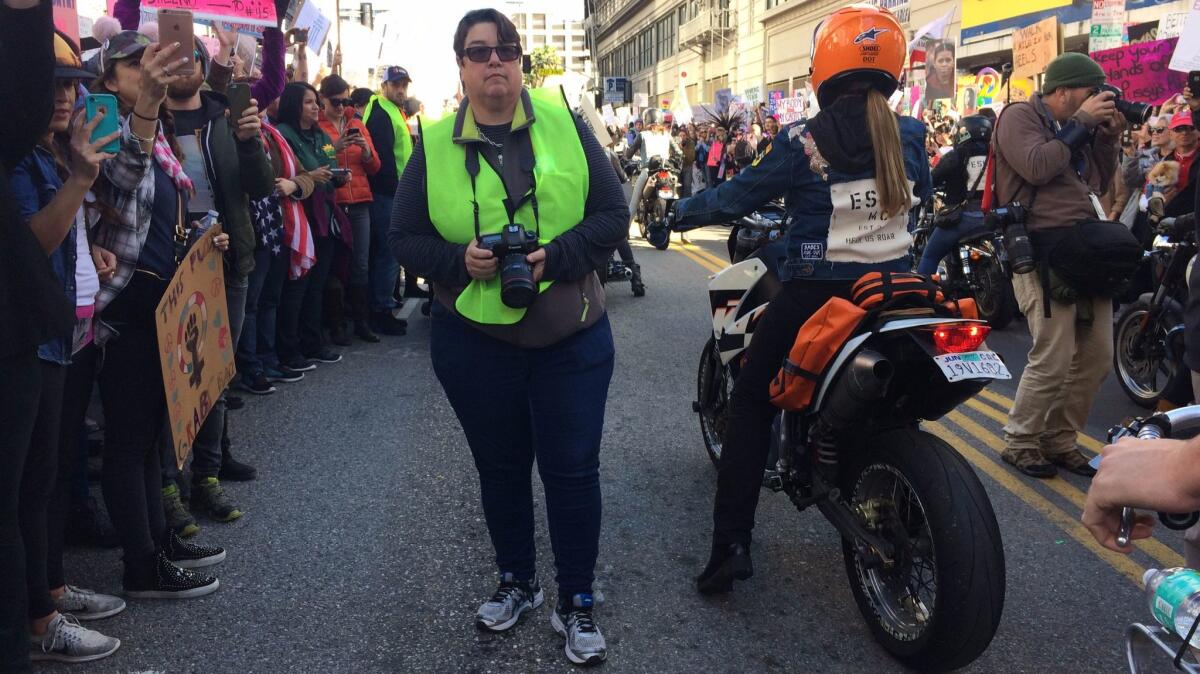 On Saturday morning, anyone happening upon the Good Luck Gallery in Chinatown would have caught sight of the architectonic-looking ceramic sculptures of Sylvia Fragoso. They would have also run into dozens of people making protest posters and fueling up on doughnuts and hot coffee.
Proprietor Paige Wery opened her space early on Saturday so that artists and other arts workers attending the women's march in downtown Los Angeles would have a place to gather in advance of the march.
"I didn't know if anyone would show up, but they did!" Wery said. "There were people here all day yesterday too. A lot of artists — but also a lot of people I'd never met."
They weren't the only ones. Around the city, artists had been gathering at arts centers such as Self-Help Graphics in Boyle Heights and Bergamot Station in Santa Monica to fabricate posters and establish meeting points in advance of the protest. On an artist loft building on Spring Street downtown, the painter known as Gronk hung a flag of his recurring female character, Tormenta, to cheer on the protesters.
At 8:45 a.m., the group of artists at Good Luck Gallery gathered for a group portrait and then began the 30-minute walk to Pershing Square, the starting point of the march.
There, the group melded into the larger crowd, where artist Catherine Opie, a photographer who sits on the board of the Museum of Contemporary Art, was taking pictures (and helping with crowd control).
"It is often artists who are a public voice of opposition," she said before she disappeared into the crowd as the march kicked off. "And artists need to bring that voice of opposition to this cause — with every drop of blood and every tear."
Disney Hall — Sunday, Jan. 22, 7 p.m.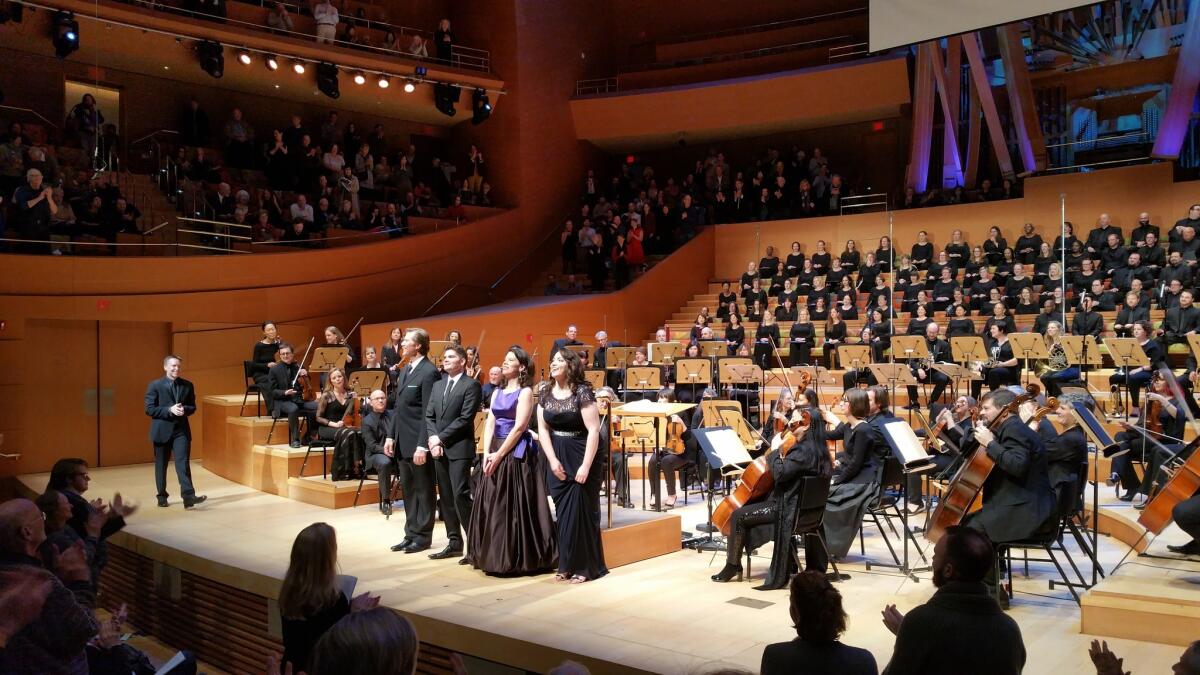 Despite Sunday's soaking rain, the Los Angeles Master Chorale drew a full house for an evening performance of Beethoven's "Missa Solemnis" at Walt Disney Concert Hall, with soprano Raquel Gonzalez, tenor Arnold Livingston Geis, mezzo soprano Allyson McHardy and baritone Rod Gilfrey as the principal soloists. Completed in 1823, at the end of his life, the 80-minute mass is a work that Beethoven considered one of his greatest.
As the show began, the Master Chorale's Artistic Director Grant Gershon took to the podium, then paused to say a few words — something he doesn't generally do.
"But this is an extraordinary time," he stated, "and an extraordinary weekend in this city" — a nod to the massive women's march that took place in downtown Los Angeles the day before. This was greeted with hearty, determined applause.
Then Gershon proceeded to share a few thoughts about the music. He pointed out the raw power of the Agnus Dei, the final movement, which is punctuated by a moment of great musical turmoil, "representing a world that is careening out of control."
"The music reaches the brink of catastrophe and then subsides," Gershon said. "The end of the music doesn't feel like a resolution — it feels more like a question."
Then he raised his baton and the first deep notes of Beethoven's "Missa Solemnis" began to rumble through the hall — a nearly 200-year-old composition that remains hauntingly, wondrously, achingly current.
Sign up for our weekly Essential Arts & Culture newsletter »
ALSO
As Trump talks building a wall, a Japanese art collective's Tijuana treehouse peeks across the border
Art, celebrity and how Standing Rock will shape protest in the Trump years
Q&A: The artist who made protesters' mirrored shields says the 'struggle porn' media miss point of Standing Rock
John Scalzi's 10-point plan for getting creative work done in the age of Trump
Get our L.A. Goes Out newsletter, with the week's best events, to help you explore and experience our city.
You may occasionally receive promotional content from the Los Angeles Times.