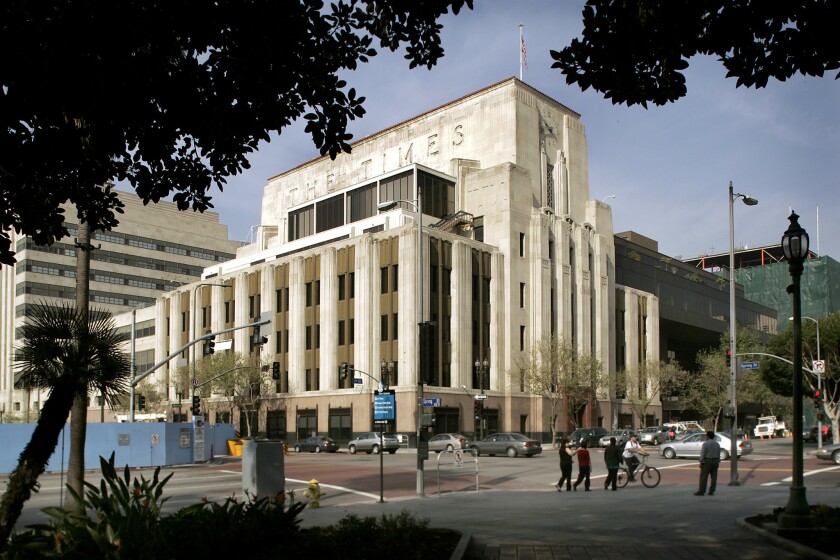 A building in Los Angeles can be granted monument status if it is "associated with the lives of historic personages important to national, state, city or local history" or if it "embodies the distinctive characteristics of a style, type, period" or "represents a notable work of a master designer."
The 378-page recommendation report filed by a group of preservationists, including preservationist Richard Schave and architect and 20th century architectural historian Alan Hess, calls on the city to protect the three most iconic structures of the Los Angeles Times complex, once known as Times Mirror Square:
- Gordon B. Kaufmann's iconic, 1935 Streamline Moderne structure, which features "The Times" splashed in bright neon just under the roof line, as well as exterior bas-reliefs by sculptor Robert Merrell Gage. It is this structure that contains the building's grand Globe Lobby.
- Rowland Crawford's more sober Mirror Building, from 1948, built in the Late Moderne style, which was built to house the short-lived afternoon tabloid, the Los Angeles Mirror.
- The luxe Times Mirror corporate headquarters from 1973, designed by William Pereira (the architect behind CBS Television City and the original Los Angeles County Museum of Art). The structure has interior design by Charles Kratka, who created the mosaic walls at LAX. Altogether, the building marks the apex of the Chandler family's power in Los Angeles.
Purely from a design perspective, preserving The Times complex — once known as Times Mirror Square — is a difficult proposition. The architectural guts of the Kaufmann and Crawford structures have been relentlessly scrambled. And while the Pereira building remains intact in many places, it's Late Moderne corporate style is not exactly the sort to garner wide public sympathy.
In 2007, in fact, the Pereira received second place for the ugliest building in L.A. in a contest organized by Curbed. (The Hollywood & Highland shopping complex, where the Oscars are held, took first.) Certainly, I've always seen the Kaufmann and Pereira buildings as bride and groom — the Kaufmann, tall and graceful, decked out in gleaming Art Deco limestone; the Pereira, squat and surly with its shaded windows and black granite.
Christopher Hawthorne, who was the paper's architecture critic for 14 years until this past spring when he left to serve as chief design officer for Mayor Eric Garcetti, says that the Pereira occupies a complicated architectural position — that moment in which buildings are old enough to be considered out of date, but not yet old enough to be viewed as historic.
"It is in that limbo period where you have to be careful about dismissing it," he says. "Having said that, I don't have any trouble saying that the Kaufmann is the most significant of the three."
Considering The Times complex within the context of Southern California history, however, there is no question that this is a site that carries Los Angeles history in its bones.
"The L.A. Times was really central to the shaping of what L.A. became," says Nicolai Ouroussoff, also a former Times architecture critic. "No other paper has that kind of relationship with the city."
"It's obviously not an architectural gem," he adds. "But to me, it had more to do with the role it played in the history of the city and the idea of institutional memory and how that is embedded in the building."
Sign up for our weekly Essential Arts & Culture newsletter »
carolina.miranda@latimes.com
@cmonstah
---