Essential Arts & Culture: Kanye West's not-for-sale sculpture at Blum & Poe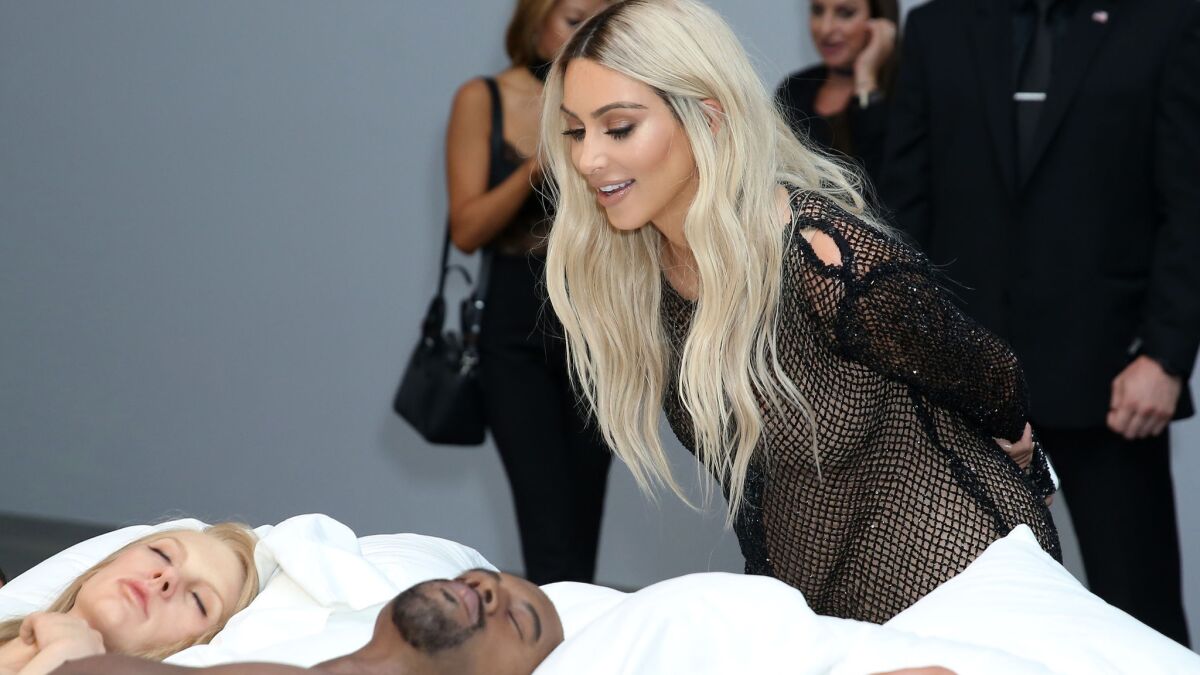 A "Famous" sculpture causes an art market hubbub. A Renaissance painting that may come to L.A. (Maybe.) And a 20th century playwright declared the Shakespeare of our time. I'm Carolina A. Miranda, staff writer at the Los Angeles Times, with lots of great arts and culture stories for Labor Day weekend:
Kanye West's 'Famous' sculpture
Because there's nothing like kicking off the weekend's newsletter with some Yeezy: A story published in the New York Times on Wednesday reported that the sculpture of naked wax celebrities from Kanye West's "Famous" video, on view at Blum & Poe in Culver City over the weekend, was on the market for $4 million. But that's not the case, reports the L.A. Times' Deborah Vankin. The sculpture, she writes, "does not cost $4 million. It is not even for sale right now." Musta been a typo. Los Angeles Times
A new Renaissance painting for the Getty?
The Getty Museum is trying to acquire a 16th century canvas by the painter known as Parmigianino from a private collector in Britain — but first they must secure an export license to get it out of the country. That will be a delicate process, writes The Times' David Ng, since "British law allows for the veto of a foreign purchase of artwork if a British institution can offer a competitive price and the work is deemed of significant cultural value." Los Angeles Times
Chinese paintings capture expressive life
"A stately, absorbing overview from a tumultuous, invigorating era in art," is how Times art critic Christopher Knight describes the new exhibition of paintings by 17th century Chinese master Dong Qichang at the L.A. County Museum of Art. The landscapes on view feature the expressive brushstrokes common to the Southern School of Chinese painting, in a show that "defies casual perusal" but "rewards close looking." Los Angeles Times
Innovative printmakers open downtown gallery space
Mixografia, the downtown printmaking studio known for inventing a bas-relief printing process that allowed for the creation of mural-sized works with three-dimensional texture, will soon debut an expansive new exhibition space in downtown L.A. The gallery, says Mixografia founder Luis Remba, will help "educate people about different printmaking processes, because now, with the Internet, they're forgotten." Los Angeles Times
August Wilson as the 'Shakespeare of our time'
"Ma Rainey's Black Bottom" by Pulitzer Prize-winning playwright August Wilson is set to open at the Mark Taper Forum this month. (It is currently in previews.) And it offers a fine opportunity to observe the ways the writer imbued his dialogue with poetry and lyricism taken from blues music. "There is a rhythm in this language that if you betray, you won't find the truth of," actor Keith David tells Times contributor Gary Goldstein. "It's inherent in the language." Los Angeles Times
Why L.A. needs a classical music festival
Times classical music critic Mark Swed has spent quality time this summer soaking up Mahler and Gounod at classical music festivals in Switzerland and Austria. He says it's time for L.A. to think about reviving the biannual Los Angeles Festival (which went dormant in 1993), since the city has long served as an important incubator for classical music. What will it take? Plenty of civic support. Los Angeles Times
The architecture of Sandy Hook
How to rebuild and commemorate the site of a mass shooting? Times architecture critic Christopher Hawthorne pays a visit to the new Sandy Hook elementary school in Newton, Conn., where a shooter in 2012 killed 20 first-graders, six adults and himself. The new school, designed by Svigals + Partners, writes Hawthorne, "gestures toward a surprising and bracing idea: that in contemporary American culture we can no longer find reliable security by turning away from the wild, metaphorical or otherwise, and toward the civilized." Los Angeles Times
Plus: Design writer Karrie Jacobs offers a detailed report on the architects' process, which entailed a close working relationship with the Sandy Hook community. Architect
Avant-garde performance about a 4th century hermit
Four Larks theater company is restaging its award-winning "junkyard opera" about the temptations of the Egyptian monk known as St. Antony in an undisclosed warehouse space in downtown Los Angeles. Inspired by a book on the subject by Gustave Flaubert, it is, writes Times contributor Tim Greiving, part of a wave of "site-specific, hidden-location, hard-to-define work" that has been on the rise in Los Angeles. Los Angeles Times
I attended my own funeral last weekend as part of a two-day performance and installation by artist Gabriel Barcia-Colombo at LACMA. It was all part of a project, funded by the museum's Art + Technology Lab, that looks at what happens to our digital data when we die. Needless to say, the whole experience was pretty weird. Los Angeles Times
IN OTHER NEWS…
— More than 700 women artists gathered for a group portrait organized by artist Kim Schoenstadt at the downtown gallery Hauser Wirth & Schimmel last Sunday. And it was joyous! Los Angeles Times
— William Poundstone reports that Los Angeles is well-represented in the Whitney Museum's permanent collection re-hang. Los Angeles County Museum on Fire
— The upcoming Modern art exhibition at the Louis Vuitton Foundation in Paris is set to take the city by storm. New York Times
— The mysterious smudge on Edvard Munch's "Scream" is … candle wax. The Guardian
— Charles Desmarais gets an advance peek at what may ultimately be "the core of a great museum," the planned Museum of Narrative Art by George Lucas. San Francisco Chronicle
— Since downtown L.A. clearly has a shortage of art spaces, Hollywood talent shop United Talent Agency has seen fit to open yet another. New York Times
— The German apartment building where Robert Capa made one of his most iconic World War II images has been restored to its former glory. The Guardian
— An architect imagines new designs for bombed-out Syrian cities. New York Times
— Shakespeare's Globe theater in London is planning an expansion. The Stage
— "Next to Normal," the Pulitzer Prize-winning musical centered on a woman with bipolar disorder, lands at L.A.'s Pico Playhouse. Los Angeles Times
— Klingons and an aria: The Pacific Opera Project has updated Mozart's "Abduction From the Seraglio," setting it in the "Star Trek" universe. Los Angeles Times
— A performance held at the Hollywood Bowl on Thursday not only served as an elegy to composer James Horner, but also showed how composers straddle the classical music/film score divide. Los Angeles Times
— "I was sort of sabotaging myself." Sergei Polunin, ballet's notorious bad boy, has had a change of heart. New York Times
CAN'T-MISS SHOW
A group exhibition of collage-style work that riffs on the dystopic is "the best group exhibition of the summer, maybe the year," writes Times reviewer David Pagel. "Phantom Limb," at Shulamit Nazarian in Venice, "packs a punch." On view through Sept. 9. 17 N. Venice Blvd., Venice, shulamitnazarian.com.
AND LAST BUT NOT LEAST…
Director Spike Jonze has filmed a wondrously strange perfume ad for Kenzo that involves the Dorothy Chandler Pavilion and lasers. Dig. It.
Sign up for our weekly Essential Arts & Culture newsletter »
Find me on Twitter @cmonstah.
---
Get our daily Entertainment newsletter
Get the day's top stories on Hollywood, film, television, music, arts, culture and more.
You may occasionally receive promotional content from the Los Angeles Times.