Did you spot the egg-shaped museum named NuMu cruising L.A.? Next stop: LACMA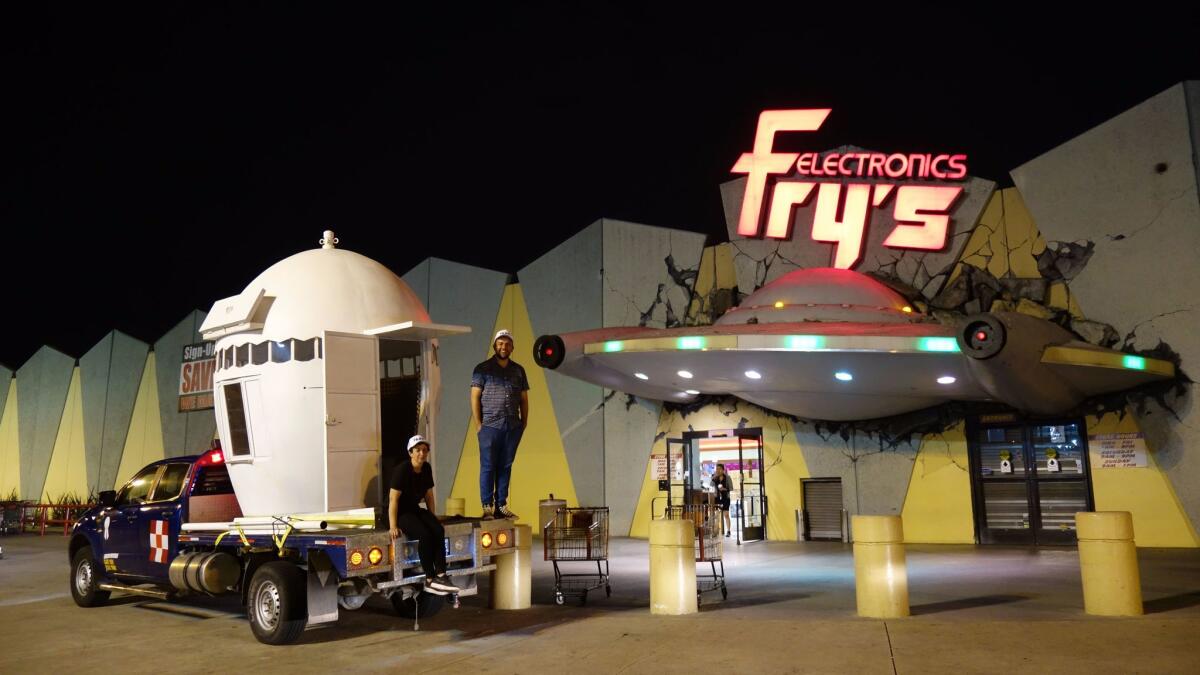 After roughly 3,000 miles, two international border crossings and a lot of road food consumed by its inhabitants, the egg-shaped museum called the NuMu has rolled into Los Angeles.
Given that this is a city that has turned cruising into a fine art, it was only fitting that someone would turn a piece of fine art into an object for cruising the streets of Los Angeles.
Enter Guatemalan artists Jessica Kairé and Stefan Benchoam, proprietors of the NuMu (short for Nuevo Museo de Arte Contemporáneo). Founded in 2012, the Guatemala City museum, which showcases work by internationally acclaimed contemporary artists, is housed in a tiny structure once used as a stand to sell fresh eggs.
Now the NuMu is mobile. The artists have created a traveling version of their egg, which on Sunday evening could be spotted cruising the streets of Los Angeles.
The project is part of the Pacific Standard Time: LA/LA exhibition "A Universal History of Infamy" at the Los Angeles County Museum of Art, held in conjunction with the 18th Street Arts Center. Starting this week, the NuMu is setting up shop at LACMA near Michael Heizer's rock sculpture, "Levitated Mass." There, the mini-museum — which accommodates one to four patrons at a time — will put on a pair of exhibitions: one devoted to performance artist Regina José Galindo; the other to experimental Guatemalan composer Joaquín Orellana.
"We've started to work with him to preserve his legacy," says Benchoam of Orellana, who is now in his late 80s. "We've recorded some of his work. We've been building a library."
Getting the egg to Southern California has been no easy task. For one, the artists had to launch a crowd-funding effort to cover the expense of the journey (to the tune of $75,000). And of course there are the logistics. The egg has made the trip overland from Guatemala City to Los Angeles on a flatbed truck, with pit stops in Mexico City; Veracruz; Marfa, Texas; and Tucson. (LACMA has chronicled the trek on its Unframed blog.)
I've transported tires, mattresses, boilers. I've never taken anything as peculiar as an egg.

— Jose Jorge Rugerio Gutiérrez, proprietor of Transportes R.G. Express
On Sunday evening, the NuMu and its artists show up in Los Angeles — or rather, Glendale, to be exact — to help mark this week's launch of PST: LA/LA, the series of exhibitions devoted to U.S. Latino and Latin American art.
Its first stop: the opening of Ruberta, a gallery project managed by a collective of five Latin American art spaces. As a hip, young art crowd mills about sipping beer and mezcal within view of the giant egg, Kairé says she's relieved to finally see the NuMu in Los Angeles.
"It's the beginning of a whole new life," she says, looking slightly weary after the eight-hour drive from Tucson. "There is excitement about what will happen next."
Benchoam, in the meantime, looks slightly dazed. "I can't believe we made it," he says.
But even though the NuMu team was tired after its long expedition, it nonetheless wanted to take the egg on a nighttime spin around Los Angeles before it was more permanently installed at LACMA.
A joyride in a giant art egg? Count me in.
Stop No. 1: Alien encounters
I climb into the egg with Benchoam and Kairé as driver Jorge Rugerio takes the wheel of the truck. We head north on San Fernando Road toward Burbank, the cool night breeze slipping in through the NuMu's tiny windows. (Is it legal to ride inside a giant egg on a flatbed? A quick scan of the California Driver Handbook offers no guidance.)
As we settle in for the first leg of our L.A. cruise, the artists — along with their pal Eduardo Mata, who has helped coordinate the journey — tell me about the odyssey of moving a very large chicken ovum from Central America to the United States.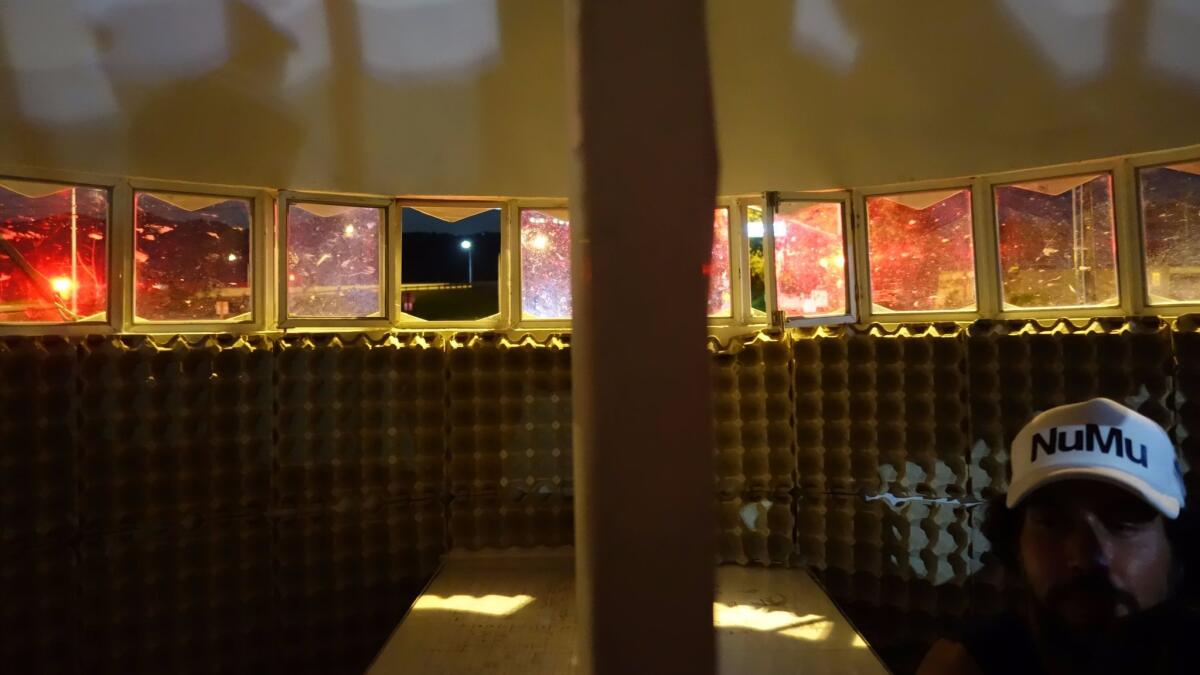 Naturally, there was paperwork. The journey required the coordination of various logistics companies, an international network of drivers and the cooperation of customs officials in two nations. (NuMu traveled on a flatbed; the artists followed behind in an SUV supplied by Hyundai, a sponsor.)
The first and most difficult leg of the trip was getting the egg out of Guatemala City.
"We built this whole custom platform for the egg," Kairé says. "It had steps and a special platform and you could hitch it right up. But then when we tried getting license plates, we couldn't get them. They wouldn't license a custom structure. So we had to leave it behind."
That meant scrambling for a flatbed — and hoping they would make it to Los Angeles on schedule.
In Mexico City, they had other misadventures. When they arrived to deposit the egg at the Museo Jumex for a show, a mix-up among the various logistics firms resulted in one driver refusing to unload the egg until he was paid.
"The egg got kidnapped in Mexico City!" jokes Benchoam. "They kept saying, 'No bajen a ese huevo'! [Do not unload the egg.] But after several hours of calls, the egg was liberated."
Things began to look up in the city of Monterrey, where they connected with Jose Jorge Rugerio Gutiérrez, proprietor of Transportes R.G. Express, a smiling bear of a man who agreed to personally transport the egg himself. Joining him for the ride was his college-age son: Jorge Andres Rugerio.
"I've transported tires, mattresses, boilers," says the elder Rugerio. "I've never taken anything as peculiar as an egg."
"I think of it as el huevo de la suerte," says Rugerio — the egg of good fortune. Perhaps it was Rugerio who brought the good fortune. After he joined the team, transport went without a hitch.
In the vicinity of Marfa, Texas, known for its mysterious nighttime lights, the younger Rugerio says everyone said the pristine white egg resembled a UFO.
To pay tribute to that, we take the NuMu to Fry's Electronics in Burbank — known for its facade featuring a massive alien spaceship.
As dazed shoppers stare in disbelief at the giant egg in the parking lot, Benchoam looks pleased. "It is," he says, "just perfect."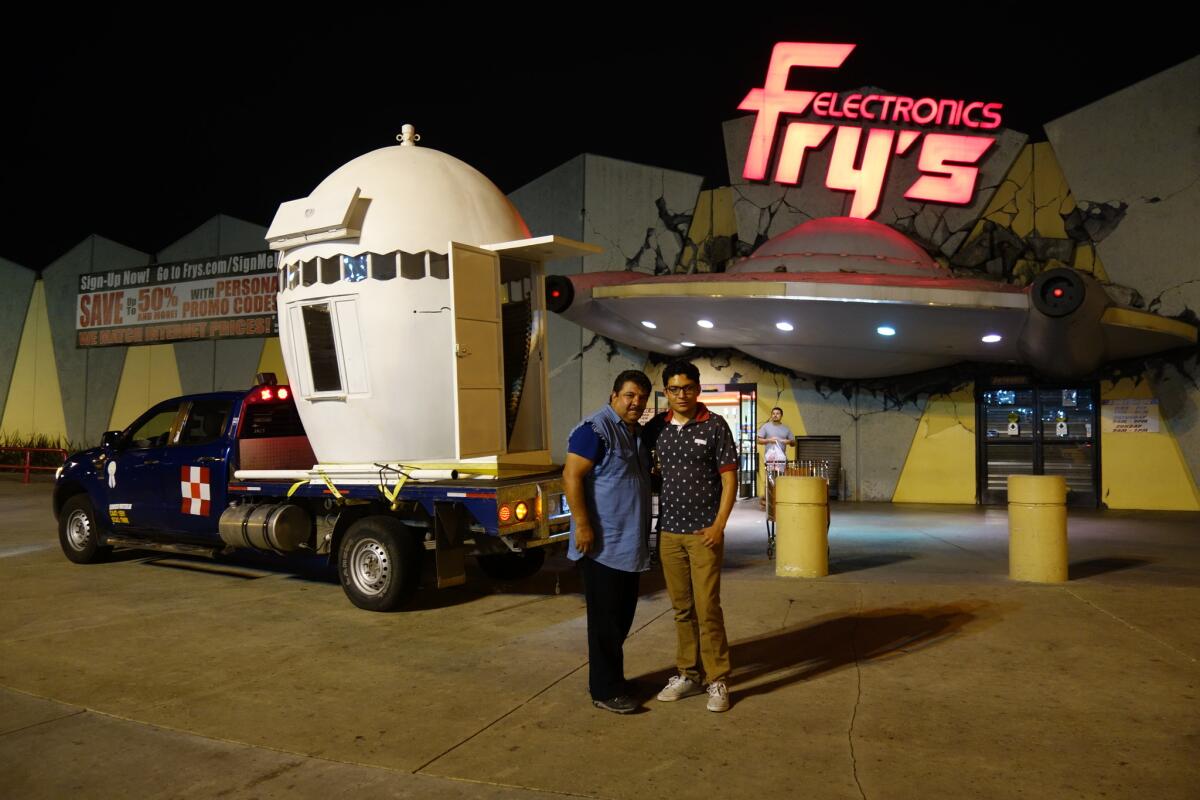 Stop No. 2: Beer break
Since the NuMu is a piece of programmatic architecture (an egg stand shaped like an egg), Kairé was interested in parking the museum in front of something similar. "A donut shop shaped like a donut or a Mexican restaurant in a giant sombrero," she explains.
Los Angeles, a place that has erected buildings in the shape of dogs, tamales and brown derbies, is famous for its programmatic architecture. (Even if the numbers of these types of structures are dwindling.) So we make for the Idle Hour, the bar in the shape of a barrel in North Hollywood.
As we pull up on Vineland Avenue, a parking spot opens right in front. We pile out of the egg. The elder Rugerio reiterates his theory that the egg is indeed "el huevo de la suerte."
The crew takes a needed beer break.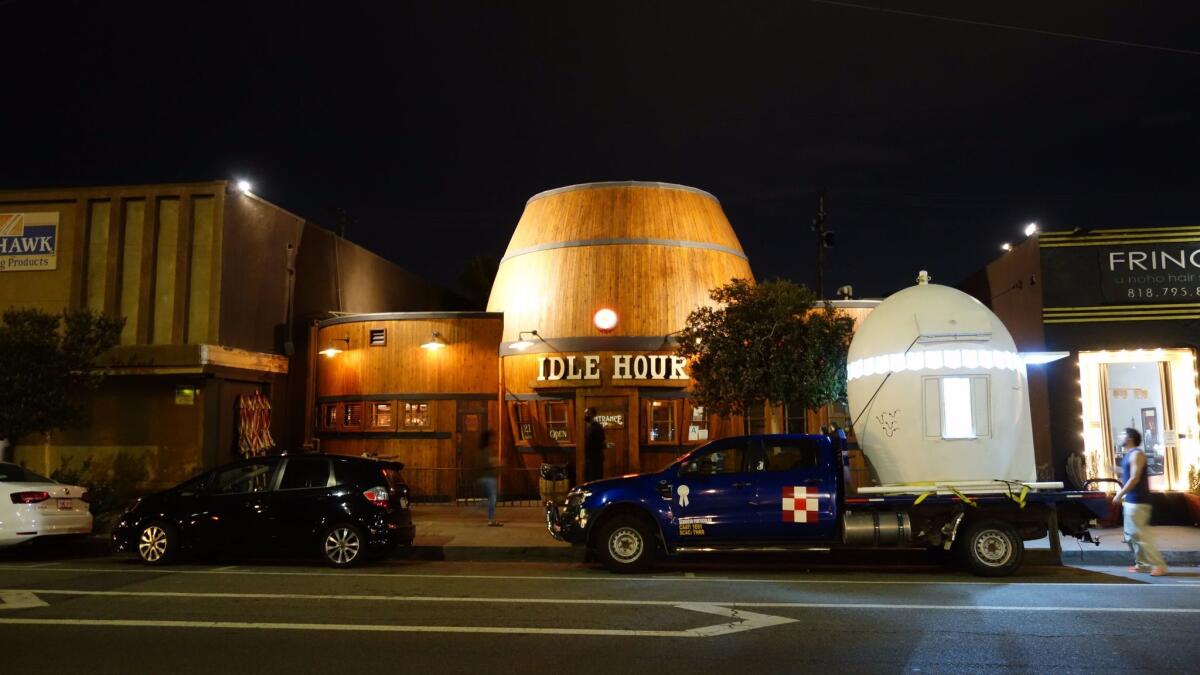 I ask Benchoam if the lady who once ran the egg stand knows what became of her egg.
"We never met the lady," he says. "And this isn't really her egg, but a copy of her egg. It's like we pirated her egg and just ran off with it."
Rugerio says there is a lot of symbolism to an egg — noting its connection to Easter. We discuss Fabergé eggs and eggs as symbols of fertility and fragility.
As we finish our beers, the artists persuade the restaurant's manager to let them run an extension cord from the restaurant to the NuMu so that they can illuminate the interior. A group of pedestrians snaps photos with their cellphones.
A kind stranger picks up the tab for our beers. El huevo de la suerte has earned the artists a free round of Pacificos and a cordial gesture of international relations.
Stop No. 3: McDonald's
By now, the group is winding down, exhausted after a long day on the road. Like many a Los Angeles late night, we end up at McDonald's. Back in Glendale, Rugerio pulls into the lot at a franchise on Glenoaks Boulevard and we once again spill out of the egg.
"The architect told me never to take it through a drive-through," Kairé says. The domed roof could be ripped open by any low-hanging architecture.
Rugerio adds: "There were a few places where I was worried it wouldn't make it under bridges."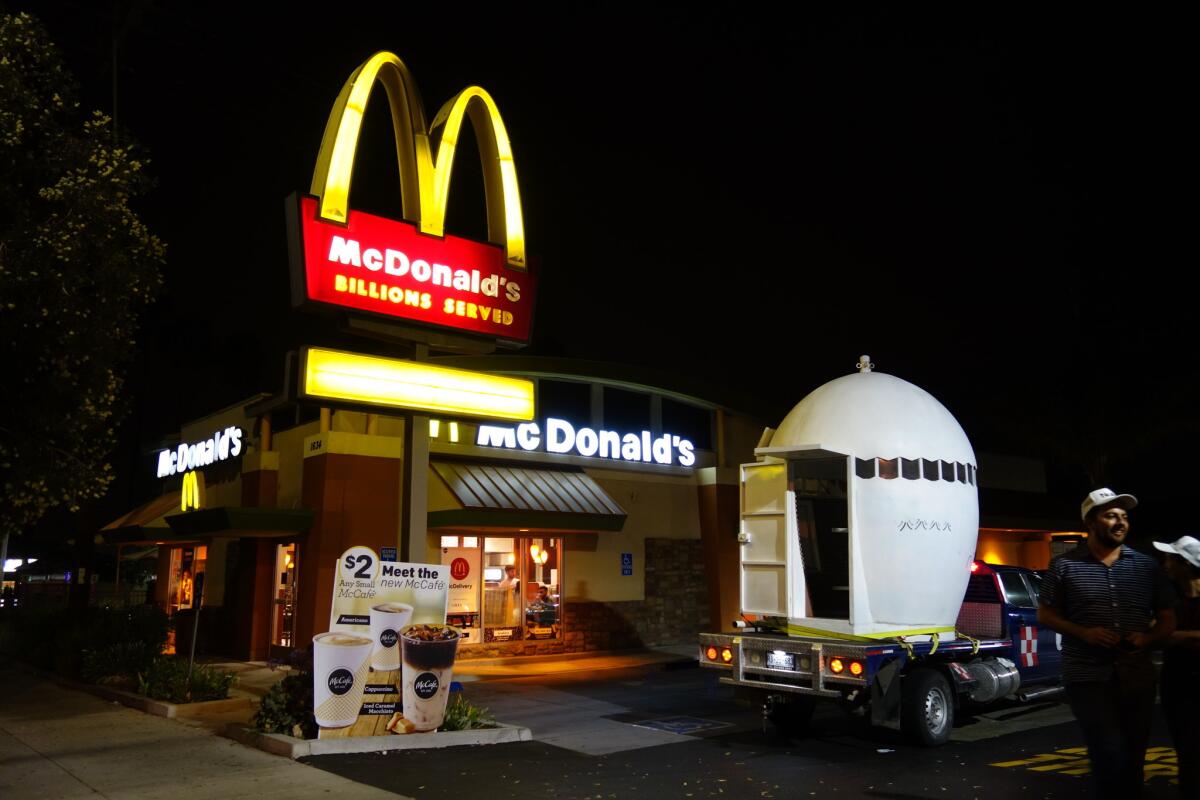 A man cycling by on a beach cruiser comes to a sudden full-stop.
"What is that?" he asks curiously
"A museum," says Benchoam, and invites the man inside for a visit.
Rugerio says that so far Los Angeles has been the best place to drive through. "I wasn't expecting the welcome," he says. "That surprised me."
It is late. The team looks sleepy. Early in the morning, the NuMu will travel to LACMA for installation. The group poses for a final photo together. Three young men inside the McDonald's peer through the window looking mystified.
It's not every day el huevo de la suerte cruises Glendale.
---
'A Universal History of Infamy'
Where: LACMA, 5905 Wilshire Blvd., Mid-Wilshire, Los Angeles
When: Through Feb. 19
Info: lacma.org
ALSO
LACMA launches its first Kickstarter campaign, bringing an egg-shaped art museum to L.A. from Guatemala
From Donald Duck to Donald Trump, an unprecedented look at Latin American art holds up a mirror to the U.S.
How Mexico's súper rudas 'Radical Women' are rewriting the history of Latin American art
Firecrackers, a striptease scandal and more moments of change from the Hammer's 'Radical Women'
Get our L.A. Goes Out newsletter, with the week's best events, to help you explore and experience our city.
You may occasionally receive promotional content from the Los Angeles Times.