In Guatemala City, there is a contemporary art museum housed in a small structure in the shape of an egg — a space that, on a good day, can accommodate a total of four people. In August, a replica of that egg will make the journey overland from Guatemala to the Los Angeles County Museum of Art as part of the Getty-funded Pacific Standard Time: LA/LA.
To cover the costs of re-creating the egg and transporting it 3,000 miles — from Guatemala through Mexico into Texas and, ultimately, to California — LACMA is launching its first-ever Kickstarter campaign.
The goal: to raise $75,000 to cover fabrication, transportation and programming costs so that the NuMu (short for Nuevo Museo de Art Contemporáneo) can take up residence on the grounds at LACMA as part of the upcoming PST exhibition "A Universal History of Infamy."
The museum was founded in 2012 by artists Jessica Kairé and Stefan Benchoam and has featured works by figures such as performance artist Regina José Galindo and conceptualist Mario García Torres. The space came to the attention of LACMA curators as they conducted research on contemporary art practices in Central America for PST.
"It's playful, but it was also dead serious when it comes to the effort," said LACMA's Rita Gonzalez, co-curator of the exhibition. "We were really impacted going to NuMu. It was the spirit of the place — two artists who launched a contemporary art museum in a former egg stand."
Gonzalez said that for "A Universal History of Infamy," a group exhibition that looks at the ways in which artists' practices extend beyond the world of fine art, they didn't want to represent the NuMu with a wall of photos and documentation.
"The artists said, 'We want to do this and we want to do it big: We want to make a replica and drive it to the U.S.,' " Gonzalez said. "We were, like, it's crazy — but let's do it!"
That, however, added a major expense to the show's bottom line — hence the Kickstarter effort.
The egg is tentatively scheduled to depart Guatemala City in mid-August, after which it will make pit stops in the Mexican cities of Oaxaca, Mexico City and Guadalajara, before entering the U.S. at Laredo, Texas. It would land in Los Angeles in early September, in advance of the Getty's main PST LA/LA kickoff event, which includes a concert at the Hollywood Bowl.
Gonzalez said that though the museum hails from Guatemala, it's egg shape will make it right at home in Los Angeles.
"This is the place of doughnut and tamale buildings," she explains. "Now it will have an egg."
Find more information on NuMu's journey and LACMA's crowd-funding effort at kickstarter.com.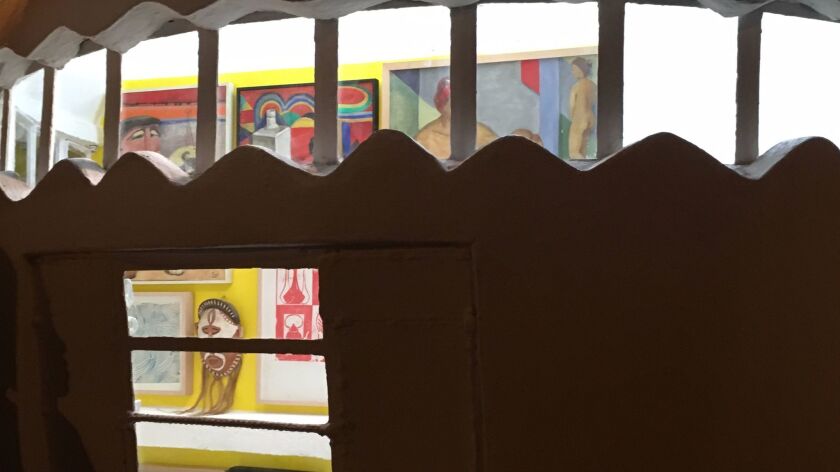 Sign up for our weekly Essential Arts & Culture newsletter »
ALSO
Where music meets art: Café Tacvba and Santa Cecilia join L.A. Phil to kick off PST LA/LA
20 Latin American galleries to launch an L.A. pop-up during Pacific Standard Time LA/LA this fall
In Mexico City, a PST LA/LA presentation becomes a cultural salvo in favor of U.S.-Mexico exchange
---