Photos:: SFMOMA sneak peek: More space, more dude art and an Ellsworth Kelly-Agnes Martin surprise
In an era in which commercial galleries open at the scale of Home Depot, it comes as no surprise that museums are also in an arms race for maximum square footage. Certainly, that's the case with the new San Francisco Museum of Modern Art. After a three-year, $305-million expansion and renovation by the Norwegian firm Snohetta, it has gone from 70,000 square feet of gallery space to a mind-boggling 170,000.
In other words, a museum that could once be comfortably visited in a day, will now require at least two or three, if not more. This is not necessarily a bad thing.
SFMOMA has some pretty boss permanent collections. This includes key works by California artists such as Richard Diebenkorn, a massive collection of photography (almost 18,000 works), important early works by Abstract Expressionists such as Jackson Pollock, as well as Robert Rauschenberg's infamous "Erased de Kooning Drawing" (1953), a "drawing" that consisted of erasing a drawing by Willem de Kooning. (Take that, "action" painters!)
The added space — a 10-story building with seven of those levels for galleries — also comes in handy to show the new Doris and Donald Fisher Collection, more than 1,100 works that the museum has in its care as part of a 100-year loan. As part of the deal, SFMOMA has to show chunks of the collection together once every 10 years, lest the world forget the buying prowess of the Gap founder and his wife. (To keep things all in the family, their son Robert J. Fisher is president of the Board of Trustees.)
SFMOMA's new industrial scale means that it is currently impossible to come to too many firm conclusions about how art and architecture have come together in this narrow strip of land in a congested piece of the city south of Market Street. But that doesn't mean the critics aren't going for it. (For interesting takes, read my colleagues Christopher Knight and Christopher Hawthorne, as well as Oliver Wainwright in the Guardian and Charles Desmarais in the San Francisco Chronicle.)
I spent a day at the museum and devoted the time to exploring the Fisher Collection and other modern and contemporary art in Snohetta's new marshmallow-like seven-story wing. My first impressions are that the building definitely works as a space to see art, with nicely staggered visual breaks, including big windows and outdoor space. But as architectural critics have duly noted, the new wing comes at the expense of the original Mario Botta-designed building and its powerful, bunker-like entrance.
As for the Fisher Collection? It's definitely a score for the museum, boasting iconic and sublime works by figures such as Roy Lichtenstein, Andy Warhol, Ellsworth Kelly and others. And therein lies its problem. It's a story of art we've heard before and one that is all about New York (much like Eli Broad's collection in Los Angeles), with an added heavy dose of German artists.
Iconic West Coast artists such as Ed Ruscha and John Baldessari are represented only by a few works — and late ones at that.
It is also an oppressive testosterone-fest. By my count, the fifth floor Fisher galleries don't feature a single work by a female artist. The fourth floor drops in works by Joan Mitchell, Lee Krasner and Agnes Martin, but these bookend what is essentially more dude art.
That said, the installation makes a case for why collectors should donate their collections to museums and not hoard them in private foundations. The curators at SFMOMA have installed the show beautifully, establishing intriguing sightlines and letting pieces breathe. The section devoted to Kelly, who died recently, is especially wondrous and abuts a small, chapel-like gallery that shows Martin's works — two friends and colleagues in life, also together in death.
It all makes me curious to see the smart ways in which the curators will integrate some of these works into their permanent collection and other exhibitions once the museum has gotten beyond the whole we're-open-look-at-our-new-stuff stage. The media frenzy may be happening now. But I think the real time to visit SFMOMA will be in six months or a year.
Here are a few images and thoughts: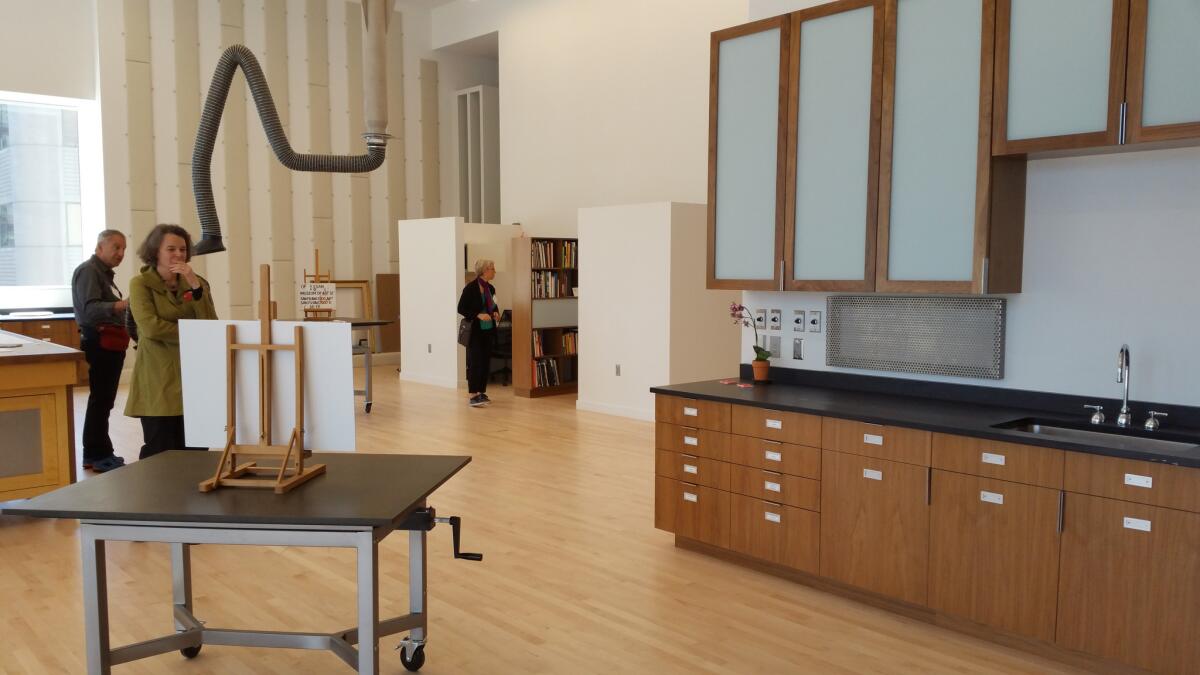 SFMOMA opens to the public on May 14. 151 Third St., San Francisco, sfmoma.org.
Find me on Twitter @cmonstah.
Get our L.A. Goes Out newsletter, with the week's best events, to help you explore and experience our city.
You may occasionally receive promotional content from the Los Angeles Times.