Column: Studio Visit: Acamonchi on the Nortec moment and how Tijuana's art scene extends to San Diego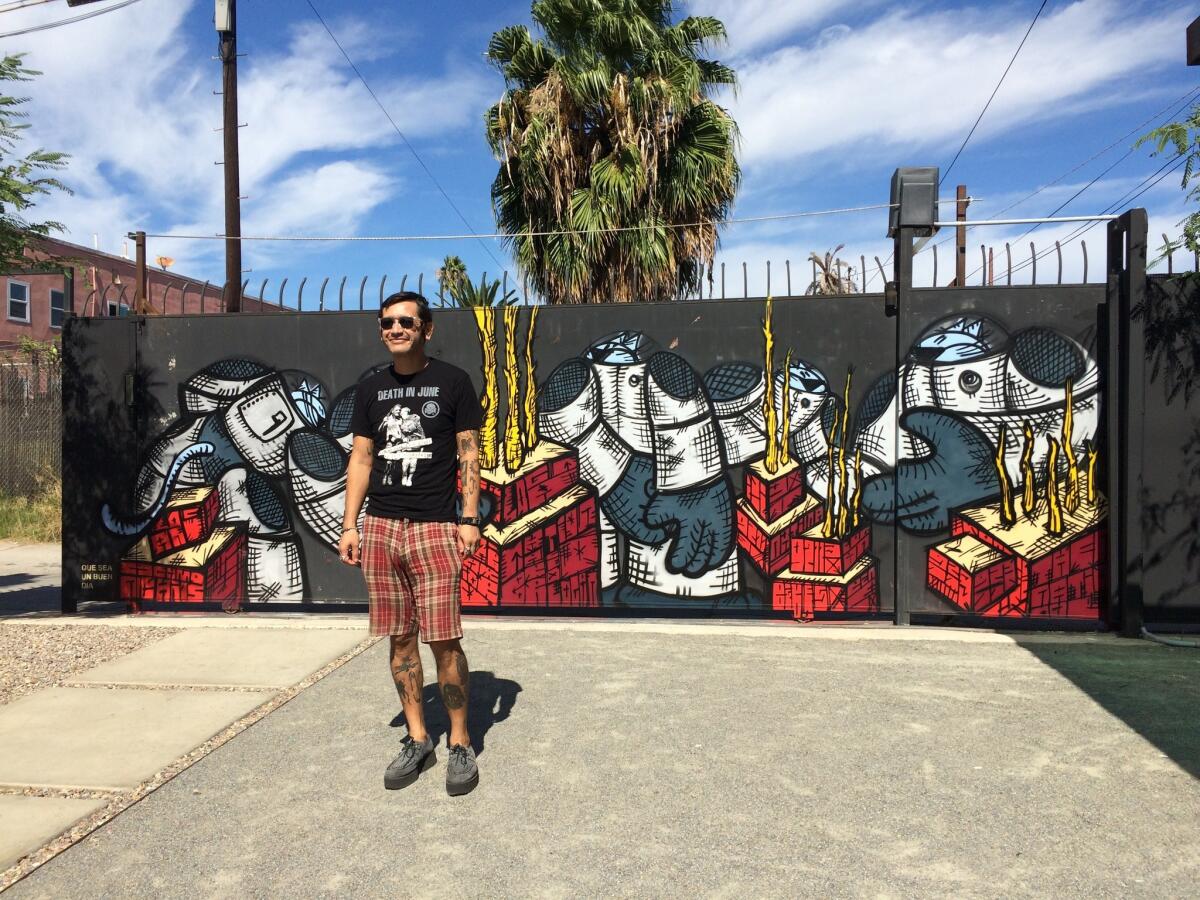 Reporting from San Diego —
From San Diego, the Mexican border might appear to be a hard and fast barrier. The 10-foot-tall metal wall cuts across the landscape indiscriminant of topography — rivers, mesas, oceans, valleys. This is the line that separates American from Mexican, English from Spanish, the meticulous arrangements of San Diego's tract homes from the improvised settlements that tumble down Tijuana hillsides. Or so one would think.
Culture, however, has a way of seeping through even the most impenetrable membranes. And if you arrive from the north, a trip to investigate the culture of Tijuana almost always begins in San Diego.
Occupying a second-story alcove above a sweaty Muay Thai boxing studio in San Diego's rapidly transforming Barrio Logan is the cluttered studio of Gerardo Yepiz, the painter and graphic designer who goes by the name of Acamonchi. Yepiz is known for layered, graffiti-inflected works that riff on skate graphics, popular culture and Mexican politics.
"I'm a painter," he says, combing through a stack of collaged canvases bearing bits of Mexican magazine ads, street flyers and layers of intricate stencils and silkscreens. "But I started in skating and music ... I was inspired by the aesthetics of punk."
Yepiz first came to international attention in the early 2000s, as part of the circle of artists surrounding the Nortec Collective, the group of Tijuana DJs that transformed the sound of electronica with samples of brassy Mexican trumpets and accordion licks. The artist designed some of Nortec's earliest flyers and other graphics. And he has worked on a long list of cultural and commercial graphics since — from exhibition posters and album covers to bits for MTV.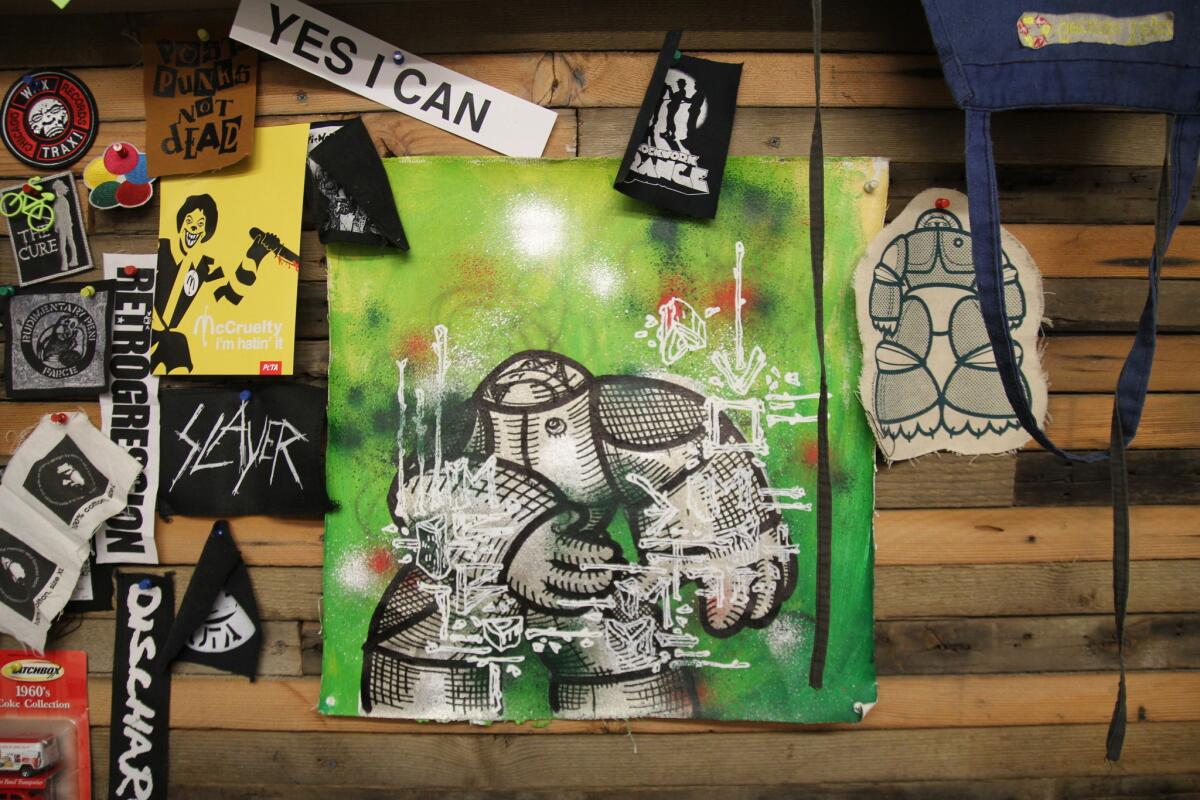 The artist was born and raised in Ensenada, but moved to Tijuana in the early 1990s to attend the Universidad Iberoamericana. He is intimately connected with the Tijuana art and music scene and regularly shows his work in the city's cultural spaces. Yet since 1997 he has lived in San Diego. And he is evidence that the reach of Tijuana's cultural sphere extends well beyond the city's borders — even if San Diego, a city that lives with its back to the border, is loathe to admit it.
"The reason you and I are here today is because of Tijuana," says Yepiz, as he leads me to the nearby Gold Leaf Project, a new non-profit art space located just a couple of blocks from his studio, where he recently graced the backyard area with a mural of cats wearing space suits.
"It's like the Death Star tractor beam," he chuckles, "just sucking you in."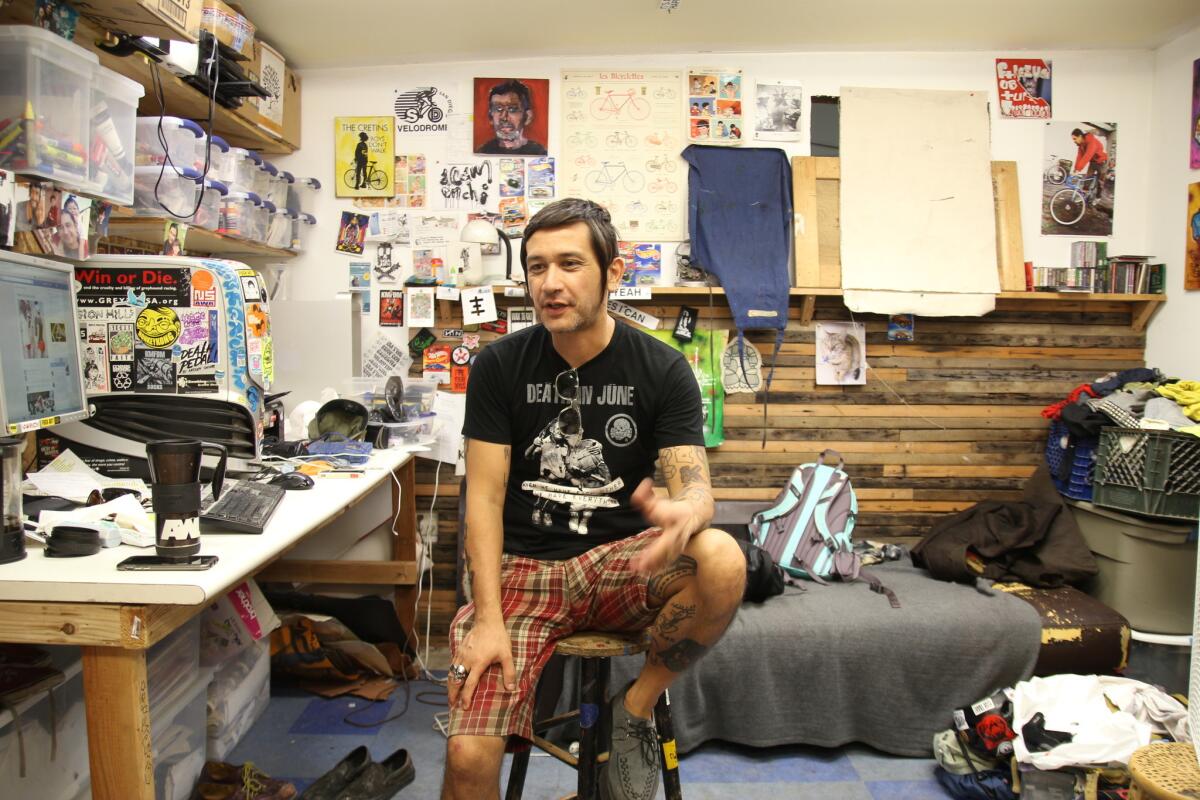 In so many ways, Yepiz represents what is so dynamic about Tijuana and the border area in general: its fluidity, its entrepreneurial spirit, its constant regeneration.
And of course, there's the fact that Tijuana, the city, might be contained by the national border, but its spirit is most definitely not. This is why one of the most Tijuana of artists doesn't live in Tijuana at all, but is actually a nearly two-decade-long resident of the U.S.
With his feet on both sides of the border, Yepiz has witnessed an interesting arc in the Tijuana cultural narrative: the rise of Nortec in the early 2000s, which drew saturation media coverage of Tijuana culture in the U.S. and beyond.
"Of course, there had always been artists and writers in Tijuana," Yepiz says. "But with Nortec, it's like we finally had a product — there were books and T-shirts and zines and the music. It helped create this market for a local product ... Nortec also ignited interest in a lot of other things. All of a sudden you had art and fashion and design and it all came out of that."
That movement, he says, has since given way to other waves of cultural development.
"Now there is more fine art, more architecture — and the cuisine, that's been huge," he explains. "You have a creative culture and hungry people that have something to say."
Yepiz, who is represented by Arca México gallery in Mexico City, is currently at work on an array of projects: a solo show for La Bodega gallery in San Diego in December, as well as a series of illustrations for a new edition of Mary Shelley's "Frankenstein," which will be published by a Mexican publishing house sometime next year.
Could he have imagined the impact that Nortec would have back in the late '90s?
"No!" he exclaims. "This was way before social media. We had a magazine and radio shows and pop-up events. Everything was word of mouth."
"I was following them when it was just 30 people who would show up at a club," he recalls. "Then one time I saw Nortec play in Rosarito and there were like 200 people there and it seemed so huge! I remember, I practically cried."
See Acamonchi's work at acamonchi-art.com. You can also find him on Instagram @acamonchi.
Find me on Twitter @cmonstah.
Get our L.A. Goes Out newsletter, with the week's best events, to help you explore and experience our city.
You may occasionally receive promotional content from the Los Angeles Times.