Finding fame and Satan in Tijuana's alleys with El Muertho, the 'Dead One'
Reporting from Tijuana —
In Tijuana, if you are lucky, you will find death in an alley. Specifically, "El Muertho" (the Dead One), a street performer known for his gravelly vocals, elaborate KISS make-up and an original songbook that covers the gamut of life topics, from diabetes to Satan.
Sample lyric: "This is rock for Satan / Maybe he wants to dance."
For roughly five years, El Muertho has stalked the streets of Tijuana, decked out in a Goth ensemble (complete with veil) and playing synth keyboard that he operates exclusively on preset beats. His lyrics and his stage banter are all dark humor.
Generally, the only way to find El Muertho is to run into him. There is no official website or verified Twitter feed under either his stage name or his real name, Baltazar Hernández.
"I'm not good at those cybernetic things," he sighs, in his weary baritone. "What I do is play. And I play anywhere I'm invited."
Because we are lucky, Times photographer Marcus Yam and I happened upon El Muertho late on a Thursday evening inside the Pasaje Rodriguez, an arcade just off Avenida Revolución. He was putting on an impromptu show before a group of beer drinkers at the local craft brewery, Mamut.
"Sit down, sit down," he tells a crew of Finnish tourists in search of a table. "I need public."
The tourists obey and we join in too. A local seated at the next table leans in to tell me that El Muertho never takes off the costume. "I heard he flew to Mexico City in that make-up," the man says.
Hernández's persona is proof positive that Tijuana, in its own curious way, is a land of wild opportunity. El Muertho is a Tijuana cult celebrity, whose singular look and sound has generated write-ups in both the Mexican and U.S. media. (Vice's Noisey music site has a good story in Spanish, as does KCET's Artbound.)
This year, a producer from a small, indie label in Mexico City saw his act and signed him to record his first official album, "Padre Santo" (Holy Father). It debuts this week.
"On Noche de Brujas, of course," he purrs. That'd be Halloween.
As part of the launch, El Muertho now has a Facebook page (though it's not administered by him).
Born and raised in the state of Chihuahua, Hernández landed in Tijuana in 1989. "I believe in fate," he tells me on a short break between sets. "Fate led me here. All the races and people are here: black, white and Chinese. I love the mix."
But about five years ago, an illness (a tumor, about which he didn't elaborate) forced him to give up his regular gig as a mechanic, so he took to the streets to play music — as El Muertho.
"I died," he explains. "And then I was reborn. I am El Muertho."
With a layer of white face-paint and eyebrows that would make Divine blush, he has made a name for himself with his singular, D.I.Y. sound, a simple Goth-pop melange spiced by traces of moody Mexican danzón.
Hernandez learned to play music in church. "Six years, evangelical," he explains. "Pure Bible."
But he is most inspired by traditional rock and pop: "I listen to KISS, the Beatles. I like soft pop. Paulina Rubio, Flans" — the latter a female Mexican pop group from the 1980s.
And these days, he is less into church than in spreading his own brand of more-inclusive theology.
"We all have an internal woman," he says. "I let out my internal woman and, Wow! Women represent the divinity of humanity. The endless circle of life."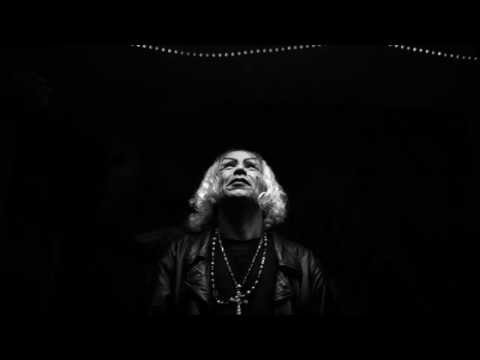 El Muertho enjoys the attention his persona has garnered. He greets regulars warmly and good-naturedly teases tourists. "Who doesn't love a little fame," he says with a wry, black lipsticked smile.
When we spoke, Hernandez was prepping for his record release party — as well as a possible gig in Colombia. Not bad for a guy who took to performing as a fallback.
Gesturing at my notepad, he asks me to relay a message to KISS frontman Gene Simmons: "Gene: Let's record an album together. Let's make music. You are an inspiration."
As he stands up to head back to his keyboards, I manage one final question. Why write a song about diabetes if the illness that afflicts him is a tumor?
"Diabetes," he deadpans, "is much trendier."
Get updates on the album and performances on the El Muertho Facebook page. And hear tracks from his new album on Soundcloud.
And find me on Twitter @cmonstah.
Get our L.A. Goes Out newsletter, with the week's best events, to help you explore and experience our city.
You may occasionally receive promotional content from the Los Angeles Times.