A border wall rises in Oceanside — but this one is an art project, by Tijuana artist Marcos Ramirez 'ERRE'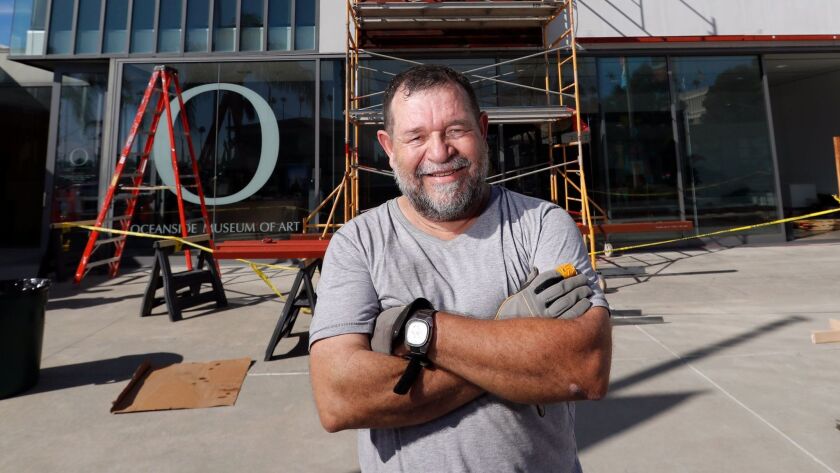 On a rugged patch of the U.S.-Mexico border near San Diego, news crews from all over the world have been documenting the rise of eight border wall prototypes that have materialized, like looming works of land art, in Otay Mesa.
Another wall, roughly 60 miles to the north, has received far less media scrutiny. It is crafted from 61 panels of corrugated metal bound together by steel beams. And in its crude, rusty aspect, it evokes the metal border fence that began to materialize along the international border near San Diego in the 1990s in an effort to curb illegal immigration.
Except this wall isn't quite a wall, it is a work of art — and it is currently obscuring the Modernist facade of the Oceanside Museum of Art in downtown Oceanside.
The work, titled "Of Fence," is an installation by artist Marcos Ramirez, known as "ERRE," and is part of the group show "unDocumenta," which takes the dynamism of the U.S.-Mexico border as a point of inspiration for works that explore issues of cultural, economic and political exchange.
As they are demolishing the one in Berlin, we are putting this up here. And that barrier is not going to hold anybody.

Marcos Ramirez "ERRE," artist
On a sunny afternoon late last week, Ramirez could be spotted in work clothes and a tool belt wielding various power tools as he erected "Of Fence" on the facade of the museum.
The artist, who was born and lives in Tijuana, has watched the border harden over his lifetime, evolving from a simple barbed-wire fence to a corrugated metal barricade to various layers of wall made from metallic mesh and pillars.
"It's a really ugly scar on the landscape," Ramirez says of the border wall. "It doesn't allow wildlife to go through."
In fact, it almost prevented his art from getting through. The artist had prepped the panels for his work at his studio in Tijuana. Getting them through customs at the border took three days (two more than he had anticipated) and it delayed the installation of the work considerably.
"I don't believe in borders," Ramirez says. "Especially on a land that used to belong to that people. Like, 'I'm going to take half your house and then I'll build a wall so you can't even look at it.'"
The border wall, he notes, ignores the dynamic relationship between the U.S. and Mexico — especially in California, which was once part of Mexico.
Independent curator Alessandra Moctezuma, who organized the exhibition, knows the relationship intimately. Living in San Diego, where she teaches at Mesa College, Moctezuma is from Mexico City and regularly crosses the border to visit family members in Tijuana.
"There is an interdependence of the two cultures," she says. "We rely so much on each other — labor, culture, economics. [Ramirez] wants people to connect those dots."
There is an interdependence of the two cultures. We rely so much on each other — labor, culture, economics.

Alessandra Moctezuma, curator, "unDocumenta"
Ramirez's wall evokes other things too.
"This is a military community, really close to Camp Pendleton," he says of the Oceanside location. "I hope it will make you inquire, 'Is this the border fence or is this one of the training fences from Camp Pendleton?'
"It's like, you don't want people to climb those walls," he adds, gesturing toward the southern border. "But you train your men to climb these walls."
The "unDocumenta" exhibition brings together the work of six artists — three men and three women, from both sides of the border — to explore issues of politics, labor and culture in the border region. The show is part of the Pacific Standard Time: LA/LA exhibition series. Its title nods as much to issues of immigration as it does to the doings of the world of high art: a combination of "undocumented" and "Documenta," the every-five-years exhibition held in Kassel, Germany.
The show, which was planned well before last year's presidential election, couldn't come at a more poignant political moment. The border was a defining issue of the presidential campaign. And building a border wall has been a defining issue of the Trump administration.
In recent years, the border has become a hotly debated topic for commentators, writers and artists. This fall, the French street artist known as JR created art installations along the border in Tecate and Tijuana: the former an image of a giant toddler looming over the border wall, the latter a cross-border picnic.
But "unDocumenta" seeks to go deeper than a one-off event.
"For these artists, the border has always been important," Moctezuma says. "It has affected people's lives for decades."
Moreover, the border is something that has ingrained itself in the psyche of both U.S. and Mexican border communities in different ways.
"When you are in Mexico, [the border wall] is integral," she says. "It is right there. The city goes against it. You can touch it. You can paint it. It is present — and because it's present you can act on it.
"But on the U.S. side, it's actually hard to get up close to it, because of the militarization."
The exhibition features a piece by Mexican-born artist Ana Teresa Fernández, who in 2012 painted over a section of the border wall on the coast to make it appear invisible from the Tijuana side. By covering the columns in blue paint, the wall blended in with sky and ocean — making it seem as if there was a momentary gap.
"Ana Teresa, she literally embraces [the wall] in her work," Moctezuma says. "She has to rest her body against it to paint. It becomes part of who you are."
Other works in the show get at the exchanges that happen between the U.S. and Mexico — wall or no wall.
Dominic Paul Miller, who was based in San Diego before moving to New York, worked with a labor rights group to create a collaborative piece with maquiladora workers in Tijuana. Together they crafted a series of abstract drawings inspired by the patterns of circuitry boards, which are manufactured by Mexican workers for American companies in Tijuana.
"It is," says Moctezuma, "about the dynamics between the two countries."
Likewise, an installation by Tijuana artist Omar Pimienta looks at the issues of culture that bind the two countries.
One early sketch of the Statue of Liberty by its creator, French sculptor Frédéric Auguste Bartholdi, featured Liberty standing on a pyramid, an architectural form favored by various pre-Columbian cultures in the Americas. Pimienta has used that drawing as a point of inspiration for a series of Liberty statues — both small and large-scale — that stand on pyramids.
"It's this idea of the U.S. being built on the indigenous and the pre-Columbian," Moctezuma says. "If you had built the statue according to Bartholdi, that's what it would have looked like."
Ramirez has spent much of his career engaging issues of the border in his work. In the 1990s, he placed a two-headed Trojan Horse sculpture called "Toy An-Horse" on the San Ysidro-Tijuana border crossing — a nod to mutual exchange and invasion. Last summer, for a project titled "DeLIMITations," he and artist David Taylor mapped and marked the boundary of the 1821 U.S.-Mexico border, when areas such as California, Arizona, Texas and even pieces of Kansas were still part of Mexican territory. (That work was shown at the Museum of Contemporary Art San Diego.)
This spring, he teamed up with artist Margarita Garcia Asperas for an installation and performance titled "Re/flecting the Border." For that event, a dinner table was placed on the Mexican side of the border wall and a meal was served. A mirror placed up against the wall reflected the impromptu dinner party back on itself — giving it the appearance of a cross-border dinner party. (A work that serves as important precursor to JR's border picnic, held six months later.)
Ramirez hopes his work — both the installation on the museum's facade and the two smaller border-themed pieces he has in the show — will get viewers to think about the dynamics of exchange over separation.
"As they are demolishing the one in Berlin, we are putting this up here," he says of the border wall. "And that barrier is not going to hold anybody. The people in Central America and Mexico, their resources are being taken. Where did that wealth go? It came here. It went to Europe. So people come here to get a share of that."
Moctezuma says it can seem hopelessly utopian to think of dissolving the border between the U.S. and Mexico at a time when 30-foot border wall prototypes are being built near the international boundary.
"But think of Europe — they got rid of their borders," she says. "And you couldn't have imagined that 50 years ago."
In the meantime, Ramirez — like a good tijuanense — is resolutely practical about the many possible uses of his work.
What will he do with all those corrugated metal panels when the exhibition comes down early next year?
He laughs: "I'll take it back home and make a roof out of it."
1:30 p.m., Dec. 14: This article misidentified artist Margarita Certeza Garcia as Margarita Garcia Asperas.
---
"unDocumenta"
Where: Oceanside Museum of Art, 704 Pier View Way, Oceanside
When: Through Jan. 28, 2018
Sign up for our weekly Essential Arts & Culture newsletter »
---
From the Oscars to the Emmys.
Get the Envelope newsletter for exclusive awards season coverage, behind-the-scenes stories from the Envelope podcast and columnist Glenn Whipp's must-read analysis.
You may occasionally receive promotional content from the Los Angeles Times.