Organizer of criticized World Wide Art Fair: 'We made mistakes'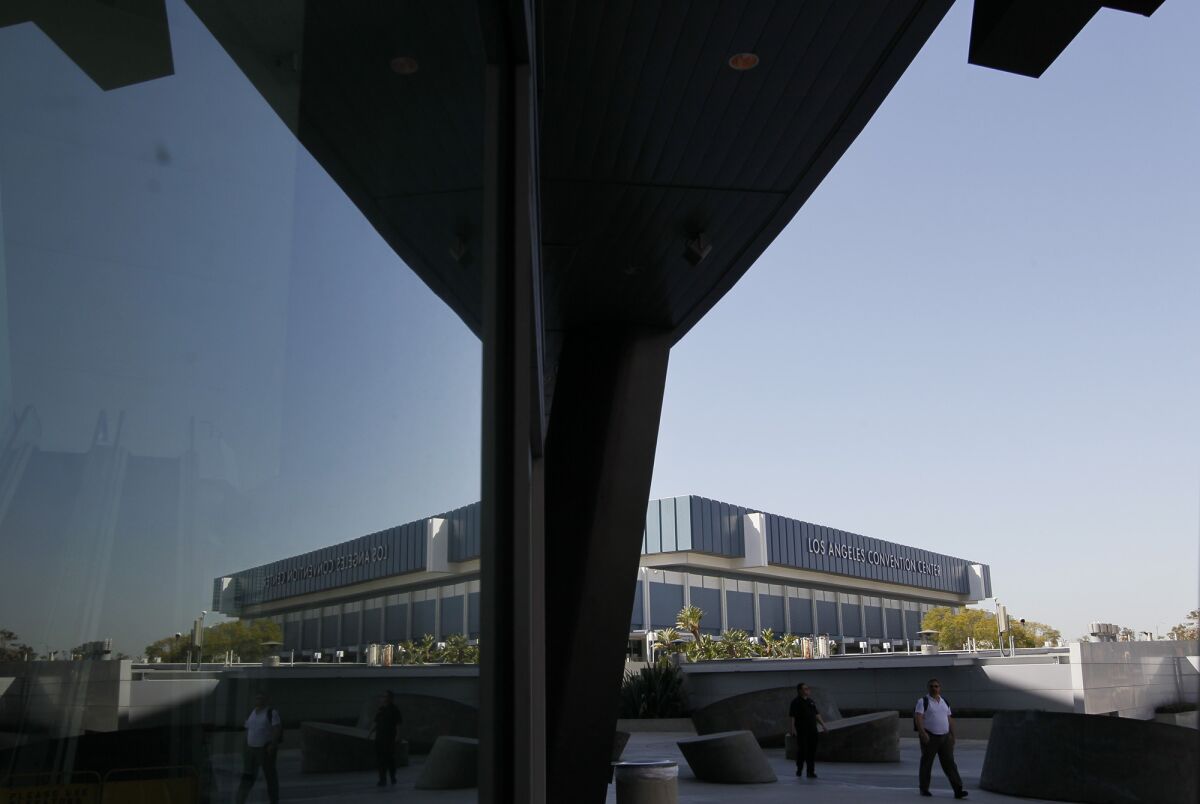 In a universe where talk about art seems to revolve around auction records and sold-out solo shows, it can come as a bracing bucket of ice water when things don't go quite so well. Case in point: the World Wide Art Fair, staged at the Los Angeles Convention Center Oct. 16-19.
The fair featured more than 60 exhibitors from all over the world. But as first reported by Catherine Wagley in the L.A. Weekly, the fair drew such low attendance (1,800 people over nearly four days) that by the second day, the organizers had waived the $20 admission fee — without much success.
Worse yet: The majority (roughly three quarters) of the exhibitors were individual emerging artists, flying in from places like China and Mexico. To participate, artists or their sponsoring organizations had to shoulder travel, shipping and setup costs. Plus, there was the expense of the booth rentals: the fee for the show's smallest space was listed on the art fair's website as $5,069.
"There was almost no one in the hall," says Christopher Ford, a former gallery director (Pence Gallery, Mark Moore), who attended the fair's Saturday session at about noon. "There was no one other than the exhibitors. I walked around and mainly saw dealers talking with each other."
Reached via telephone, fair organizer Thomas Tunberg admits that there were problems.
"Clearly, we made mistakes," says Tunberg, who put the fair together with his wife, Despina. "We're disappointed too. We've lost more money than anybody. I don't have final figures but it's in the six figures. The income we got from the exhibitors was not enough to cover the publicity we had to do."
To be certain, a number of people I interviewed for this story reported pleasant, efficient dealings with the Tunbergs. Keri Freeman of Art Walk News says that World Wide Art bought an ad in her publication and paid promptly. And a couple of nonprofit partners who had their booth fees waived, Jill Gurr of Create Now, and Peter Mays of the Los Angeles Art Assn., both reported professional dealings with organizers, even if the crowds never materialized.
"They offered us a space and we featured three female artists," Mays says. "We sold two pieces." One of these was to a new collector from China.
At least one artist had a positive view of the fair. "My impression was that they had good turnout on opening night," says Erin Hanson, a landscape painter from Glendale who won her exhibition slot in a contest and didn't have to pay for her display space. "It wasn't parents pushing kids around in strollers. There were collectors."
Still questions remain about how logistics were managed, from publicity to parking.
So what happened? Interviews with participants, attendees and show organizer Thomas Tunberg, as well as art world experts, provide some perspective on a few of the questions being asked:
Who are the organizers?
The founders of the fair, Thomas and Despina Tunberg, operate an art press in Santa Barbara, and previously ran a gallery called the Omma Center of Contemporary Art in that city as well as on the Greek island of Crete.
The couple's previous art fair experience, Thomas Tunberg tells The Times, comes from organizing the International Art Fair of Chania on Crete. Tunberg says they oversaw that fair in Greece from 2003 to 2010.
"It was very well attended," he says of the Greek fair. "In smaller places it's easier to reach people. Plus, we had a gallery there so it was a lot easier to do. In retrospect, maybe we should have done [the L.A. fair] smaller."
The Tunbergs' current company, World Wide Art Books, publishes artist directories such as "International Contemporary Masters."
The World Wide Art Books website pitches its directories to artists who want to "promote their career, increase the value of their work and establish new relationships with art galleries." Artists are charged to be included in the directories — anywhere from $1,000 for a page to nearly $10,000 for the front cover, according to information posted on the publishing website.
The World Wide Art Fair also touted artist exposure. "Tens of thousands of visitors — many of them collectors, dealers, galleries, curators, consultants, interior designers and other professionals — will attend," read an email sent out to artists.
Austrian-born photographer Josiane Keller, currently based in Cleveland, says she received this solicitation, along with a separate invite to participate in one of World Wide Art's paid directories. She declined them both.
"I don't know any gallery that would look through this book and say, 'Oh that's an interesting artist, let's call them,'" says Keller, who posted a copy of the letter on her blog. Generally speaking, the artist is not a fan of art opportunities that require more than a nominal application fee: "People have the illusion that if they pay thousands of dollars, they will get lots of exposure."
Tunberg says the fair was not in the business of targeting hopeful young artists with outsized expectations. "We were targeting savvy artists," he says. "Artists who knew what they were doing. Artists who would be in a position to take advantage of it. The success of the exhibition depends on the quality of the exhibitors."
Aren't art fairs for galleries? Why were there so many independent artists in this show?
A small number of galleries were present in the fair's lineup, but the majority of the exhibitors, as listed on the fair's website, were artists. And most of the exhibitors paid for their booths; only five of the 60 participants received comps, Tunberg said.
Having artists do their own booths at a fair is not entirely out of the ordinary, especially at small fairs and festivals. But the prices that World Wide Art Fair were charging were steep for a first-time fair. Booth costs started at $5,069 and went to $53,856 for the largest space.
As a point of comparison: a booth at one of the bigger, established art fairs in New York will start at about $13,000, while a space at the well-established Affordable Art Fair, held in New York and various international locations, runs in the range of $4,600 to $15,000. An installation at one of the newer fairs, such as the Moving Image Art Fair, a video art fair established in 2011, costs $3,000 for a slot (including setup and equipment).
Tunberg says he was only charging what the show cost to put on. "The venue is a very expensive venue," he explains. "Construction costs are expensive; it's a union facility. Our costs are exactly the same as any big art show."
Was enough done to promote the fair ahead of time?
Generally, any art fair (especially a new one) is accompanied by a blast of publicity, which begins as a steady drumbeat of press releases months in advance. But this fair caught many members of the art media (including myself) by surprise.
Tunberg says that he invested a lot of time and money promoting the fair.
"We spent somewhere in the neighborhood of $150,000," he says, "but I don't have final figures."
These efforts, he says, included blast emails to shared or rented lists, as well as the placement of press releases on the distribution service PRWeb (which charges anywhere from $99 to $499 to post or distribute a release). For a time, they hired a PR agency, he says, but it didn't work out.
"We did outdoor advertising, billboards in various locations in Los Angeles," adds Tunberg. "We tried to choose places that would be seen by people who would come to the show, around LACMA, North Hollywood, locations in Santa Monica, Beverly Hills."
Whether the Tunbergs spent $150,000 on publicity is impossible to verify, since their company is privately held. A call to Outfront Media (formerly CBS Outdoor) confirmed that World Wide Art did indeed purchase a number of smaller 13-foot billboards.
Because of client confidentiality, the company couldn't reveal exactly how many billboards were bought, but a spokesperson for Outfront said, "Their buy was extremely nominal."
What was the deal with the parking on opening night?
On the night of the fair's Thursday-night opening gala, the convention center shut down its garage early. Patrons who showed up late for the gala (when the fair had its biggest swell of visitors) couldn't get into the adjacent parking structure. (Though there were plentiful lots in the area.)
Tunberg says this was a mix-up on behalf of the convention center. "The Convention Center sent us a letter of apology and they sent us free passes," he says. "But that obviously didn't help."
But a spokesperson for the convention center says, "The garage was closed an hour early due to lack of vehicle traffic into the garage."
What happens next?
Despite the weak traffic, "from a legal point of view, we fulfilled our contractual obligations," Tunberg says. "But that's not the only way we see it. We all risked and we all lost. Everyone knew that it was a first-time show and there was risk involved."
The organizers haven't decided if they will attempt to do the fair again next year. Tunberg says he needs to review the final figures before he makes a decision.
But the whole thing serves as a lesson to emerging artists about going into any sort of agreement with eyes wide open.
"You have to do your research and understand who your audience is," says Mia Pearlman, an installation artist based in Brooklyn, who is currently developing workshops on navigating the hazards of the art world. "These paid book projects and shows, they always promise big collectors and critics. But you have to do your own recon. You have to talk to people who were involved in the past, and ask them about their experience."
She adds: "The reality is that no one cares about your career and your work more than you do."
Find me on Twitter @cmonstah.
Get our L.A. Goes Out newsletter, with the week's best events, to help you explore and experience our city.
You may occasionally receive promotional content from the Los Angeles Times.