99-Seat Beat: A Jewish telling of 'Merchant of Venice,' the race for the A-Bomb, and much more
From "The Merchant of Venice" reconsidered from a Jewish perspective, to a solo show culled from the ranks of New York's homeless, this week's 99 Seat Beat is an eclectic sampling that also includes a behind-the-scenes look at the Manhattan Project and a naughtily witty updating of Moliere's "The Misanthrope."
"The Bench, A Homeless Love Story," Hudson Guild Theatre
The essentials: Writer/performer Robert Galinsky's solo show, now in its West Coast premiere, is based on actual people encountered by Galinsky in his New York neighborhood. The play's valiant have-nots form a cohesive family unit as they struggle on the margins of an unforgiving society.
Why this? An activist who regularly volunteers in prisons and halfway houses, Galinsky states that each character's "backstories are real." Galinsky brings a wrenching realism to his material — a slice of life carved from the lower depths. Directed by Jay O. Sanders, the play is once again being produced by Tony-winner Terry Schnuck and presented by Chris Noth ("Sex and the City") and Obie and Drama Desk winner Barry Shabaka Henley — all from the original off-Broadway production.
Details: Hudson Guild Theatre, 6539 Santa Monica Blvd., Los Angeles. 8 p.m. Thursdays-Fridays. Ends Nov. 9. $25. (323) 960-7822. www.plays411.com/thebench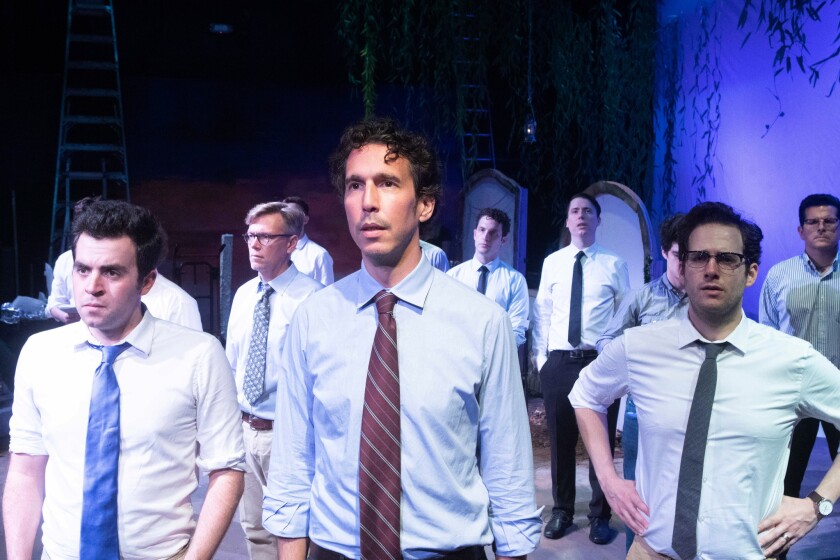 "Oppenheimer," Rogue Machine at the Electric Lodge
The essentials: J. Robert Oppenheimer assembles an elite team of the most brilliant minds in history in the race against the Nazis to build the atomic bomb and "end war for all time."
Why this? Playwright Tom Morton-Smith's behind-the-scenes drama makes the science behind the fabled Manhattan Project richly comprehensible to the layman — no easy task. Even more impressive, his play, which transpires over 60 scenes and contains two dozen-plus characters, also treats the inner workings of the enigmatic Oppenheimer's complicated personal life. It's a massive undertaking by any standard, but for director John Perrin Flynn, simplicity is the goal in a technically pared-down staging that makes "momentum a key component." This American premiere of a London hit — the inaugural outing in Rogue Machine's new Venice venue — is a coup for this intrepid company, which never shies away from a challenge.
Details: Electric Lodge, 1416 Electric Avenue, Venice. $40. (855) 585-5185. www.roguemachinetheatre.com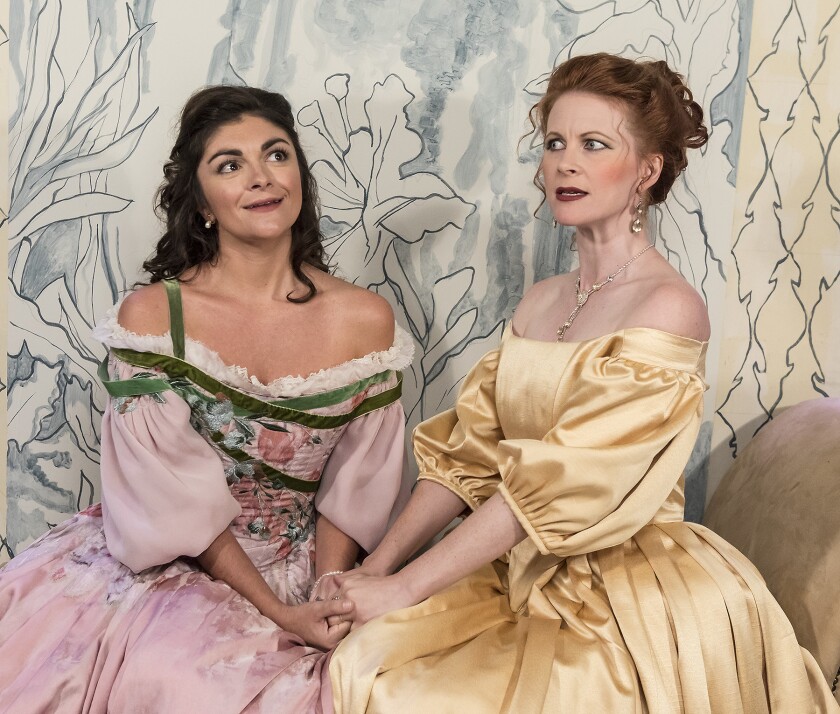 "The School for Lies," Ensemble Theatre Company at the New Vic in Santa Barbara
The essentials: In David Ives' adaptation of Moliere's "The Misanthrope," Frank, the savagely censorious misanthrope of the title, detests all mankind, asserting "The truest democrat on this earth's crust. I treat all men with uniform disgust." Clearly, however, his revulsion does not extend to Celimene, a sharp-witted beauty whose excoriating wit rivals his own. Their hilariously scathing exchanges lead to — what else? — true love.
Why this?: From one-acts to musicals to magazine articles, the prodigiously prolific Ives is perhaps most celebrated for his adaptations of 17th and 18th century French classics. A hectic blend of crossed signals, mistaken motivations and trenchant dialogue, "School" is written in deceptively elegant verse that adds comedic shock value to its crudities. The Ensemble Theatre has had hits with Ives plays ("The Liar," "Venus in Furs"), and director Jonathan Fox is hopeful that this production's "brilliant combination of classical comedy and contemporary sensibility" will once again draw crowds. "School" opens the company's 40th anniversary season.
Details: The New Vic, 33 W. Victoria St., Santa Barbara. 8 p.m. Wednesdays-Saturdays; 2 and 7 p.m. Sundays. Also 7 p.m. Tuesday Oct. 9 and 4 p.m. Saturday Oct. 13. Ends Oct. 21. $60-$75. (805) 965-5400. www.etcsb.org
"Everything that Never Happened," Boston Court Pasadena
The essentials: Sarah B. Mantell's world premiere adaptation uses "The Merchant of Venice," debatably one of Shakespeare's "problem plays," as the springboard for a pointedly contemporary drama told from a Jewish point of view.
Why this? Spanning the 16th century and the present day, Mantell's boldly elliptical drama jettisons certain protagonists while augmenting lesser characters. Antonio is never seen, Portia doesn't even rate a mention, while Shylock's relationship with his daughter, Jessica, who elopes with Lorenzo, a Christian, becomes central to the story. As Mantell observes, "I wanted to give these characters a chance to speak in Jewish voices for the first time. To give them back their history, their humor, and their heartbreak." Veteran director Jessica Kubzansky helms Mantell's timely — even overdue — new play.
Details: Boston Court Pasadena, 70 N. Mentor Ave., Pasadena. 8 p.m. Thursdays-Saturdays; 2 p.m. Sundays. Ends Nov. 4. $20-$39. (626) 683-6801. www.BostonCourtPasadena.org
---
The complete guide to home viewing
Get Screen Gab for weekly recommendations, analysis, interviews and irreverent discussion of the TV and streaming movies everyone's talking about.
You may occasionally receive promotional content from the Los Angeles Times.