Review: Los Angeles Ballet's 'Don Quixote' has stand-out dancers but is burdened by questionable staging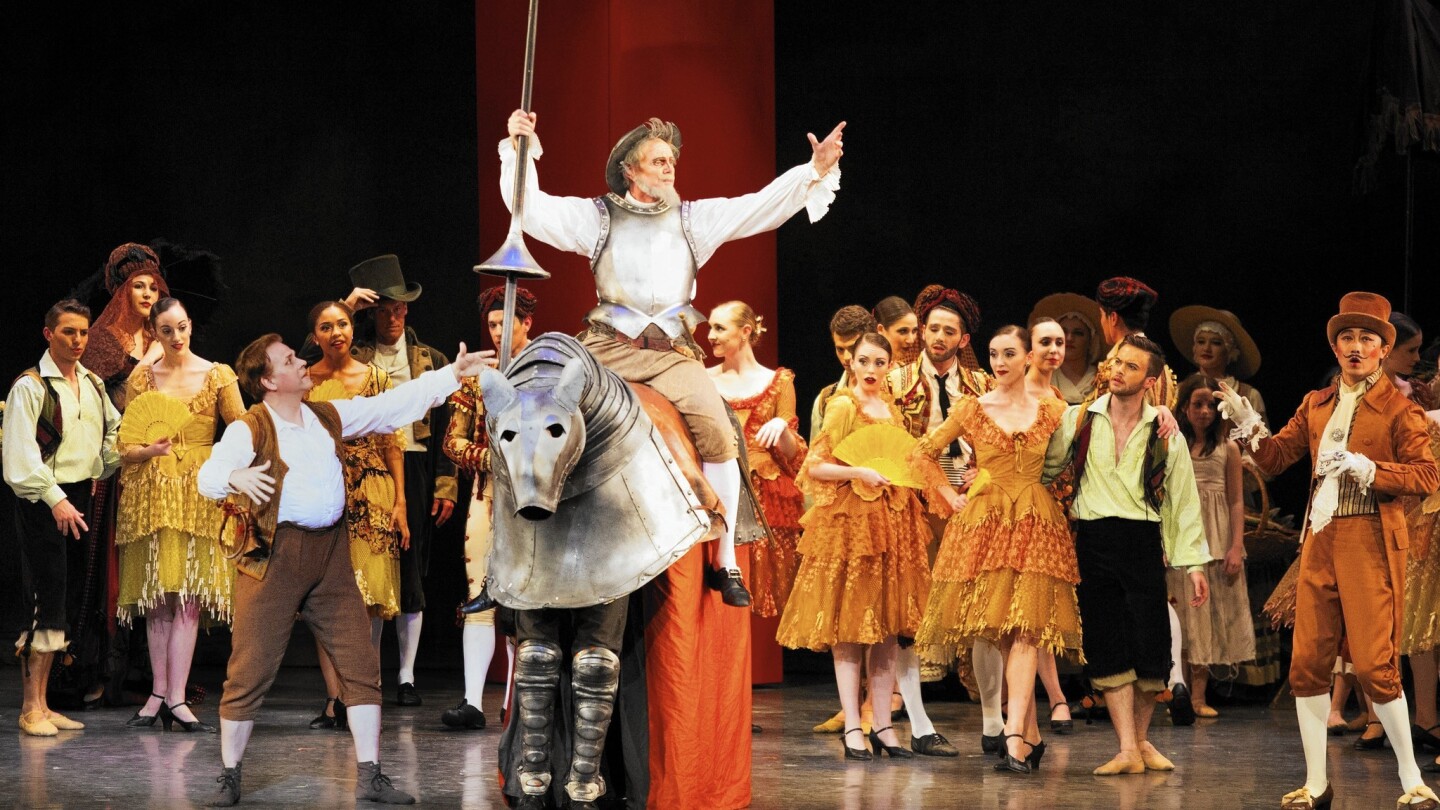 Adam Luders, on horse, is Don Quixote and David Renaud, left, performs as Sancho Panza in the Los Angeles Ballet's "Don Quixote," which premiered at the Redondo Beach Performing Arts Center.
(Jenna Schoenefeld / For The Times)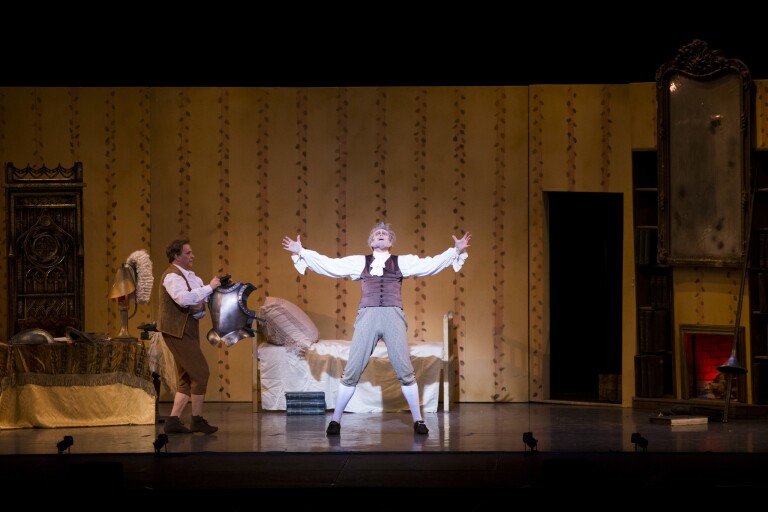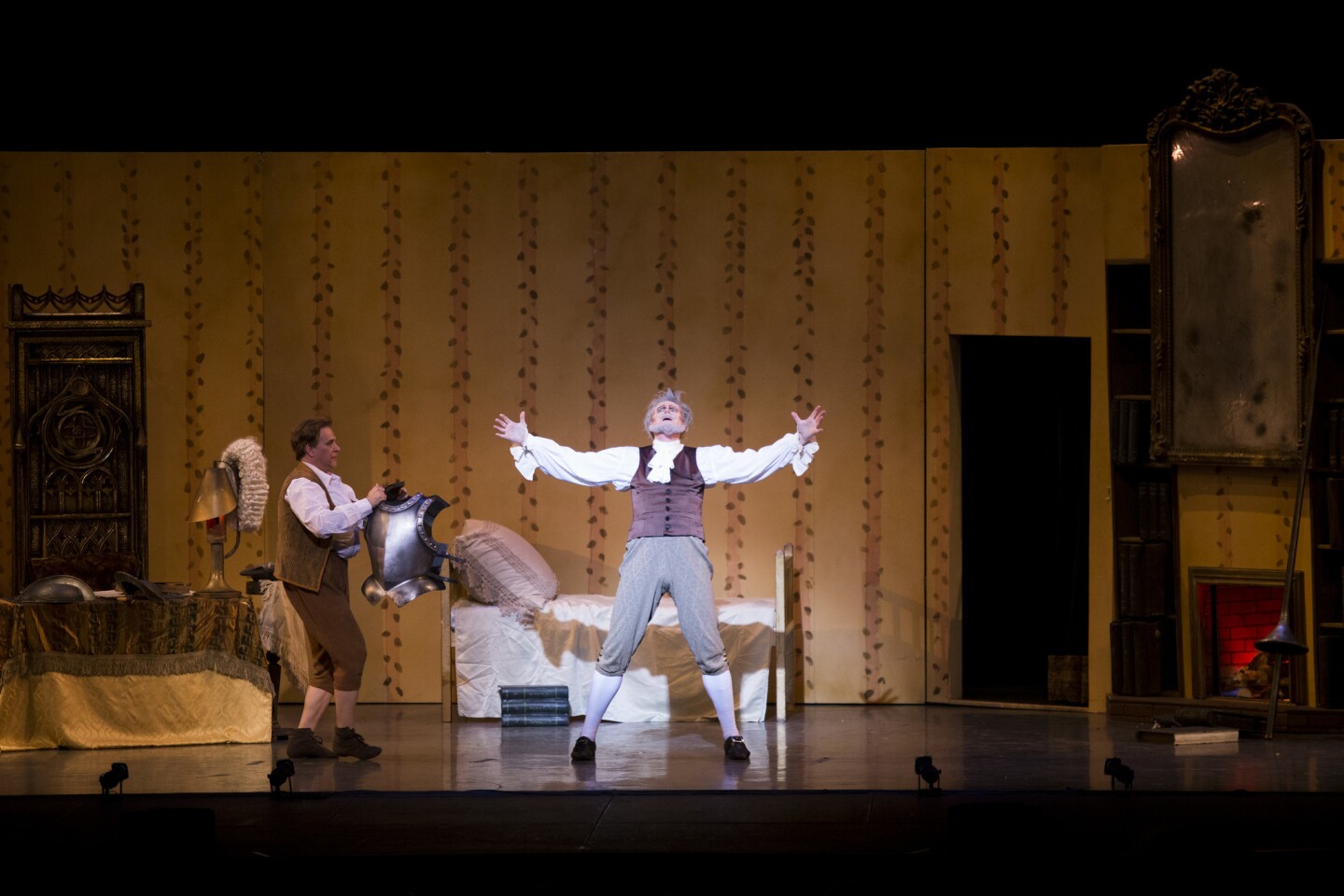 Adam Luders, center, is Don Quixote to David Renaud's Sancho Panza in the Los Angeles Ballet's "Don Quixote."
(Jenna Schoenefeld / For The Times)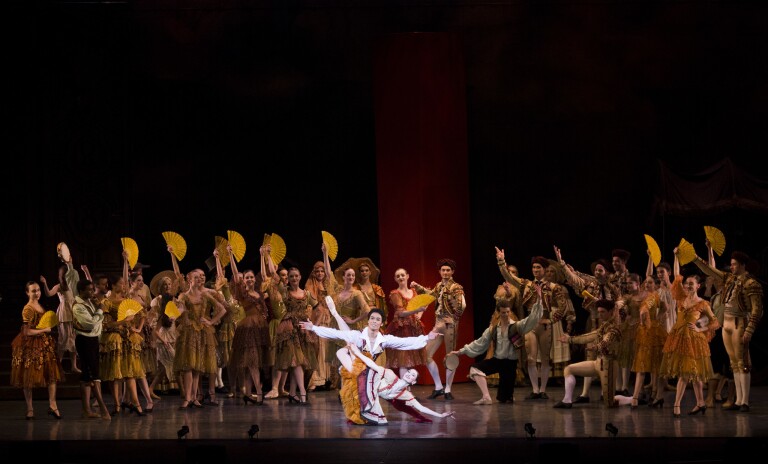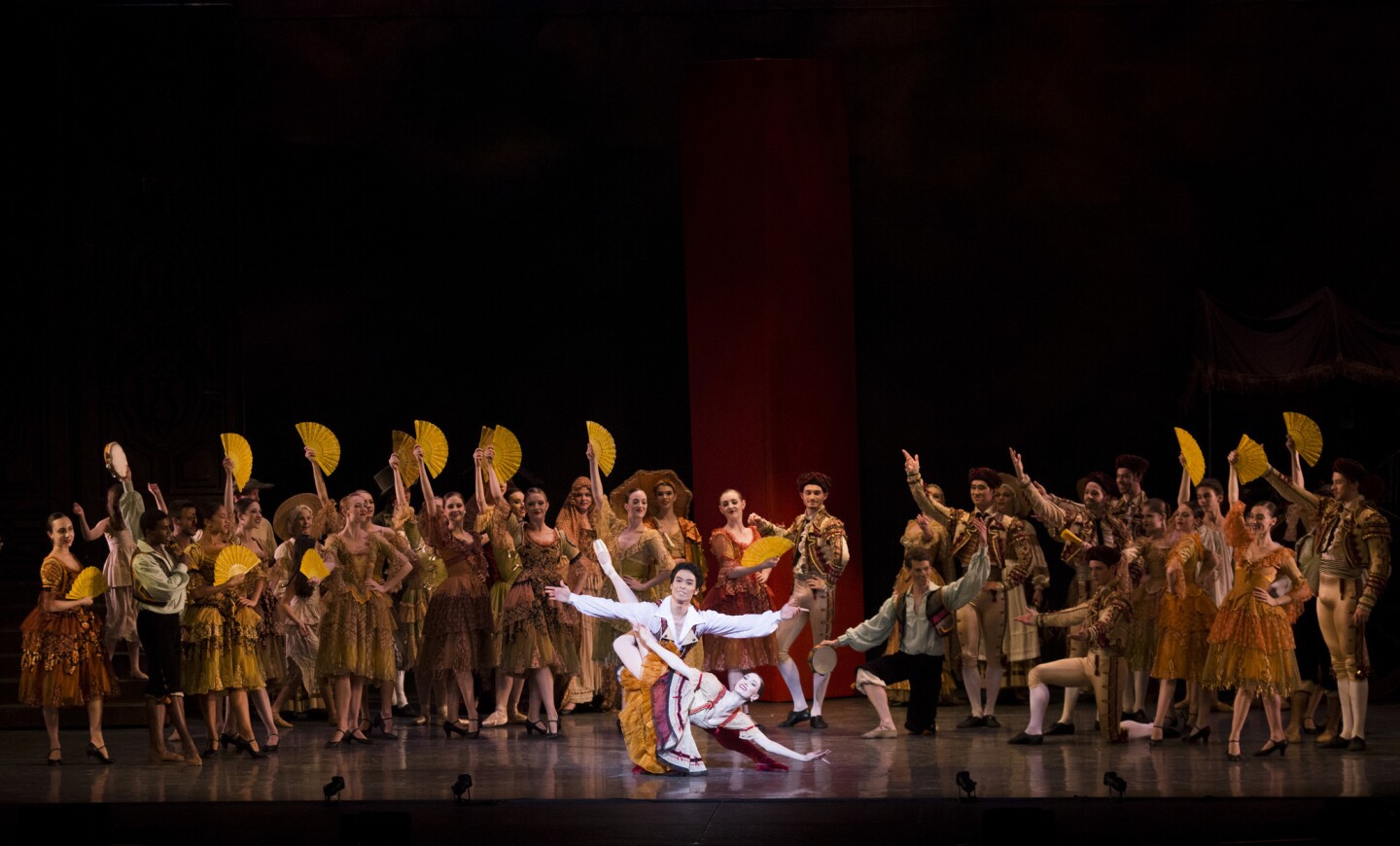 Julia Cinquemani and Kenta Shimizu are the charming Kitri and Basilio in the Redondo Beach staging of Los Angeles Ballet's "Don Quixote."
(Jenna Schoenefeld / For The Times)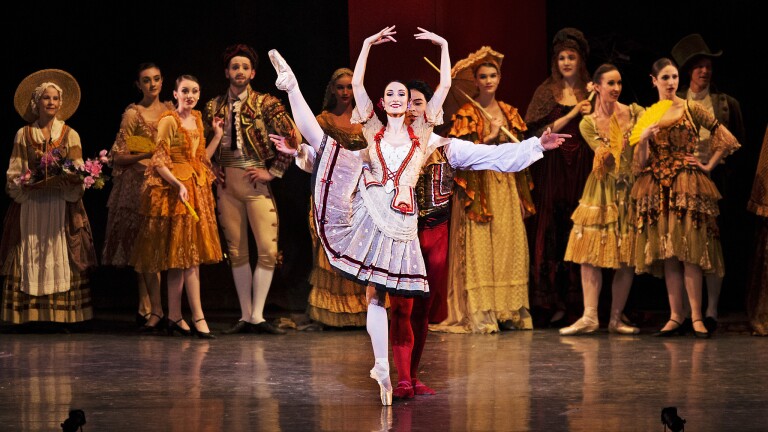 Kenta Shimizu and Julia Cinquemani make strong partners as Basilio and Kitri in Los Angeles Ballet's "Don Quixote."
(Jenna Schoenefeld / For The Times)
Midway through its 10th anniversary season, Los Angeles Ballet added another full-length classic to its repertory, a three-act "Don Quixote," which the company premiered at the Redondo Beach Performing Arts Center on Saturday.
It is, like the company's productions of "Giselle" and "Sleeping Beauty," traditional and familiar. Choreographed by artistic directors Colleen Neary and Thordal Christensen, "Don Quixote" owes much to Russian ballet's Petipa-Gorsky version.
"Don Quixote" fills a certain niche, and if you admire this warhorse, it's most likely for the bravura dancing and comic relief. The Los Angeles Ballet dancers do well in both categories, despite some questionable choices in the directors' staging.
On opening night, Kenta Shimizu and Julia Cinquemani were the charming lead couple, Basilio and Kitri. In this production, the jealous feuding is mere playfulness, and they come off as simpatico lovers.
Shimizu is an assured and exciting soloist, controlled but in the moment. He has always been a strong partner, but here, with those risky one-handed lifts, his steadfastness is golden. The worldly wise Cinquemani shows off her pliancy and high kicks, and she never breaks out of that broad smile.
It was a treat to be there as Adam Luders again took on the role of the confused knight errant. The onetime New York City Ballet principal had performed it in George Balanchine's very different "Don Quixote." Character dancer David Renaud was the jovial and put-upon Sancho Panza.
Tops among the standout soloists is Dustin True as the leader of the gypsies. He brings a much appreciated fervor to his part, throwing himself into every gesture and dance phrase, and even landing an oversized jump on bent knees. Chelsea Paige Johnston, often cast in waif-ish roles, here shows herself the toughest of the gypsy ladies.
SarahAnne Perel makes a sprightly and sweet Amor, while Bianca Bulle shines with warmth and a smooth delivery in several roles. Allyssa Bross is a saucy Mercedes, her pointe work precise and snappy. Zheng Hua Li leans into the part of the dandyish Gamache, making it extra fun. Erik Thordal-Christensen gives Espada a serious edge.
The corps de ballet is lively; there are plenty of waving fans, clanging tambourines and lots of hooting. Raising this production to the next level will take more spontaneous energy, the kind that True exudes merely by walking onstage.
Los Angeles Ballet is still young and has to make do with some less-than-optimal situations. The Redondo Beach stage is shallow, and it hurt the ballet in several spots, such as in the Dryad scene, which failed as a display of Petipa's classical purity. The lighting was too dark at the end of the gypsy camp scene, and my companion missed the Don being lifted by the windmill. And how about if Sancho Panza pinches or kisses the women, rather than lifting up the backs of their skirts as though he were a 5-year-old?
The costumes and sets are borrowed from Boston Ballet, and though the Spanish dresses, matador outfits with mini-capes, gypsy gowns and all the rest are lovely, the set pieces are cheesy, with ugly angular red pillars, a blotchy backdrop and a windmill too small to be much of a threat to anyone, even a delusional knight. The recording of the Ludwig Minkus-Riccardo Drigo score was of sorrowful quality and would have been better with some excisions.
There's still life in these 100-year-old story ballets. More spontaneity and attention to details will go a long way with this one.
------------
Los Angeles Ballet's 'Don Quixote'
When: 7:30 p.m. Saturday at the Alex Theatre, 216 N. Brand Blvd., Glendale; and 7:30 p.m. March 26 at Royce Hall, UCLA
Tickets: $31 to $99
Info: (310) 998-7782, www.losangelesballet.org
---
From the Oscars to the Emmys.
Get the Envelope newsletter for exclusive awards season coverage, behind-the-scenes stories from the Envelope podcast and columnist Glenn Whipp's must-read analysis.
You may occasionally receive promotional content from the Los Angeles Times.