Classic Hollywood: The world according to Dawn Wells, a.k.a. 'Gilligan Island's' Mary Ann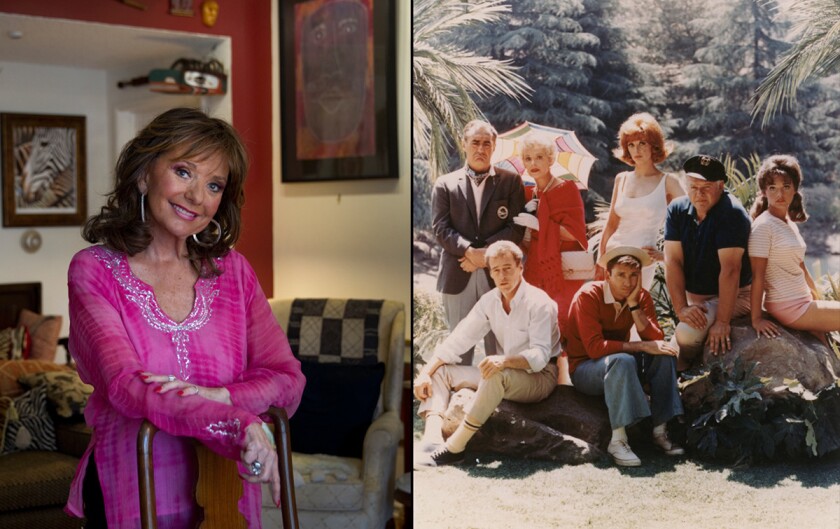 Ever since the premiere of the CBS sitcom "Gilligan's Island" 50 years ago, people have been asking the burning question: Ginger or Mary Ann?
While some fans of the broad comedy series about seven archetypal castaways shipwrecked on an "uncharted desert isle" prefer Ginger, the va-va-va-voom actress played by Tina Louise, even more seem to gravitate toward Mary Ann, the cornfed Kansas farm girl with the heart of gold portrayed by Dawn Wells.
"It's amazing to see what the 45-year-old man who is now raising children is saying to me," said Wells, a vital 75, in a recent interview at her comfy Valley Village home. "'You were my fantasy. You were the girl I would take to the prom. You were the girl who understood my problems.'"
Rene Reyes, director of public programs and festivals at the Paley Center for Media in Beverly Hills, calls the Ginger-Mary Ann debate a "pop culture battle royale."
"It's one of those great conversations that's endured over all of these decades," he added.
Wells' Facebook page has more than 150,000 fans. More than 20 years ago, she wrote a popular cookbook, "Mary Ann's Gilligan's Island Cookbook," and for the 50th anniversary of the series, she's published a new book she wrote with Steve Stinson, "What Would Mary Ann Do? A Guide to Life." (She'll be signing copies Monday at Barnes & Noble at the Grove.)
"It's not my ego talking, but Mary Ann wasn't just a silly and sweet ingenue," Wells states in her book. "She was bright, fair-minded and reasonable, and I like to think that's what I brought to her. Sherwood Schwartz, the show's producer and creator, was smart enough to put her in short shorts so you wouldn't think of her as your bossy sister."
"That character grounded the show," said Reyes, noting that Wells had wisely created a Mary Ann brand. "I think it allows people over the years to have grown along with her. It's getting back to that nostalgic, warm feeling you had watching the show growing up."
But spend any time with Wells and you'll quickly discover she is Mary Ann — minus, of course these days, the short shorts, midriff top and pigtails.
"My mother raised me with Mary Ann values and didn't know she was doing it," said Wells. "And this was in Reno, Nev., where there was gambling and prostitution."
She laments that too many young women these days are trying to emulate the Kardashians instead of channeling their inner Mary Ann. "In one of my chapters, I write, 'Does a $500 purse make you somebody?'"
Wells' parents divorced when she was young. Her father, who was married four times, lived in Las Vegas. "They shared me," said Wells, who was Miss Nevada in 1959. "There was no conflict. I think it's real hard with today's families. There are multiple marriages. Most couples have to work. It was very different [when I was growing up]. I was in the Donna Reed era."
The actress attended the all-girls Stephens College in Missouri and the University of Washington in Seattle, where she earned her degree in theater arts. She came to Los Angeles and began working in theater, TV and in such films as 1963's "Palm Springs Weekend."
Wells speaks with great affection about her three-year "cruise" on "Gilligan's Island." Bob Denver, who played the bumblingly sweet Gilligan, was a comic "genius." Alan Hale Jr., who embodied the teddy bearish Skipper, "was a wonderful man. I never saw him angry."
She also adored veterans Jim Backus and Natalie Schafer, who portrayed the über-rich Thurston and Lovey Howell. "Jim Backus was cheap," she said, laughing. "He would take Natalie and I to lunch and say, 'I forgot my wallet.' I think the first year, Natalie presented him with a bill for $300 and told him, 'This is what you owe us.'"
Russell Johnson, who played the hunky Professor, wrote the foreword to her book; he died at age 89 in January. Ironically, Wells hasn't had any contact with Louise in years. "We had nothing against each other," said Wells. "We didn't have much in common."
Wells admitted that she and other cast members were victims of typecasting after the series ended in 1967. But she's continued to work, primarily in theater.
"The first thing I did [after 'Gilligan'] was 'The Owl and the Pussycat,' where I played a hooker. But it took me two years to get cast in 'The Vagina Monologues.' I think they think of you as a film actor who doesn't do stage, so they don't know your range."
Wells is still surprised by the global popularity of "Gilligan's Island," especially since the sitcom was roundly trounced by critics when it premiered in 1964. Several years ago, she and some of her girlfriends were vacationing in the Solomon Islands when they canoed to an island where there was no running water, electricity or television.
Even on that remote island in the Pacific, Wells was recognized.
"The chief's wife said, 'I know you. In 1979, I was going to nursing school in Honiara, the capital of the Solomon Islands, and I used to come home and watch you in black-and-white!'"
Twitter: @mymackie
---
Inside the business of entertainment
The Wide Shot brings you news, analysis and insights on everything from streaming wars to production — and what it all means for the future.
You may occasionally receive promotional content from the Los Angeles Times.