6 Images
Helen Mirren's sense of style
By Elizabeth Snead
Helen Mirren
, acclaimed actress? Certainly. Helen Mirren, style icon? Not necessarily.
"I always look a mess unless I'm dressed up. You only see me when I'm on the red carpets!" she protests.
Ah, but that has become
the Oscar
nominee's home turf. During the 2007 award season, "The Queen" star looked elegant and appropriate at award shows, sweeping the season from beginning to end, culminating in a Champagne-colored Christian Lacroix couture gown (pictured) as she picked up her lead actress Oscar.
How did she develop her unerring sense of style?
Helen Mirren: A passion for acting
(Los Angeles Times)
Let's go back to her first American award show in 1997: "When I first attended the
Golden Globes
, I didn't know really what they were or that you were supposed to wear little dresses. I had just flown in from London, and I was in my slightly goth London look -- a new black jacket, black boots, black feathered hat -- and I thought I looked pretty cool, and I still do."
Then came
Joan Rivers
.
"A week after the Globes, I'm watching TV at home in the middle of the day, which just shows how pathetic I am, and on comes a show about Globes red carpet fashions. And I thought, 'Oh, I wonder if they'll mention me.'
"Joan Rivers and her daughter Melissa Rivers and another fashion critic went on and on about everyone's fabulous purse, amazing hair and gorgeous gowns.
Then Joan posed the question, 'What about
Helen Mirren
?' "
Mirren shudders as she recalls: "Then she said, 'What was Helen thinking? And she said that I was her pick for worst dressed! The other two agreed, and she said, 'Well, this is the first time we've all agreed on worst dressed,' and then she did this weird thing where she stared into the camera lens and said, 'Helen, get your act together!' "
(Eric Charbonneau / Berliner Studio)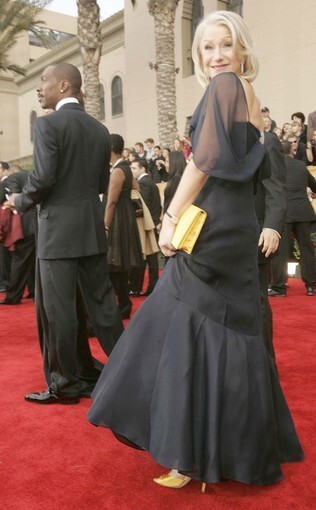 While Mirren (pictured here at the 2007
Screen Actors Guild Awards
) doesn't claim to be a fashionista, she's come a long way since 1997, and we couldn't let her accumulated knowledge go to waste.
So here -- perhaps for the first time ever -- Dame
Helen Mirren
's red carpet fashion tips:
Very high heels:
"It helps with the whole look of the dress and gives you length at the waist to make you look taller and slimmer."
(Anne Cusack / Los Angeles Times)
Go easy on the makeup:
"Makeup has to survive tremendous heat or tremendous cold, and it has to get through the whole evening, three hours of sitting there and being on camera. By the time you get to the parties, you can visit the ladies room and retouch."
(Dave Hogan / Getty Images)
Be comfortable:
"It's terribly important: Take spare shoes -- some little flatties. And do be sure your dress is comfortable. You'll be sitting in it for three or four hours. Anything that digs in will be excruciating by the end of the night."
(Pascal Le Segretain / Getty Images)
Skip the big bangles:
"I borrowed a fantastic bracelet one time, and it was a disaster, because at
the Oscars
, you're clapping every few minutes and the cameras are always on you, so you can't not be clapping or people will wonder, 'Why is she not clapping?' Well, by the end of the night, my wrist was bruised, just black and blue."
Helen Mirren: A passion for acting
(Vittorio Zunino Celotto / Getty Images)