4 Images
Celebs with theater companies
Overseas duty
Kevin Spacey, with Eve Best in "A Moon for the Misbegotten," could has settled into his Old Vic.
(Lorenzo Agius / AP)
Gang leader
Oscar winner Tim Robbins lives in New York but is still part of L.A.-based Actors' Gang, which he founded in 1981 with fellow UCLA students.
(Ringo H.W. Chiu / For The Times)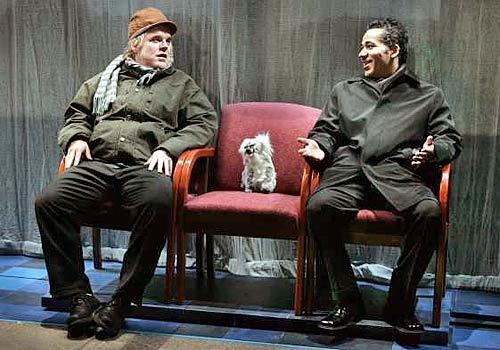 Three's company
Oscar -winner Philip Seymour Hoffman, left, with a koala and John Ortiz in "Jack Goes Boating," a play put on by Hoffman's New York-based LAByrinth Theater Company. Ortiz is co-artistic director.
(Ari Mintz / Newsday)
Fowl play
Michael Imperioli and Sharon Angela in his company's "Chicken."
()