New ABC president looks forward, talks 'Bachelor's' diversity problem, and bringing 'Star Wars' to TV in first TCA appearance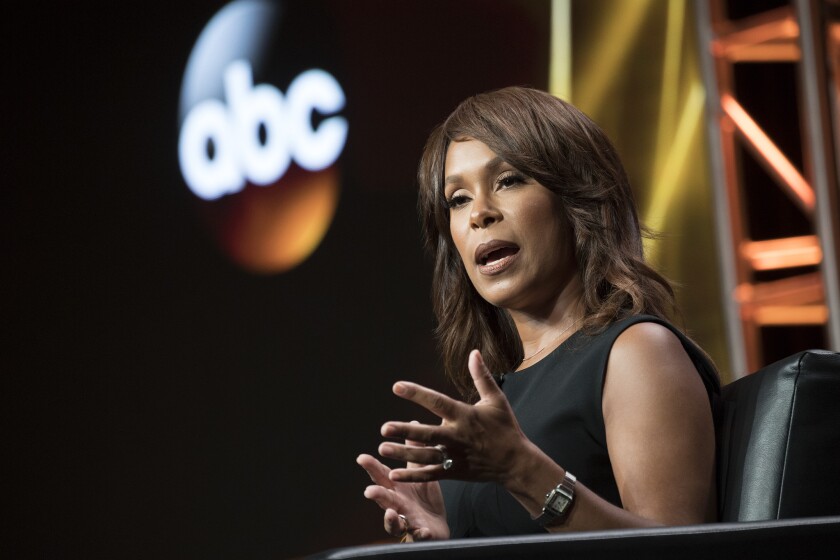 In her first appearance at the Television Critics Assn. press tour, ABC's new entertainment president, Channing Dungey, took a forward-looking approach.
Dungey appeared Thursday in front of reporters in Beverly Hills, where she opened a half-hour Q&A by lauding the achievements of the fourth-place network.
"This has been, for me, a year of firsts," she said. "First schedule, first upfront, first press tour. I'm a little more nervous now. But I feel really lucky to be here in this job.… I feel like we have some momentum going."
Dungey pointed out that, when excluding sports, the network is No. 1 with entertainment programming. And she praised the network's attempts to better represent the variety of the viewing audience with series such as "Fresh off the Boat" and "black-ish."
"We reflect all of America in our diversity and we definitely want to keep moving in that direction," she said.
But will a certain popular reality franchise move with it? Dungey, like her predecessor Paul Lee in tours past, was asked about the racial homogeneity of "The Bachelor" and "The Bachelorette" — and whether there are plans to address its diversity problem.
"I would very much like to see some changes," she said, while noting such change would have to start in the early stages since the franchise tends to select popular cast members from the previous cycle as its next "Bachelor" or "Bachelorette."
"It's worked very well for us because the audience feels engaged [in selecting] the candidate," she said. "What we'd like to do is broaden that. We need to increase the pool of diverse candidates in the beginning. That is something we really want to put some effort and energy towards."
Dungey also found herself facing a question that has followed the network since parent company Disney acquired Lucasfilm in 2012: whether there is any potential "Star Wars" series coming to ABC. There are no plans yet, but Dungey didn't seem opposed to it when asked if it would be something she'd like to see happen during her tenure.
"As a fan, I would absolutely love to say 'yes,'" she said. "We have had conversations with [Lucasfilm], and we continue to have them. I think it would be wonderful to extend that brand onto our programming."
Time was also spent discussing the network's next moves with comedy and drama.
Dungey, who had previously served as head of drama development at the network, admitted that her biggest challenge in settling into the job has been getting up to speed on comedy.
This season the network, home to such family sitcoms as "Modern Family," "black-ish" and "Fresh off the Boat," is heading into its next phase with the inclusive family comedy "Speechless," which features Minnie Driver as a mom to a special needs child.
"It's a show about a family in which one of the members happens to have special needs," Dungey said. "It still feels very accessible, very authentic and very relatable."
And with the cancellation of long-running series "Castle," ABC will have just one story-of-the-week procedural ("Conviction") in its otherwise heavily serialized slate.
Dungey said she'd like to see that change.
"I would love to see more closed-ended procedurals on the network," she said, "particularly because we have to schedule 35 weeks of a year, and it's nice because, with a procedural, you can generally do 22 episodes, and they also repeat pretty well. So I would hope to see some of those on our schedule."
Twitter: @villarrealy
---
From the Emmys to the Oscars.
Get our revamped Envelope newsletter for exclusive awards season coverage, behind-the-scenes insights and columnist Glenn Whipp's commentary.
You may occasionally receive promotional content from the Los Angeles Times.