Taylor Swift speaks and Apple listens, how the superstar became music's most powerful voice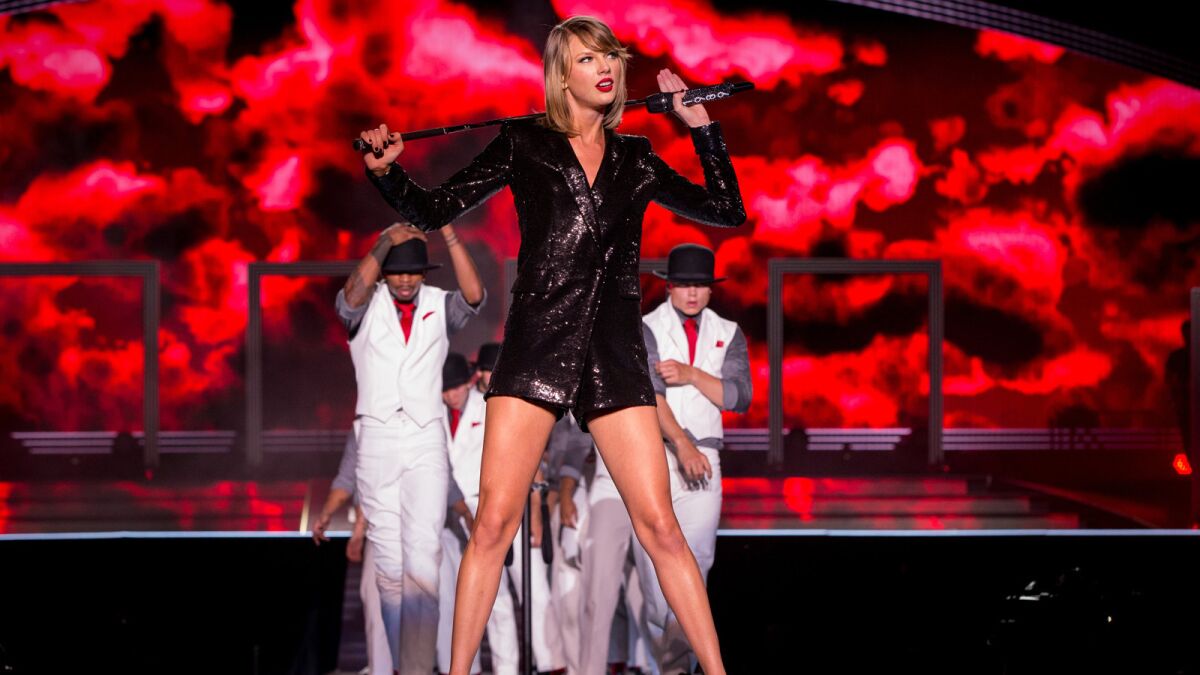 As Kanye West learned the hard way back in 2009, it's not smart to mess with Taylor Swift.
The rapper's attempt to upstage the then-teenage singer-songwriter during an awards show backfired almost immediately, with West's "Imma let you finish" becoming a snarky Internet catchphrase.
Few today would dare grab the microphone from Swift, now 25. Her clout was underscored Sunday when she forced Apple — financially, the world's mightiest company — to abandon plans to withhold artist royalties for music streamed during the three-month free trial period for Apple Music.
"Three months is a long time to go unpaid, and it is unfair to ask anyone to work for nothing," Swift said in an open letter to Apple in which she threatened to withhold her latest album, "1989," from the service. "I say this with love, reverence, and admiration for everything else Apple has done."
That was enough. Apple executive Eddy Cue, who oversees Internet services including iTunes and Apple Music, spoke with Swift that day and later posted on Twitter that the company had changed course.
"Apple will always make sure that artist are paid," Cue tweeted Sunday night. "#AppleMusic will pay artist for streaming, even during customer's free trial period."
Neil Young's longtime manager Elliot Roberts called it "a watershed moment" and a rare victory for musicians who have seen their earnings from recorded music steadily decline in the digital age.
"This is a chance for artists to finally reclaim their art," he said. "I applaud Taylor for finally standing up for that concept."
Others had complained about Apple's plans, to no avail. Few in the industry were surprised that Apple listened to Swift.
"She wields a mighty sword," said Nielsen analyst David Bakula. "She is at the top of the game. She is the most well-known, most well-liked and most outspoken artist out there. When Taylor speaks, it's so much more than just her social media following."
Swift has demonstrated business savvy and self-assuredness on a par with her songwriting skills throughout her career.
At 11, she persuaded her parents to travel from their home in Wyomissing, Pa., to visit Nashville so she could pursue her interest in songwriting. She released her self-titled first album when she was 16.
Her record label, Big Machine Records, was practically a start-up when Taylor signed with it — because label head Scott Borchetta promised her a strong hand in writing and producing her own work.
In person, Swift is assertive and intensely focused but also engaging. She has a politician's way with interviewers, asking them about family members they've mentioned in the past and sharing anecdotes that illuminate her own family dynamics.
Last fall, she invited fans to a private listening session in her Beverly Hills home for "1989." She introduced them to her mother, Andrea, and father, Scott, as well as her cat, which she named Olivia Benson after the character on NBC's "Law & Order: SVU," a show she says she's "obsessed with."
At concerts, she is chatty and confessional between songs, working in narratives that allow concertgoers a view inside her creative process of songwriting. She lets fans know that every scenario in her songs isn't always reportage on her real-world comings and goings but often the product of one young woman's rich imagination or drawn from the experiences of her many girlfriends including Lena Dunham and Selena Gomez.
A deft user of social media, Swift has kept up the direct connection with fans with the advent of Twitter and Facebook. Swift often patrols Instagram and Tumblr posts about her to find and reward her most ardent followers with invitations to special events, concert meet-and-greets, phone calls or personalized merchandise.
She has co-produced her albums — a rarity in the music business for any woman, but all the more unusual for one starting out as a teenager. And she's also exerted a hands-on role in the marketing of her music, merchandise and crafting her concert productions.
Each of her last three albums, "Speak Now" in 2010, "Red" in 2012 and "1989," released in October, sold more than 1 million copies in the first week of release, a feat that has become increasingly rare as music fans have turned more to streaming and file sharing rather than purchasing singles or albums. "1989" has sold 4.9 million copies in the U.S.
All told, her albums have sold 28 million copies in the U.S. according to Nielsen Music. Forbes estimates her net worth at $200 million.
All that has translated to clout few other artists can claim.
Last November, she pulled her catalog from Spotify, the Swedish streaming service that counts 20 million paying subscribers, in a dispute over Spotify's so-called freemium model, which gives users free access if they tolerate commercials between songs. About 55 million people use the free version of Spotify.
For artists less popular than Swift — and that's almost everyone — pulling music from Spotify and similar services means missing out on a fast-growing business and lots of exposure. But Swift is in a rare position of power to put pressure on the tech companies.
"It's my opinion that music should not be free, and my prediction is that individual artists and their labels will someday decide what an album's price point is," Swift wrote in an opinion piece for the Wall Street Journal last year. "I hope they don't underestimate themselves or undervalue their art."
Apple Music, set to launch June 30, won't have a long-term free model but does plan to offer new customers their first three months of service for free.
Apple executives hope the three-month trial will get users to pay the $9.99 a month for access to its library of 30 million songs. But the smaller independent labels expressed fears that the loss of revenue would be too costly for their operations and artists.
Apple showed no sign of backing down, however — until Swift spoke up.
"I'm happy she did it," said veteran music industry executive Irving Azoff, who manages the Eagles. "I give kudos to Apple for two things: They've designed a service, I've seen it in a big way, and if it works the way it's supposed to it's going to be incredible.
"Second, Eddy Cue is a good guy, and they are an artist-friendly company. He saw the error in their ways, and the fact is he stepped up and fixed it," Azoff said.
The generally positive response to Swift's letter contrasted markedly with the reaction to Jay Z's struggling streaming service, Tidal, which promised higher royalty rates for labels and music publishers. Jay Z and his fellow co-owners — including Madonna and Jack White — were blasted by critics who scoffed at the image of music's highest earners complaining about low royalty rates.
Swift carefully worded her letter to convince consumers her protest was not about lining her own pockets but about supporting struggling indie artists, writers and producers.
"I am elated and relieved," Swift tweeted on Sunday. "Thank you for your words of support today. They listened to us."
Times staff writer Andrea Chang contributed to this report.
ALSO:
'Go-to' L.A. lawyer says Hollywood studios are shortchanging his clients
Tony Awards telecast draws 6.35 million viewers, down 10% from 2014
Get those dedications ready: Art Laboe is coming back to L.A. radio
---
Get our L.A. Goes Out newsletter, with the week's best events, to help you explore and experience our city.
You may occasionally receive promotional content from the Los Angeles Times.