'Batman v Superman' will be a key test for Warner's film CEO and a slate of DC Comics films
At an October 2014 investor meeting in New York, Warner Bros. Entertainment Chief Executive Kevin Tsujihara laid out a bold plan to release at least 10 superhero films based on characters from its prized DC Comics library.
"Clearly, the opportunity is enormous," Tsujihara said at the time. "DC will be a key engine for growth across all of Warner Bros."
Tsujihara's big superhero bet is about to face its first test, with the U.S. release of "Batman v Superman: Dawn of Justice" starting Thursday night. The $250-million movie marks a key milestone for the studio that urgently needs a hit after stumbling last year with a handful of high-profile flops including "Jupiter Ascending," "In the Heart of the Sea" and "Pan."
In 2015, Warner Bros. ranked third in combined U.S. and Canadian box-office market share for the second year in a row, a rare slump for the Burbank powerhouse accustomed to dominating the industry with such franchises as "The Hobbit," "Harry Potter" and "The Dark Knight," the earlier Batman series directed by Christopher Nolan.
The studio's parent company, Time Warner Inc., is counting on franchise movies to reinvigorate results. Time Warner CEO Jeff Bewkes said at a recent industry conference that he expects record profit from the film and TV unit, led by its theatrical releases. That would signal a turnaround from last year, when the movie division's revenue from theatrical films fell 12% to $5.1 billion (overall studio profit grew because of video games sales).
"If you're Kevin Tsujihara, you need to have a good year," said Doug Creutz, a media analyst at Cowen & Co. "This is his time to shine, or not."
Expectations are high for "Batman v. Superman," the first movie to feature both of the world's most famous caped crime fighters. Fans have picked apart every piece of marketing material and casting decision released since the movie was announced at Comic-Con in 2013.
Early skeptics questioned the choice of Ben Affleck for the role of Batman and Bruce Wayne. Henry Cavill of 2013's "Man of Steel" is reprising his portrayal of Superman, a.k.a. Clark Kent. The spotlight's also on "Batman v. Superman" director Zack Snyder, whose last DC effort, "Man of Steel," amassed robust ticket sales but was met with tepid reviews.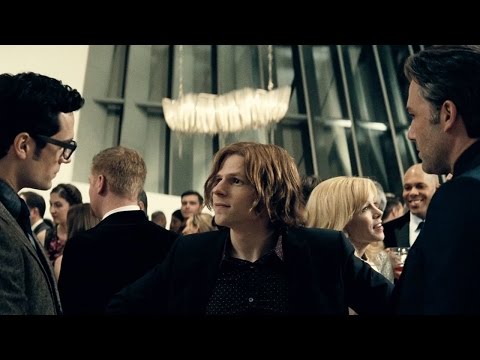 Nonetheless, "Batman v Superman" is on track for a strong opening of about $150 million through Sunday in the U.S. and Canada, according to people who have reviewed pre-release audience surveys. Analysts hope the movie will eventually top $400 million at the domestic box office, qualifying it as a major hit.
Tsujihara, the former home entertainment executive who succeeded Barry Meyer as studio chief in March 2013, was unavailable for comment. But in an interview, Warner Bros.' Greg Silverman, the studio's president of creative development and worldwide production, acknowledged the film's importance.
See the most-read stories in Entertainment this hour >>
"Some people might look at it as pressure, but that's where you want to be," Silverman said. "You want to be involved with something that people care about. That makes it exciting."
"Batman v Superman" is important to Warner Bros. because it provides the foundation for other DC films over the next five years, including "Wonder Woman," "The Flash" and two "Justice League" movies (the first of which starts filming in April). Wonder Woman, played by Gal Gadot, will make her first big screen appearance in "Batman v Superman."
This year will also see the release of "Suicide Squad," a highly anticipated movie featuring DC villains including the Joker and Harley Quinn. There are additional plans for movies about less well-trodden characters including "Aquaman" and "Cyborg."
And it's not only movies. Warner Bros. is counting on its DC franchises to drive sales in businesses including video games, toys and licensed apparel.
It's a strategy that mimics the one that has paid off handsomely for Walt Disney Co.'s Marvel Studios. Marvel, led by Kevin Feige, has produced a string of blockbusters from its properties, among them the Avengers, Iron Man and Captain America. Even obscure properties such as Ant-Man and Guardians of the Galaxy have turned into hits under Feige's watch.
Disney and Marvel have their own robust slate planned over the next few years that includes "Captain America: Civil War" in May, which (sensing a theme?) pits two popular heroes — Chris Evans' Captain America and Robert Downey Jr.'s Iron Man — against each other in an epic battle.
Even 20th Century Fox has made smart moves in the superhero game, turning the sarcastic mercenary Deadpool into an R-rated blockbuster with more than $700 million in global ticket sales on a production budget of just $58 million.
The crowded field raises the competitive stakes for Warner Bros.
For DC to challenge its rivals, "Batman v Superman" needs to be more than a one-off hit, said Michael Nathanson, a media analyst with MoffettNathanson Research.
"They really want to build DC into a cohesive universe the way Marvel has done," Nathanson said. "There's a lot of pressure on the studio and Kevin to deliver what we expect."
Some analysts have questioned whether Warner Bros. has the chops to chase its rivals, arguing that the studio lacks a unifying creative leader such as Marvel Studios' Feige.
"We don't know if the brain trust over there … can manage that as well as Marvel," Creutz of Cowen & Co. said.
But Silverman dismissed those concerns, saying the studio's relationships with top-tier talent will lead to success for DC and other key Warner Bros. franchises.
The studio is banking on other hoped-for hits including J.K. Rowling's "Harry Potter" follow-up "Fantastic Beasts and Where to Find Them," and multiple upcoming animated Lego movie projects. Other important upcoming movies include horror sequel "The Conjuring 2" in June and the big-budget summer gamble "The Legend of Tarzan."
"The real philosophy is, bring in the biggest and best artists in the world and maintain long-term relationships with them so that you can keep connecting them to the audience," Silverman said. He cited ties with filmmakers such as Jeff Nichols, director of the recent release "Midnight Special," and George Miller, whose "Mad Max: Fury Road" won six Oscars.
DC has had success in the television business with series such as "Supergirl" on CBS, "The Flash" for the CW, and "Gotham" on Fox.
For its latest movie, Warner Bros. is pulling out all the stops to market the film.
Warner Bros. has heavily promoted the movie in China's expanding film market. The campaign included a fan event at which Snyder, Affleck and Cavill were joined by the popular Chinese actor and singer Li Yifeng. The stars took part in a question-and-answer session and unveiled a life-size replica of the film's new Batmobile. In the U.S., Warner Bros. teamed with Turkish Airlines for ads that portrayed Batman's home of Gotham City and Superman's Metropolis as prime destinations. The commercials first aired during pregame coverage of the Super Bowl.
The promotional push appears to be working. Advance ticket sales have been strong in the weeks ahead of the release, outpacing "The Dark Knight Rises" and "Avengers: Age of Ultron" as online ticket seller Fandango's top pre-selling superhero movie ever. The movie has sold $20 million to $25 million in tickets, said one person close to the studio.
That should be a relief for Warner Bros. as it places its chips on the DC slate.
"An entire universe is at stake," said Jeff Bock, a box-office analyst with Exhibitor Relations. "This is as big as it gets. Warner needs to show the kind of power they have in these characters still."
MORE:
Time Warner CEO banks on 'Batman v. Superman,' Harry Potter spin-off and Chinese filmgoers
A 'super-scary' Jesse Eisenberg? Meet the new Lex Luthor (with hair) in 'Batman v Superman'
Peek inside Ben Affleck's brand new Batmobile from 'Batman v Superman'
From the Oscars to the Emmys.
Get the Envelope newsletter for exclusive awards season coverage, behind-the-scenes stories from the Envelope podcast and columnist Glenn Whipp's must-read analysis.
You may occasionally receive promotional content from the Los Angeles Times.