CBS channels go dark on Time Warner Cable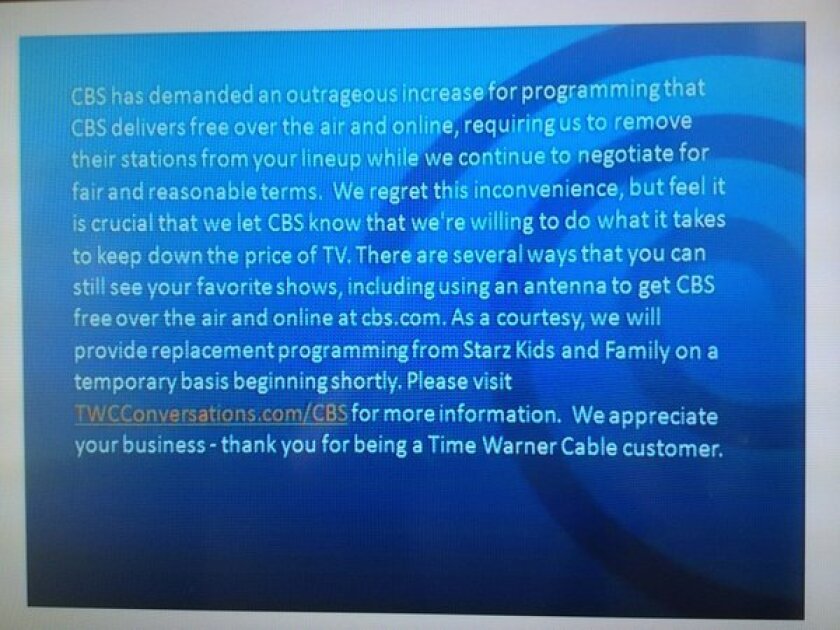 Unable to come to terms on a new distribution agreement, CBS-owned channels have gone dark on Time Warner Cable systems around the country, including Los Angeles and New York City.
In Los Angeles, the signals of KCBS-TV Channel 2 and KCAL-TV Channel 9 were pulled around 2:15 p.m. Friday. In New York, WCBS-TV, the flagship station of the CBS network, was also off of Time Warner Cable systems.
Other channels that were dropped include the CBS-owned cable channels Showtime and The Movie Channel (TMC). The dispute covers only CBS-owned channels. CBS affiliates that are carried by Time Warner Cable are not part of this fight.
Time Warner Cable said customers who receive Showtime and TMC, both of which are sold on an a la carte basis, would receive a credit retroactive to the first day of the blackout. In the meantime, Time Warner Cable is offering the pay channels Starz and Encore in the place of Showtime and TMC. The company did not say whether it would offer a rebate to subscribers for the CBS TV stations.
PHOTOS: Cable versus broadcast ratings
At issue is the price Time Warner Cable will pay to carry CBS-owned media properties including its local television stations. The two sides have been negotiating for more than a month, and each has waged a nasty advertising campaign against the other in print and on television.
The two are at odds over other terms as well. According to people close to the talks, Time Warner Cable is seeking conditions that would limit CBS' ability to sell product to broadband services such as Netflix or make their channels available to pay-TV distributors that could deliver content over the Internet instead of through cable or satellite. Such services are said to be in the works from Intel Corp. and Sony Corp.
Time Warner Cable, meanwhile, wants the ability to offer its subscribers CBS channels on iPads and other tablet devices inside and outside the home. CBS wants additional compensation for those rights.
"Going to the mattresses," tweeted Kelly Kahl, a senior programming executive at CBS, referencing the mob movie "The Godfather."
ON LOCATION: Where the cameras roll
Disputes over distribution fees are commonplace in the media industry. However, it is still rare for signals to actually go dark, particularly in big markets such as New York and Los Angeles. On Monday, Time Warner Cable briefly pulled CBS signals when negotiations stalled, only to return them to viewers within half an hour.
After that, talks resumed until late Friday. Now both sides have walked away from negotations and are again taking shots at each other.
"Throughout this process, Time Warner Cable has conducted negotiations in a combative and non-productive spirit, indulging in pointless brinkmanship and distorted public positioning," CBS said.
Time Warner Cable countered that CBS has "refused to have a productive discussion" and that the cable operator would "continue to fight to keep their prices down."
PHOTOS: 2012 highest-paid media executives
CBS is seeking a significant increase from its last deal with Time Warner Cable, signed five years ago. CBS is currently getting less than $1 per subscriber, per month from Time Warner Cable and would like to get that figure into the $2 range over the life of its next contract.
The network noted that it has managed to negotiate deals with several other distributors including satellite broadcasters Dish Network and DirecTV and New York cable operator Cablevision Systems.
"This is the first time in its history that CBS has been dropped from a cable system," the network said, adding that "Time Warner Cable, on the other hand, has a long history of taking channels off the air -- more than 50 in the last five years alone."
The channels may be off for a while, given the wide gulf between the two companies. An executive familiar with CBS' thinking said, "We will not blink, I promise you that."
Some Wall Street analysts, however, don't think the fight will last long.
"This will be resolved soon enough," said Brian Wieser, senior research analyst with Pivotal Research Group. "The broadcasters will win. They have the most clout. Time Warner Cable will pay more money, and CBS will make more money. The only question is how long the signal will be off."
Although broadcast signals such as KCBS-TV are available free of charge to anyone with an antenna, Congress gave broadcasters the right to negotiate carriage fees from cable and other distributors as part of the 1992 Cable Act. Cable operators such including Time Warner Cable have always charged subscribers a fee to receive local over-the-air signals.
For many years, broadcasters chose to use the leverage of being able to demand a fee to create new channels instead. Both NBC's MSNBC and Fox's FX were born out of the so-called retransmission consent rules.
PHOTOS: Hollywood Backlot moments
However, there is little room now for new channels, and broadcasters feel a dual revenue stream of subscription fees and advertising revenue is crucial for them to continue to afford expensive sports programming and compete with cable.
Regulators and lawmakers typically have been reluctant to interfere in these fights between programmers and distributors. However, should the CBS-Time Warner Cable fight drag on until the football season starts, the pressure from politicians to reach a deal will grow.
"The longer it takes, the more CBS risks getting D.C. involved. This isn't the middle of nowhere, this is New York City and Los Angeles," said media analyst Rich Greenfield of BTIG Research. Greenfield has made no secret that he is on Time Warner Cable's side in this dispute.
ALSO:After brief blackout, Time Warner Cable and CBS resume talks
CBS boss Leslie Moonves warns potential Time Warner Cable blackout
CBS and Time Warner Cable take their distribution feud public with ad campaigns
Twitter: @JBFlint
Times staff writer Meg James contributed to this report.
A previous version of this story incorrectly stated that the CBS Sports Network had also been dropped by Time Warner Cable.
---
From the Emmys to the Oscars.
Get our revamped Envelope newsletter for exclusive awards season coverage, behind-the-scenes insights and columnist Glenn Whipp's commentary.
You may occasionally receive promotional content from the Los Angeles Times.