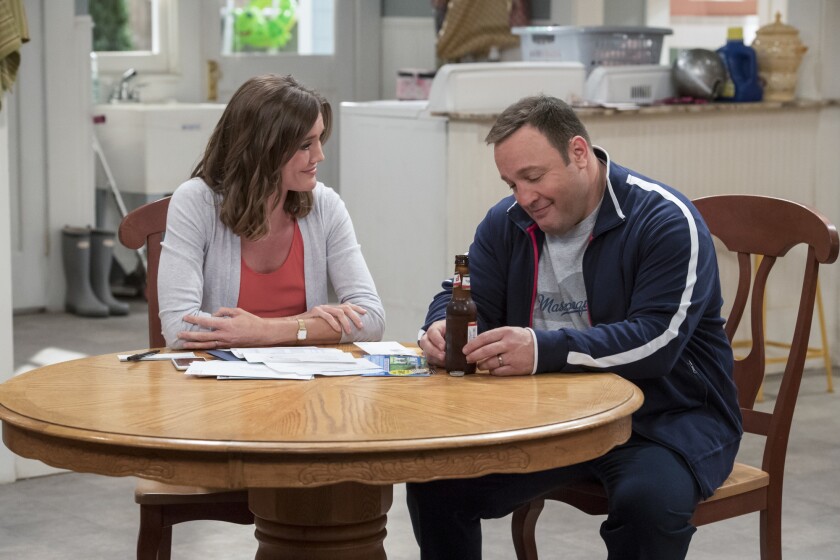 CBS will add seven new series to its fall prime-time lineup with an added emphasis on comedy.
The push toward more laughs on the CBS schedule for the 2016-17 TV season unveiled Wednesday was helped by having two proven sitcom stars, Kevin James ("The King of Queens") and Matt LeBlanc ("Friends"), willing to go back to the network series grind.
CBS will also try to maintain its position as the biggest and broadest TV network by stocking its shows with well-established stars such as Michael Weatherly, Joel McHale, Dermot Mulroney and Katherine Heigl.
FULL COVERAGE: TV Upfronts: Cancellations, renewals and new series orders
By increasing its weekly comedy time periods from four to eight, CBS sees an opportunity to fill a gap left by cable networks and streaming services such as Netflix and Amazon, which are focused more on developing edgy drama series that aim for critical accolades.
"We like comedy because there is not a lot of comedy out there," said Kelly Kahl, senior executive vice president for CBS Primetime.
After abandoning comedy on Monday this past season, the network will go back to a four-sitcom block on the night led off by James. In his new series, "Kevin Can Wait," he plays a former NYPD officer whose plans for a carefree retirement are upended by the needs of his dysfunctional grown children. The series will get a lead-in from the returning hit "Bang Bang Theory" for the first few weeks of the season before moving to 8 p.m.
In the new comedy "Man With A Plan." LeBlanc plays a contractor who starts spending more time with his kids when his wife (a role played by Jenna Fischer in the pilot, but being recast for the series) resumes her career outside the home. The show will be paired with "Kevin Can Wait" at 8:30 p.m.
"Two Broke Girls" returns at 9 p.m., followed by "The Odd Couple," which earned a place on the fall schedule by delivering solid ratings in its recent mid-season return. "Scorpion" moves to 10 p.m.
CBS will lead Tuesday off with "NCIS" at 8 p.m. followed by a new series with Weatherly, who departed the series after long being one of its most popular stars. On "Bull," Weatherly plays a trial jury consultant — a role inspired by the pre-talk-show career of Phil McGraw ("Dr. Phil"). "NCIS: New Orleans" moves to 10 p.m.
CBS' Wednesday returns intact with "Survivor" at 8 p.m., "Criminal Minds" at 9 p.m. and "Code Black" at 10 p.m.
After the network gets its share of "NFL Thursday Night Football" games, "Big Bang Theory" returns at 8 p.m. starting Oct. 27, followed by another new comedy "The Great Indoors." McHale plays a renowned adventure reporter for an outdoor magazine who becomes a desk-bound boss to a group of millennials in the publication's digital department.
"Mom" returns for another season at 9 p.m. followed by "Life In Pieces," the network's sole first-year comedy success from the current season.
The sitcom block will lead into a new 10 p.m. medical drama "Pure Genius." It stars Augustus Prew as a Silicon Valley tech mogul who enlists a maverick surgeon, played by Mulroney, to build a hospital that treats rare, medical mysteries.
Recurring themes in new shows become apparent as schedules roll out, and one of them this year is Silicon Valley types using their fortunes for the public good. Fox has a show called "APB," in which a tech mogul funds a police force in a hopeless Chicago neighborhood.
"It's certainly in the zeitgeist," said CBS Entertainment President Glenn Geller.
Networks are also in a reboot mode as familiar TV and movie titles help take the pressure off the need to promote so many new series. CBS will get in the remake business Friday at 8 p.m. with "MacGyver," based on the action-adventure series that ran on ABC from 1985 to 1992. Lucas Till plays the unconventional problem solver sent on high risk missions around the world by a maverick former CIA agent.
"Hawaii Five-O" returns to Friday at 9 p.m., followed by "Blue Bloods" at 10 p.m.
Saturday will remain intact with drama repeats airing from 8 to 10, followed by "48 Hours."
Sunday will launch with "60 Minutes" at 7 p.m., followed by "NCIS: Los Angeles," which moves from Tuesday. "Madam Secretary" will return in a later time slot, 9 p.m., and "Elementary" is back at 10 p.m.
CBS also picked up "Doubt," which stars Heigl as a gifted attorney at a boutique law firm who starts to fall in love with her client, a pediatric surgeon recently accused of murdering his girlfriend 24 years earlier. Laverne Cox has been cast in the drama, making her the first transgender actress in a broadcast network TV series.
Geller cited the casting of Cox after being pressed by reporters about all the new CBS fall shows having white male leads at a time when other networks have been more aggressive in putting women and more ethnically diverse actors at the center of their programs.
"Our new series are more diverse this year than last year," Geller said.
CBS has an African American lead in the mid-season show "Training Day," based on the 2001 feature film. Justin Cornwell is an untarnished police officer teamed with the rogue head of an elite LAPD squad played by Bill Paxton.
Geller also confirmed the network will not be renewing first-year drama "Limitless." CBS Television Studios is shopping the series to other outlets.
---
UPDATES:
2:28 p.m.: This post was updated with added comments from Glenn Geller.
This article was first published at 11:38 a.m.
---