Netflix continues original content push with Chelsea Handler deal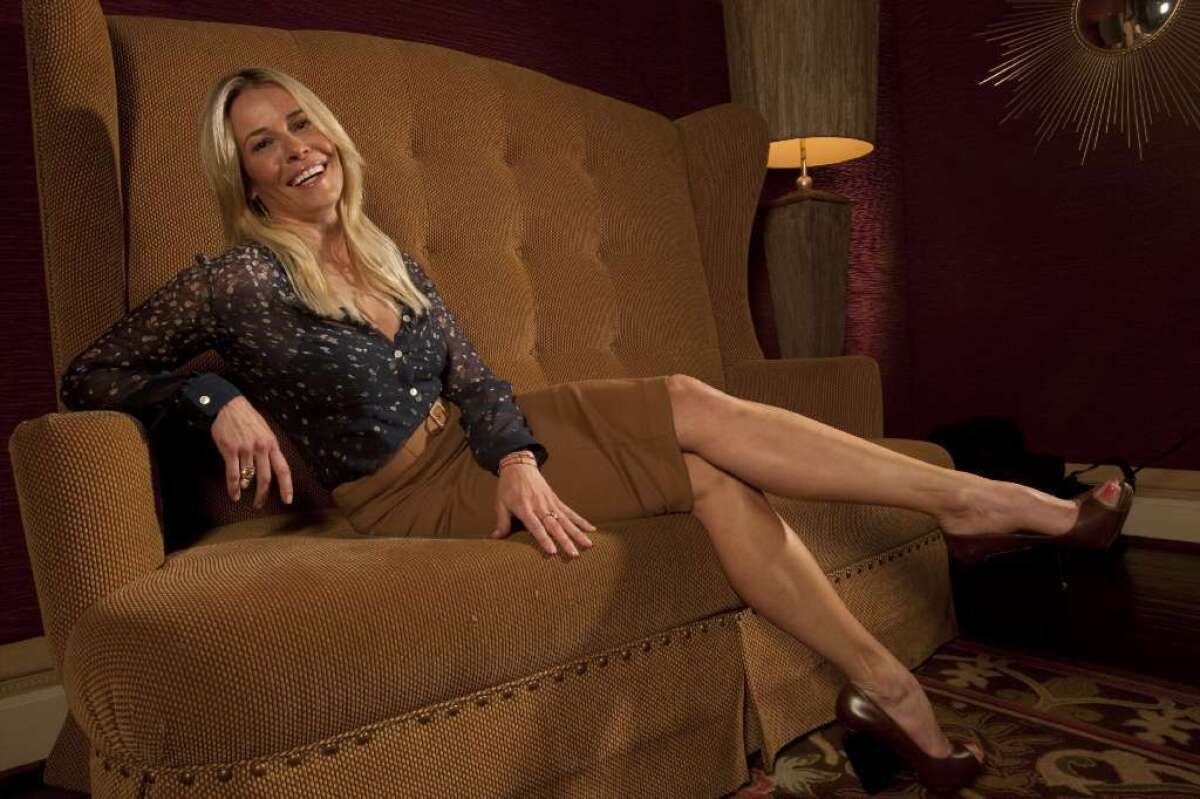 Chelsea Handler is taking her bottle of vodka to Netflix.
The host of E!'s late-night program "Chelsea Lately" has signed a deal to create and star in a talk show for the streaming service that will premiere in 2016.
Known for her boozy and flirty persona, Handler rose to fame as a comedian and an author of several humor books including "Are You There Vodka? It's Me, Chelsea." Her E! show launched in 2007 and will end in August when her contract expires. It currently averages about 600,000 viewers, according to Nielsen.
The outspoken Handler made no secret of her disdain for E!, which in recent years has focused much of its programming efforts around the Kardashian family. In an interview earlier this year with satellite radio personality Howard Stern, Handler said her network had become a "sad, sad place to live."
"If I was going to continue working in this industry, I knew I had to do something outside the box to keep myself interested," Handler said in a statement. "I'm more excited than I've been in awhile, and the team at Netflix is the most forward thinking, alert group I've sat down with in ages."
Netflix is known for releasing multiple episodes of its series at once so its subscribers can engage in so-called binge viewing. This approach has proved very popular with its customers who no longer have to wait a week for the next episode of a show. It also allows them to play catch-up with a TV show.
But a talk show is a different animal.
Most talk shows are topical, with hosts riffing off of the news of the day, which is how Handler's current show is designed. Guests typically time their appearances to a promotional push for an upcoming movie or TV show.
Netflix did not provide any details about Handler's show with regard to frequency and scheduling. However, the company has indicated that it will take a more traditional scheduling approach.
"Netflix is looking forward to reimagining the late night talk show for the on-demand generation, starting with the late night part," Netflix Chief Content Officer Ted Sarandos said in a statement.
Handler will bring the creative team behind "Chelsea Lately" to Netflix.
If Netflix is successful in its foray into talk, it could lead to speculation that it will eventually look at other formats including news and sports. In the past, Netflix has dismissed such talk, but it also had previously never indicated much interest in getting into talk shows either.
"It would appear that the folks at Netflix are indicating that they believe there are going to be various models in how we consume content and they want to be part of that," said Bill Carroll, a vice president at Katz Television Group, an industry consulting firm.
As part of its deal, Netflix will premiere a one-hour stand-up comedy special from Handler on Oct. 10. The show is part of Handler's comedy tour in support of her latest book, "Uganda Be Kidding Me."
Netflix will also carry four comedy specials that Handler will develop for the service that will debut next year. The company said the specials will showcase Handler's attempts to "gain a better understanding on a variety of subjects ranging from NASCAR to politics and from Silicon Valley to the NBA draft."
Signing Handler is part of Netflix's aggressive shift toward original programming. Initially known for its library of theatrical movies and television shows, it has had tremendous success in the last year with original series such as "Orange Is the New Black" and "House of Cards." It now has 35 million subscribers in the U.S. and 13 million subscribers abroad.
It also has made a push into children's programming. Last year, the company struck an agreement with DreamWorks Animation for 300 hours of original animated content.
Handler's move is the latest in a series of seismic shifts in late-night talk. Earlier this year, Jay Leno was replaced as host of NBC's "The Tonight Show" by Jimmy Fallon. Then David Letterman announced he would retire from CBS next year, and the network quickly tapped Comedy Central's Stephen Colbert to succeed him.
Soon after Letterman's decision, Craig Ferguson said he would exit from CBS' "The Late Late Show." No replacement has been named yet for Ferguson, whose last show is scheduled for Dec. 19.
CBS officials have indicated that while they moved fast to sign up Colbert to replace Letterman, the search for a Ferguson successor will take longer. That is because there is not an immediate front-runner such as Colbert, whose contract with Comedy Central is up at the end of this year, readily available.
Handler herself was speculated about as a possible Ferguson successor, and she did her part in fueling those rumors by posting a picture of herself online with a binder that had a CBS logo on it.
Handler did meet with the syndication unit of CBS, but not the network, which took the unusual step of publicly announcing that she was not in consideration for Ferguson's job.
Follow Joe Flint on Twitter @JBFlint.
---
From the Oscars to the Emmys.
Get the Envelope newsletter for exclusive awards season coverage, behind-the-scenes stories from the Envelope podcast and columnist Glenn Whipp's must-read analysis.
You may occasionally receive promotional content from the Los Angeles Times.