Comcast bid for Time Warner Cable faces regulatory resistance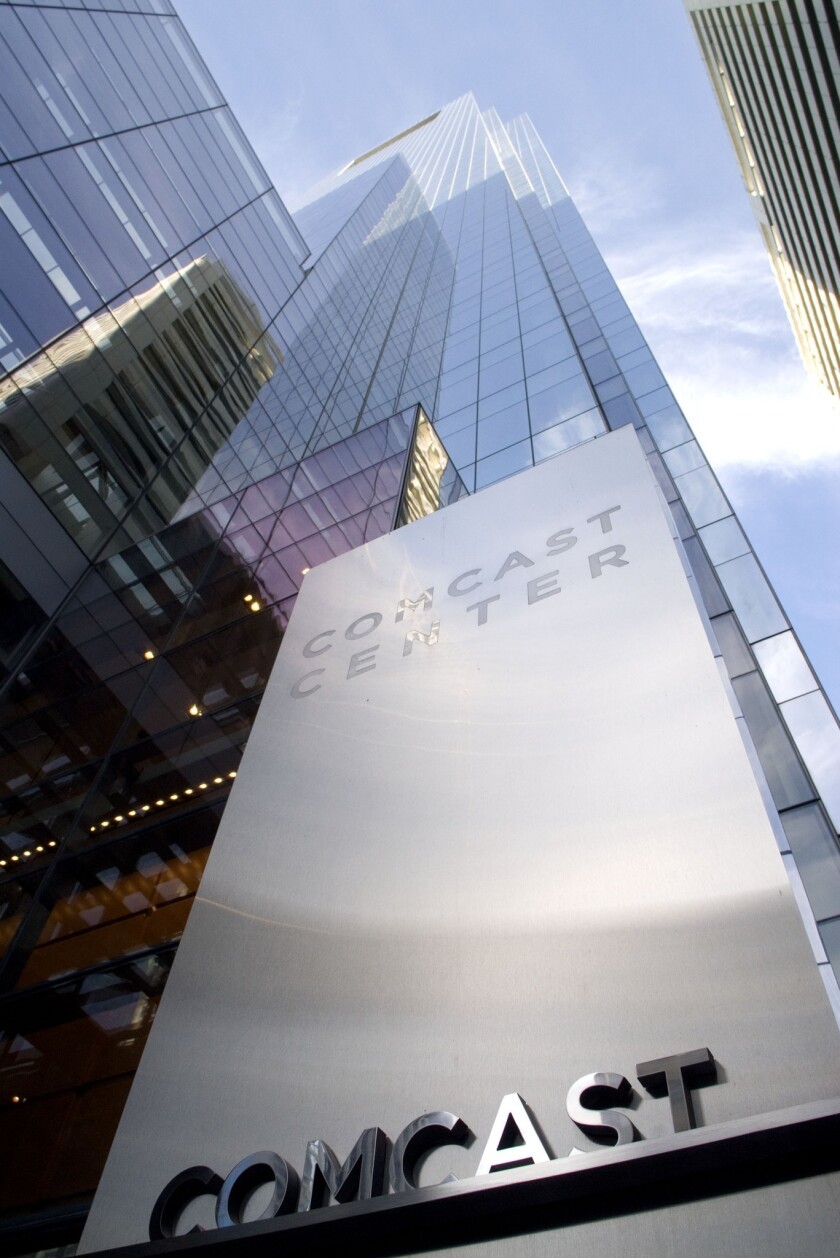 Comcast Corp.'s legal team met Wednesday with federal regulators to discuss mounting concerns that the company would be too powerful if it is allowed to swallow Time Warner Cable.
The $45-billion cable deal, unveiled 14 months ago, is very much in doubt.
Comcast's legal team spent several hours Wednesday afternoon with attorneys with the U.S. Department of Justice. The department is probing whether a bulked-up Comcast would stifle competition.
In addition, Comcast conferred with the Federal Communications Commission, which is reviewing whether the deal is in the public interest.
FCC staff members have three options: They could recommend approval of the Comcast-Time Warner Cable deal to the five-member commission; recommend that the merger be denied; or bounce the matter to an administrative law judge to hold hearings and then reach his or her conclusion over whether the deal should go forward.
At that point, the judge's recommendation would be considered by the full commission.
The FCC staff is recommending that the proposed merger be referred to an administrative law judge, the Wall Street Journal reported late Wednesday.
Such a process would consume months and invite opponents of the deal to continue to hammer away at Comcast.
"This would appear to be a death sentence for the transaction," Rich Greenfield, media analyst with BTIG Research, wrote late Wednesday in a blog post.
It is unusual for the FCC to select the administrative hearing process, and the move comes nearly a full year after Comcast petitioned the government to approve the merger.
However, such a move would not be unprecedented.
The FCC took a similiar route four years ago in the failed merger between AT&T and T-Mobile. The decision led the two companies to ultimately abandoned their plans.
An FCC spokesman declined to comment, as did a spokesman for the Department of Justice.
Comcast, for its part, confirmed the Wednesday meetings but declined to provide details.
"We had one in a series of meetings with the Department of Justice today, as well as another meeting with the FCC," Sena Fitzmaurice, a Comcast spokeswoman, said in a statement.
"As with all of our DOJ discussions in the past and going forward, we do not believe it is appropriate to share the content of those meetings publicly, and we, therefore, have no comment," she said.
Comcast would like to acquire Time Warner Cable to gain the lucrative markets of Los Angeles, New York and Dallas.
Comcast already serves Philadelphia, Boston, Miami, Chicago, Denver, San Francisco and Sacramento. Comcast would be the dominant provider in California with 4 million subscribers, including 2 million in Southern California.
In addition to providing service for current Time Warner Cable subscribers, Comcast also would scoop up about 300,000 homes in the Los Angeles region that now subscribe to Charter Communications.
But federal regulators are concerned that Comcast, already the nation's largest provider of cable TV and high-speed Internet service, could use its increased market clout to crush potential competitors.
They also worry the Philadelphia giant would have too much influence in setting prices that programmers receive for their content, and the prices that advertisers pay for spots on cable TV.
Opposition has been building in recent weeks as influential lawmakers, state regulators and consumer groups rally to try to block the deal.
Six prominent U.S. senators joined the chorus on Tuesday. They sent a letter outlining their concerns to Atty. Gen. Eric Holder, who oversees the Department of Justice, and Federal Communications Commission Chairman Tom Wheeler.
"Since the proposal was announced last year, we have heard from consumers across the nation, as well as from advocacy groups, trade associations, and companies of all sizes, all of whom fear that the deal would harm competition across several different markets and would not serve the public interest," wrote the Senate group, which included Sen. Al Franken (D-Minn.) and Sen. Elizabeth Warren (D-Mass.).
A bulked-up Comcast would boast nearly 30 million high-speed Internet customers in the U.S. -- about 35% of subscribers. However, when considering only homes with Internet speeds of 25 megabits per second or higher (the FCC's recently adopted definition), Comcast would claim 57% of that market.
"You can't fix this merger with conditions. The size and influence of Comcast would be so huge that no amount of promises or commitments could outweigh the harm to consumers," Delara Derakhshani, policy counsel for Consumers Union, the advocacy arm of Consumer Reports, said Wednesday in a statement.
Comcast has long known that it could face high hurdles in Washington.
When the deal was designed early last year, Comcast stipulated that there would be no breakup fee if the deal fell apart. That means Comcast would not be penalized if it walked away from the arrangement or if regulators demand conditions that Comcast finds too onerous.
Still, the deal being blocked would be a stinging defeat for Comcast and its chief executive, Brian Roberts.
Comcast already has spent more than $300 million in legal and other costs associated with the proposed transaction.
In some ways, Comcast's history of poor customer service has fueled a tidal wave of resentment among consumers and consumer rights groups. Now, that opposition is threatening to help sink the deal.
"You have two companies with notoriously bad reputations for customer service, looking to become one company that will have even less incentive to address these deep, long-standing problems," Derakhshani said.
Twitter: @MegJamesLAT
---
From the Emmys to the Oscars.
Get our revamped Envelope newsletter for exclusive awards season coverage, behind-the-scenes insights and columnist Glenn Whipp's commentary.
You may occasionally receive promotional content from the Los Angeles Times.