Comcast-Time Warner Cable merger wins preliminary California endorsement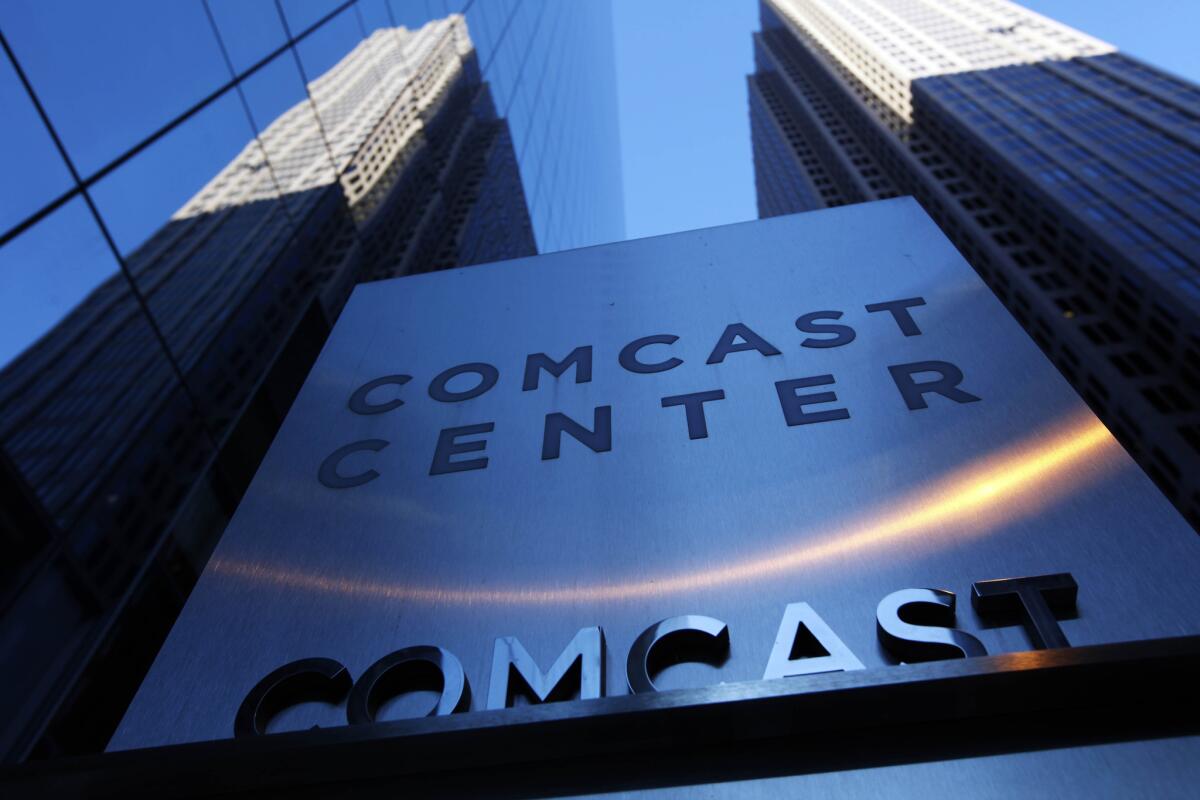 Cable giant Comcast Corp. has received its first major government endorsement of its proposed $45-billion purchase of Time Warner Cable.
On Friday, an administrative law judge in San Francisco recommended the California Public Utilities Commission approve Comcast's takeover of Time Warner Cable and Charter Communications systems in the state, including about 1.8 million homes in the Los Angeles region.
However, Administrative Law Judge Karl J. Bemesderfer recommended that Comcast consent to a lengthy list of conditions in order to "provide reasonable assurance that the proposed transaction will be in the public interest," according to his 88-page decision.
Suggested conditions include requiring Comcast to offer its $9.95-a-month Internet Essentials program to eligible low-income families within its proposed new service area.
Comcast would have to provide service to 45% of the targeted low-income homes within two years after absorbing Time Warner Cable systems.
"The Commission is taking the bold step to require Comcast to offer a real, measurable program to provide the most disadvantaged Californians with affordable Internet service at home," Sunne Wright McPeak, chief executive of the California Emerging Technology Fund, said in a statement that applauded the proposed conditions.
The state also could set a long-term goal for Comcast to provide service to 80% of the elgible low-income homes.
"We are reviewing the proposed decision and conditions closely and look forward to engaging with the full California Public Utilities Commission as it completes its review of the transaction," Comcast Executive Vice President David L. Cohen wrote late Friday in a blog post.
"It appears that a number of the conditions are ones that will benefit consumers and the company can work with," Cohen wrote.
However, Cohen said certain conditions seemed "unrealistic," and Comcast might not be willing to agree to every measure outlined by Bemesderfer. Cohen mentioned "penetration rates and time frames" as particularly problematic provisions.
Comcast also would be required to upgrade Internet service to California public schools and libraries in designated underserved areas, according to the judge's decision.
In addition, Comcast would have to offer stand-alone broadband Internet service to customers who wanted only broadband service. Typically, cable companies try to nudge customers to opt for a more expensive package that includes cable TV, Internet and phone service.
The California Public Utilities Commission probably will take up the matter at its March 26 meeting.
Comcast is awaiting approvals from the U.S. Department of Justice and the Federal Communications Commission.
The proposed takeover of Time Warner Cable, which Comcast unveiled a year ago, has attracted fierce opposition from rival media companies and consumer advocates.
They fear the merger would make Comcast -- already the nation's largest cable TV and high-speed Internet service provider -- too powerful.
Consolidating Time Warner Cable customers would give Comcast roughly half of U.S. homes with Internet service at speeds of 25 megabits per second and higher.
In addition to taking over the Time Warner Cable and Bright House systems in California, Comcast struck a separate deal to also pick up the cable TV and Internet service to customers in Los Angeles County who are currently served by Charter Communications.
In exchange, Charter would take over customers in Ohio, Michigan and other Midwestern regions currently served by Comcast.
Twitter: @MegJamesLAT
From the Oscars to the Emmys.
Get the Envelope newsletter for exclusive awards season coverage, behind-the-scenes stories from the Envelope podcast and columnist Glenn Whipp's must-read analysis.
You may occasionally receive promotional content from the Los Angeles Times.