Charter merger may hinge on whether it can make the Internet affordable to more people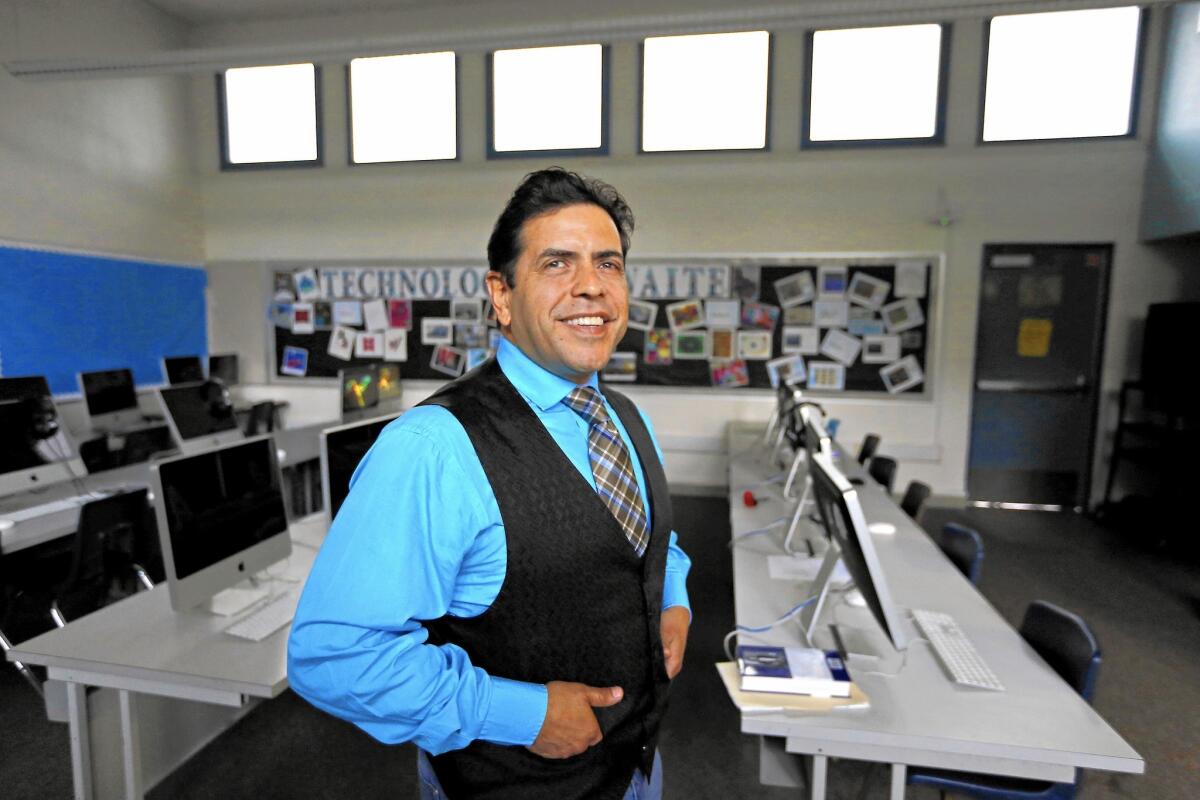 For Alfonso Escobar, the Internet was once out of reach.
The 55-year-old retired bread baker from Bell had limited computer skills and couldn't afford the monthly service charge.
"It's like you can't see if you don't have glasses," said Escobar, who recently began taking an Internet skills class offered by a community group. "The Internet gives you access to the world. You can pay bills, make doctor appointments ... or keep in touch with your family. You can learn what's going on in your city, in Los Angeles, in Sacramento — and in the whole country."
See more of Entertainment's top stories on Facebook >>
Bridging the so-called digital divide — the gulf between people who have ready access to the Internet, and those like Escobar who do not — has long been a priority of President Obama. And addressing the issue has become a key component in the government's review of a mammoth cable merger that could transform the local pay-TV landscape.
Charter Communications' proposed $67-billion plan to acquire two other cable companies — Time Warner Cable and Bright House Networks — would make it the dominant pay-TV and Internet service provider in Southern California, with more than 2 million customer homes.
Large pockets of poverty exist in Charter's proposed new California service area. About one third of the homes in the region — nearly 2.3 million — are considered low-income. Nearly one-quarter of people in Los Angeles County have no Internet access at home.
"Charter is not just buying a big new service area — they are buying the digital divide," said Sunne Wright McPeak, president and chief executive of the nonprofit California Emerging Technology Fund, which is working to bring computers and affordable Internet connections to more California residents.
The main reason people lack access to the Internet is because they cannot afford it. Time Warner Cable's average Internet price is $48 a month (it also offers a program for qualifying low-income residents).
"When you live on a low budget, you just don't have the ability to pay for it," said Escobar, who lives off his pension. He said he could pay for a plan that would cost about $10 a month.
There are other contributors to the digital divide. In some rural regions, including areas in San Bernardino and Kern counties, cable companies have not completed the costly job of installing cable lines that reach all communities. In other regions, the cable lines are outdated and do not provide reliable high-speed service. Still other communities lack a sufficient number of Wi-Fi hot spots.
Community activists and school district officials in L.A. and San Bernardino counties say many students are at a disadvantage because even if districts provide laptops, the students have no way to connect to the Internet at home.
"People who are not connected to the Internet are invisible to the people making decisions," said Gary Madden, director of San Bernardino County United Way's 211 help line system. "Most people take for granted the advantages of being connected. We have no clue just how disadvantaged people are who are not connected to the Internet."
Several government agencies are reviewing the cable acquisition that was announced last May. The Federal Communications Commission must find that the merger serves the public interest, and it is expected to reach a decision this month. The U.S. Department of Justice separately must determine that the consolidation does not pose a threat to competition.
The California Public Utilities Commission also must approve the deal. A vote on the matter is scheduled for early May.
State regulators are expected to focus heavily on Charter's Internet program, prompting the Stamford, Conn., company last week to boost its commitments. Charter said it would bolster its pledge to extend high-speed Internet service plans, including increasing broadband speeds in communities throughout Southern California within four years of the deal's closing.
"Recognizing the central role broadband plays in our daily lives and the economic challenges faced by many today, we look forward to bringing broadband to more homes and businesses, and to providing a superior low-income broadband service," Charter said in a statement Monday.
To win approval, Charter said it would add at least 25,000 out-of-home wireless hot spots in California within four years, and extend broadband lines to rural regions — such as in San Bernardino and Kern counties — to provide service to an additional 150,000 homes or businesses within four years.
It also plans to try to sign up 200,000 low-income families within four years, offering high-speed Internet service for $14.99 a month. The program would be tailored to families with students who qualify for the federally subsidized free lunch program as well as seniors who receive supplemental Social Security checks.
Charter also has pledged to spend $10 million over four years to work with community groups to promote broadband adoption, including training classes such as the one that Escobar has been taking. Demand is high. More than 350 people are on a waiting list for the morning computer classes at the Bell Technology Center, and only 22 spaces available.
Critics, however, say the low-cost Internet plan doesn't go far enough.
"This program is only scratching the surface," said Larry Ortega, who runs One Million New Internet Users, which conducts Internet training programs for parents. "It seems like companies look at this as being a welfare program, and they don't see the economic impact of signing up more customers for their Internet service. There is a lack of leadership and a lack of delivery."
Charter, which until now has not offered a low-cost option, defended its proposed $14.99 plan, citing its high speed.
"Our program is the most inclusive low-cost Internet plan out there, and we are very proud of it," said Alex Dudley, Charter's spokesman.
ALSO
NBC threatens blackout if Dish fails to strike deal
Without Kevin Spacey, what's next for Relativity Media?
Sony to pay $750 million for Jackson estate's Sony/ATV stake
From the Oscars to the Emmys.
Get the Envelope newsletter for exclusive awards season coverage, behind-the-scenes stories from the Envelope podcast and columnist Glenn Whipp's must-read analysis.
You may occasionally receive promotional content from the Los Angeles Times.