Disney launches Movies Anywhere 'digital movie locker'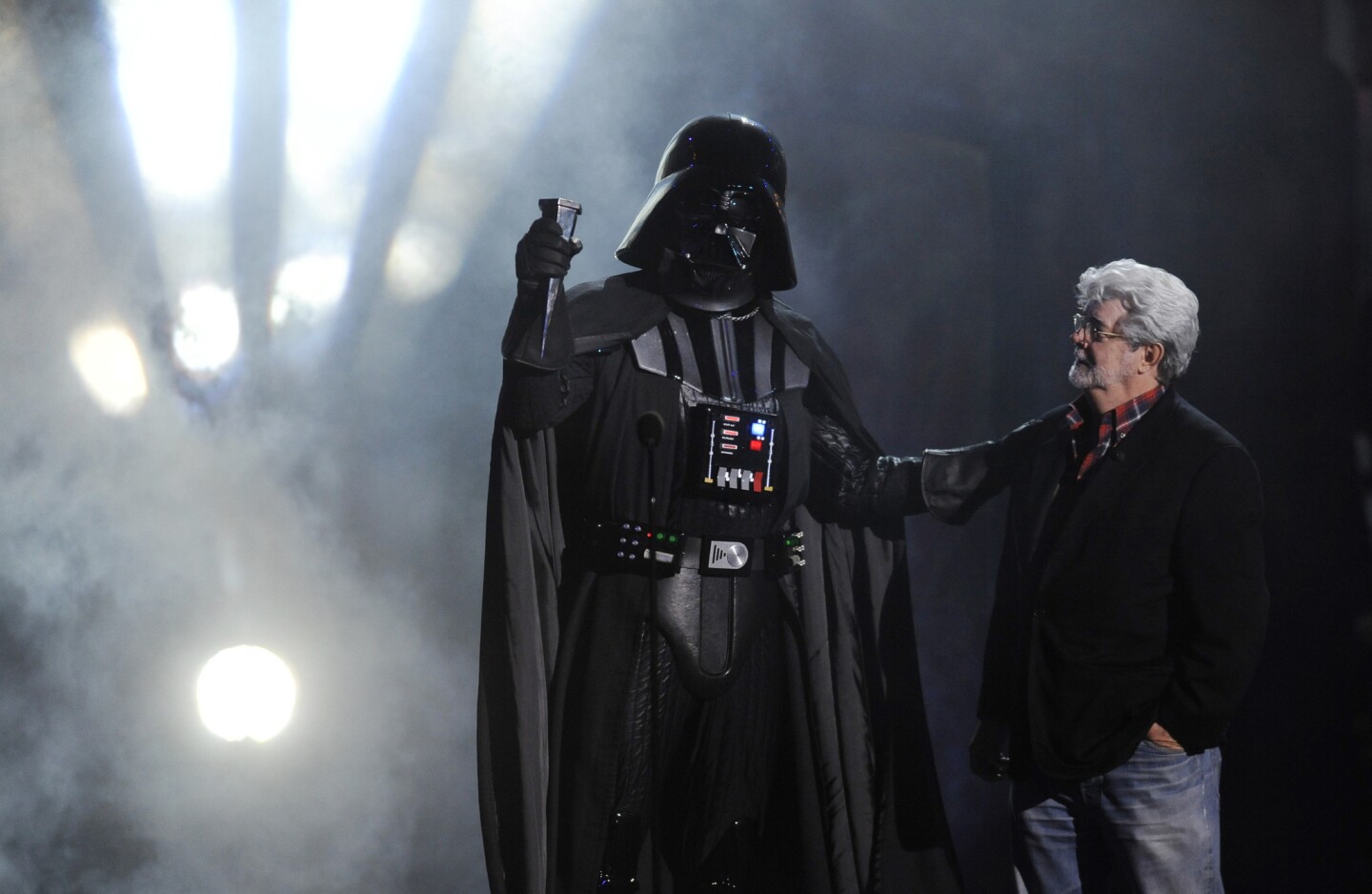 The saga continues in the seventh installment of the "Star Wars" series created by George Lucas. The latest film is being directed by J.J. Abrams.
(Chris Pizzello / Invision/Associated Press)
With the launch of a new cloud-based movie service from Walt Disney Co., the marketplace of Web-based movie services just got more crowded and possibly confusing for consumers.
After eschewing UltraViolet, a technology standard backed by its main movie business competitors, Burbank-based Walt Disney Co. has debuted Disney Movies Anywhere, a proprietary service that gives users online access to their digital and physical Disney movie purchases.
Disney Movies Anywhere launched Tuesday and is available on Apple iOS devices including the iPhone, iPad and Apple TV. Users can also stream films by logging into the Disney Movies Anywhere website.
The free service acts as a "digital movie locker," allowing users to manage and view films they've bought online, as well as store digital copies of their physical Blu-ray and DVD purchases. Consumers can also use the app to purchase films.
PHOTOS: Upcoming Disney spring films and beyond
Disney Movies Anywhere is similar to platforms that use UltraViolet, the cloud-based technology that debuted in 2011 and is backed by a consortium of more than 80 retailers and film companies.
However, in contrast to services that use UltraViolet, Disney Movies Anywhere utilizes KeyChest, a technology developed by Disney over several years. Disney Movies Anywhere will only offer movies released by Walt Disney Studios.
UltraViolet, meanwhile, is used by every major film studio except Disney.
"We had always made the decision that we were going to do something different," said Jamie Voris, Walt Disney Studios' chief technology officer. "For us, it was really about waiting until we felt that we had ... something that we felt was worthy of our brand, and something our customers would expect from us."
But analyst Michael Pachter, who covers digital media for Wedbush Securities, said in an email that although Disney's service is appealing, consumers "prefer a single aggregator."
"I think consumers will avoid a digital locker unless they can remember where the locker is, they know what's in it, and they remember the combination," he said. "Disney wants to create a locker in one place for Disney content, and others want their locker in another place for other content. That can never work."
Content from Disney's several film labels — among them Marvel Studios and Pixar Animation Studios — will be available on Disney Movies Anywhere. The service launched Tuesday with more than 400 available titles, among them the recent animated blockbuster "Frozen," in its digital home release debut. But films released by Disney's Touchstone Pictures and former unit Miramax Films are not available via the new service.
"[Disney's] brands are strong, but this suggests that movie consumers are just interested in these brands — and that's not true," said Harold Vogel, an entertainment industry analyst who covers Disney. "The loyalty to any one movie distributor or system is fairly fickle. If you have to make a separate effort to sign up to Disney Movies Anywhere and a separate effort to go to UltraViolet, I think a lot of people are going to be reluctant."
UltraViolet, backed the Digital Entertainment Content Ecosystem consortium, launched in fall 2011 but got off to a rocky start as consumers struggled to grasp the system.
Some of UltraViolet's own proponents have admitted that its rollout could have been handled better.
PHOTOS: Disney's animated lineup: 1984 - 1994
"The best way to describe the launch is we built this great house, it had an incredible foundation, and in our excitement to move in there was some finished carpentry that still needed to be done," said Mitch Singer, at the time Sony Pictures Entertainment's chief technology officer, in an appearance at the Consumer Electronics Show in 2012.
There are several content delivery services that allow consumers to access and watch their UltraViolet movie collections, including Wal-Mart's Vudu and Best Buy's CinemaNow. Consumers have created more than 15 million UltraViolet accounts, according to the nonprofit Digital Entertainment Group's 2013 Home Entertainment Report, which was released in January.
"I think UltraViolet has been very slow getting off the ground," Vogel said. "It has not been quick to be adopted."
Disney is in talks with other platforms — such as Android — about carrying Disney Movies Anywhere. It currently requires an iTunes account and is linked to a user's iTunes film library.
"We think that it is really important to be able to buy our movies from the places that people already want to buy [them]," Voris said. "That's why it was so important for us to partner with Apple."
Since 2008, Disney has offered Blu-ray and DVD versions of movies that include companion digital copies. Such physical copies include codes that can be used with Disney Movies Anywhere to access a digital copy. Disney is offering a free digital copy of the 2004 animated film "The Incredibles" to consumers who sign up for service.
---
From the Oscars to the Emmys.
Get the Envelope newsletter for exclusive awards season coverage, behind-the-scenes stories from the Envelope podcast and columnist Glenn Whipp's must-read analysis.
You may occasionally receive promotional content from the Los Angeles Times.