What went wrong in the switch to Frontier? Software glitches, an offshore call center and one pesky squirrel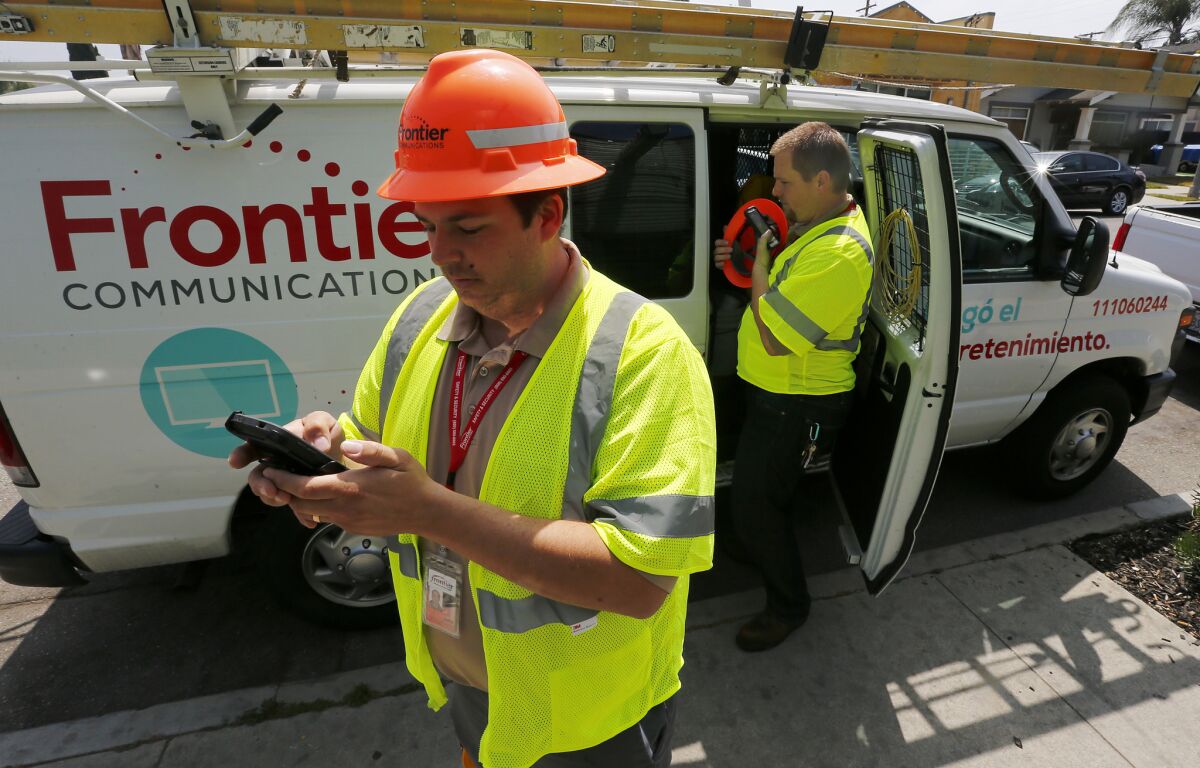 Frontier Communications anticipated hiccups when it took over Verizon Communications' landline phone, television and Internet service systems in California last month -- but nothing quite like this.
The vast majority of Frontier's 2.2 million new California customers experienced a smooth transition, but as many as 10,000 subscribers have been grappling with phone and Internet outages and other snafus. Customers have been fuming over missed appointments by technicians and delays in accessing movies ordered months ago when Verizon managed the system.
The most serious hang up: dead phone lines.
Beyond a public relations nightmare for Frontier, the case is raising broader questions about whether the state Public Utilities Commission has devoted enough attention to monitor phone and cable companies. It also highlights how big cable mergers can create upheaval for consumers caught in the changeover.
"This is a real issue, and a real problem," state Assemblyman Mike Gatto (D-Los Angeles) said in an interview. "This won't be the last cable company merger, and these change-overs should not be so traumatic for consumers."
At Gatto's urging, the state Assembly Utilities and Commerce Committee has scheduled a hearing on Wednesday for Frontier executives to explain why there were so many problems.
The controversy has been an embarrassment to the Connecticut-based Frontier, which prides itself on high-quality customer service.
"We are not taking this situation lightly, and we are working tirelessly to resolve these problems," Frontier's West Region President Melinda White said this week in her first extensive interview since the merger. "But I am sincerely sorry for any customer who has experienced an issue, and our No. 1 focus is to resolve these issues."
Frontier declined to disclose the number of complaints it received. However, people familiar with the matter estimated the number at nearly 10,000.
Frontier completed its $10.5-billion purchase of Verizon's wire-line services in California, Florida and Texas on April 1, taking control of Verizon's extensive operations, which include nearly 500,000 customers in the Los Angeles region.
We are not taking this situation lightly, and we are working tirelessly to resolve these problems
— Melinda White, Frontier West Region president
What followed was a series of problems that combined to overwhelm a customer call center in the Philippines that Frontier had planned to use only temporarily to help ease the transition. Instead, calls were dropped after customers had been on hold for hours. Other customers were given misinformation. And some subscribers found themselves trapped in an endless loop of automated phone prompts, unable to connect with a human.
"You feel so helpless as a consumer, you call the company and they just give you a song and dance," said Case van der Linden, a 77-year-old retired communications worker who went without phone service for 13 days before it was restored Wednesday.
The Cerritos resident said his problems began mysteriously when the caller-ID function that previously displayed the number of an incoming call on his TV suddenly stopped working in late April. Then there were hitches while he talked with others on the phone.
"The voice would go away, then it would come back, and then it would go away again -- you couldn't carry on a conversation," Van der Linden said. "And then, on April 29, the phone just went dead."
The switch to Frontier comes as major phone providers like Verizon have been scaling back their landline phone operations to focus on higher-margin wireless phone service. Consumer advocates in California last year warned the PUC that Frontier would encounter service problems taking over Verizon's systems because they alleged Verizon had not maintained the wireline network.
"Verizon had not been taking care of their copper network, and I don't think [Frontier] realized how degraded Verizon's networks turned out to be," said Paul Goodman, senior legal counsel for the Greenlining Institute in Oakland.
However, a Frontier spokesman said Thursday the company has had no issues with the copper line. A Verizon spokesman took issue with the characterization, saying that when Verizon turned over the system on April 1, complaints were well within the PUC's acceptable levels.
"Verizon California's network is in good condition and is maintained in accordance with the Commission's standards of safety and reliability," Verizon said in a report submitted last fall to the PUC. "Verizon California has made significant investments in network infrastructure and has established as a top priority the maintenance of a safe network that provides high-quality service."
You feel so helpless as a consumer....On April 29, the phone just went dead
— Case van der Linden, a Frontier customer in Cerritos
Other factors contributed to the missteps, including inheriting a backlog of 20,000 unresolved customer service requests from Verizon. Frontier also encountered an enormous headache when it discovered that serial numbers on hundreds of network terminal boxes installed at people's homes did not match the serial numbers kept in Verizon's master logs.
So when Frontier tried to send software updates to those terminals, the devices interpreted the signals as corrupt data -- and then the devices malfunctioned.
Many of the boxes with the wrong serial numbers were deployed around Long Beach. Some customers were also miffed because it took several weeks for Frontier to gain the rights to show movies, via the video-on-demand service. That meant customers did not have the ability to immediately watch movies they had previously ordered.
Then there were problems beyond Frontier's control, including a car crash in Hermosa Beach that took out a phone pole, leaving homes without service. And in Mar Vista, an ornery squirrel chewed through Frontier's lines, wiping out service for several blocks.
"A squirrel eating the fiber is just one of those things that happens, but we understand that people have every right to be angry," said White, who canvased that neighborhood to reassure frazzled customers that Frontier was on the case.
Fewer than 1% of Frontier's new customers have experienced problems, White said. The PUC logged 584 complaints related to the Frontier switch-over in April, according to an official. May numbers were not available.
White said she was most pained by the fact that consumers had trouble even reaching the company to complain. Frontier soon will no longer use the offshore call center that appeared to be the source of much of the troubles, she said.
The offshore experience has been disappointing to say the least,
— Melinda White, West Region President for Frontier
"The offshore experience has been disappointing to say the least," White said. "That was very tough for us to hear ... We are working fast and hard to get disengaged from the offshore operation as soon as possible."
Within a few weeks, all of Frontier's workers will be based in the U.S.
Frontier established an email, LetMelindaKnow@ftr.com, for people to report problems and set up a local command center in Pomona to help customers troubleshoot.
"This has certainly impacted our brand and we will have to go out and reintroduce ourselves to consumers," White said. "Our customers are extremely important to us, and our folks -- we have more than 5,000 employees in California -- are here to help."
Gatto, the state legislator, said he's still trying to figure out why there were so many glitches.
"If it turns out that the problems were not so much related to technology but more customer-service related, then why was this company not better prepared for what could have been foreseen -- heavier than usual call volume?" Gatto asked. "One report of a squirrel or a bad truck accident should not overwhelm an entire system."
MORE:
Michael Strahan says goodbye to Kelly Ripa and 'Live'
California regulators approve Charter's takeover of Time Warner Cable
French landscape firm wins Pershing Square competition with call for 'radical flatness'
Follow me on Twitter: @MegJamesLAT
From the Oscars to the Emmys.
Get the Envelope newsletter for exclusive awards season coverage, behind-the-scenes stories from the Envelope podcast and columnist Glenn Whipp's must-read analysis.
You may occasionally receive promotional content from the Los Angeles Times.