HBO's new programming boss talks 'True Detective's' fate, pulling the plug on 'Vinyl' and a hope for more diversity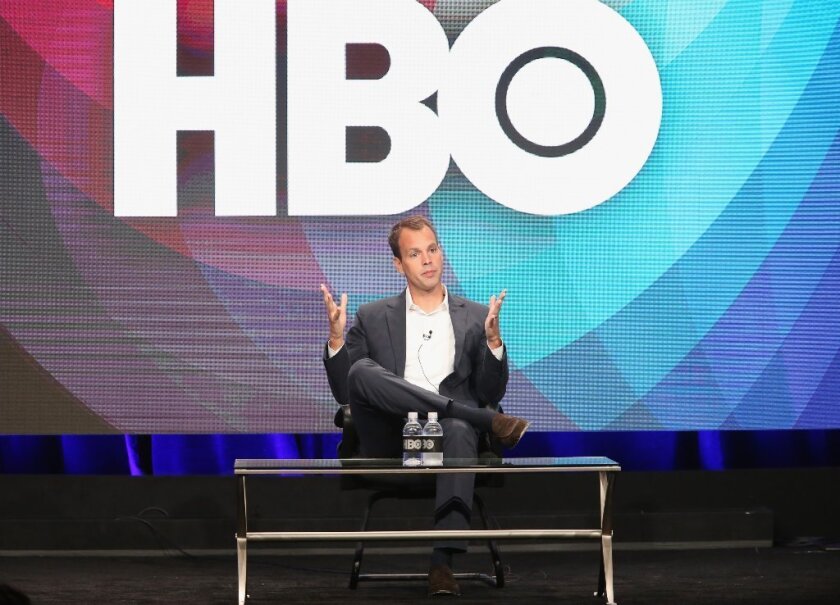 It was the ushering in of a new guard for HBO on Saturday at the Television Critics Assn. media tour.
The premium cable network has faced some programming challenges with graying series, few new breakouts, problematic projects in development and the recent exit of longtime programming chief Michael Lombardo.
The man tapped to help get the ship back on track, Casey Bloys, made his debut appearance at the TCA media tour in Beverly Hills. The new programming president addressed one of his first decisions on the job — pulling the plug on "Vinyl" — as well as what stamp he hopes to leave on the network.
Here's a snapshot:
"Vinyl" cancellation: In June, one of Bloys' earliest calls was to reverse the network's decision on renewing the ambitious rock drama. The show came equipped with a marquee pedigree — Martin Scorsese and Mick Jagger — and a boffo budget. But the series failed to draw many viewers and lost its showrunner, Terence Winter ("Boardwalk Empire"). "It didn't land I think the way we would have liked it, as you [critics] would have liked it or as producers would have liked it," Bloys told reporters. Working out the kinks wasn't worth the time and would only move the needle "a little bit," he said. "With a little bit of distance, thinking about what we want to do going forward, it really becomes about priorities. I have limited resources, there are other things I want to do. … It's not something I like to do or relish doing — going back on things."
New guard: Bloys said he's looking to bring more diversity to HBO's drama slate — in scale, scope and tone, as well as race and economy. "That is what I would like to do going forward — to have a greater variety in what we're doing, diversity in every sense of the word."
Jon Stewart: In his life after the "The Daily Show," Stewart has a project in the works for HBO that will take the form of an "animated parody of a cable news network in an Onion-like portal. It will be in his voice, in his actual voice and his tone." Bloys noted the Onion-like part is because there will be a written component to it. There is no official air date for the program, but Bloys said he hoped for a September or October rollout, which would take advantage of the presidential election.
The status on "True Detective" and "Curb Your Enthusiasm": After a breakout first season and a not-so-well-received second season, the fate of "True Detective" has seemed uncertain. But Bloys downplayed any cause for worry about the anthology series from Nic Pizzolatto, saying the series is not dead. Of course, it's not quite alive either. Bloys said Pizzolatto does not have an idea for the third season and is busy with other projects. But he also noted it's not a deal breaker if Pizzolatto can't pen the third installment. "We're open to someone else writing it with Nic supervising. It's a really valuable franchise for us. … It's not dead. I'm just not sure we have the right take for a third season ... yet."
As for the long-awaited new season of "Curb Your Enthusiasm," the only certainty is that HBO is committed to one. No premiere date is known. Bloys said production could start this fall and will air sometime in 2017.
Twitter: @villarrealy
ALSO
'The Night Of' sizes up potential for a second season on HBO
Ted Sarandos says Netflix to spend more on original content
'Stranger Things' has big plans for a second season, if Netflix gives it the green light
---
From the Emmys to the Oscars.
Get our revamped Envelope newsletter for exclusive awards season coverage, behind-the-scenes insights and columnist Glenn Whipp's commentary.
You may occasionally receive promotional content from the Los Angeles Times.