Hollywood's creative class cheers FCC passage of net neutrality rules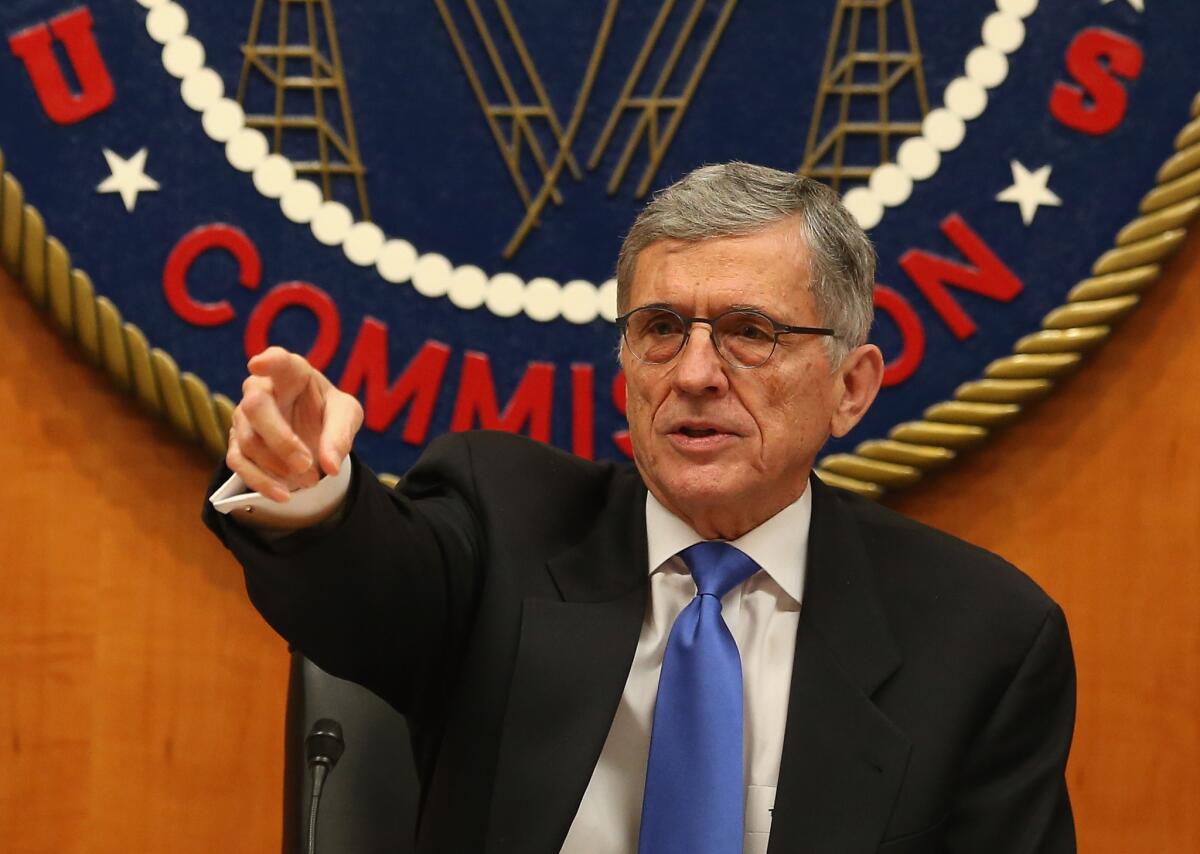 The Federal Communications Commission's landmark vote on open Internet rules is being cheered by some in Hollywood who see the Internet as the new frontier for creativity and free expression.
The FCC voted, 3 to 2, on Thursday to adopt tough net neutrality rules that would provide greater government oversight of Internet service providers, including Comcast, Time Warner Cable, Verizon and AT&T.
"This is clearly a victory for everyone -- not just Hollywood -- but everyone who uses the Internet," said Chris Keyser, president of the Writers Guild of America, West. "It is a critical moment in the ongoing fight for free expression and robust competition."
Hollywood's creative ranks -- the WGA, producers and entrepreneurs who built Amazon.com, Netflix and thousands of YouTube video channels -- have lobbied for the increased freedom to create and distribute content to users without a media company go-between.
The WGA, West, for example, has been a leader in Hollywood in the push for net neutrality rules, which forbid broadband Internet providers from blocking or slowing traffic on their networks.
The National Hispanic Media Coalition has been campaigning for the adoption of net neutrality rules for more than five years. The advocacy group embraced net neutrality as a civil rights issue, and celebrated Thursday's FCC vote in Washington as "a historic day."
Latino actors, writers and producers have long struggled for jobs and meaningful representation on the major TV networks. They saw Internet channels as a way to level the playing field.
"We were unhappy in how we were underrepresented and stereotyped on the traditional media networks," Jessica J. Gonzalez, general counsel for the group, said in an interview with the Los Angeles Times.
"We saw the Internet as a tremendous tool to share stories, help organize our community for social justice and a way for our entrepreneurs to earn a living and reach new customers," Gonzalez said.
Netflix and Amazon.com also have voiced strong support for the measure.
"Amazon welcomes action to protect net neutrality -- the fundamental openness of the Internet -- which has been so beneficial to consumers and innovation," the Seattle online retailer and streaming service said in a statement.
Movie studios, television networks and other legacy businesses in Hollywood have largely stayed quiet on the issue. Major Hollywood interests already are grappling with tectonic shifts in consumer behavior.
Thanks to the Internet, more viewers are watching programming on streaming services, and some are cutting cable cords.
Media companies rely heavily on the billions of dollars they receive each year from pay-TV companies to distribute their channels. But they also see a new revenue stream created by licensing their shows to Internet streaming services.
The celebration this week has been particularly loud among the next generation of content producers. They have turned to the Internet to reach a large and growing audience.
"This battle has been such a long slog," said Jay Bushman, writer and transmedia producer on the show "The Lizzie Bennet Diaries" on YouTube.
------------
FOR THE RECORD
Feb. 26, 4:45 p.m.: An earlier version of this article incorrectly said Jay Bushman was the creator of "The Lizzie Bennet Diaries" on YouTube. He is a writer and transmedia producer on the show, which was created by Hank Green and Bernie Su.
------------
"I don't expect Thursday to be the end of it, by any means. But it's certainly better than the alternative," he said.
Bushman said he turned to the Internet several years ago because it was less restrictive than dealing with the entrenched networks.
"I didn't need anybody's permission," he said. "You can make stuff, put it online and go directly to an audience."
Major telecommunications companies, including AT&T and Verizon, expressed their displeasure over the FCC action.
AT&T has vowed to challenge the new net neutrality measure in court.
Netflix, in a statement, called the FCC vote "an important step toward ensuring greater consumer choice."
"These actions kick off a new era that puts the consumer, not litigious corporate giants, at the center of competition policy," Netflix said.
Twitter: @MegJamesLAT and @Villarrealy

From the Oscars to the Emmys.
Get the Envelope newsletter for exclusive awards season coverage, behind-the-scenes stories from the Envelope podcast and columnist Glenn Whipp's must-read analysis.
You may occasionally receive promotional content from the Los Angeles Times.