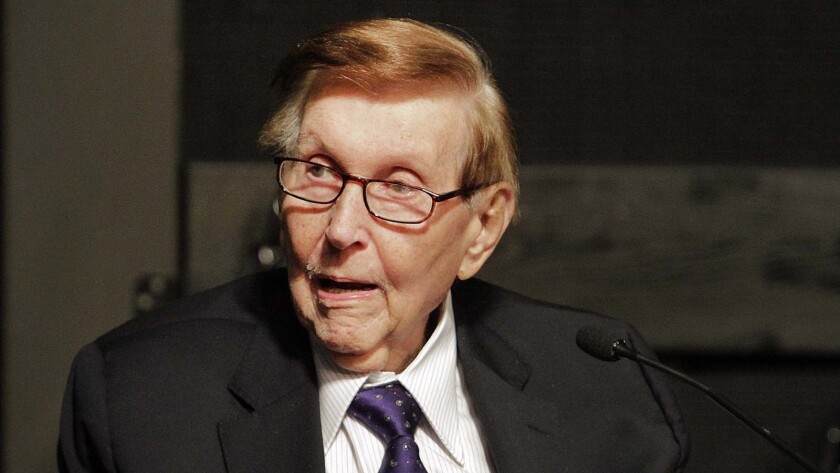 The second-largest voting shareholder of Viacom Inc. and CBS Corp. has called on the media companies to disclose Sumner Redstone's health condition to give investors a better glimpse into whether Redstone is too ill to continue as executive chairman of the two separate companies.
GAMCO Investors Chief Executive Mario Gabelli, in an interview Tuesday with the Los Angeles Times, said executives of the two companies that Redstone controls should be more forthcoming about Redstone's health situation.
"Where are the boards of Viacom and CBS?" Gabelli asked. "Don't they have an obligation to tell the world what is going on?
Last week, Redstone's former girlfriend, Manuela Herzer, filed a lawsuit in Los Angeles County Superior Court that seeks to have the 92-year-old mogul found mentally incompetent. Herzer filed the suit after she was removed on Oct. 12 from her prominent position as Redstone's primary caretaker.
SIGN UP for the free Classic Hollywood newsletter >>
Redstone's lawyers said that Herzer's suit is financially motivated and that she is paving the way to contest her alleged removal from Redstone's will. They say Redstone's primary physician visits twice a week and that Redstone has passed mental competency tests. Redstone has had a CT-scan in the last month, according to his lawyers.
The mogul's health is being watched closely because he is the executive chairman and controlling shareholder of both CBS and Viacom Inc. When he dies or is no longer able to oversee his affairs, seven trustees overseeing a trust will determine what happens to his controlling interest in the two companies.
That has led to speculation that both CBS and Viacom could be sold.
A Viacom board member on Wednesday responded to the concerns raised by Gabelli and other investors.
"As has been widely and publicly disclosed, Mr. Redstone's physicians have publicly attested that he is mentally capable, and this information is consistent with other medical and other information available to me," William Schwartz, chairman of Viacom's governance and nominating committee, said in a statement distributed by Viacom.
Redstone was hospitalized three times in 2014 -- but has experienced a marked decline in recent months, the Herzer lawsuit alleges.
"Sumner's health decline accelerated in the past few months," Herzer said in a declaration that supports her lawsuit.
"His speech has declined to the point where he can barely vocalize. He is emotionally distraught by his inability to eat or drink," Herzer's declaration said. "He cannot walk or stand by himself. He almost never leaves his house."
In recent years, Redstone has not been too involved in the day-to-day operations of his two companies and now monitors earnings calls and company board meetings from his home in the Beverly Park enclave of Los Angeles.
Despite his ailments, Redstone continues to collect a handsome salary in his role as executive chairman of the two companies. He has received more than $169 million in salary, bonuses and benefits during a three-year period between 2012 and 2014, according to company filings.
A CBS spokesman declined to comment Wednesday.
Investors have been unhappy with the recent performance of Redstone's companies. Viacom shares have fallen 36% this year. On Wednesday, Viacom shares closed down 4.1%, or $2.04, to $47.65.
CBS shares are down 10% this year. CBS on Wednesday slid 2%, or $1.05, to $50.05 a share.
Twitter: @MegJamesLAT
ALSO
Sandra Bullock adopts 3-year-old foster daughter Laila
Brian Williams takes a break from MSNBC after back surgery
Sundance announces its 2016 lineup, offering an array of timely films
---