Sandra Bullock adopts 3-year-old foster daughter Laila
Sandra Bullock has indeed adopted a second child — a little girl named Laila.
The Oscar winner introduced Laila, a 3½-year-old from Louisiana whom she fostered, on the cover of People on Wednesday.
Bullock, 51, who covertly adopted her son Louis, now 5, at the height of awards season in 2010, has been fiercely protective of her daughter's privacy during the process and even during the reveal.
In the mag's cover image, Laila is actually turned around so viewers can only see the back of her head -- and her adorable pigtails. Bullock also only partially exposed her children's faces in the family photo album touted by the mag. (The images were shot by Bullock's beau, photographer Bryan Randall.)
"I can tell you absolutely, the exact right children came to me at the exact right time," the "Gravity" star, who is working to bring attention to the more than 400,000 children currently in U.S. foster care, told People.
People's most beautiful woman of 2015 has been family-focused for several year, appearing in few projects and taking on only those that allow her the most time with her kids.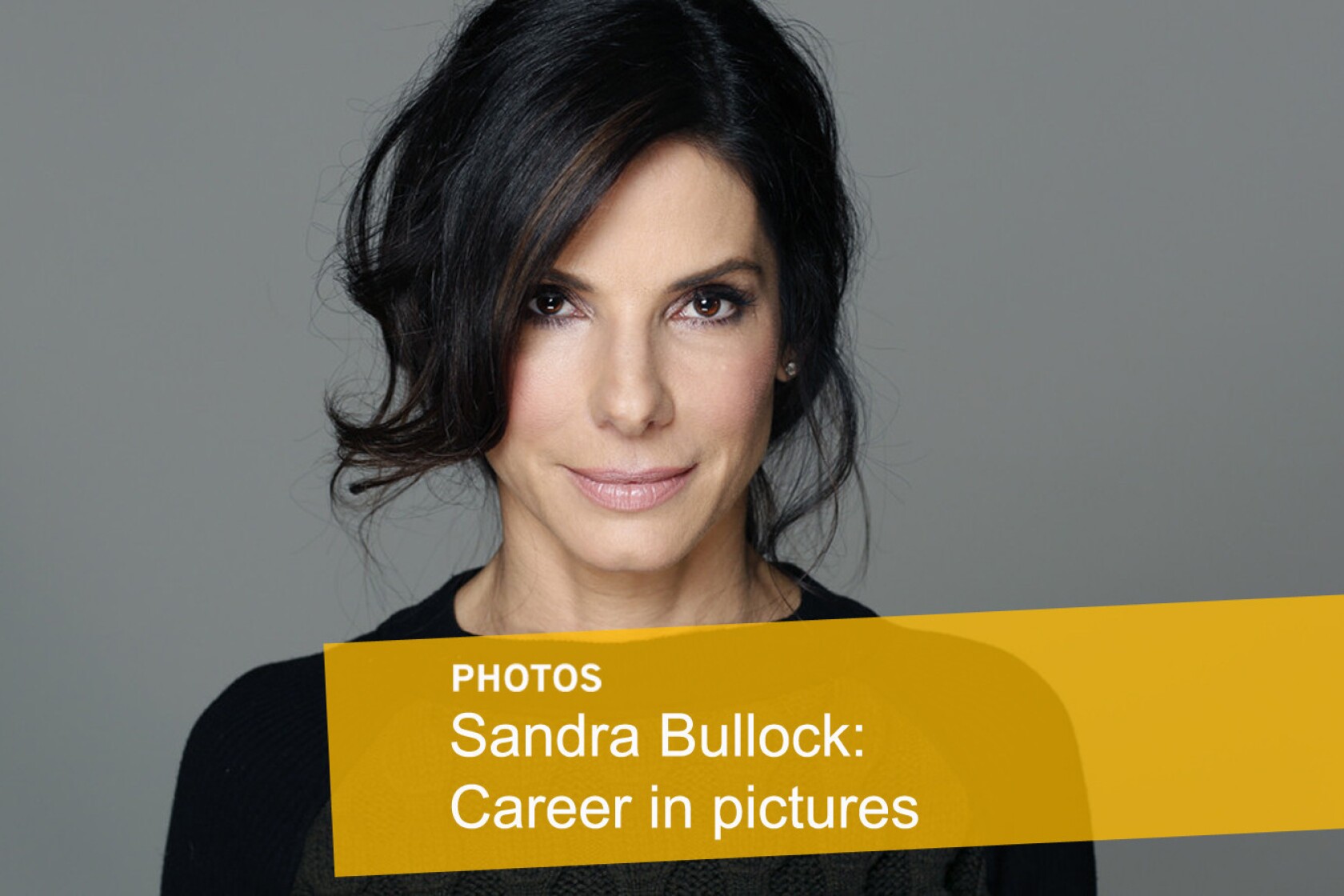 With an Oscar win and many feature films on her resume, actress Sandra Bullock has only stepped up the ladder of success since her TV movie days. Here's a look at the career highlights of one of Hollywood's biggest female stars.

By Andrea Wang / Los Angeles Times
(Kirk McKoy / Los Angeles Times)
Bullock first staked a spot under the Hollywood spotlight playing Annie Porter, a civilian turned hero, in this critically acclaimed action-thriller. When costar Keanu Reeves boards the bus to address a bomb threat, Bullock finds herself essential in the capture of a rogue ex-police officer.
(Richard Foreman / Handout)
No stranger to films that touch on sociopolitical issues, Bullock first took a stand in "A Time to Kill." In this racially charged legal thriller, Bullock's character works alongside actor Matthew McConaughey's to find justice for a black man seeking revenge after his daughter's brutal rape.
(Christine Loss)
This romantic comedy features Bullock as a lonely woman who finds unexpected love when the man of her dreams falls into a coma and his family mistakes her for his fiance. One of People's most beautiful people in 1996 and 1999, Bullock is a prime choice for Hollywood's rom-coms.
(Los Angeles Times)
Bullock gave voice acting a try in "The Prince of Egypt" as Miriam, the sister of Moses. In her second animated movie, Bullock is slated to voice the super-villain in "Minions," the 2015 prologue to the hit comedy "Despicable Me."
(DreamWorks Pictures)
Bullock stole hearts in 2000 as a tomboyish FBI agent named Gracie Hart who goes undercover as a contestant in the Miss United States beauty pageant to investigate a domestic terrorist threat. The film was a box-office hit, raking in more than $106 million in the United States.
(Ron Balzdorf / Castle Rock Entertainment)
Some critics have deemed Bullock's performance in "Crash" as her best. The Oscar-winning film intertwines the lives of several characters in Los Angeles to juggle themes of race and socio-economic status, with Bullock as the wife of a district attorney.
(Lorey Sebastian / Lions Gate Films)
Bullock made a reprise of her character Gracie Hart in 2005, going undercover again to save two old friends who were kidnapped in Las Vegas.
(Frank Masi / Warner Bros. Pictures.)
In this film remake of a Korean romantic drama, Bullock begins a correspondence with a man who lived in her house two years before. "The Lake House" marks her first reunion with actor Keanu Reeves since "Speed."
(Peter Sorel / Warner Bros. Pictures)
2009 was a successful year for the actress. "The Proposal," in which Bullock stars as an assertive boss who forces her assistant to marry her, grossed more than $314 million worldwide. This film is still her most successful picture to date.
(Kerry Hayes /Touchstone Pictures)
Not all Bullock's flicks were smashes. This comedy about an obsessive, lovestruck girl (played by Bullock) earned two Golden Raspberry awards. With her lead actress Oscar waiting around the corner, Bullock is the only actress to get accolades for being the best and the worst in the same year.
(Suzanne Tenner / 20th Century Fox)
Bullock won an Oscar for her portrayal of Leigh Anne Tuohy, a nurturing interior designer who changes the life of a misguided teenager by helping him realize his dream of playing football.
(Ralph Nelson / Warner Bros. Pictures)
In this film adaptation of the novel, Bullock plays the mother of a young boy looking to uncover the secrets his dad left behind after perishing in the World Trade Center tragedy.
(Francois Duhamel / Warner Bros. Pictures)
Bullock joined forces with comedy actress Melissa McCarthy to revamp the buddy cop genre with "The Heat." In the critically acclaimed movie, Bullock again displays her tomboyish charm as uptight FBI agent Sarah Ashburn.
(Gemma La Mana / Associated Press)
In "Gravity," Bullock takes a large step away from her usual romantic and comedic roles. She plays one of two surviving astronauts stranded in space after debris destroys most of their space shuttle.
(Warner Bros. Pictures)
"The Heat" star began the process three years ago.
It's been "very much like witness protection," she said. Since Laila was a foster child, Bullock was obligated to keep her identity under wraps, even back in October when paparazzi photos surfaced of the two of them making an emergency room trip to Cedars-Sinai Medical Center in late September.
"Unbeknownst to me, a photographer had followed us and taken a photo of us in line," Bullock told People. "The next day, I learned that a photo of her was being shopped around for sale to every outlet around the world. I had promised and legally agreed to protect her from something like this, and here I was chasing down lawyers — having them begging them to keep her safe."
As she was promoting "Our Brand Is Crisis" in October, the actress shut down the adoption rumor with a craftily worded statement to the Associated Press that didn't even allude to her foster care situation.
"There's only one adopted child in my household and his name is Louis," she told AP. "If I had an adopted child -- if I had a second adopted child -- everyone would be hearing about it. I would be loud and clear and say, 'Yes, I have officially adopted a second child.' Right now, Louis must be it."
And here she is now, officially proclaiming it to the world.
Follow me on Twitter @NardineSaad.
ALSO
Kim Kardashian turns baby in breech procedure: 'Probably more painful than childbirth'
Holland Taylor's current relationship is 'a stunning experience,' she says: 'A privilege'
Brad Pitt on raising kids: 'Our life is their normal ... we're migratory workers in a sense'
---
Your essential guide to the arts in L.A.
Get Carolina A. Miranda's weekly newsletter for what's happening, plus openings, critics' picks and more.
You may occasionally receive promotional content from the Los Angeles Times.