Sumner Redstone's medical records will remain sealed, judge in competency case rules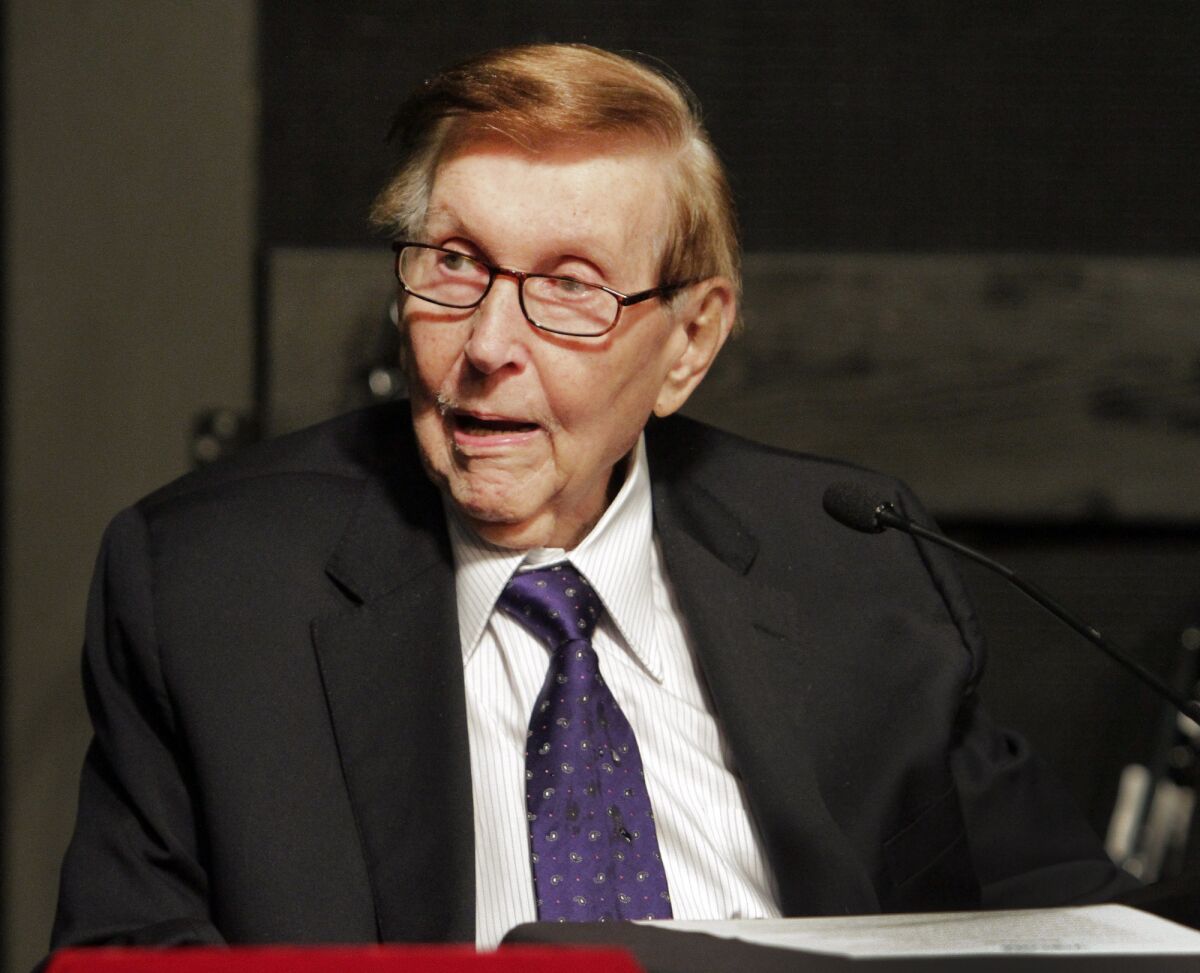 A Los Angeles County judge on Friday denied a request by three media outlets, including the Los Angeles Times, to unseal documents in the contentious dispute over whether media mogul Sumner Redstone is mentally competent.
Superior Court Judge David J. Cowan, however, said he appreciated the important constitutional role of the media to report fully about matters of public concern.
See more of Entertainment's top stories on Facebook >>
Cowan said he was trying to balance competing interests: the public's interest in the case vs. the ailing 92-year-old mogul's right to keep details about his medical condition private.
"The court doesn't take lightly telling the press that it cannot have access to documents," Cowan said during Friday's hearing. "The court wants the press to scrutinize judicial proceedings."
Cowan did order the unsealing of 15 court documents, including a declaration by Redstone's daughter, Shari Redstone, who is vice chair of his media companies, Viacom Inc. and CBS Corp.
The judge also said that a Dec. 11 letter from Redstone to his daughter should be unsealed.
Another court document that contained emails between Redstone's nursing staff and Redstone's attorney also will be unsealed.
The Times, the Hollywood Reporter and Variety had filed motions last month to open the records in the case after attorneys representing Redstone asked that large batches of documents be sealed.
"We were pleased the court did not accept the blanket request to seal so many documents," attorney Jean-Paul Jassy, who represented The Times and the Hollywood Reporter, said after the hearing. "And the judge did unseal 15 documents."
Jassy has argued that the media was entitled to see the documents because Redstone was an important public figure with a reduced expectation of privacy.
Until six weeks ago, Jassy noted, Redstone was the executive chairman of CBS and Viacom, which owns such well known properties as the CBS broadcast network, MTV, VH1, Comedy Central, Nickelodeon and the Hollywood movie studio Paramount Pictures.
Redstone remains the controlling shareholder of both CBS and Viacom.
"He is a very powerful and influential man," Jassy told the judge. "He is a person who has a different station in life."
Cowan said documents had to meet a rigorous test to remain sealed. Doctors' reports and other medical information, including a detailed log kept by Redstone's nursing staff, would remain confidential, he said.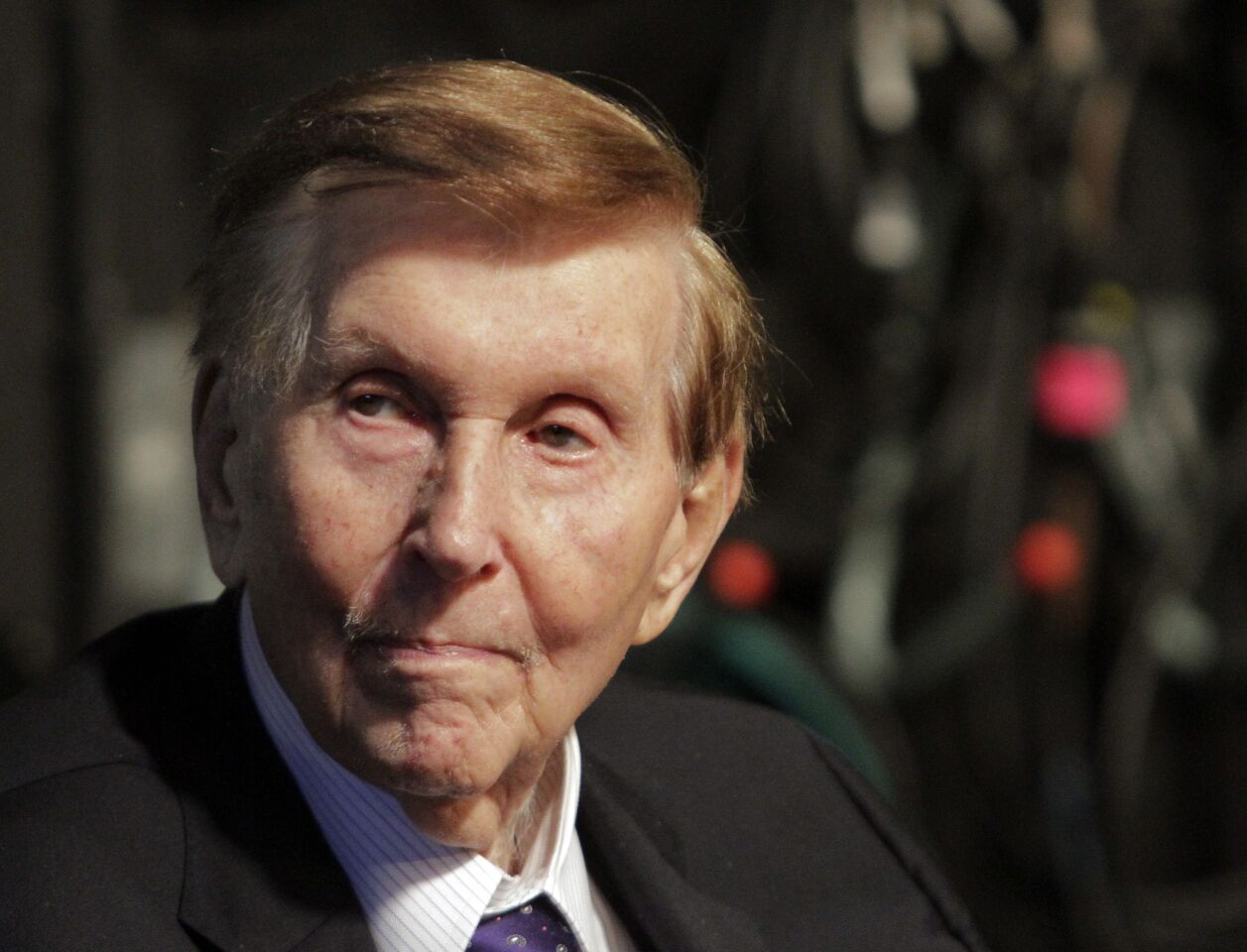 Media magnate Sumner Redstone attends the dedication of the Sumner Redstone Production Studios at USC on Feb. 5, 2013.
(Lawrence K. Ho / Los Angeles Times)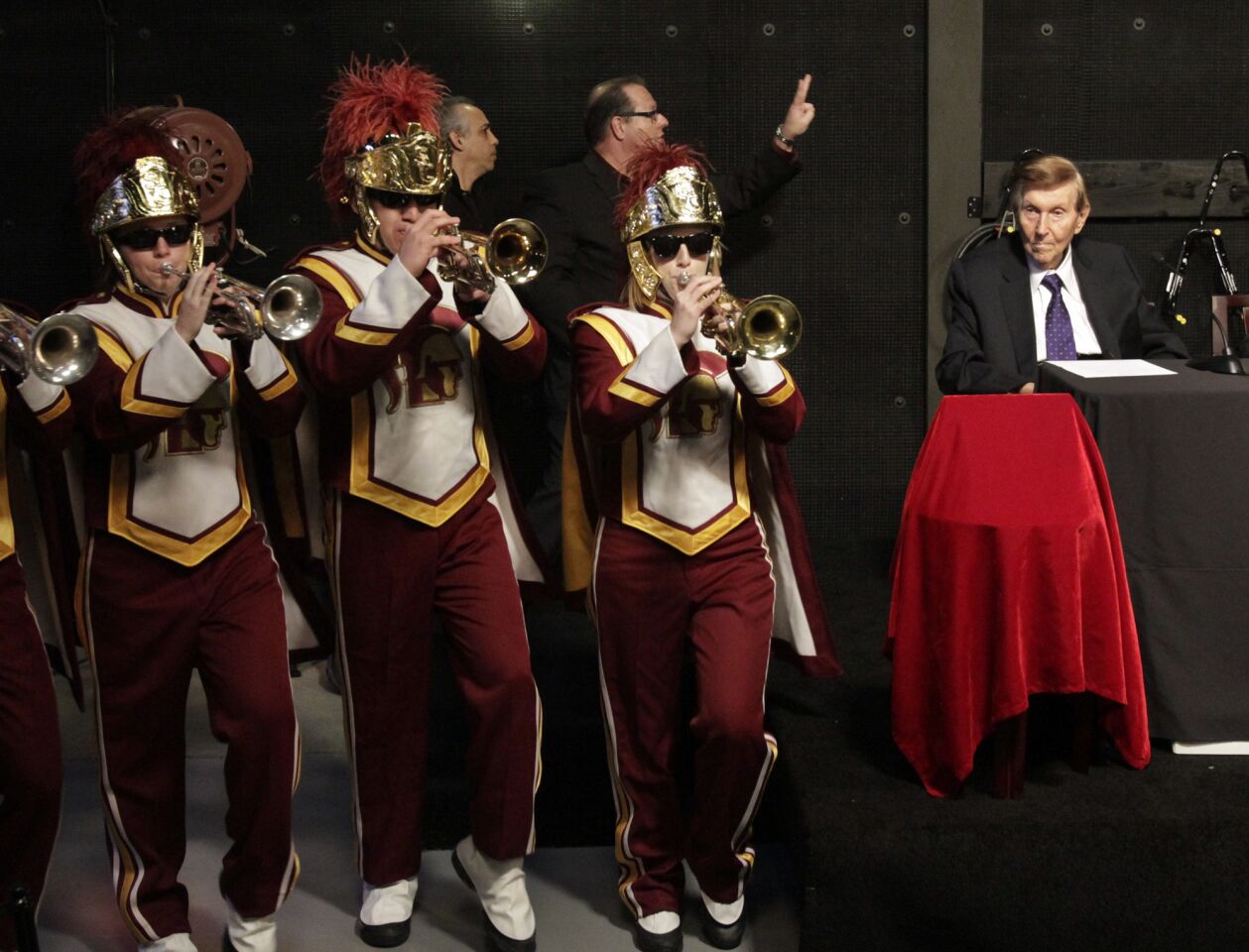 Sumner Redstone, right, and members of the USC marching band are shown at the dedication of the Sumner Redstone Production Studios at USC on Feb. 5, 2013.
(Lawrence K. Ho / Los Angeles Times)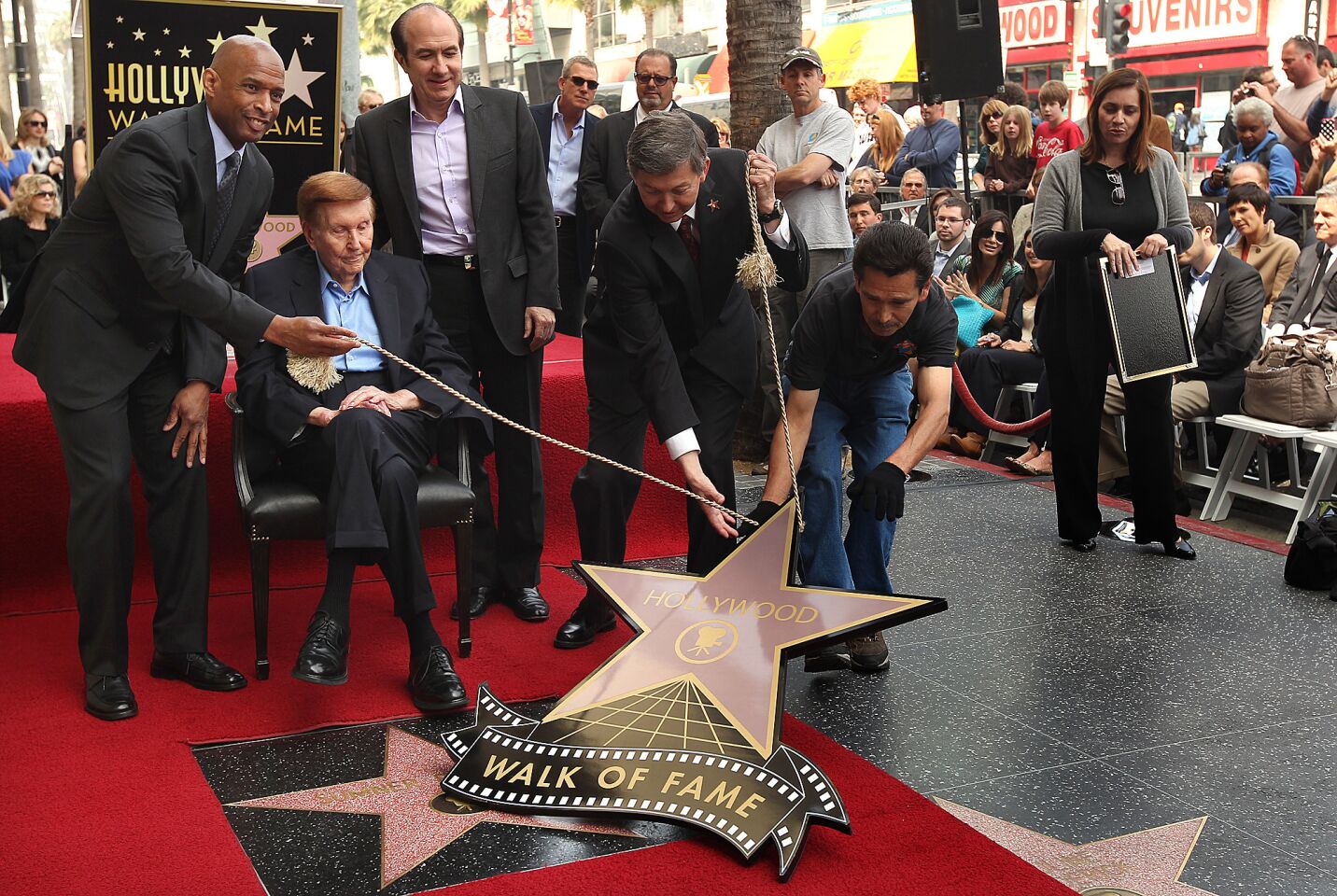 Sumner Redstone, seated, was honored by the Hollywood Chamber of Commerce with a star on the Hollywood Walk of Fame on March 30, 2012.
(Christina House / For the Los Angeles Times)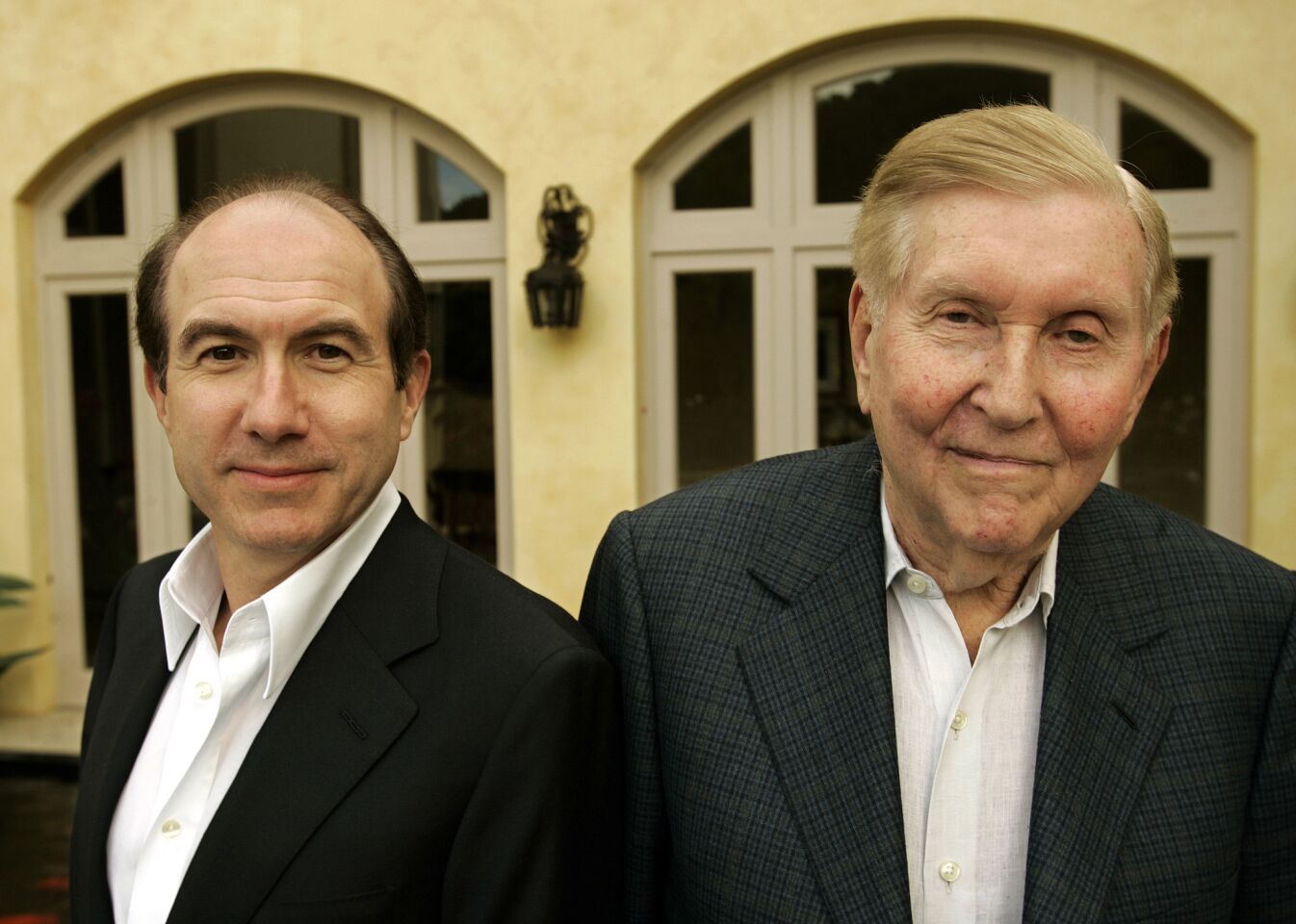 Philippe Dauman, left, now the chief executive of Viacom, and Sumner Redstone are photographed at Redstone's home in Beverly Hills on September 27, 2007.
(Mel Melcon / Los Angeles Times)
Sumner Redstone and his then-wife, Paula Fortunato, attend the premiere of Paramount's "Zodiac" in Los Angeles on March 1, 2007.
(Reed Saxon / Associated Press)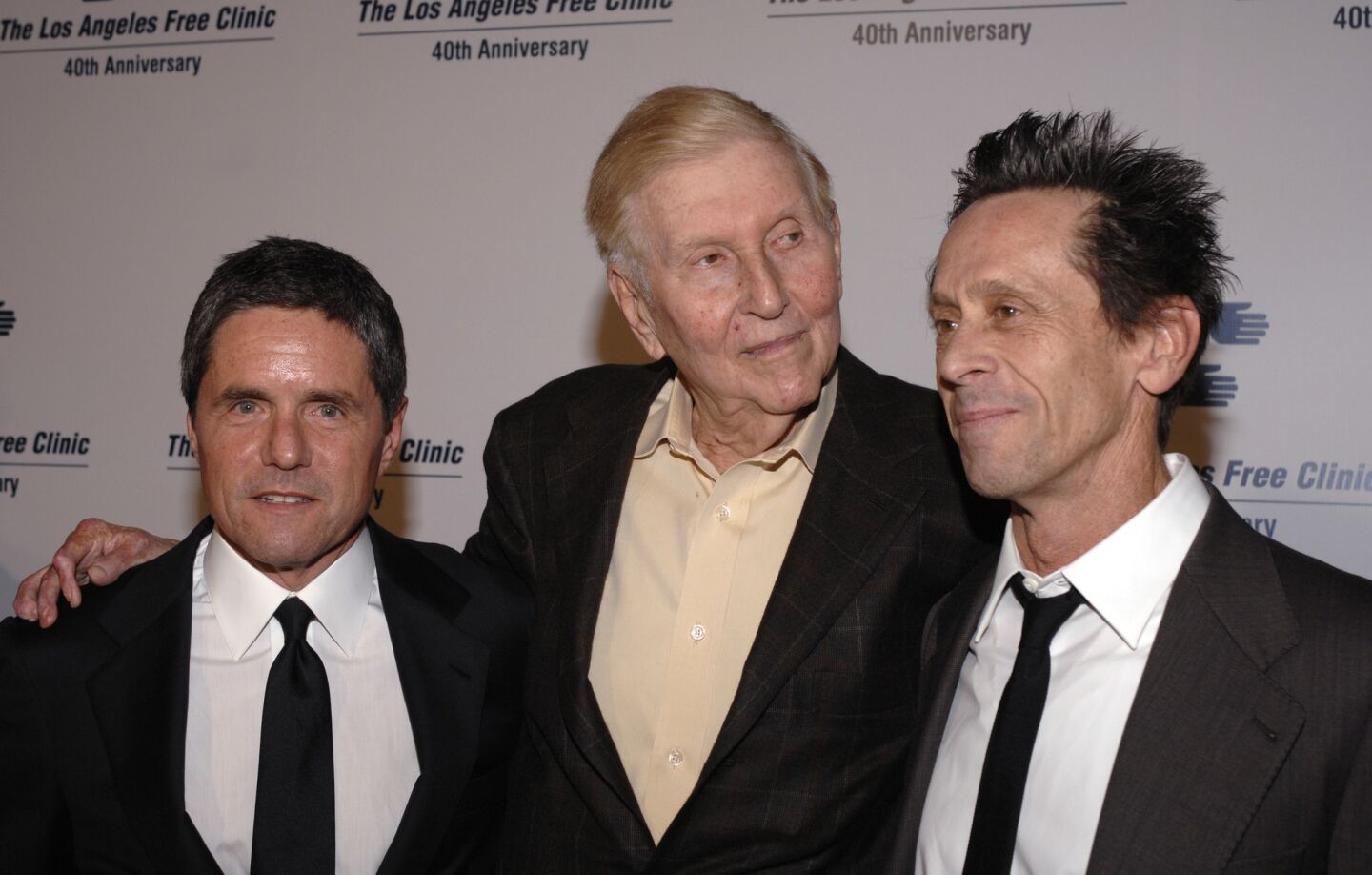 Paramount Pictures Chief Executive Brad Grey, from left, Sumner Redstone and producer Brian Grazer attend the Friends of the Los Angeles Free Clinic annual gala at the Beverly Hilton Hotel on Nov. 20, 2006.
(Phil McCarten / Associated Press)
Actor Clint Eastwood, from left, businessman Sumner Redstone, director Steven Spielberg and Paramount Pictures Chief Executive Brad Grey attend the Paramount Pictures premiere of "Flags of Our Fathers" in Beverly Hills on Oct. 9, 2006.
(Kevin Winter / Getty Images)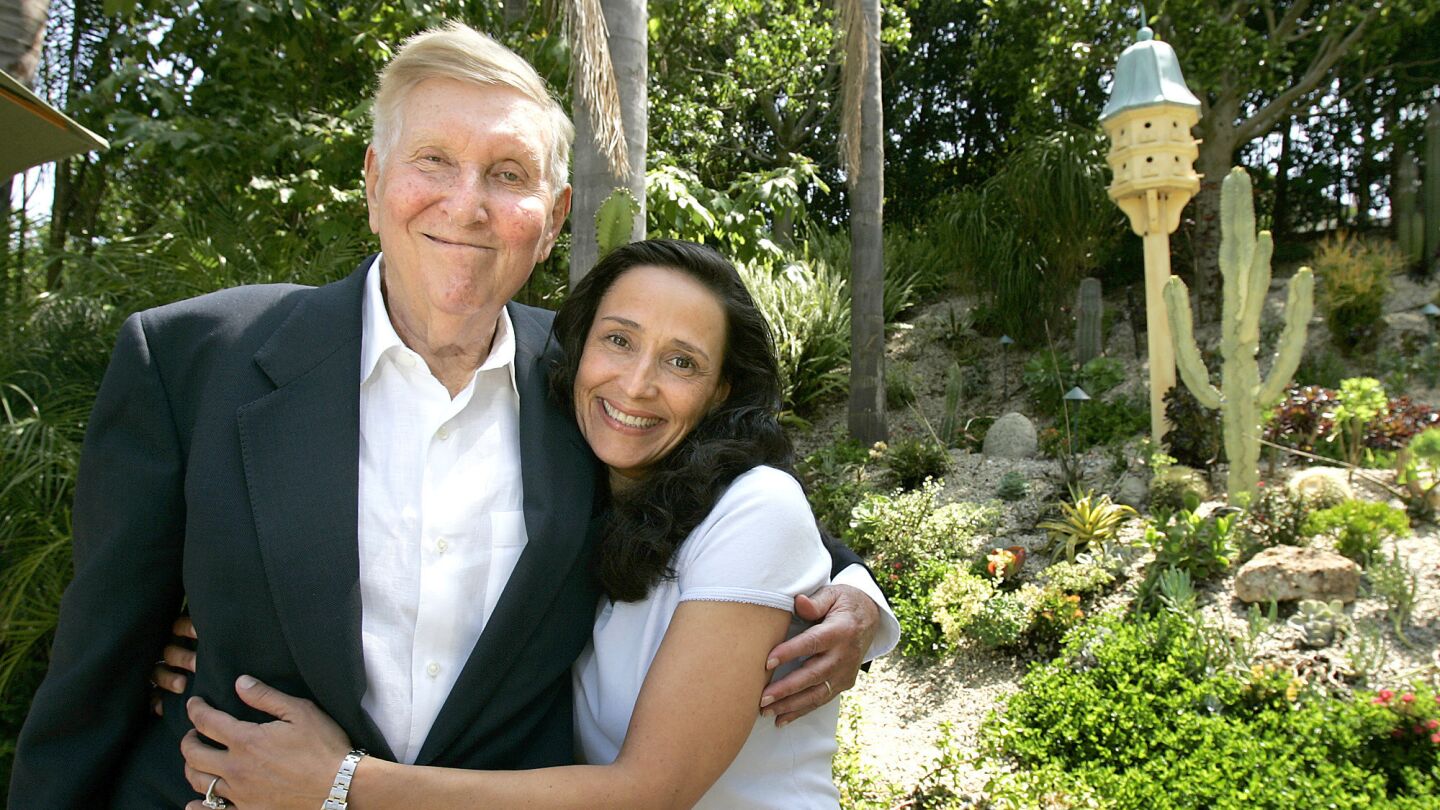 Sumner Redstone poses with his then-wife, Paula Fortunato, at their Beverly Hills home on June 10, 2005.
(Brian Vander Brug / Los Angeles Times)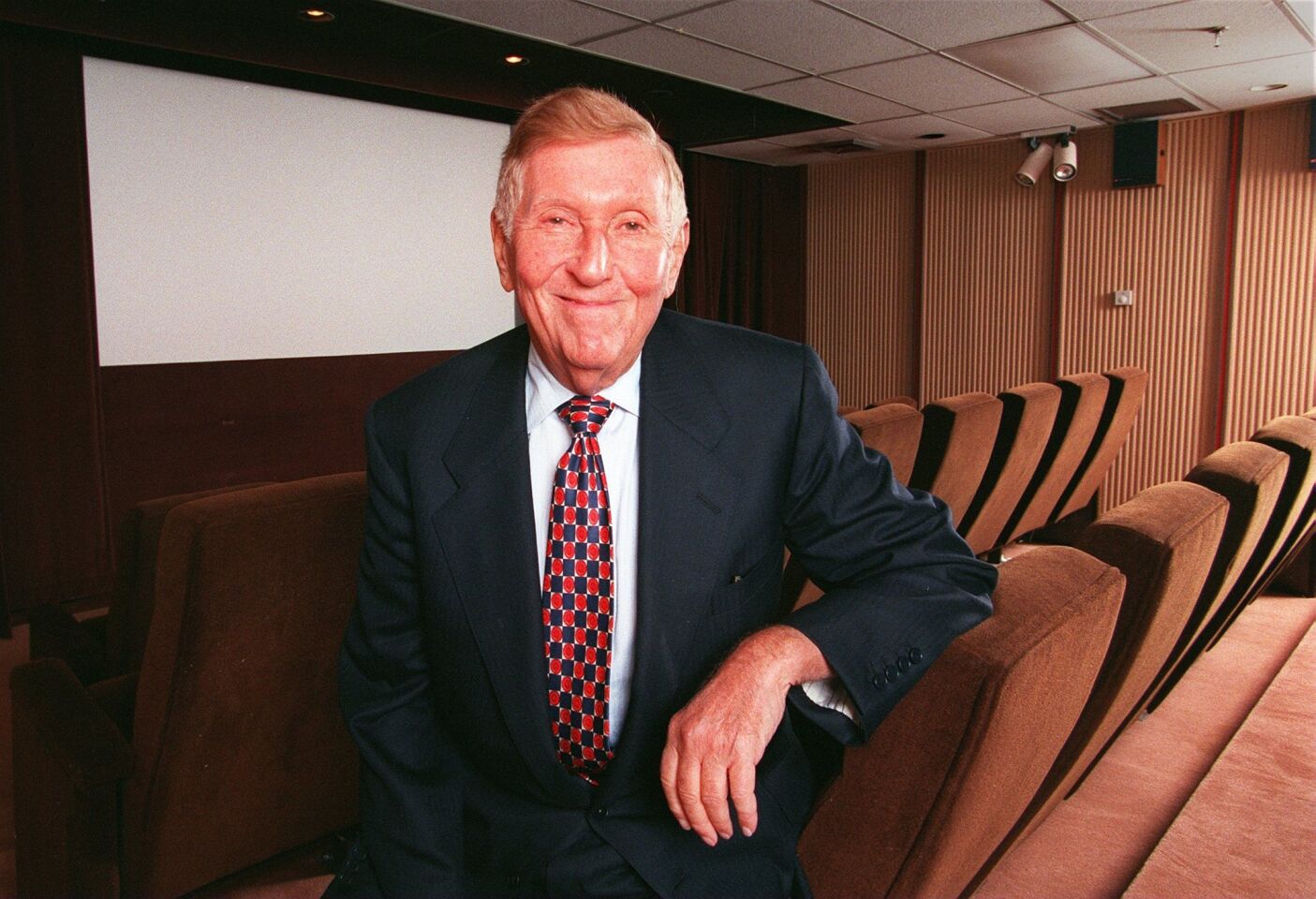 Businessman Sumner Redstone is photographed in a screening room at National Amusements on Oct. 2, 1998.
(John Blanding / Boston Globe via Getty Images)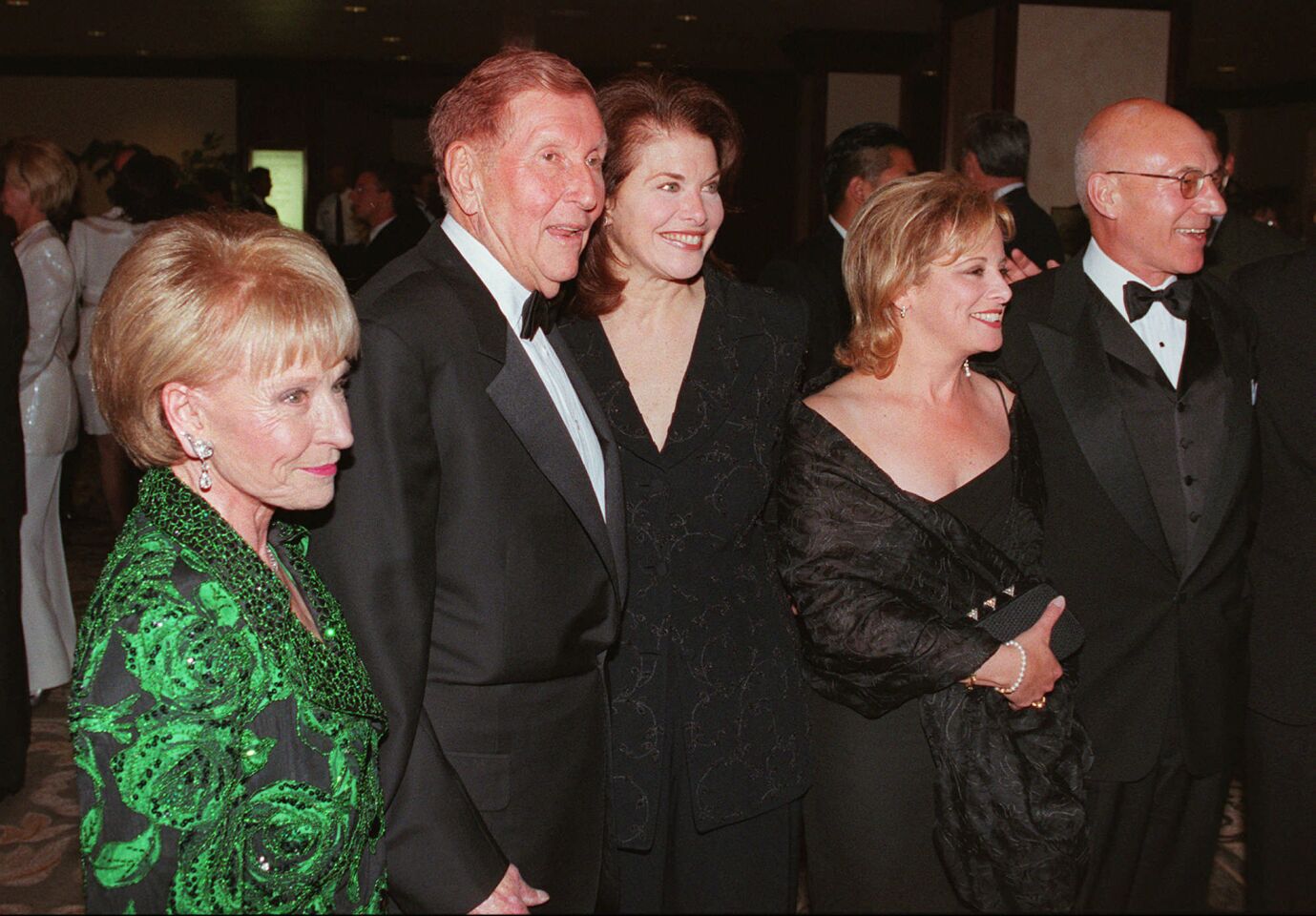 From left, Sumner Redstone's then-wife, Phyllis Raphael, poses with Sumner Redstone, Sherry Lansing, Wendy Neuss and Patrick Stewart at the National Conference of Christians and Jews' annual Humanitarian Award Dinner on April 23, 1998, at which businessman Sumner Redstone was honored.
(Mark J. Terrill / Associated Press)
The judge said he had spent considerable time sifting through the voluminous filings in the case to make sure that documents unrelated to Redstone's medical condition would be available for public inspection.
Cowan added that his ruling Friday was an "interim" one because much of the information under seal will probably come out in trial, set for early May.
"The court intends that the trial be open to the public ... as well as for the exhibits offered at trial to be available for inspection," Cowan wrote in a tentative ruling. "In addition, merely because a document filed in connection with the motions at issue here was sealed does not meant it will be sealed if it is offered at trial."
Attorneys representing Manuela Herzer, Redstone's former companion who brought the petition questioning Redstone's competency, also had argued that documents in the case be made public.
"The 1st Amendment interests have been deferred, but this is a very conscientious judge," said Pierce O'Donnell, who represents Herzer.
"Judge Cowan has made it abundantly clear that the trial proceedings will be open to the public and media and all the evidence will likewise will be available to the public and media," O'Donnell said.
"Then it will become apparent to all that Sumner Redstone is a tragic victim preyed upon by those in positions of trust and confidence who are supposed to protect him," he said.
Herzer's legal team contends that Redstone last fall came under undue influence by those around him because of his frail and weakened state.
Her lawyers have asserted that Redstone was mentally incompetent on Oct. 16 when he changed his healthcare proxy, naming Viacom Chief Executive Philippe Dauman to replace Herzer on the document.
At the same time, Redstone revised his estate plans and cut Herzer out of his will. She would have been in line to receive $50 million and Redstone's mansion in Beverly Park, worth $20 million, after the Viacom founder dies.
In court on Friday, another Herzer attorney questioned keeping confidential the entire log that is maintained by nurses who care for Redstone around the clock at his Beverly Park mansion. The nursing logs are expected to be a key part of Herzer's case as she attempts to show that she was improperly removed from a position of power.
Redstone changed his healthcare proxy and will only after one of his nurses told him that Herzer was stealing "millions of dollars" from him, the attorney said Friday. O'Donnell said Herzer did nothing of the sort.
He and others on Herzer's legal team contend that Redstone acted irrationally because he was undue influence.
Redstone's legal team, however, maintains that Herzer is driven by financial gain and that she is not interested in Redstone's health or welfare.
"We applaud the court's order granting Mr. Redstone's motions to seal and its continued regard for his privacy and dignity in this proceeding," Gabrielle Vidal said in a statement after the hearing.
"By opposing the sealing of Mr. Redstone's private records, Ms. Herzer once again proved her utter disregard for Mr. Redstone's wishes and best interests," Vidal said.
Twitter: @MegJamesLAT
ALSO:
End of an era: CBS to sell its historic radio division
Viacom extends COO Tom Dooley's agreement; names lead independent director
Charter merger may hinge on whether it can make the Internet affordable to more people
---
Get our L.A. Goes Out newsletter, with the week's best events, to help you explore and experience our city.
You may occasionally receive promotional content from the Los Angeles Times.