Czech prime minister hopes to entice on-location filming with new incentives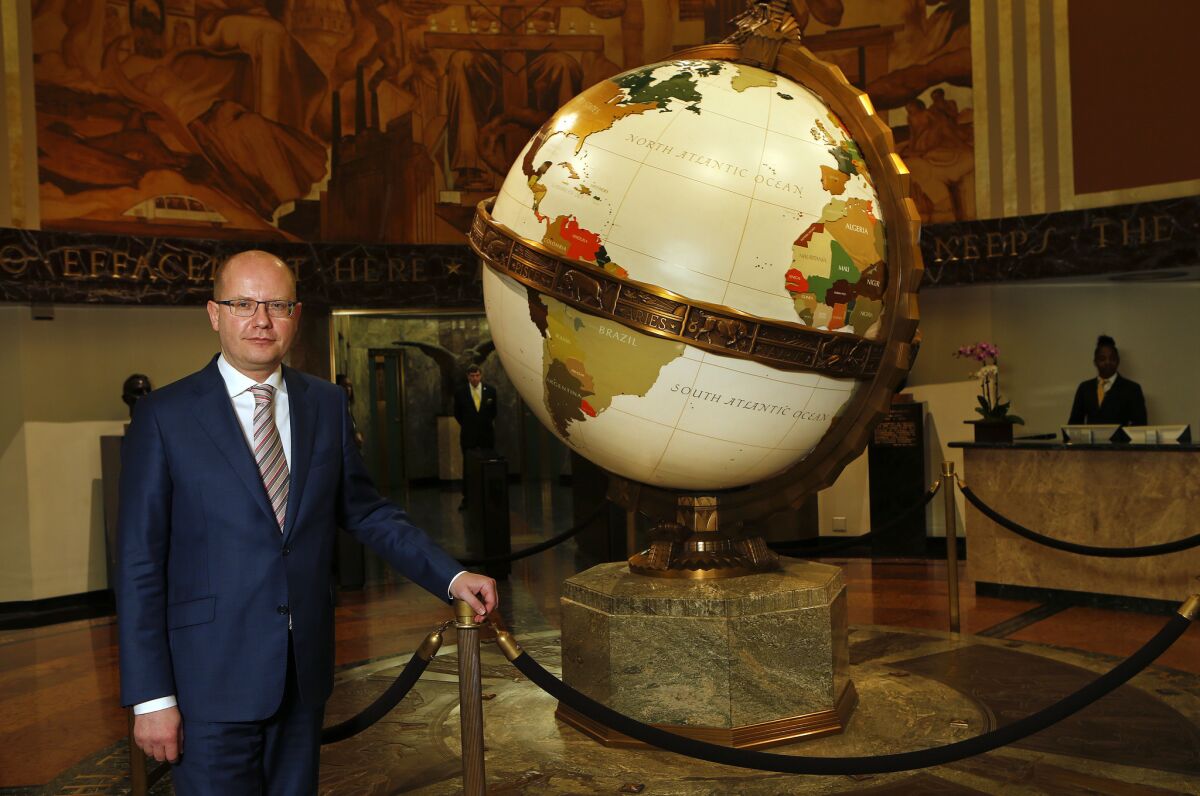 The Czech Republic's ties to the cinema industry run deep.
The father of former Prime Minister Václav Havel helped pioneer the film industry in the 1930s. Film production thrived during the Communist era and through the 1990s and 2000s, when the country hosted a number of big Hollywood movies, including "Mission: Impossible," "Amadeus" and "The Bourne Identity." And the country boasts a long line of distinguished filmmakers, among them the Oscar-winning director Milos Forman.
In recent years, however, the Czech Republic has fallen out of favor as Hollywood has taken its business to other countries in Europe and around the world that have ramped up their incentives to lure film crews.
See more of Entertainment's top stories on Facebook >>
Now the Czech Republic is trying to win some of that business back. It's a high priority for the government. So much so that Prime Minister Bohuslav Sobotka visited Los Angeles this week to pitch studio executives on the benefits of filming in his country and to tout newly expanded film incentives. The Times spoke with Sobotka, 44, about his efforts to court Hollywood.
Why is filming a priority for your administration?
It is for us a very important area of services and development. The film industry has a very long tradition in the Czech Republic. Back in the 1930s and even during the Communist era, we had a very strong local domestic film production. In the 1990s, the Hollywood Big Six [studios] were very strongly present in the Czech Republic and busy shooting films here. Then a very competitive environment arose and our competitors started offering incentives. The Czech Republic basically did not take part in this competition for a few years and ended up poorly because the filmmakers decided to go elsewhere.
So what are you doing to lure filming?
We introduced film incentives in 2010 and we're currently reviewing those incentives to make them even more appealing and attractive.
How are the new incentives different from what you're currently offering?
We still return a 20% rebate. What's new is that the application can be filed any time during the year, so there's no specific date by which time you have to apply. There is one single institution that handles all the communication, which is the National Fund of Cinematography, a state film fund. Also, we allocated $33 million more per year from the state budget over the next three years. It represents approximately a 40% increase in funding.
When do these new incentives take effect?
Jan. 1 of next year. The legislation will be finalized in the coming weeks and there is a political consensus to support it. The lower chamber of Parliament already approved it. Now the upper chamber is going through the reading and approval process.
And you hope this will make you compete better with other European countries such as Hungary, Britain and Bulgaria?
It should improve our position. We are very competitive in other areas as well. I had a chance to meet with the Big Six [studio] representatives this morning and they very much appreciated the skill and experience of our teams that provide the necessary services. We've been involved for generations in the film industry. Our crews are English-speaking, very flexible and creative. Obviously, the overall costs are much lower than in London. And what should also be mentioned is the aspect of security. Czech Republic is among the safest countries in the world.
We've been involved for generations in the film industry. Our crews are English-speaking, very flexible and creative.
— Czech Republic Prime Minister Bohuslav Sobotka
You met with representatives of all the studios on the Universal lot this week. What response did you get?
It was a very positive feedback. The conclusion is that the Czech Republic has a great number of competitive advantages. [The studios] are also considering the math, which is the incentives, and unfortunately there is this race for who offers more in tax returns and we really have to think now. Should we give more back and raise the bar of the rebate from 20% to 25% or is our competitive advantage in the other aspects going to be enough?
Composers here in L.A. complain about all the musical scoring work that is outsourced to the Czech Republic and other European countries. What would you say to them?
My feeling is that the film industry has tremendous absorption capacity and it needs a large group of talent. So at times people are very angry and upset that our talented people leave to go to the United States or somewhere else. This cooperation can be very enriching for both. It's not only about taking but also giving. It's not about stealing jobs but also creating jobs. Co-productions and other ways of cooperation are the way forward.
Twitter: @rverrier

---
Get our L.A. Goes Out newsletter, with the week's best events, to help you explore and experience our city.
You may occasionally receive promotional content from the Los Angeles Times.