Original Force Animation in Culver City aims to tap into vast Chinese box office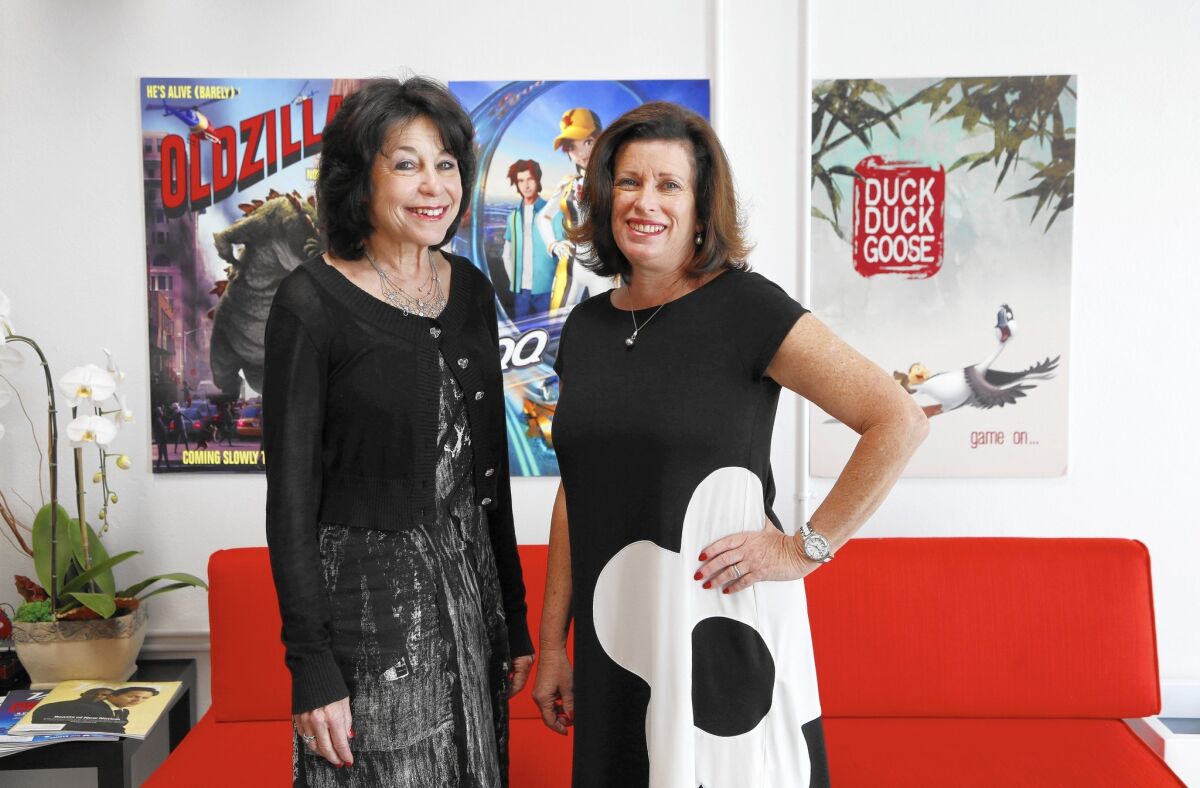 In a converted warehouse in Culver City, dozens of painters, designers and storyboard artists were quietly huddled at their desks, sketching characters or plotting 3-D images on their computer screens.
The walls of the 8,000-square-foot office were lined with colorful drawings of monsters, race car drivers and ducklings named Chi and Chao — rough scenes and characters for upcoming animated movies.
The studio, which officially opened last month, looks just like any other bustling animation house in Hollywood. This one, however, is different: It's the new motion picture division of China's Original Force, a digital animation studio backed by Chinese social networking company Tencent Holdings.
Stunning photos, celebrity homes: Get the free weekly Hot Property newsletter >>
Despite its small size — Original Force Animation has just 60 employees locally — the company has big ambitions. It aims to create Hollywood-style films that can tap into China's vast box office while also doing well internationally.
"We don't want to make movies just for the Chinese audience, we want to make movies for global audience," Chief Executive Harley Zhao said. "We really want to work with the best talent around the world."
To that end, Original Force has hired two respected animation executives, Sandra Rabins and Penney Finkelman Cox, to run the movie studio. The duo helped establish DreamWorks Animation and produced films such as "Antz" and "Shrek." They later launched Sony Pictures Animation, overseeing such films as "Cloudy With a Chance of Meatballs" and "Surf's Up."
"It's a sign that there is serious money being spent by Chinese investors to make movies with artists and executives who are capable of delivering high-quality productions," said Ron Diamond, publisher of the online magazine and resource Animation World Network.
The U.S. studio is the latest among a series of tie-ups between prominent Hollywood figures and Chinese investors.
Fosun, Huayi Bros and others have signed deals to finance or co-produce movies and TV shows in the U.S. with such figures as former Warner Bros. executive Jeff Robinov, ex-Disney studio chief Dick Cook and producer Robert Simonds. Chinese investors also partnered with Jeffrey Katzenberg and DreamWorks Animation to operate a joint venture in Shanghai.
Original Force's expansion into the U.S. signals a new phase in the expanding China-Hollywood relationship. No longer content to simply do outsourcing work for American studios, Chinese studios are eager to establish beachheads in Hollywood to compete for talent — and a piece of the lucrative global marketplace for animated family movies.
The summer's "Monkey King: Hero is Back" and the live-action-animation hybrid "Monster Hunt" have demonstrated the growing appetite for animated movies in China and the dollars at stake. "Monster Hunt" alone earned more than $380 million, making it the highest-ever grossing movie in China. Overall box-office revenue in China grew 34% last year to $4.8 billion and is expected to exceed that of the U.S. by 2018.
Yet no Chinese animation studio has been able to crack the global marketplace. Original Force is hoping to be the first.
That's a tall order. Even established players like DreamWorks Animation have struggled in an increasingly crowded market dominated by Disney, Pixar and Universal's Illumination Entertainment. Other Chinese rivals such as Dalian Wanda Group also want to launch animation studios.
There are plenty of hurdles. Training staff in China can be expensive. And Hollywood executives also must find a way to foster creative freedom — without offending government censors.
"The question is whether they will let Hollywood filmmakers make a Hollywood movie," Diamond said. "It's still a country where if you say something wrong, you can be arrested."
Rabins and Finkelman Cox accept the risks. "We know it's a challenge but animation has always been a challenge," Rabins said. "We spent seven years on 'Shrek.' It took a long time to get it right."
Finkelman Cox doesn't foresee a problem with censorship, noting that Original Force is not backed by the government and its films will be inherently apolitical. "We don't need to push that boundary," she said.
The seasoned animation executives have recruited a team of veteran artists, writers and filmmakers for their inaugural slate. Among them: Christopher Jenkins, a producer of the recent DreamWorks Animation movie "Home;" John Eng, director of "Rugrats Go Wild;" and Bob Bendetson, a producer of "The Simpsons."
The first film, "Duck Duck Goose," directed and co-written by Jenkins, is about a bachelor goose who embarks on a journey with two orphan ducklings. Another film called "OldZilla," directed and co-written by Bendetson, is about monsters who come out of retirement. The films will cater to global audiences but also feature distinctive Chinese locations and characters. "OldZilla," for example, includes a Chinese monster hunter who saves the day by fighting monsters in America.
Although the storyboard work and art direction will come from Culver City, much of the labor-intensive animation will be done at Original Force's facilities in China, which employ about 1,000 people. The cheaper labor costs in China will enable the studio to make movies for less than $50 million each, well below the typical budget for a major animated release.
"Because they are so economical, they stand a really strong chance of being profitable," Finkelman Cox said.
As a Chinese studio, Original Force won't be subject to the quotas that restrict how much money foreign films can collect in China. The company also has a well-heeled financial backer in Tencent. The Internet giant had an existing relationship with Original Force, which it hired to do the animation on the popular online racing game QQ Speed. Original Force Animation is adapting the game for one of its three upcoming movies. The action film, about a brother-sister racing team who work to protect their late father's legacy, is being directed by Eng.
Tencent declined to comment, but the company's investment is the latest effort build closer ties with American media companies. Tencent, for example, has partnered with Time Warner to stream HBO television shows and has stakes in U.S. game companies including Activision Blizzard.
When he founded the company in Nanjing in 1999, Zhao had a staff of just four people and did much of the artwork himself. The company specialized in producing high-quality 3-D art and animation for game developers and publishers. It became one of the leading outsourcing companies, producing work for Electronic Arts and Activision, among others.
Original Force made its foray into Hollywood as the lead animation studio for DreamWorks Animation's "Dragons: Riders of Berk," a television spinoff of the 2010 feature film. It was while working on the Cartoon Network series that Zhao met Rabins, who was a supervising producer on the series.
"We were impressed with the company … and the their skill set and the ambition to do quality work, and Harley's goal to be the highest-quality animation company in China," Rabins said. "He loves animation."
MORE:
Warner Bros. in talks to produce local language movies in China through joint venture
Made-in-China movie draws fire as a copycat of Pixar's 'Cars'
'Mission: Impossible' on top of China box office, 'Monster Hunt' now No. 1 all-time film
---
Get our L.A. Goes Out newsletter, with the week's best events, to help you explore and experience our city.
You may occasionally receive promotional content from the Los Angeles Times.