'Queen Latifah Show' averages 1.8 million viewers in first week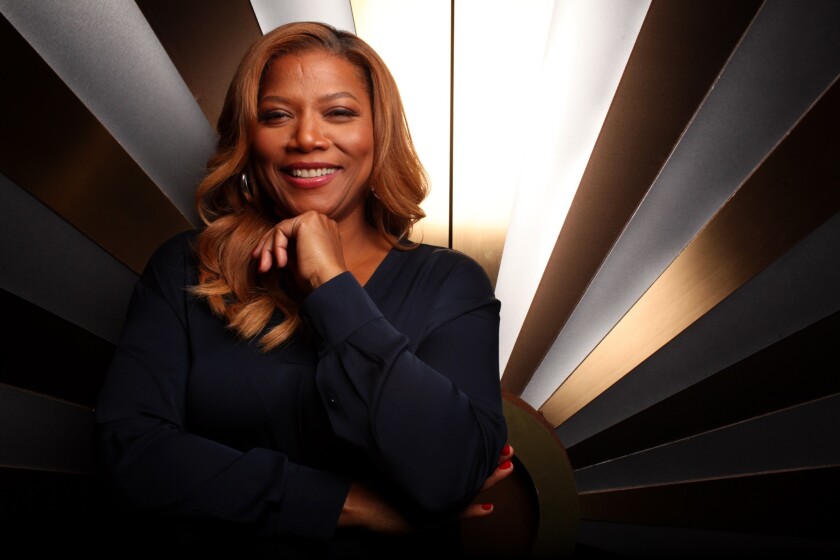 Queen Latifah's resume includes rapping, singing, acting, and now, daytime talk show host. We look back at the multi-talented entertainer's 20-year career.
(Francine Orr / Los Angeles Times)
Queen Latifah on "The Queen Latifah Show" with actor Will Smith, who also serves as the show's executive producer. The daytime talk show debuts Monday, Sept. 16, 2013.
(Associated Press)
Latifah performed a blend of soul and jazz when she headlined the Hollywood Bowl in July.
(Lawrence K. Ho / Los Angeles Times)
Latifah starred alongside Dolly Parton, left, in the musical film "Joyful Noise."
(Van Redin / Warner Bros.)
Latifah starred with fellow rapper-turned-actor, Common, in the romantic comedy "Just Wright."
(David Lee / Fox Searchlight Pictures)
Latifah, left, Diane Keaton and Katie Holmes starred in the comedy-crime film "Mad Money."
(Melissa Moseley / Overture Films)
Latifah, left, and fellow singers-turned-actors Jennifer Hudson and Alicia Keys appeared in the drama "The Secret Life of Bees," based on the bestselling novel of the same name.
(Sidney Baldwin / Associated Press)
Emma Thompson, left, and Latifah appeared in the quirky fantasy comedy "Stranger Than Fiction."
(Ralph Nelson / Columbia Pictures)
Latifah starred in the "Barbershop" film franchise, and the 2005 spinoff "Beauty Shop" with Mena Suvari, center, and Andie MacDowell.
(Sam Emerson / MGM Pictures)
Latifah performed "Lush Life" and "Baby Get Lost" off her 2004 pop and jazz record, "The Dana Owens Album," at the 47th Grammy Awards.
(Robert Gauthier / Los Angeles Times)
Latifah earned a BET Award for her performance in "Bringing Down the House," which also starred Steve Martin.
(Sam Emerson / Touchstone Pictures)
Latifah earned an Oscar nomination for her supporting role as "Mama" Morton in Rob Marshall's on-screen adaptation of the musical "Chicago."
(David James)
Latifah, top left, starred in the Fox comedy series "Living Single."
(Fox)
Latifah earned critical praise -- and an Independent Spirit Award -- for her role as a bank robber in the crime-thriller "Set It Off."
( D.Stevens / New Line)
Latifah released her first album, "All Hail the Queen" in 1989 when she was 19.
(File photo)
It was a good week to be the queen.
Queen Latifah's new talk show averaged 1.8 million viewers an episode during its premiere week, according to Nielsen ratings data.
The hour-long talk and variety show, which debuted on Sept. 16, got off to a solid start. However, it has not delivered blockbuster ratings that some had hoped for.
ON LOCATION: Where the cameras roll
Two more established talk shows attracted larger audiences during the week of Sept. 16. "Katie" with Katie Couric drew an average of 2.3 million viewers each day, according to Nielsen. "The Steve Harvey Show," tucked in with 2.1 million viewers.
But Sony still considers "The Queen Latifah Show" a hit because it has dramatically outperformed the program that it replaced in its time slot on CBS stations last year: "The Doctors." It was the second-highest rated talk show premiere since 2009. Sony pointed out the show was sampled by nearly 10 million viewers in its initial week.
Advertisers also want to be associated with Queen Latifah, as she is one of the most admired celebrities in daytime, according to a recent Q Score survey.
PHOTOS: Hollywood Backlot moments
Sony Pictures Television produces and distributes the show, which is shot before a live studio audience on the Sony lot in Culver City.
Queen Latifah's ratings throttled that of another new freshman talk show, "Bethenny," which features Bethenny Frankel, a break-out star from Bravo's "Real Housewives of New York."
During her first week, Queen Latifah interviewed John Travolta, Jamie Foxx, Will Smith and Jake Gyllenhaal.
[For the record: An earlier version of this story stated the show's ratings did not achieve some expectations, including within Sony Pictures Television. A Sony spokeswoman said the studio has not been disappointed with the show's early performance.]
ALSO:James Cameron wins 'Avatar' legal case
'The Queen Latifah Show' turns in a solid debut
Queen Latifah returns to daytime talk-show arena
Follow Meg James on Twitter: @MegJamesLAT
---
From the Emmys to the Oscars.
Get our revamped Envelope newsletter for exclusive awards season coverage, behind-the-scenes insights and columnist Glenn Whipp's commentary.
You may occasionally receive promotional content from the Los Angeles Times.