Judge allows Sumner Redstone competency case to proceed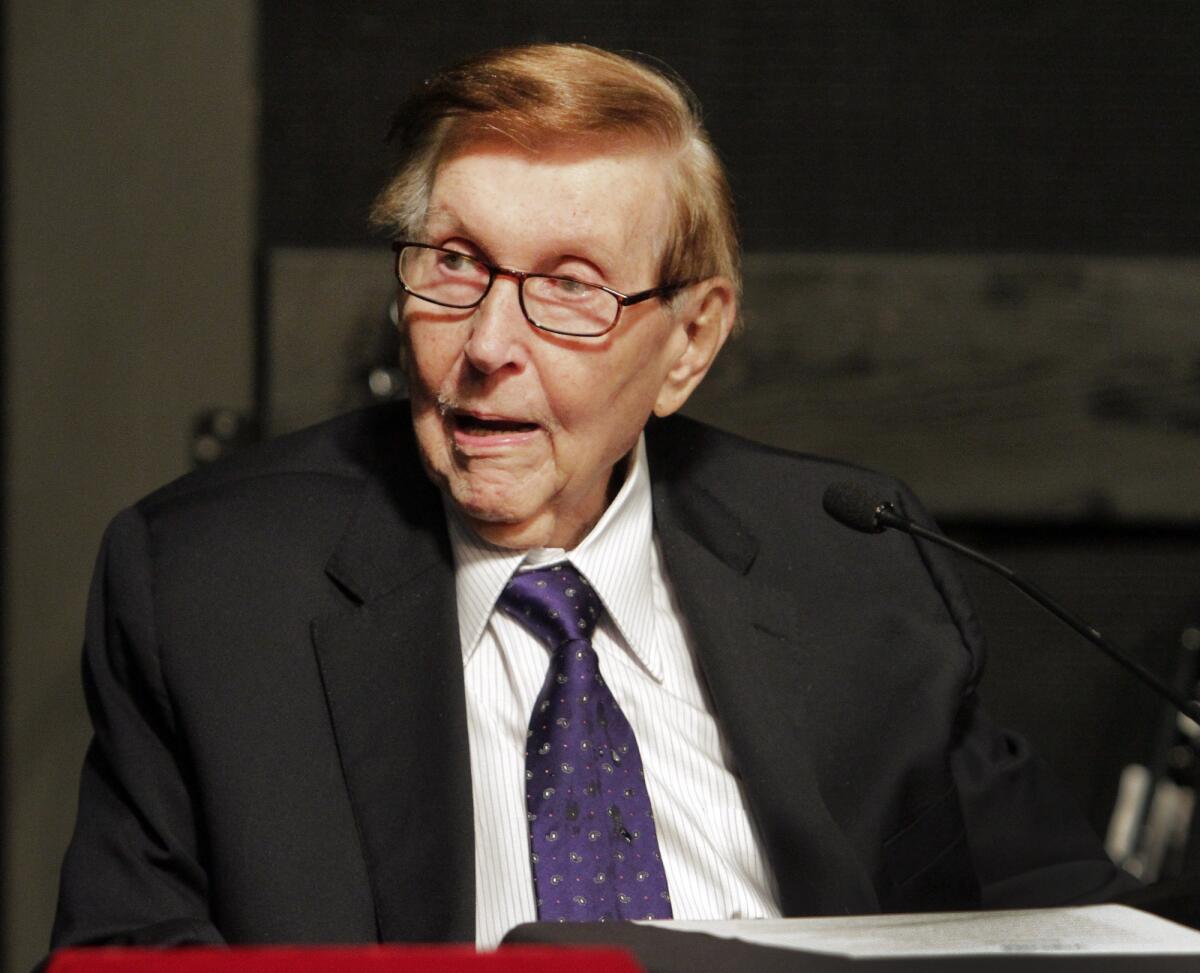 A high-profile lawsuit over the mental competency of media mogul Sumner Redstone is now headed for trial.
Citing concerns about Redstone's healthcare and conflicting accounts about his mental impairments, Los Angeles County Superior Court Judge David J. Cowan on Monday denied a motion by Redstone's lawyers to dismiss a lawsuit brought by his former companion, Manuela Herzer. Instead, Cowan scheduled a five-day trial to begin May 6.
Cowan's decision represents a significant victory for Herzer and her lawyers, who have argued that Herzer last fall was wrongly removed from a position of power. It also prolongs a case that has exposed deep rifts among key players in Redstone's inner circle and raised concerns among investors over the future of New York company Viacom Inc., which owns Paramount Pictures and the MTV, Comedy Central and Nickelodeon cable channels.
In a sharply worded ruling, Cowan said there were too many questions about the 92-year-old's mental capacity and his day-to-day care and too much of a dispute over "whether Redstone has the person who he wants in charge of his care." The billionaire founder of Viacom has a team of nurses who work round-the-clock to attend to his needs, but Cowan questioned the setup.
"Nobody is sufficiently in charge of the ongoing care that Redstone needs," Cowan wrote.
Redstone is the controlling shareholder of CBS Corp. and Viacom Inc. His former companion, Herzer, was in charge of Redstone's household affairs, including overseeing his healthcare regimen until she was abruptly removed from his mansion in Beverly Park in October and removed from his will. At that time, Redstone designated his lieutenant, Viacom Chief Executive Philippe Dauman, as his healthcare proxy.
But Dauman's involvement raised questions for the judge, particularly because Dauman lives in New York and is busy running Viacom.
"The court does not see how a person in charge of a public company in New York has the time or ability to look after Redstone even assuming his best of intentions," Cowan wrote. The judge also was critical that Dauman had tried to avoid giving a deposition — until a New York judge last week ordered Dauman to make himself available. "He did not seem to want to be involved in this case," Cowan said of Dauman's participation.
The case has brought into sharp focus the fractured relationships in Redstone's life.
Until now, few have known the precise reason Herzer, 51, was expelled from Redstone's life. But Cowan wrote that there have been squabbles among the nursing staff charged with Redstone's care. According to a letter written in late October, one nurse blamed another nurse at the house for some of the friction.
"The other nurse, Jeremy Jagiello, had told Redstone that Herzer had lied to and stolen from him, hence the reason for her forced departure," the judge said.
In addition, Cowan said that he was not convinced Redstone had patched things up with his daughter, as Shari Redstone testified in a declaration submitted to the judge in February.
"The court finds it perplexing that Redstone still puts Philippe Dauman, and for that matter, Thomas Dooley, the COO of Viacom, ahead of his own daughter as his agent in case of his incapacity," Cowan wrote in his ruling. "It has to be an unusual situation where a parent still at this late date puts his East Coast business colleagues ahead of an adult child … in terms of his care."
Shari Redstone, vice chair of Viacom and CBS Corp., attended Monday's hearing and sat quietly in the first row and left without making a comment.
"Ms. Herzer's attack on the Redstone family reached a new low with her unfounded claim to the court that Shari's devotion to her father is motivated by money or power, and not love," Shari Redstone's spokeswoman, Nancy Sterling, said in a statement. "The family has no financial interest in the case and always understood and supported Sumner's plan to honor his legacy by leaving his estate largely to charity."
Shari Redstone previously had testified that she has access to a private jet that could whisk her to L.A. on short notice. But she lives in Massachusetts, "not around the corner, even with the ability to come here quickly," the judge said.
The judge referenced a report from Dr. Stephen Read, a psychiatrist brought on by Herzer's side, who examined Redstone in late January and concluded that he was mentally incompetent. Cowan's ruling noted that some of the details in Read's report "are difficult to read in describing how this man is hanging on to life."
In early February, five days after Read's examination, Redstone relinquished his role as executive chairman of the two media companies. Viacom then named Dauman as the company's chairman over objections by Shari Redstone.
"Sumner Redstone is marooned and a prisoner of his home in Beverly Park," Pierce O'Donnell, Herzer's lead attorney, said outside the courthouse. "Sumner Redstone has lost his capacity and maybe even worse, he has been preyed upon by those around him: his nurses; his daughter, Shari; and Philippe Dauman."
Redstone's attorneys had asked the judge to dismiss Herzer's petition, saying the case is an unwarranted invasion of the billionaire's privacy.
"Surving a motion to dismiss is a far cry from winning her petition," said attorney Gabrielle Vidal, who represents Sumner Redstone. "This decision is not a finding on the merits and it does not change the fact that Ms. Herzer's motives are purely financial."
"We are confident that when the Court has evaluated the evidence it will determine that Mr. Redstone had capacity to change his health care directive and that Ms. Herzer should have no role in his life whatsoever," Vidal said.
The judge on Monday also postponed a ruling on whether to keep sealed certain documents in the court case. The Los Angeles Times, the Hollywood Reporter and Variety last week asked the court to keep the documents open.
Cowan acknowledged there were legitimate concerns about protecting Redstone's privacy but said "the court also does not want any sealing of records to interfere with what evidence may be received at trial that is by its nature public."
meg.james@latimes.com
From the Oscars to the Emmys.
Get the Envelope newsletter for exclusive awards season coverage, behind-the-scenes stories from the Envelope podcast and columnist Glenn Whipp's must-read analysis.
You may occasionally receive promotional content from the Los Angeles Times.