Relativity Media spirals into bankruptcy; on the hunt for a buyer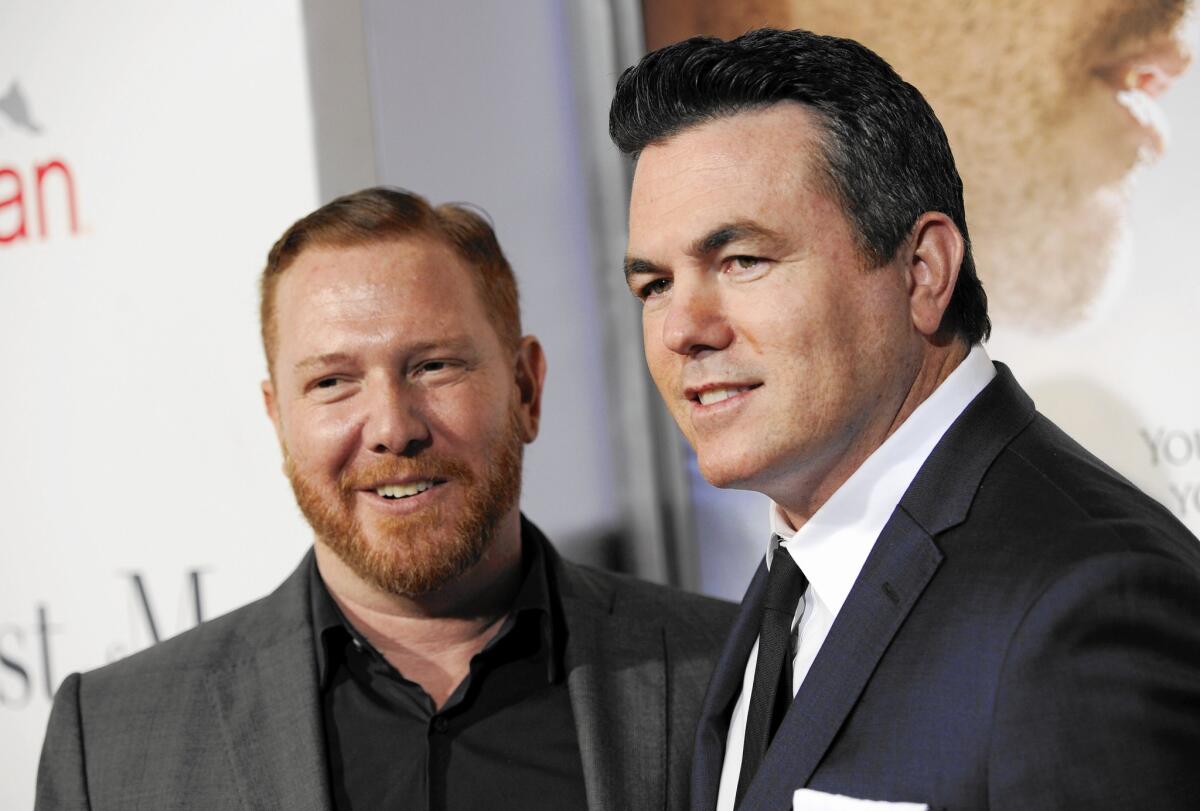 Movie mogul Ryan Kavanaugh's Relativity Media is on the hunt for a buyer as the beleaguered film and TV studio has spiraled into bankruptcy, a move that marks a historic retreat for the Hollywood impresario.
The 11-year-old studio behind movies such as "Limitless" and "The Social Network" and TV shows including MTV's "Catfish" is hoping to avoid a fraught and protracted process as it restructures its business. Relativity owes some $320 million to creditors.
Kavanaugh entered the film business as a highflying entrepreneur with a promise to shake up Hollywood with a combination of savvy deal-making and mathematical formulas to avoid box-office bombs. But with a heavy debt load and a weak film slate, the company has found itself against a wall.
Stunning photos, celebrity homes: Get the free weekly Hot Property newsletter >>
The company said the bankruptcy process will enable it to continue operating while getting its financial house in order. This week the company eliminated 75 of its 350 full-time positions. It will also wind down its fashion business, one of many non-film units into which Kavanaugh expanded over the years.
The Chapter 11 filing does not include Relativity Sports, Relativity EuropaCorp Distribution and Relativity Education — businesses in which Relativity is not a majority owner.
"The actions we are announcing today will protect our valuable franchise and allow us to emerge as a stronger, more focused company," Kavanaugh, Relativity's chief executive and chairman, said in a statement.
Kavanaugh will continue to lead the company through the bankruptcy process, and clearly hopes that it will emerge unscathed. He may make his own bid for the company, according to people close to the matter who were unauthorized to speak.
However, an auction of Relativity could lure rival entertainment companies to enter the bidding process. Big television and film studios might try to scoop up pieces of Relativity, or even specific TV or film projects.
Some of Wall Street's big hedge funds and private equity firms are also considered to be potential buyers. For instance, firms such as TPG Capital have shown an increasing interest in Hollywood with an investment in mega-talent agency CAA and some film studios.
Big Chinese media and investment firms have also shown a keen interest in Hollywood lately. Conglomerate Dalian Wanda Group and e-commerce giant Alibaba have looked into deals or partnerships with studios.
Relativity has a number of lucrative film projects that have been temporarily put on hold as the company faced down financial troubles. It still plans to release its biggest films, the Zach Galifianakis-Kristin Wiig comedy "Masterminds" and the Halle Berry action flick "Kidnap," but did not say when they would hit theaters.
The fates of the many other movies on its slate — including the horror film "Before I Wake," directed by Mike Flanagan, and "The Bronze," purchased from Sony at Sundance — remain up in the air. The studio is likely to unload multiple projects, according to people with knowledge of the matter.
In at least one case, Relativity reached a deal with a producer to give back the rights to a film. David Boies, a Hollywood lawyer who also is a producer, was able to do this with his upcoming movie "Jane Got a Gun" in the days leading up to the bankruptcy filing.
Boies feared that Relativity's financial problems would have made a timely wide release for the film next to impossible.
"That was obviously going to be a problem given the reorganization they're going through right now," Boies said. "We thought it would make sense for both parties to get the film back and move it forward with someone else. We're trying to figure out what's going to happen and when over the course of the next couple of weeks."
Relativity said its TV show "Limitless," based on the 2011 Bradley Cooper movie of the same name, will still debut on CBS in the fall. The value of reality shows such as "Catfish" could be attractive to potential buyers. Relativity said it would continue to develop versions for audiences outside the U.S., as well as its sequel "Truce," which is currently in production.
Blackstone Group, the New York private equity giant, has been hired to manage the auction for Relativity's assets.
Kavanaugh had been scrambling in recent weeks to come up with the money that would pay off debt owed to creditors such as Anchorage Capital Group but ultimately could not keep the lenders at bay. Making matters worse, Relativity has failed to put out a breakout hit since 2013, when it released the Nicholas Sparks-based romance "Safe Haven."
Relativity said it made an agreement with an entity set up by a group of its lenders to make a starting bid at an undisclosed price to kick off the auction process. The company hopes a sale will close by early October.
A quick sale would be ideal for the company, said bankruptcy law experts.
"You don't want to have the company sit there and have its best employees leave and have companies that might work with them go elsewhere," said Mark S. Scarberry, a law professor at Pepperdine University who specializes in Chapter 11.
Meanwhile, the firm said it has secured $45 million in financing from lenders to keep running while in bankruptcy.
The company is seeking further loans to pay for the marketing of movies that it plans to release.
MORE:
Relativity Media files for Chapter 11: What you need to know
The mini-mogul behind Relativity Media said he'd change Hollywood, now studio files bankruptcy
From the Oscars to the Emmys.
Get the Envelope newsletter for exclusive awards season coverage, behind-the-scenes stories from the Envelope podcast and columnist Glenn Whipp's must-read analysis.
You may occasionally receive promotional content from the Los Angeles Times.