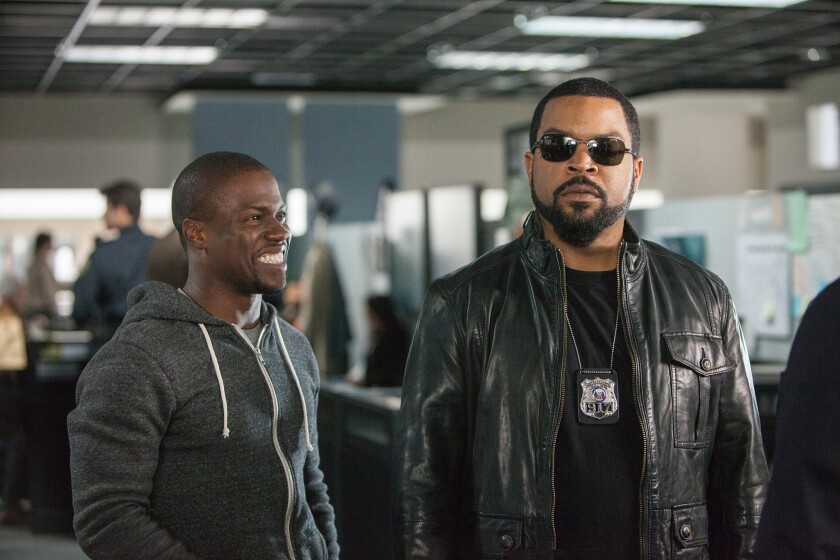 The box office power of "Star Wars: The Force Awakens" wore off this week as Universal Pictures' "Ride Along 2" unseated the latest chapter in the space saga from the top spot it's held for four weeks.
The sequel to the 2014 buddy cop comedy hit starring Kevin Hart and Ice Cube grossed an estimated $34 million in the U.S. and Canada through Sunday. This sets up the film to retain the first place spot through the Martin Luther King Jr. Day weekend to meet, if not exceed, its $40 million to $45 million in expected ticket sales through Monday.
SIGN UP for the free Indie Focus movies newsletter >>
"I think it starts with the filmmakers and the cast," said Nick Carpou, Universal's president of domestic distribution. "In sequels, audiences always play off of how much people like the characters the first time. As we're trending to be No. 1 for the four-day holiday, our audience is wide and diverse."
The first "Ride Along" was a surprise hit over the same holiday weekend two years ago when it launched to an impressive $48.6 million domestically thanks to an especially strong turnout of black moviegoers. The follow-up continued to benefit from the box-office draw of Hart and Ice Cube as the duo (along with Tika Sumpter, Benjamin Bratt, Olivia Munn and Ken Jeong) pulled in a diverse audience playing equally (34% each) to blacks and Latinos.
The Tim Story-directed film, however, received only a 14% positive rating by critics on Rotten Tomatoes. Audiences gave it a B-plus grade, according to polling firm CinemaScore.
Also topping "Star Wars" was 20th Century Fox's "The Revenant," perhaps thanks to multiple wins at last week's Golden Globe Awards (it won best motion picture drama, best director for Alejandro G. Iñárritu and lead actor for star Leonardo DiCaprio) and a host of Oscar nominations announced Thursday.
The revenge drama garnered $29.5 million in its fourth week after an initial limited release. It has grossed $87.7 million to date.
Disney's "The Force Awakens" did take a third place finish with $25.1 million. It continues its record-setting run, crossing $1.9 billion globally. The J.J. Abrams-directed seventh installation of the franchise also nabbed five Oscar nominations, including for visual effects and editing.
Newcomer "13 Hours: The Secret Soldiers of Benghazi," from Paramount Pictures, landed in fourth place with a comfortable $16 million in ticket sales, on its way to besting expectations of $20 million during the four-day weekend.
The Michael Bay action-thriller tells the story of six elite security contractors who fought back against the Sept. 11, 2012, attack on a U.S. diplomatic compound in Benghazi, Libya, that killed Ambassador J. Christopher Stevens. Hoping to tap into the same patriotic audience that turned out for other recent military hits such as "American Sniper" and "Lone Survivor," the film did not perform as well as those, perhaps due to the broader political conversation during this election year.
Some Republicans, who have long criticized presidential candidate Hillary Clinton for her handling of the crisis in Benghazi while she was secretary of State, have tried to capitalize on the release of the movie. The studio insists that the movie, however, is not political and is not about Clinton. Its politicization however did undoubtedly have an effect on its performance.
"It's hard to not get caught up in the swirl of politics," said Megan Colligan, Paramount's president of domestic marketing and distribution. "But the movie doesn't have a big political agenda. It's just trying to focus on what these guys went through and how incredible their sacrifice was. I think when word of mouth is allowed to percolate, that's the thing that can help break through the swirl of everything else."
Audiences gave the $50 million film an A CinemaScore grade while Rotten Tomatoes critics were split, rating "13 Hours" 59% positively. The film played best in the South, 25% better in Florida and Texas.
Rounding out the top five was Paramount's "Daddy's Home," adding $9.3 million in its fourth week.
The only other new release of the week was Lionsgate's animated adventure "Norm of the North," about a displaced Arctic polar bear in New York City. It landed in sixth place, meeting expectations, with an estimated $6.7 million.
The film received an A-minus CinemaScore from the under 18 segment of the survey (48%) and an overall score of B-minus.
On the limited release front, a number of holdovers experienced upticks in sales following the Golden Globes and Oscar nominations. Fox Searchlight's "Brooklyn" performed well with an estimated $1.7 million in 687 theaters. The film received three Oscar nominations, including one for lead actress Soairse Ronan and best picture.
A24's "Room" performed more than 500% better than last weekend despite increasing to only 293 screens. Buoyed by its four major Oscar nominations (best picture, lead actress, director and adapted screenplay), the film took in its biggest box office weekend yet on its way to an $893,000 weekend in fewer than 300 theaters.
Get your life! Follow me on Twitter: @TrevellAnderson.
---