Shari Redstone will play a key role in what happens to Paramount, MTV and CBS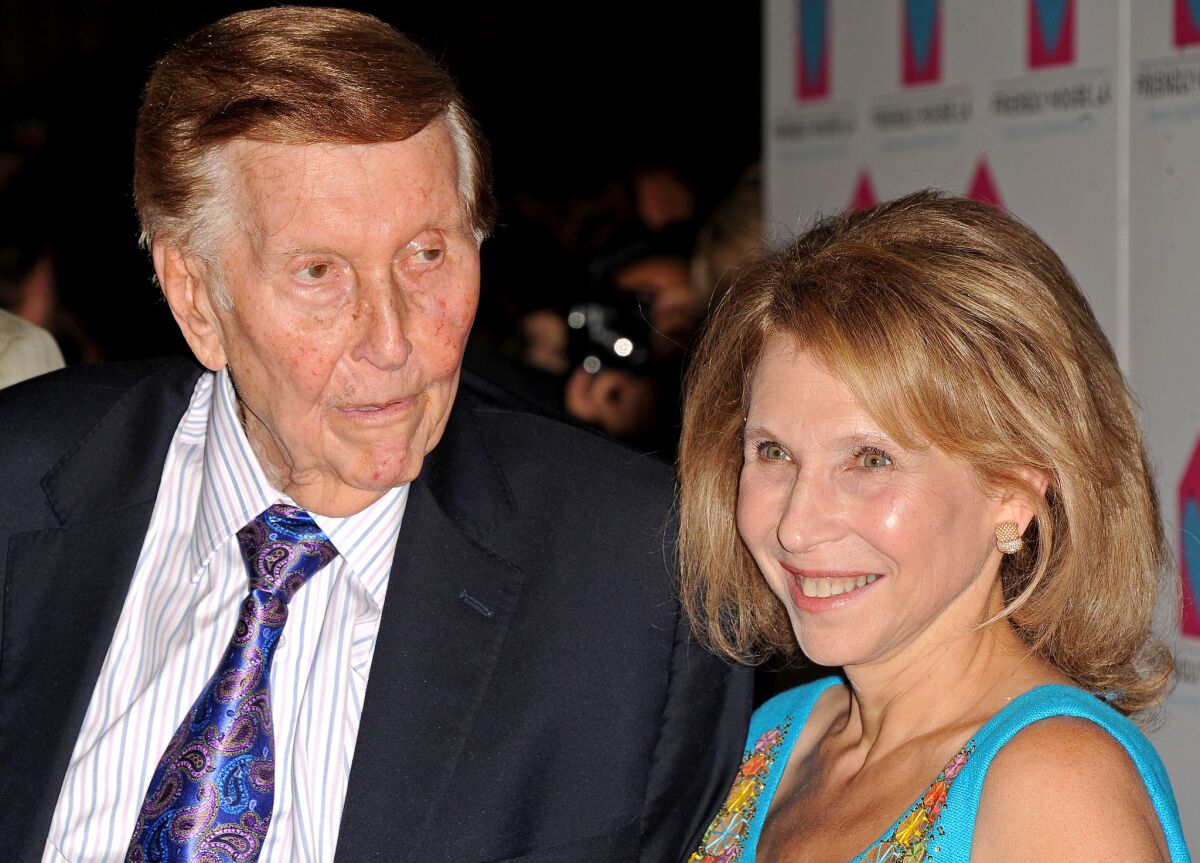 Shari Redstone is emerging from the long shadow of her larger-than-life father, Sumner Redstone.
The feisty 61-year-old former attorney is stepping into the spotlight to exert her influence in the affairs of Viacom Inc. and CBS Corp. — even if it means bucking her father's wishes for who should lead one of the storied media companies.
The daughter of ailing mogul Sumner Redstone suffered a defeat this month when Viacom's board rebuffed her concerns about naming Philippe Dauman as chairman of the company.
The vote put Shari Redstone squarely at odds with her 92-year-old father and his handpicked successor, Dauman. Nonetheless, she is intent on remaining a key player in determining the future of CBS and Viacom, which boasts such culture-defining assets as Nickelodeon, MTV, Comedy Central and the Hollywood movie studio Paramount Pictures.
SIGN UP for the free California Inc. business newsletter >>
Shari Redstone owns 20% of National Amusements Inc., the family's investment vehicle that holds the controlling shares of Viacom and CBS. She also is one of seven trustees who will eventually oversee her father's stock interests in the two companies, potentially determining whether the companies are reunited or sold off in pieces. Viacom's stock has tumbled amid the uncertainties about the company's future and the lackluster performance of its signature business units.
"It is such a sad, tortured situation," said Jeffrey Sonnenfeld, senior associate dean for leadership programs at the Yale School of Management. "She is locked in this frustrating paralysis."
Shari Redstone and her father have famously clashed over the years. Disputes have often centered on who would lead the companies after he was no longer able to do so.
During a family squabble, Sumner Redstone in 2007 offered to buy his daughter out of the family business. Then in late 2014 he offered her $1 billion to surrender her stake in National Amusements, according to people familiar with the proposal. She declined.
Shari Redstone declined to be interviewed for this story. But in recent court documents she acknowledged the friction within her family.
"My father and I have a uniquely close relationship, both as father-daughter and professionally," Redstone said in a court filing. "In the past we have had very public disagreements over business matters. We have patched those up, and family has always been the most important thing to me."
Shari Redstone grew up in Newton, Mass., and once worked as a summer intern at Paramount Pictures. She graduated from Tufts University and earned her law degree from Boston University, specializing in tax law. She lives outside of the city, speaks with a distinct Boston accent and is a passionate fan of the New England Patriots.
Redstone worked as a criminal defense attorney before putting her career on hold to raise a family. When she returned to the workforce, she joined the family business, which started with movie theaters in the Northeast.
In Hollywood, she is known for helping launch the trend toward luxury cinemas. Since 2000, she has served as president of the family's holding company, which includes the theater chain National Amusements that boasts more than 900 screens in theaters in the U.S., Britain, Brazil and Argentina.
"She is very determined and in her own way, she was a visionary in our business," said Paul Heth, her former business partner and current chief executive of Karo Films, a leading Russian cinema company. "The one thing about Shari, she is unbelievably driven and focused."
See more of our top stories on Facebook >>
For several years, Heth helped Redstone operate the Bridge, an upscale theater in West L.A. off the 405 Freeway, which has since been sold to Cinemark. She also pushed to expand National Amusements into Russia, where she and Heth owned and ran a chain of six theaters before selling them in 2011.
Redstone subsequently launched a small venture capital firm, Advancit Capital, with her son-in-law Jason Ostheimer. It invests in start-ups in the technology and media space.
Over the years, she has repeatedly sparred with her strong-willed father, often about corporate succession.
In one notable flare-up in 2007, Sumner Redstone publicly disparaged his daughter.
"While my daughter talks of good governance," Sumner Redstone wrote in a letter published by Forbes, "she apparently ignores the cardinal rule of good governance that the boards of the two public companies, Viacom and CBS, should select my successor…. It must be remembered that I gave to my children their stock; and it is I, with little or no contribution on their part, who built these great media companies."
For months, father and daughter communicated by fax.
Relations thawed in the fall of 2008 when the Redstones came precariously close to losing their empire. Amid the financial crisis, banks called in $1.6 billion in loans the Redstones had used to make investments, including for theater expansion. Shari Redstone worked alongside the family's attorneys to restructure the debt and preserve their holdings.
But Shari Redstone was once again sidelined in recent years as her father's much younger girlfriend, Sydney Holland, and another companion, Manuela Herzer, played central roles in the mogul's life — until last fall.
Herzer, 51, in November filed a lawsuit that alleged that Sumner Redstone is no longer mentally competent. The petition came about six weeks after Sumner Redstone cut Herzer out of his will. Until then, Herzer was in line to receive $50 million from Redstone, as well as his Beverly Park mansion, worth $20 million, according to a court document filed last week.
Shari Redstone has contended that the women drove a wedge between her and her father. She also noted in a court declaration filed this month that Herzer had already received $70 million in gifts from Sumner Redstone since 2009.
"Once Ms. Herzer was out of my father's life, my family and I were able to reunite with my father," Shari Redstone said in a declaration filed this month.
An attorney for Herzer, Pierce O'Donnell, has disputed Shari Redstone's claims and said Herzer's privacy had been invaded.
"While Shari was an absentee daughter, Manuela was at Sumner's side assuring that he had the very best health care," O'Donnell said in a statement. Shari Redstone, in her declaration, said she has visited her father 39 times since late October.
Another dispute became public this month when Sumner Redstone led the Viacom board's 10-1 vote in support of Dauman as chairman. That came after Shari Redstone took herself out of the running and said the chairman should be someone who is independent and not "intertwined in Redstone family matters."
Her hands might be tied at the moment.
"There is not much that she can do now, unless she can get her father to change his mind," said Louis A. Mezzullo, a San Diego County attorney who deals with business succession and estate planning. "As long as Sumner Redstone controls the 80%, then what he says goes, and Dauman will be in charge at Viacom — at least until her father is declared incompetent or dies."
When that occurs, the Sumner M. Redstone Trust goes into effect. The trust will oversee Sumner Redstone's 80% stake in National Amusements Inc., which controls Viacom and CBS.
The mogul established the trust and named his five grandchildren as beneficiaries. Shari Redstone is one of seven trustees along with one of her sons, Tyler Korff, who has a law degree and is a rabbi. Dauman also is a trustee.
"My singular objective is to protect and build value for all of Viacom's shareholders and in doing so, for all the beneficiaries of Sumner's trust, who not only include the descendants of his daughter — but also those of her brother," Dauman said during a call last week with Wall Street analysts.
Shari Redstone's brother, Brent Redstone, also has had conflicts with her and Sumner Redstone. A decade ago Brent Redstone filed a lawsuit looking to break up National Amusements. To settle the suit, Sumner and Shari Redstone bought out his stake in the company for about $250 million.
All of this probably sets the stage for a protracted battle over what happens to Viacom and CBS.
"There is nothing that makes family members hate each other more than fights over money or control," Mezzullo said. "It will be interesting to see how this all plays out. It looks like a prescription for a lot of contention, family tensions and lawsuits."
Follow me on Twitter: @MegJamesLAT
ALSO
Republican debate ratings are growing again, with 13.51 million viewers on Saturday
'Star Wars' film production company sued for Harrison Ford accident
Profane superhero 'Deadpool' kills it at the box office over 'How to Be Single' and 'Zoolander 2'
---
From the Oscars to the Emmys.
Get the Envelope newsletter for exclusive awards season coverage, behind-the-scenes stories from the Envelope podcast and columnist Glenn Whipp's must-read analysis.
You may occasionally receive promotional content from the Los Angeles Times.