Comedy duo starring on YouTube segue to big screen with 'Smosh: The Movie'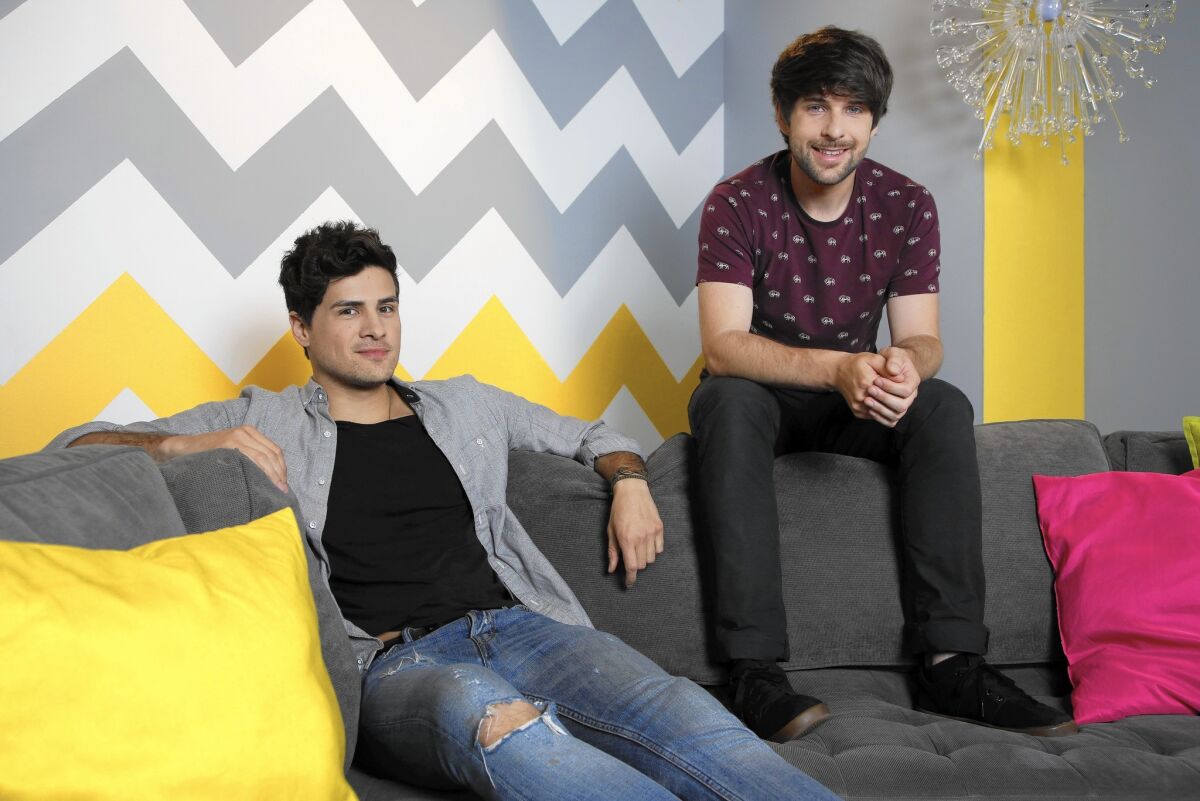 Anthony Padilla and Ian Hecox will star in their first feature film that debuts this week at the renowned Westwood Village Theater, one of Hollywood's go-to venues that's premiered movies as varied as "A Star Is Born" and "Harry Potter."
The 27-year-olds also will have their likenesses on display at Madame Tussaud's wax museum in San Francisco alongside Oscar-winning luminaries including George Clooney, Alfred Hitchcock and Audrey Hepburn. And with millions of fans worldwide, Padilla and Hecox have amassed a net worth that has financial magazine Forbes guessing.
Never heard of them? Chances are your nearest teen follows them on YouTube, where the comedy duo has cranked out some 3,000 sketches to adoring fans under the moniker Smosh for the last 10 years. Their 35 million subscribers have transformed them into something of a blueprint for aspiring online stars armed with a selfie stick and a camera.
"We weren't seeking fame or recognition in any way. It all just came out of nowhere really," Padilla said. "We didn't plan for any of this to happen. I was extremely shy in high school. Ian was pretty funny. But we both weren't actors."
The Sacramento natives, who have been friends since sixth grade, began making videos in high school using Padilla's webcam in his bedroom. Videos vary in length, and include takes on movies ("What if the Fast and Furious was real?") and parody sketches ("Every Blank Ever").
Smosh boasts five YouTube channels, a combined 35 million subscribers, 20 million social media followers and 17 million unique monthly visitors. They have a blog, an app, a video game, four music albums and a slew of merchandise available for purchase.
The comedic duo's next feat is "Smosh: The Movie." The $5-million budgeted film is expected to rack up views from fans purchasing it for $9.99.
------------
FOR THE RECORD
July 21, 8:18 a.m.: This article states that "Smosh: The Movie" was budgeted at $5 million. The film cost less than $5 million to make.
------------
It won't screen in theaters, other than Wednesday's Westwood premiere. Fans can instead watch the film when it's available on-demand from iTunes, Google Play, Vudu, PlayStation, M-Go, Nook, Xbox, CinemaNow, Verizon FiOS and Comcast Xfinity.
Padilla and Hecox will also show the film Thursday at this year's VidCon convention, a three-day event at the Anaheim Convention Center that links some 20,000 attendees with digital stars.
The 83-minute film follows Hecox and Padilla jumping into YouTube to stop an embarrassing video from getting out before their high school reunion. It also features other YouTube stars such as Jenna Marbles, Grace Helbig, Harley Morenstein and Shane Dawson.
Padilla and Hecox have come a long way from when they first started uploading videos. The duo used to host videos on smosh.comwhich Padilla had created in his website design class after an inside joke formulated around the word. Most of the earlier videos were of the friends lip-syncing to songs.
After that, they began putting videos on Myspace and eventually YouTube, where they caught the attention of former Disney executive Barry Blumberg.
Blumberg oversaw production of several animated franchises, including Disney's "Kim Possible." Smosh's viral fame at such an early time in the digital world prompted Blumberg to arrange a meeting with Hecox and Padilla in Los Angeles to discuss their future.
"Barry said to us, 'If you keep doing this, you won't have to have a real job,'" Padilla recalled. "We were like, 'Haha, right.'"
The pitch worked. Hecox quit his job at Chuck E. Cheese so he and Padilla could work on their videos full time.
"We didn't look at the universe as just making videos for YouTube," said Blumberg, who helped build Smosh's brand. "We looked at it as making videos for YouTube, making content for our website, selling merchandise, engaging and building a social footprint."
The Smosh brand is now owned and operated by Defy Media, a Los Angeles creator of digital content geared toward millennials. The company, which has investors such as Viacom and Lionsgate, produces, distributes and promotes content. It partnered with DreamWorks-owned YouTube network AwesomenessTV to produce "Smosh: The Movie."
Defy does not disclose financial information for its brands. However, Forbes projected Smosh earned $10 million in 2013. Sales come from a combination of ad sharing with YouTube, ads on smosh.com, merchandise sales, sponsored videos and downloads.
"We've stayed around because we've constantly evolved our content," Hecox said. "We just want to keep expanding Smosh."
The Smosh team has built a financial empire that other aspiring online video stars can use as a model to launch their own careers. Their movie also marks a shift in digital stars expanding beyond short form to low-budget, high-quality films.
Other digital stars have already seen success with similar movie roles. "Expelled," which features Vine star Cameron Dallas, launched in limited theatrical release in December 2014; and YouTube stars Helbig, Hannah Hart and Mamrie Hart released "Camp Takota" in February 2014.
"I think everyone wants to get in on the action," said Paul Verna, an analyst at EMarketer. "We are going to see more of these kinds of digital film releases."
What makes digital stars popular is that many younger fans can relate to them in a way they can't with major movie stars. And many of them have aspirations of making it big and dream of being plucked from obscurity amid the 300 hours of YouTube videos uploaded every minute.
Many of those aspiring digital celebrities will attend VidCon, which runs Thursday to Saturday. It has become a forum for fans, aspiring creators and players in the digital space to celebrate and discuss the ever-growing online video world.
There were just 1,400 attendees when Hecox and Padilla attended the first VidCon five years ago. The duo said they were able to walk around freely and interact with fans in a much smaller venue. Now, they will be escorted by two to three security guards in a packed convention center.
This year, panels and keynotes feature popular digital stars and executives, including YouTube Chief Executive Susan Wojcicki and Yahoo Global News chief Katie Couric. Also on hand will be entertainment companies promoting their big online creators, including those who are starring in upcoming digital movies.
The question, however, remains: Can a fan following guarantee success for a digital film? Only time — and number of downloads — will tell.
"At the end of the day," Verna, of EMarketer, said, "a star is a star."
---
From the Oscars to the Emmys.
Get the Envelope newsletter for exclusive awards season coverage, behind-the-scenes stories from the Envelope podcast and columnist Glenn Whipp's must-read analysis.
You may occasionally receive promotional content from the Los Angeles Times.