With 'The Voice on Snapchat,' NBC opens a new front for itself and advertisers
Forget pop stars in spinning chairs. NBC will find out if swiping thumbs can help boost the network's reach among young viewers.
On Monday, NBCUniversal will team up with Snapchat, the photo messaging app, by providing mini TV shows that are offshoots of its established properties.
The rollout begins with "The Voice on Snapchat," a five-part series in which this season's coaches — Alicia Keys, Miley Cyrus, Adam Levine and Blake Shelton — judge user-submitted videos, with winners potentially appearing on the Sept. 19 broadcast premiere of the reality competition's 11th season.
The partnership between Comcast-owned NBCUniversal and Snapchat Inc. not only underscores the photo-based messaging app's ambitions to grow beyond a communication platform into a viable entertainment destination, but also highlights Hollywood's race to seize the attention of young viewers who would rather surf apps than TV channels.
The Venice company has been in talks for months with TV networks and studios about producing original series for its Discover section, a coveted area on the app where more than 100 million people worldwide each month interact with articles and videos from ad-supported publishers such as People, BuzzFeed and the Wall Street Journal.
The largely text-based stories now will share the stage with more TV-like programming. The deal with NBCUniversal allows Snapchat to get high-quality content from established brands, accelerating the firm toward a $1-billion revenue goal for next year. The studio benefits from being invited to sit at the lunch table alongside Snapchat's users, who include more than 60% of U.S. smartphone users younger than 35.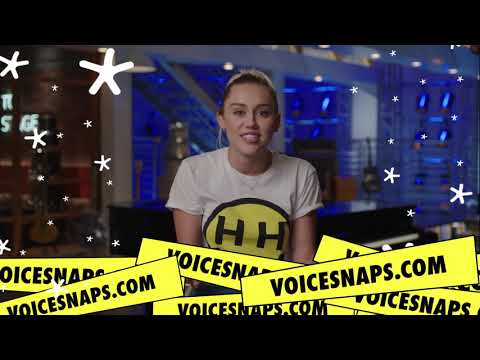 'The Voice' is launching a Snapchat series and Miley Cyrus wants your entries.
Ron Lamprecht, executive vice president of business development and digital distribution at NBCUniversal, said traditional media companies are struggling to reach younger viewers.
"[Snapchat] is a very young platform, but it's got massive usage, massive growth," Lamprecht said. "It's just logical for us to want to partner with them in a big way."
NBC isn't the first media company to get into business with Snapchat. The platform already carries content from the likes of Viacom's Comedy Central and MTV. And other TV companies, including Turner Broadcasting, are exploring new ways to partner with the platform to expose their programming to an important group that is less inclined to watch TV the old-fashioned way.
Snapchat is how those people stay informed and entertained, said Melanie Shreffler, senior insights director at the Cassandra Report, a youth culture research firm. "They just feel more connected with society overall in that medium. That brands want to be able to tap into that just makes sense."
The media companies have other options. Facebook is handing millions of dollars to top producers in exchange for more videos. Twitter spent $10 million to stream a slate of National Football League games beginning next month. YouTube, Hulu and Amazon.com remain cash-rich buyers, and Apple is said to be in the mix for some programming as well.
Snapchat doesn't pay upfront. It has asked instead for minimum payments from publishers desiring placement in Discover, tech news website the Information reported in May. The video makers recoup the cost through ad sales.
The terms haven't scared away studios though because Snapchat continues to give them prominent placement. Whereas an NBC video on Facebook might appear next to a silly video from someone's cousin, videos on Discover get treated differently from most amateur content.
Network and studio executives credit Snapchat for baking in an advertising model early, compared with Facebook's reluctance to rapidly expand revenue-sharing with video makers. A key selling point for NBCUniversal in its multiyear agreement with Snapchat is the studio's ability to develop and sell ad packages using the platform's portfolio of ad products.
With its one-day countdown clock before content vanishes, Snapchat creates a sense of urgency among viewers that benefits media companies — a sentiment that's increasingly rare as clips become easier to pull up on demand online.
But most importantly, desperate to reach younger viewers, the entertainment world sees Snapchat as one of the most potent social media platforms — in some cases, even stronger than Facebook — to reach teens and young adults.
The dynamics of deal making with Snapchat have only emboldened media companies to push for more favorable treatment elsewhere, including Facebook, which would prefer its sales team handle the selling of ad packages. The notion has been met with resistance by TV companies, which are looking for ways to profit from their investment. Facebook didn't have immediate comment.
Snapchat pointed to a previous statement from Vice President of Content Nick Bell, saying, "Together with NBCUniversal, we believe there is a huge creative and commercial opportunity around mobile-first programming."
Advertisers are sure to like NBC's deal with Snapchat. They too want to reach younger consumers, but they also want their purchases to sit alongside certain content. When it comes to publishers such as the Wall Street Journal or BuzzFeed, it can be difficult to know what stories or videos might run the day of the ad.
The most-read Entertainment stories this hour »
"They could breaking some celebrity news we don't want to align with," said Craig McDowell, associate media director at ad agency Crispin Porter + Bogusky.
On Thursday, CP+B ran a 10-second Snapchat ad for underwear maker Fruit of the Loom inside Comedy Central's channel on Discover — a perfect spot, McDowell said, for an ad meant for young men who like humor.
Snapchat described the arrival of more single-narrative videos, versus the multi-storyline emphasis of existing Discover channels, as a natural extension of its service. Well-known TV shows bring established audiences who are used to seeing ads before clips, and the series allow the possibility of deeper, longer branding deals.
"These shows are something brands are more used to; it's something that could sway them" to a nascent service they remain hesitant about spending on, said Matt Lang, senior social strategist at digital agency RAIN.
NBC has already been working with Snapchat on a dedicated Olympics channel. But this new deal takes things one step further.
Other Snapchat shows from NBCUniversal are set to include "The Rundown," an E! News weekly pop culture series with segments that can only be seen on Snapchat, as well as spinoffs from "The Tonight Show Starring Jimmy Fallon," "Saturday Night Live," and other brands in the company's portfolio.
"My hope is six months from now we'll have a handful of really strong performing intellectual properties that's come out of this new initiative," NBC's Lamprecht said. "And if we can create a hit series outside our established properties, that would be the holy grail. That would be a sign that we've really learned how to program for this platform."
Twitter: @villarrealy, @peard33
ALSO
How talent agencies help athletes who 'transcend sports' cash in on Olympics heroics
Viacom power struggle ends with Shari Redstone ushering in a new era for the media company
From the Oscars to the Emmys.
Get the Envelope newsletter for exclusive awards season coverage, behind-the-scenes stories from the Envelope podcast and columnist Glenn Whipp's must-read analysis.
You may occasionally receive promotional content from the Los Angeles Times.