Exclusive: A year after the hack, Sony's chief explains how Hollywood heals its wounds
Once every two or three weeks, when Michael Lynton is eating lunch at a restaurant or traveling for business, someone brings it up.
It's usually an acquaintance, but it's sometimes a stranger. Either way, it's someone who has read excerpts of emails stolen from the 55-year-old chairman of Sony Pictures Entertainment as part of the massive computer hack that began a year ago.
SIGN UP for the free Indie Focus movies newsletter >>
Though he finds those conversations strange, he mostly brushes it off. Lynton — and Sony — wants to keep the worst cyberattack in American corporate history squarely in the rear-view mirror.
"When you walk around the studio now, oddly, it feels very much the way it did before the hack," Lynton said. "It feels like we're back to normal and that we're very much down to business. And that to me is the greatest triumph."
Lynton's tone stands in contrast to the atmosphere during the months after cyberterrorists launched a devastating attack on Sony's computer systems in response to the studio's decision to release "The Interview," a film that depicted the fictional assassination of North Korean dictator Kim Jong Un.
The assault, which the U.S. blamed on North Korea, went public Nov. 24. The hackers wiped data from the studio's servers, exposed the personal information of tens of thousands of people, and revealed embarrassing emails between executives and filmmakers, including racially tinged jokes between then-studio chief Amy Pascal and producer Scott Rudin.
In the darkest moments, employees received intimidating messages, and movie theaters that planned to screen "The Interview" were threatened with a 9/11-style terrorism attack. Executives were widely criticized for greenlighting the movie, while free speech advocates and President Obama rebuked Sony's leadership when they briefly appeared to halt the release.
There are growing signs that the storm clouds are parting over the Culver City lot of the studio, owned by the Tokyo electronics giant Sony Corp., and employee nerves have calmed.
Seth Rogen, who starred in and co-directed "The Interview," said life for Sony filmmakers is back to normal. Rogen still has an office at Sony, which is releasing his new Christmas comedy "The Night Before" this week. Rudin and Pascal are working together on a follow-up to "The Girl With the Dragon Tattoo."
"I feel like work heals all wounds in Hollywood in some capacity," Rogen said.
Lynton still eats lunch at a long, open table in the studio's commissary and holds breakfast with groups of 20 to discuss the business. These days staff members ask less about cyberproblems and more about the future or the studio and its movie strategy.
Former Fox Filmed Entertainment head Tom Rothman, who replaced Pascal as Sony's motion picture group chairman, is trying to reinvigorate the studio's movie business, currently ranked fifth out of the six major studios domestically. It was last No. 1 in 2012.
Sony has suffered from a lack of global franchises, the reliable branded movies that are the bread-and-butter of modern Hollywood. Its dependable "Spider-Man" property is in need of a revival, and Sony has brought in rival Marvel Studios to help. The studio is also trying to keep the distribution rights for the James Bond movies as its deal with Metro-Goldwyn-Mayer Studios expires.
The studio also has high expectations for Paul Feig's female-focused "Ghostbusters" reboot, and hopes that it will kick off a comedy franchise that does big business around the world. The company is also making ambitious plays with the space adventure "Passengers" and the Ang Lee movie "Billy Lynn's Long Halftime Walk," plus a "Jumanji" reboot and two "Bad Boys" sequels.
Lynton says Rothman's mission is to build up Sony's film divisions — including Columbia, TriStar, Sony Pictures Animation and Screen Gems — and make more movies that post huge numbers globally. In addition, Sony wants to retain international rights to more of its films so it doesn't leave money on the table as the overseas box office rises.
Though Rothman has spearheaded mega-budget hits such as "Avatar," he has a reputation for keeping a close eye on the bottom line. Still, Feig said that Sony remains a studio that is friendly to filmmakers.
"We were really left alone in production in a way that I didn't expect because we're such a big-budget movie," Feig said. "Tom has really given me the room to do this."
This year's slate has suffered from domestic summer flops "Aloha" and "Pixels." Even September's "The Walk," a well-reviewed drama about high-wire artist Philippe Petit's traversal of the World Trade Center towers, grossed just $10 million domestically.
I feel like work heals all wounds in Hollywood in some capacity.
— Seth Rogen
But Sony has built some box-office momentum with a series of year-end No. 1 hits with "Spectre," "Hotel Transylvania 2" and "Goosebumps." The company is hoping for commercial success from "The Night Before" and the Christmas Day release of "Concussion," the Will Smith drama about the NFL head trauma controversy.
Meanwhile, the studio's TV unit, led by Chairman Steve Mosko, has hits such as "The Blacklist" and "Better Call Saul," plus several new shows for Netflix and Amazon.
Other areas are growing. Another former Fox executive, Sanford Panitch, is building Sony's international productions business, making movies for countries in their local languages. Panitch is planning four or five films a year in India, for example.
There are also physical signs of progression at Sony. The company is working on a new eight-story building to house TV and film studio workers and bring the West Coast offices of Sony's music units onto the lot, a move Lynton says will "foster a more a creative community."
Stars James Franco, left, and Seth Rogen attend the premiere of Columbia Pictures' "The Interview" Thursday night in Los Angeles.
(Kevin Winter / Getty Images)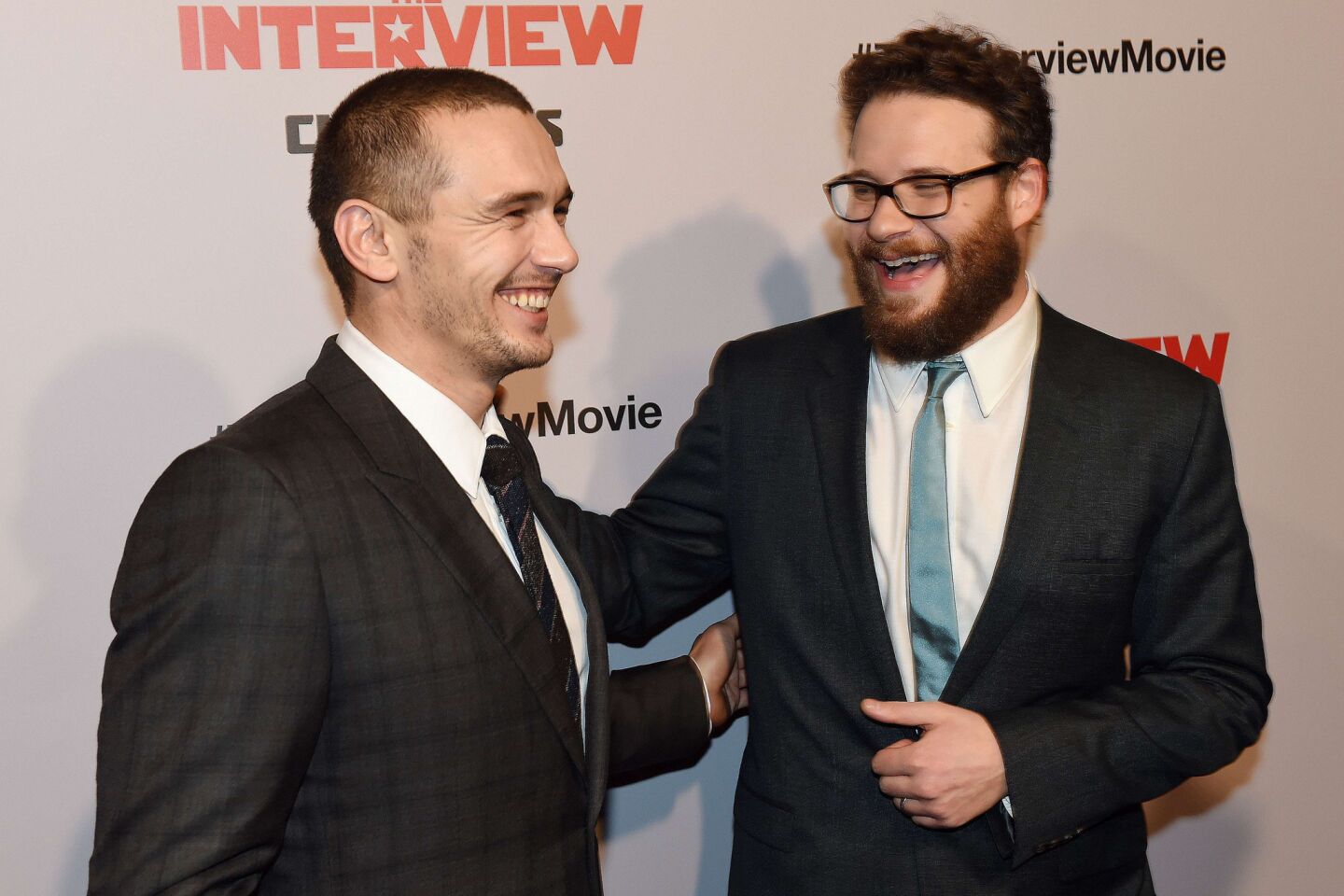 James Franco, left, and Seth Rogen at the premiere of "The Interview," in which they play an American TV news team enlisted to assassinate North Korea's leader.
(AFP / Getty Images)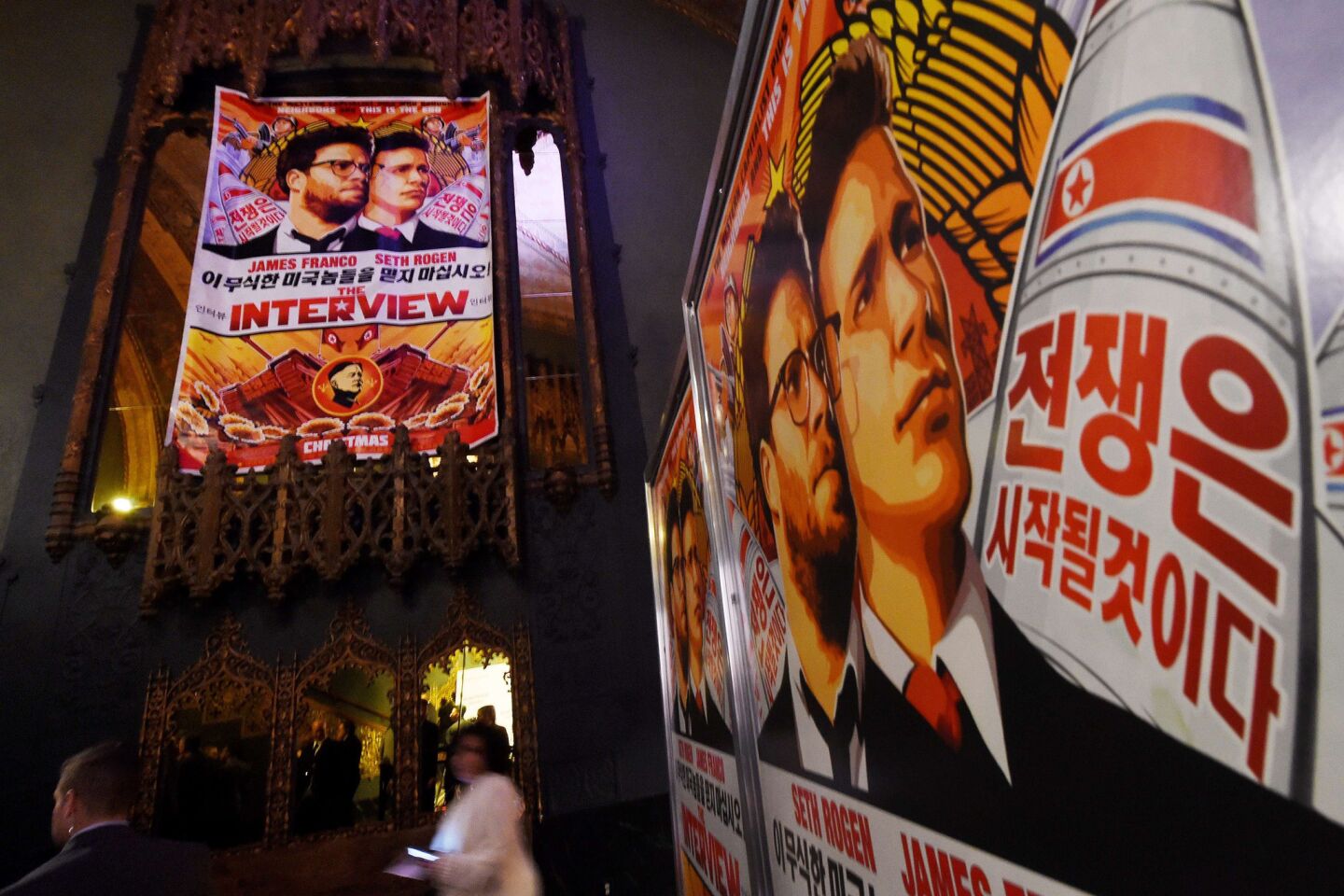 Movie posters for the premiere of "The Interview" outside the Theatre at Ace Hotel in downtown Los Angeles.
(AFP / Getty Images)
Sony Pictures Chair Amy Pascal arrives for the premiere of "The Interview." Emails sent by the studio executive are among the information that was leaked from a massive cyberattack on Sony Pictures.
(AFP / Getty Images)
Security presence outside the Theatre at Ace Hotel before the premiere of "The Interview."
(AFP / Getty Images)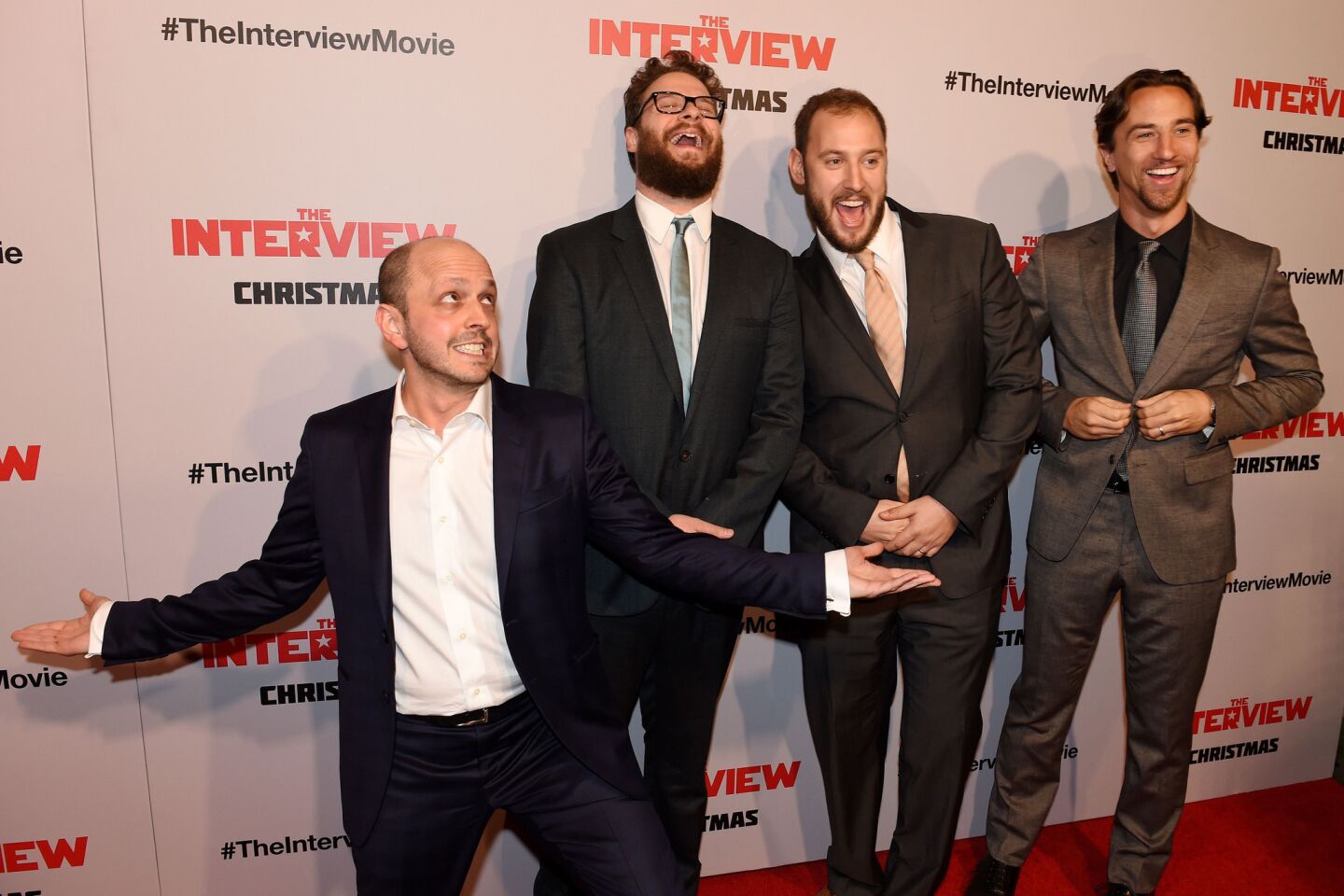 Writer Dan Sterling, actor Seth Rogen, director/producer Evan Goldberg and producer James Weaver arrive for the premiere in Los Angeles.
(AFP / Getty Images)
"The Interview" star Seth Rogen and his wife, Lauren Miller.
(Dan Steinberg / Invision/Associated Press)
Actor Randall Park, who plays North Korean leader Kim Jung-Un in the film, arrives at the premiere.
(AFP / Getty Images)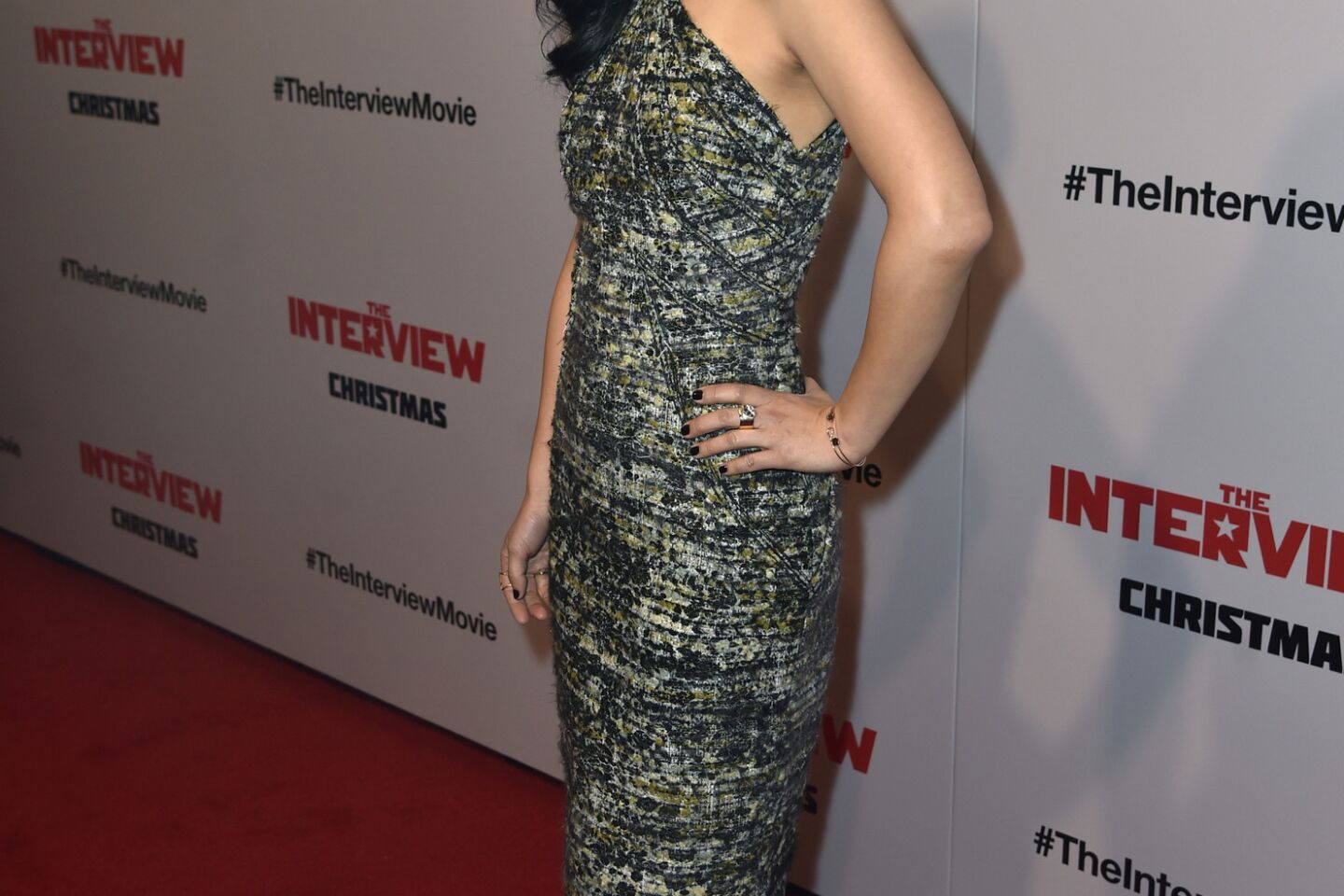 Diana Bang plays Sook in the comedy.
(Frazer Harrison / Getty Images)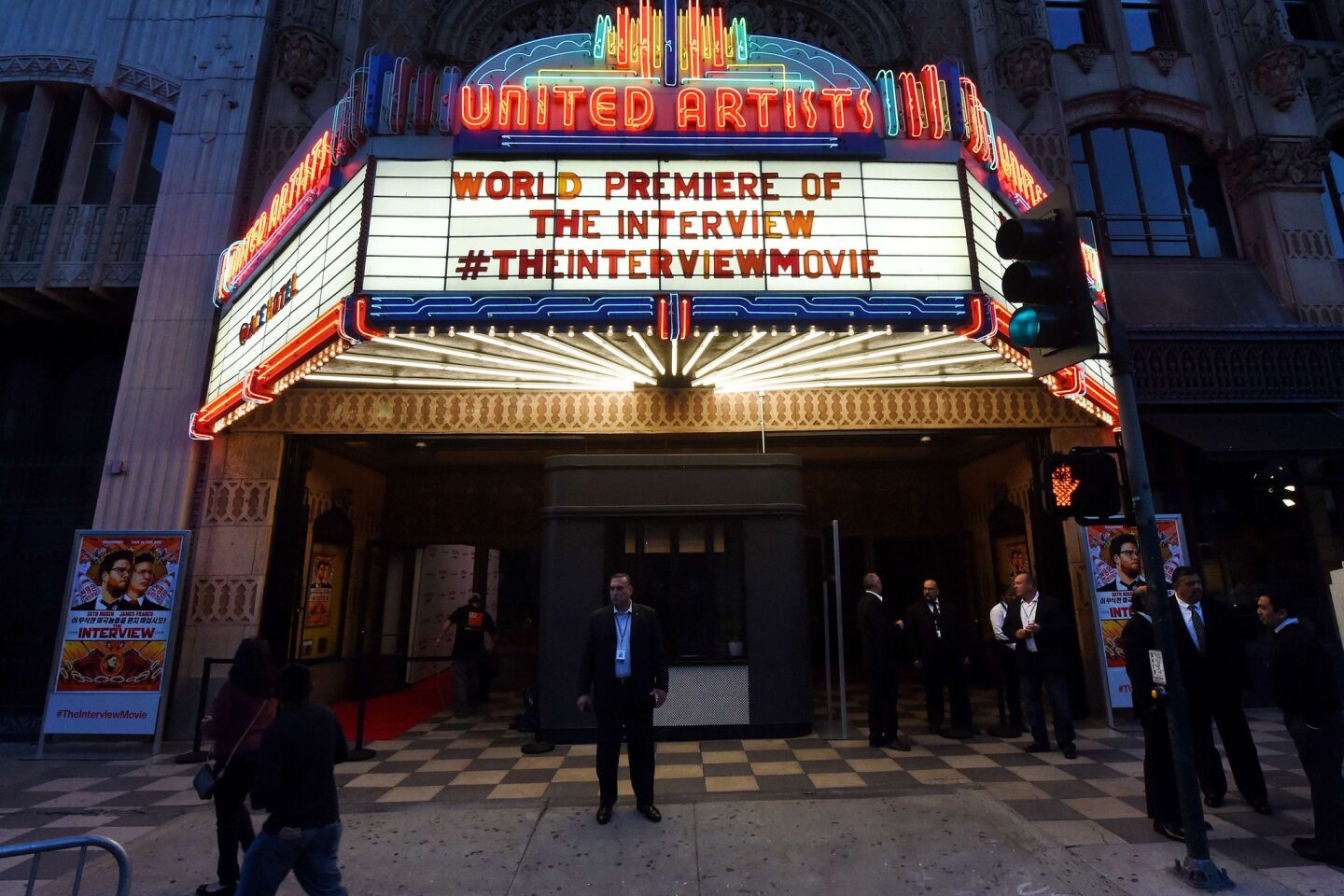 The marquee of the Theatre at Ace Hotel in Los Angeles for the premiere of "The Interview."
(AFP / Getty Images)
Beyond the studio walls, cybersecurity analysts believe the hack will have a lasting effect on American companies wanting to avoid their own version of Sony's crisis. Information technology departments are ramping up their security systems and reevaluating what kind of information to keep on the network and for how long. Some individuals have become more cautious with email.
The ordeal was seen as a wake-up call to boardrooms and corner offices around the country and "did more to raise national security cyber-awareness than any other single event," said John Carlin, assistant attorney general at the Justice Department for national security.
It wasn't the typical cybercrime by thieves in search of credit card information to sell — it was an enemy nation causing as much damage, chaos and humiliation as possible, said cybersecurity expert Peter Toren.
"It was a real game-changer," said Toren, who used to work in the Justice Department's computer crime and intellectual property section.
In recent weeks Lynton has trekked to two industry events where he discussed the hack and the need to prepare for the worst. (On Nov. 10, three men were indicted in the massive cyberattack on JPMorgan Chase & Co.)
Lynton acknowledges that the studio had to make up its response to the hack as it went along. Staff members were forced to go analog, relying on paper and pens, fax machines and chalkboards. Employees hauled old BlackBerrys out of storage, and workers were paid with paper checks. Sony took its network offline to keep the damage from spreading after the breach was discovered. Within 48 hours, the FBI sent 20 agents to the Culver City lot to do forensics.
Today Lynton tells fellow executives that a robust defense against cybercriminals is not enough. Companies need to know what to do when a disaster strikes and have the "fire drill" ready.
"I do think that people need to do that exercise," he said, "because beefing up your security is not going to do it."
Times staff writers Josh Rottenberg and Richard Serrano contributed to this report.
ALSO:
Fallout from Sony hack may alter how Hollywood conducts business
U.S. taking seriously possibility of a N. Korea role in Sony hacking
Sony 'made a mistake' in canceling release of 'Interview,' Obama says
From the Oscars to the Emmys.
Get the Envelope newsletter for exclusive awards season coverage, behind-the-scenes stories from the Envelope podcast and columnist Glenn Whipp's must-read analysis.
You may occasionally receive promotional content from the Los Angeles Times.